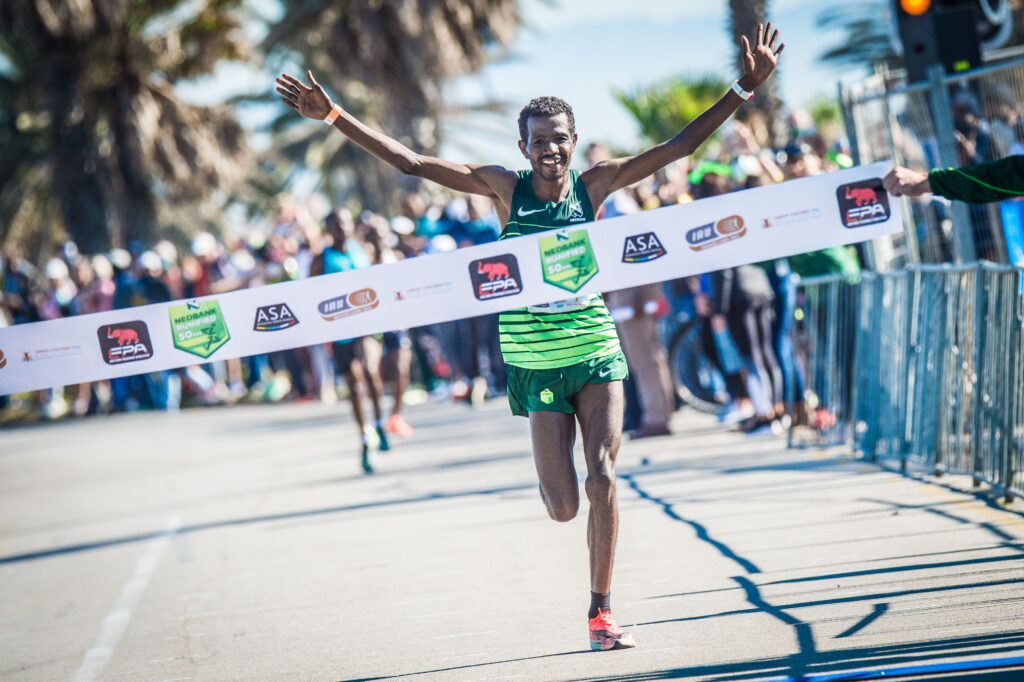 Ketema Negasa and Irvette van Zyl were the toast of Gqeberha on Sunday 23 May, when they raced to world best times over 50km at the Nedbank 'Breaking Barriers' Runified 50km.
Ethiopian Negasa and South African Van Zyl took full advantage of the perfect early winter weather and fast five-lap course along the Indian Ocean to give their running CVs a major boost, leaping to the top of the world over the increasingly competitive 50km distance with exceptional times of 2hrs 42min 06sec and 3hrs 04min 23sec respectively.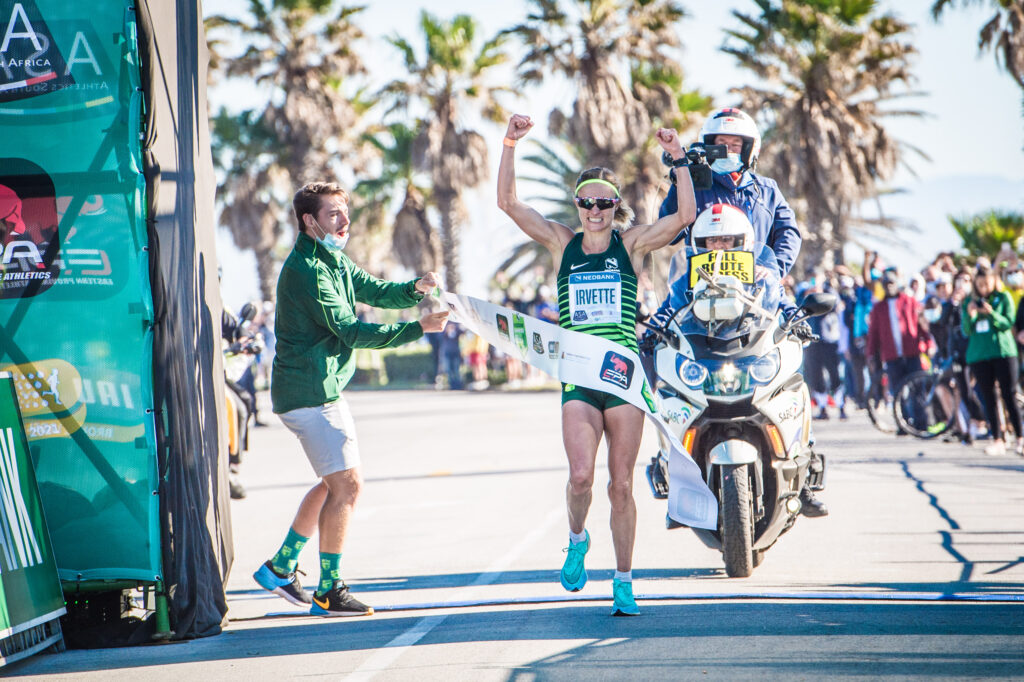 And both athletes gave their bank balances a significant fillip, each taking home R250 000 – R100 000 for winning and R150 000 for 'breaking the barriers' which had previously been 'built' by South African Thompson Magawana and British athlete Alyson Dixon.
Magawana, a 2 hr 10 min marathoner, established the previous 50km IAU-endorsed world best of 2 hrs 43 min 38 sec in 1988 during the running of the Two Oceans Marathon. The record had stood for 33 years. Dixon ran 3:07:20 in Croatia in 2019, eclipsing by a minute South African Frith van Der Merwe's (a 2:27 marathoner) 1989 mark, also achieved during the Two Oceans Marathon.
Given the marathon speed of Magawana, Van der Merwe and Dixon, there was doubt that any athletes in the Gqeberha field were capable of lowering the 50km world marks but not only did Negasa and Van Zyl succeed, they also pulled several other athletes across the line inside the previous record times.
Kenyan Lilian Jepkorir Chemyono ran the perfect race, crossing the finish line in 3:05:00 – 2min 20sec inside Dixon's world best. The only down-side was that Van Zyl had beaten her to the finish by 37 seconds to claim the new mark and the substantial record incentive on offer.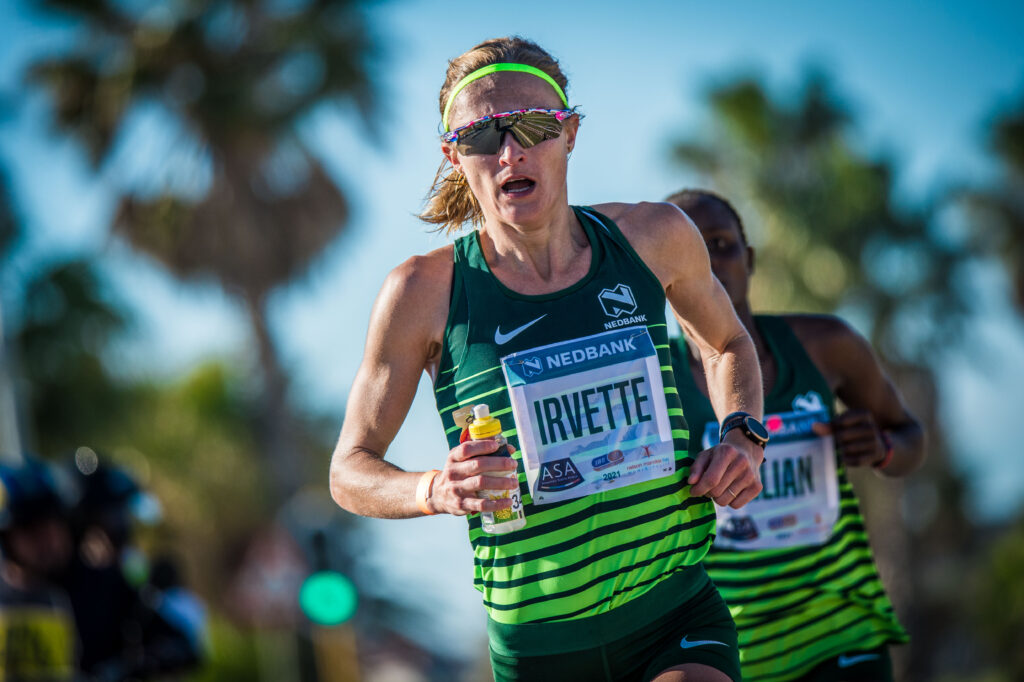 Similarly, triple Comrades champion, Bongmusa Mthembu, would have been overjoyed to better the world best by 27 seconds, after a superb race which underlined his impressive marathon-distance speed. But incredibly, Mthembu found that no fewer than six athletes had finished ahead of him.
Following close on Negasa's heels was Johannesburg athlete, Jonas Makhele, a 'no-hoper' with a relatively unimpressive 2:22:48 marathon best (also set in Gqeberha, five years ago) who finished just 7 seconds behind Negasa after leading at 49km, Gauteng athlete, Ntsindiso Mphakathi, who finished three seconds later in third, Kenyan Shadrack Kimwaiyo, one of the race favourites, who was unable to stay with Negasa's last kilometre sprint, and the remarkable fifth-placed Sibusiso Kubheka.
Kubheka ran a superb 1:01:36 to place sixth at the national half marathon championships last month, and had never having previously raced beyond 30km. Up with the lead pack until the final two kilometres, Kubheka's outstanding ultra-marathon was the surprise package of the day.
The men's and women's races – and records – followed completely different patterns. The men's race was an exceptional team effort, with a thirty-strong pack largely intact when the two pace-makers, Adam Lipchitz and Sipho Mbanja, dropped out as planned after 30km, setting up perfectly the final dash for the line.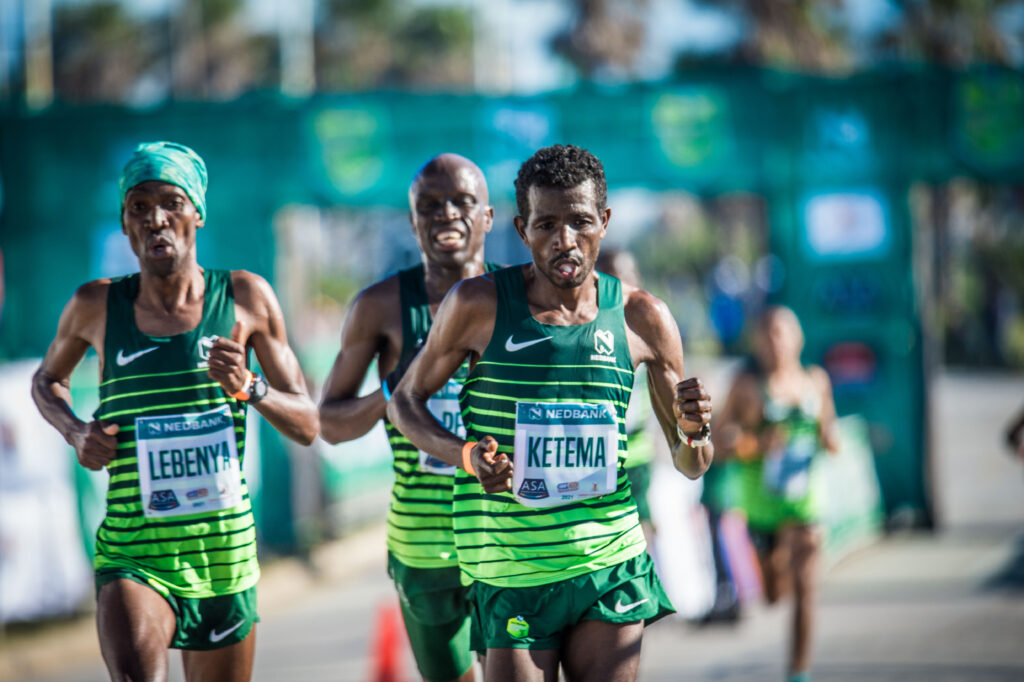 In contast, Van Zyl found herself alone in front for large sections of the race. One of the designated pacers with Gerda Steyn, Van Zyl struggled to hold herself back and slowly drew away from Steyn, Polish athlete Dominika Stelmach, Gete Gelato of Ethiopia and Ntsindiso Mphakathi after 7km. She was re-united with the frontrunners shortly before 10km but again went solo from 23km.
With the Olympic Marathon as her prime target, Steyn stopped at 30km as planned, but Van Zyl continued. A thumbs up at 35km from her coach, Nick Bester, that she could finish the race was all she needed to maintain a constant pace to the finish and clinch the record.
A measure of the international flavour of the event was that five of the first six to finish in the women's race were from different countries – South Africa, Kenya, Poland, Russia and Ethiopia – while there were four countries represented in the top eight in the men's race.
But spare a thought of the late Magawana, who died of pneumonia in 1995, aged just 36 years. Negasa's time, impressive as it was, was set on a super-fast course in perfect conditions, enjoying the advantages of two outstanding pace-setters and working together with many other athletes, all equipped with the best of modern running technology, notably carbon-plated super-fast shoes.
Magawana ran solo from the start in 80's shoes, over a challenging course which included running over Chapman's Peak and Constantia Nek. His Two Oceans record still stands and he will always be remembered as one of the legends of the sport on the continent.
NEDBANK "BREAKING BARRIERS" RUNIFIED 50 KM RACE RESULTS:
Men

Women

Story by Stephen Granger
©SPNAfrica News
www.spnafricanews.com