The AfricanX Trail Run is unusual in that it requires teams of two – male, female or mixed – to participate. AJ Calitz and Bernard Tarisai Rukadza are looking to "own" the event, again this year.
AJ Calitz has been one of South Africa's leading ultra-distance mountain athletes over the past decade, but once a year in late summer, the K-Way athlete and trail ambassador returns to one of his happy hunting grounds at the AfricanX – a competition more suited to 'shorter and faster' than the longer distances which have brought Calitz significant success.
Calitz has won more AfricanX senior titles than any other athlete, in addition to a bag-full of other trail titles, and lines up again at the month-end for the popular three day stage race with his old friend and running partner, Zimbabwean-born  Bernard Tarisai Rukadza, who has recently returned to the Cape for the race from a training block in the higher altitude of Zimbabwe.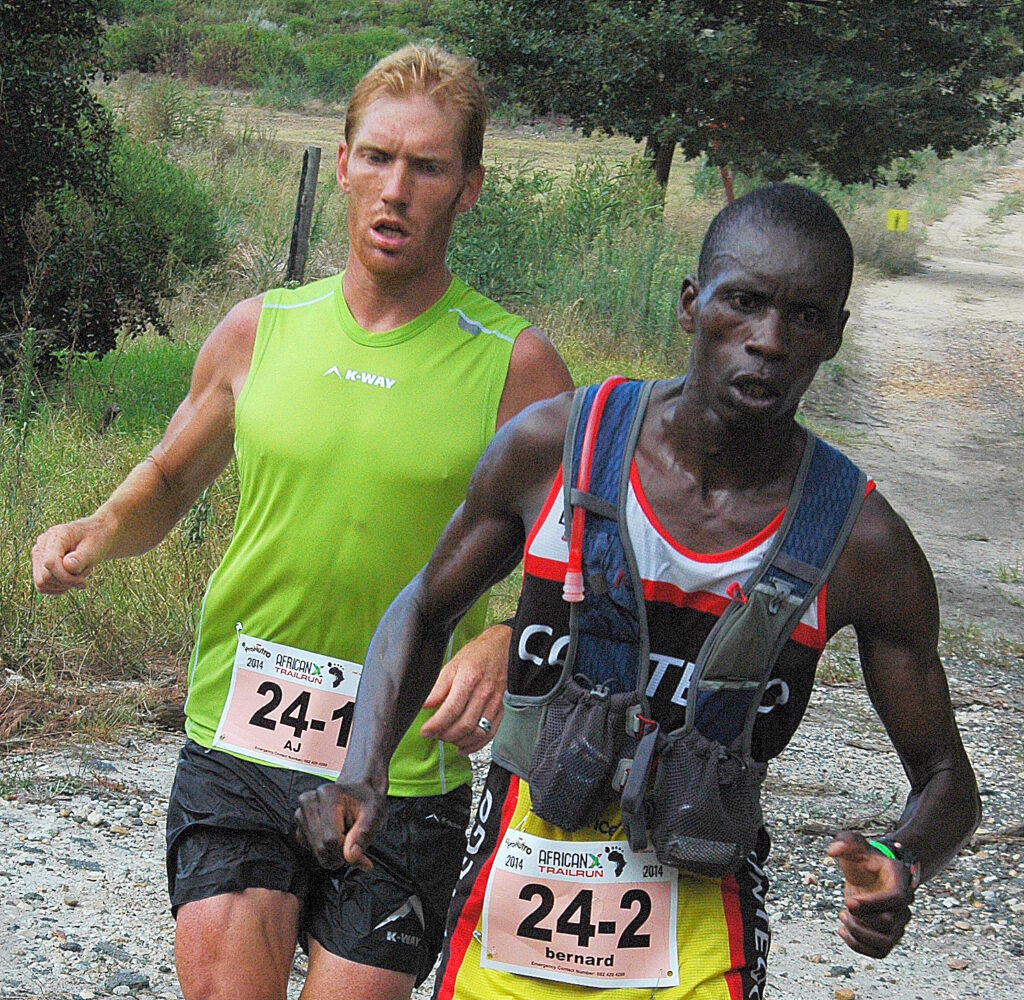 Rukadza has been a leading distance athlete in the Cape over the past decade. His road times of 1:07:04 for the half marathon and 2:24:28 for the marathon – in the Peninsula Marathon, which he won in 2015 – mark him as a strong contender, but his true strength has always been on the trails, where he has won many titles, including the Two Oceans short, long and ultra 'The Beast" trail races, the Richtersveld Ultra, the Table Mountain Challenge and the Trail Summer Series.
The green light has been given to proceed with this year's AfricanX, which returns to the popular Houw Hoek venue near Bot River after a three-year absence. The event was held at Boschendal in 2018 while sponsorship challenges led to its cancellation in 2019. COVID kyboshed last year's run.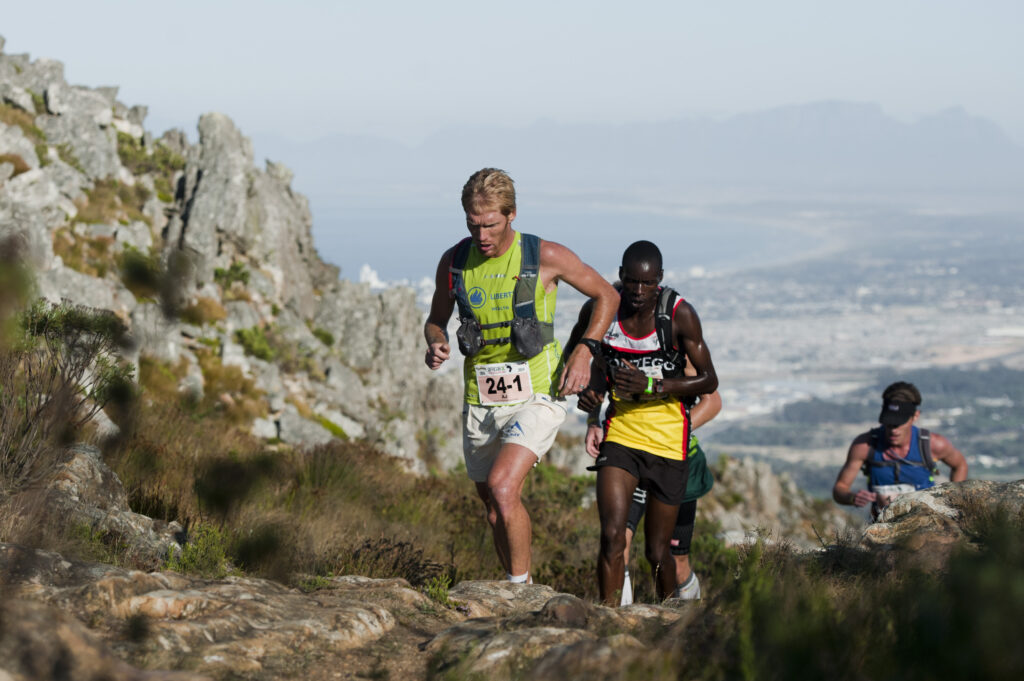 While the daily distances are not excessive, the AfricanX provides a significant challenge through its demand of running three consecutive days for a total of 74km. Although there are some sections of technical single-track, overall the terrain is relatively easy to negotiate, making it an ideal event for road athletes looking to transition to trail. Gauteng's Edwin Sesipi and Givemore Mudzinganyama, who won in 2017, are prime examples of this.
The daily race distances of 24km, 32 km and 18km at this year's AfricanX are well short of Calitz' optimal distance – he holds the 100km Fish River Ultra record of 6:39:52 and has won that race three times – but the accumulative stress of running a total of 74km on successive days plays to his physical and mental strength and he has proved himself a formidable competitor in the event.
Calitz has won AfricanX three times with Rukadza, including the event's last hoorah at Boschendal, once with Ben Brimble and once with Gauteng veterinarian , Nicolette Griffioen, to win the mixed partners' title. And with Rukadza's own formidable trail strengths, team K-Way will again prove tough to beat, although competition this year looks to be fiercer than ever before.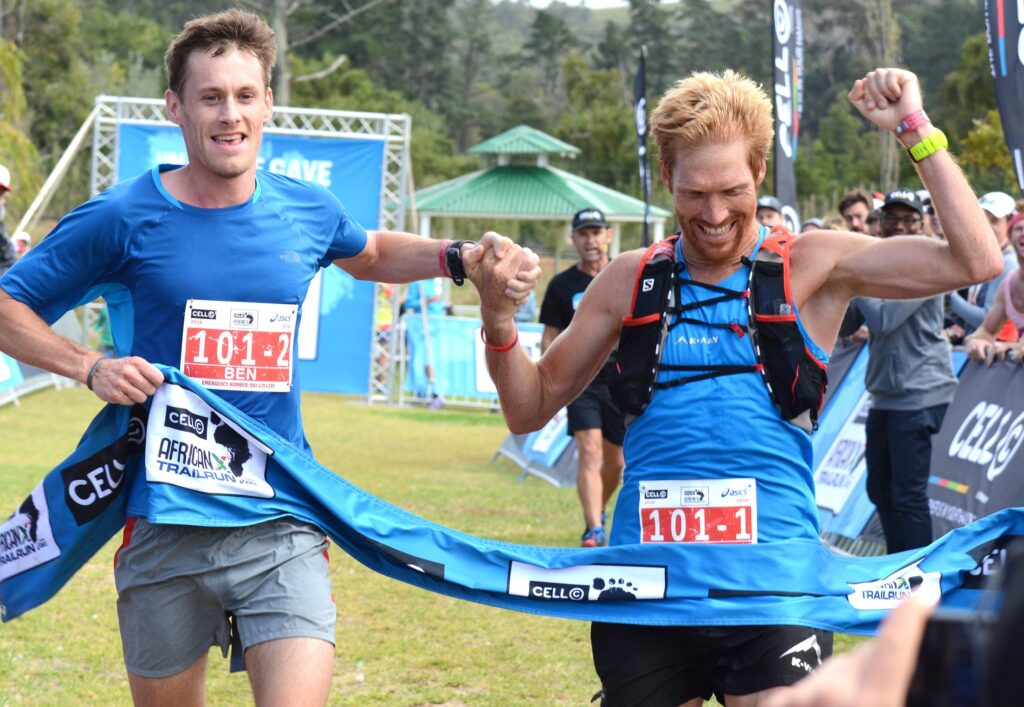 "It's going to be a fast one," reflected Calitz. "But AfricanX is a mix between road and trail, so I think we have a chance. My training's been going very well – I've been doing a lot of speed-work and climbing. So hopefully we will be fit and healthy on the day."
With athletes starved of competition, many of the country's leading trail and road athletes will be heading towards Houw Hoek in ten days' time. With the Nedbank Running Club sending many of their top ultra-distance athletes to compete, including Comrades Marathon gold-medallists, competition will likely be stronger than ever.
"There are too many potential top rivals to count this year, especially with Nedbank sending such a strong team," continued Calitz. "Eric Ngubane is one of their athletes, an experienced trail athlete who has done well previously at AfricanX and won Ultra-trail Cape Town. And running against Comrades winners is a daunting task!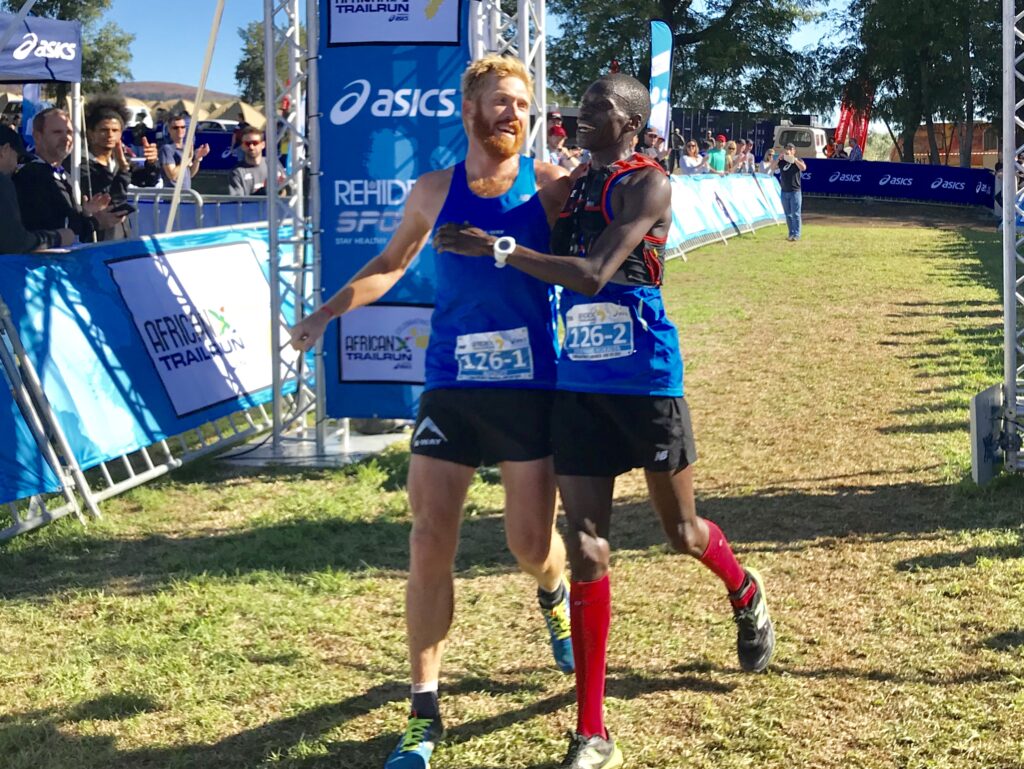 "But having Bernie as my partner is perfect. We've been friends for so long.  Our friendship is the basis for our strong partnership, even more than running ability. In AfricanX you've got to play to each other's strengths and accept each other's weaknesses. Bernie and I know each other very well – we've run together on numerous occasions and it's just great to have him back in South Africa – great to have a friend back – means more than just a racing partner."
Story by Stephen Granger
©SPNAfrica News
www.spnafricanews.com