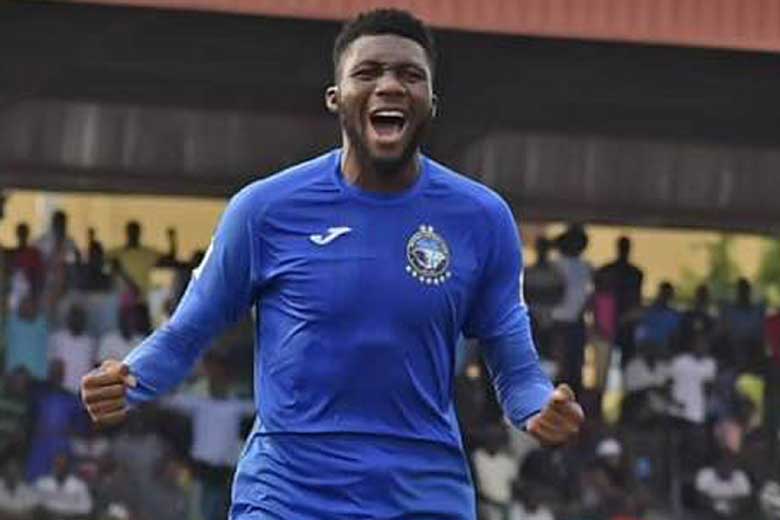 Enyimba forward, Reuben Bala has said his side's opponents in the CAF Champions League, Rahimo FC of Burkina Faso will not be twice-lucky in the elite competition. The two-time African champions are guests of the West African side in Sunday's (November 29) CAF Champions League first leg preliminary round at the 10000-seat Stade Wobi, Burkina Faso.
The Burkinabe champions edged the nation's campaigners with one unreplied goal on home soil the last time both sides met at the same stage of the competition. The Nigerians eventually eliminated the side on 5-1 aggregate after 5-0 bashing in Aba in the reverse clash.
Bala said his side have good dossier of the opponents and have worked very hard to deserve outright victory right there at the opponents' backyard.
"We have played them once in the continent though we lost the clash with one unanswered goal at their home ground.
"I think then we did not have enough preparations for the match coupled with the fact that we barely knew ourselves. We merely trained for one week or less before the encounter and it affected us negatively.
"They are young side, have couple of young players who are very fast, strong and mobile, they are good side but beatable.
"This time around we are going to beat them right there on their home ground, at least, to further prove our superiority.
"We are not going to underrate them any way, we know what they can do, their ability, strengths and weaknesses.
"We have worked on our shortcomings and have made the necessary corrections.
"We are going to win the match and I know for sure we will win the match, we are going there to come back with the whole three points at stake.
"We have better preparations this time, at least, we have been training for the past two months. I think we are well prepared.
"Everybody is hungry to play and physically fit to achieve the desired result in Burkina Faso," said the former Plateau United goal king.
Bala said it will amount to an abomination for the reigning Nigerian champions to exit the Africa's prime interclub competition at the elementary stage.
"It will not be too good for us to exit at the preliminary stage of the competition we have won two times in the past.
"We will overcome the Burkinabe side and go as far as contesting the prime prize," said the lanky goal poacher.
The People's Elephant will be home for the reverse fixture clash meant for the Enyimba Stadium in Aba at the weekend of December 04-06.
©SPNAfrica
For more content from Sports Network Africa, see our Streaming and VOD platform, www.spnafrica.com or sign up to our daily newsletter by clicking here http://eepurl.com/gYWNuj