Leading mountain and trail runner, Holly Page, has reached some of her sport's highest peaks, literally and metaphorically. But for a group of young boys and girls from the 'tougher side of the tracks' in Hout Bay, 'Miss Holly' represents a wind of change in their own lives and possible opportunities to scale heights they might never have dreamt of.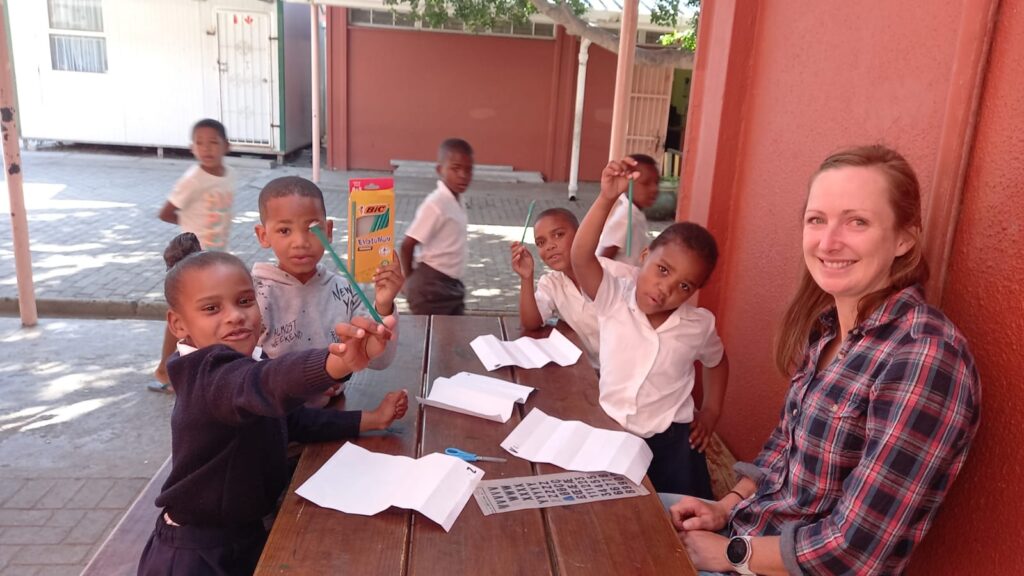 A member of the international adidas TERREX team who were based in Camps Bay, Cape Town, leading up to South Africa's most prestigious trail race, Ultra-trail Cape Town (UTCT) late last month, Page left her mark as an athlete, convincingly winning the UTCT 23km on Table Mountain, but equally on the lives of young children from Imizamo Yethu (IY) and Hangberg in Hout Bay.
The polar opposite of the 'one track pony', the 32-year-old athlete from Yorkshire in the north of England has competed at an elite level in rowing, duathlon and trail running, while excelling academically in languages and education and becoming an accomplished violinist.
But Page's determination to reach out to those whose life circumstances are less privileged than her own sets her apart.
In elite athletics competition there is typically little room for generosity of time and resources. Not even for your teammates. Nor your family.
Holly Page missed that memo.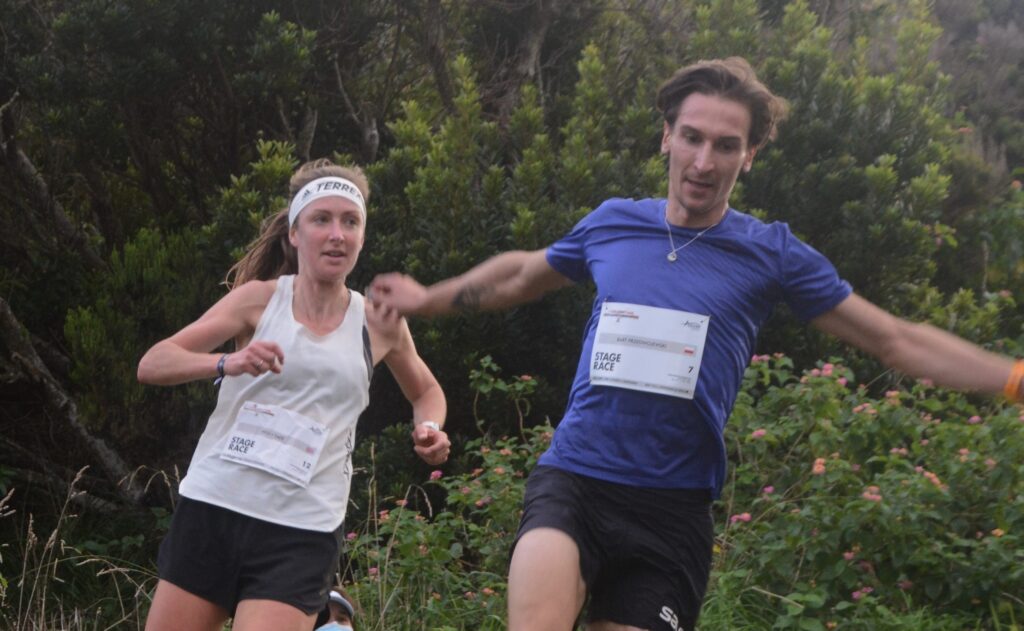 Page's competed in many sporting codes in her youth and she has now become one of the world's top marathon-distance trail athletes with a reputation for excelling under the toughest conditions.
Having grown up supporting her father in fell races in Yorkshire on windswept, rainy hillsides, Page learnt to embrace the elements to her advantage. She took to fell running like a duck to water, racing every week on hills and mountains in her home county, often through bogs and on muddy terrain.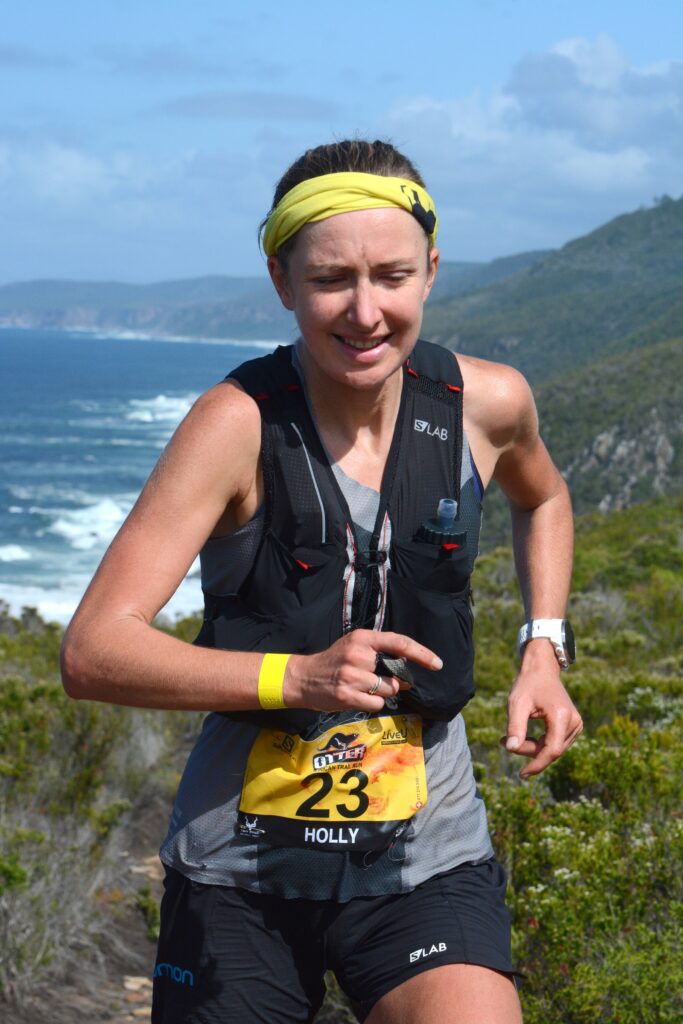 Page added skyrunning to her list of sporting passions, attracted by the extreme nature of this high-altitude version of mountain running, lifting the 2018 Skyrunning World Series title – the same year she won the grand finale of the Golden Trail World Series at the Otter African Trail Run in South Africa.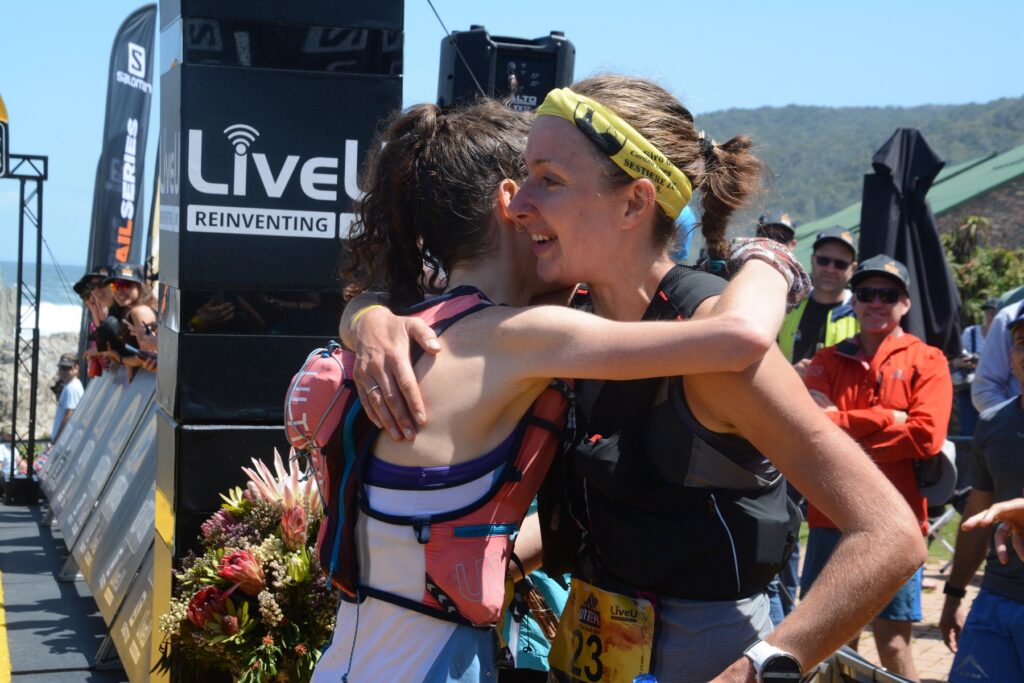 While advancing her sporting career, literally in leaps and bounds, Page expanded her academic and professional experience, obtaining a post-graduate degree in Education at Cambridge, working on education policy in disadvantaged areas in the UK, before spending a year in South Africa in 2016, managing a climate-smart agricultural programme for the UK government.
"I was based in Pretoria and my work took me to Malawi, Mozambique, Zimbabwe, Tanzania and Zambia," said Page. "Then I was moved to a geothermal energy project in east Africa."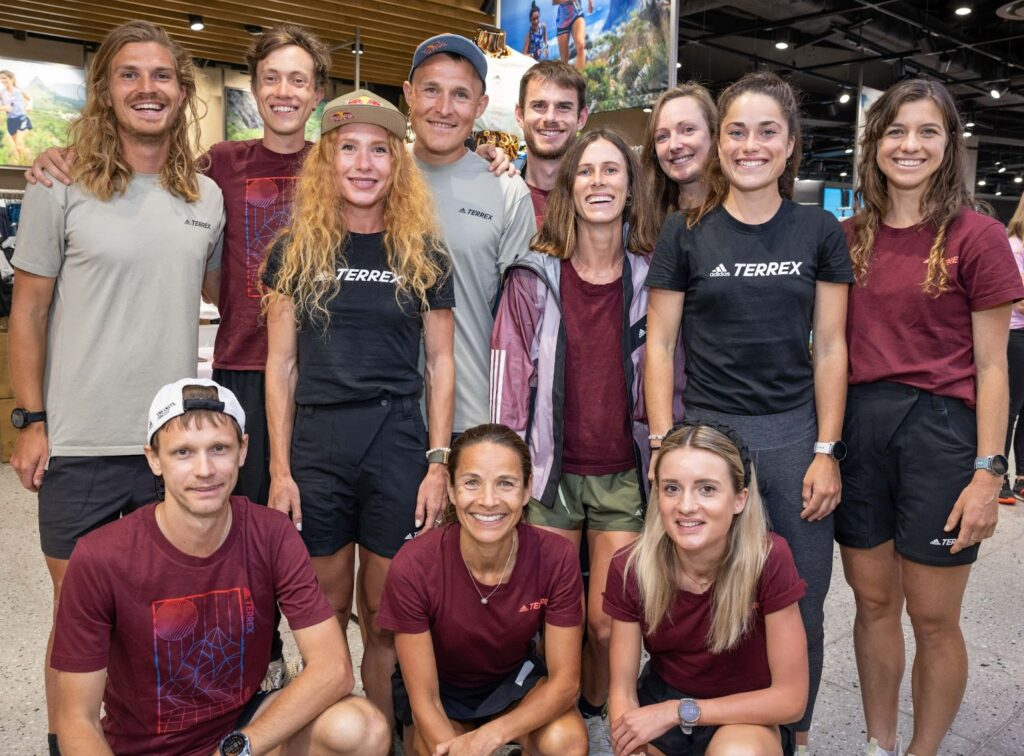 Page's love for Africa caused her to jump at the opportunity to return to the continent and join the adidas TERREX team camp in the lead up to this year's UTCT. But she was also returning to health following a succession of injuries which threatened to shorten her career as an athlete.
Page badly tore her knee ligaments in a fall while climbing down from Mont Blanc in 2017 and was hospitalised after she collided with a tree on a fast descent during the 2018 Golden Trail World Series Championship on the Azores.
A nasty head injury during the 2019 Matterhorn Ultraks Extreme race didn't help Page's cause before an ankle injury resulted in a lengthy time-out during 2021 and ultimately a second long absence from running following reconstructive surgery.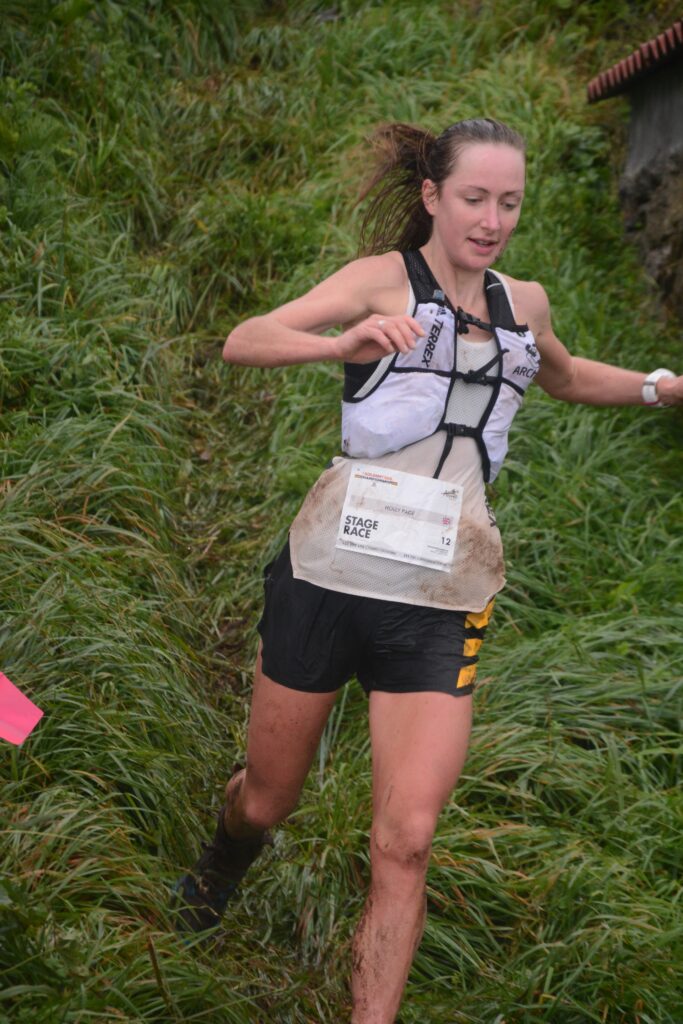 Page turned injury despair into opportunity, immersing herself in humanitarian crisis intervention. And she didn't hesitate to explore options to make a real difference when the opportunity arose to be based in Cape Town for an extended period this year.
"I just thought while I'm here it would be good to find some way I could be useful," Page said. "So I went online and came across a literacy-promotion organisation, ABC for Life, and just asked if I could be useful in some way. They said 'yes please, be here at 8am!'"
And she was. Every Monday to Friday, while her teammates rested, trained or visited Cape Town's tourist spots, Page was literally on her bicycle, cycling out and back over Suikerbossie Hill, notorious at the back end of the Cape Town Cycle Tour, in order to invest time and energy into a group of young learners.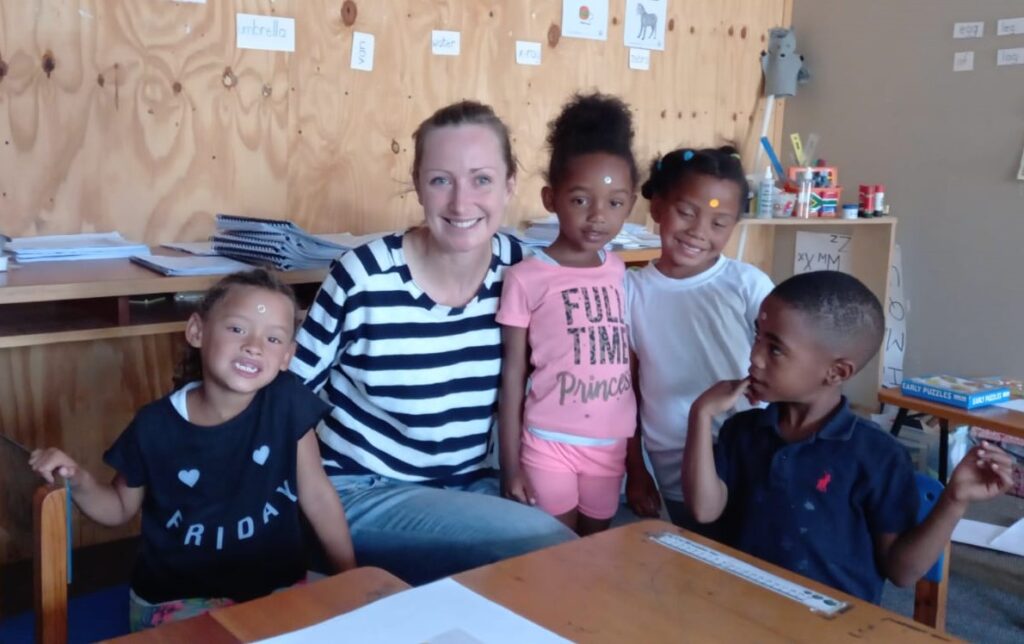 ABC for Life's vision is to build a community in which all children are equipped with the skills and knowledge to become productive members of society. Their primary objective is to provide literacy and numeracy support for young learners who have fallen behind and to empower children to reach their academic potential. Currently they focus on two Hout Bay schools in Hangberg and Imizamo Yethu.
"I cycled over Suikerbossie Hill each day," explained Page. "It got me up in the mornings, even though it would have felt good to sleep in or train in the mornings every now and then, rather than just in the afternoons!
"I was quite surprised at the lack of literacy among some of the children in Hout Bay. A 9-year-old could not read at all, just because he lacked the opportunity. I believe strongly that education is very important at that young age.
"If they miss out on this crucial stage in their schooling and still can't read three letter words, they are likely to drop out of school. It's a key time."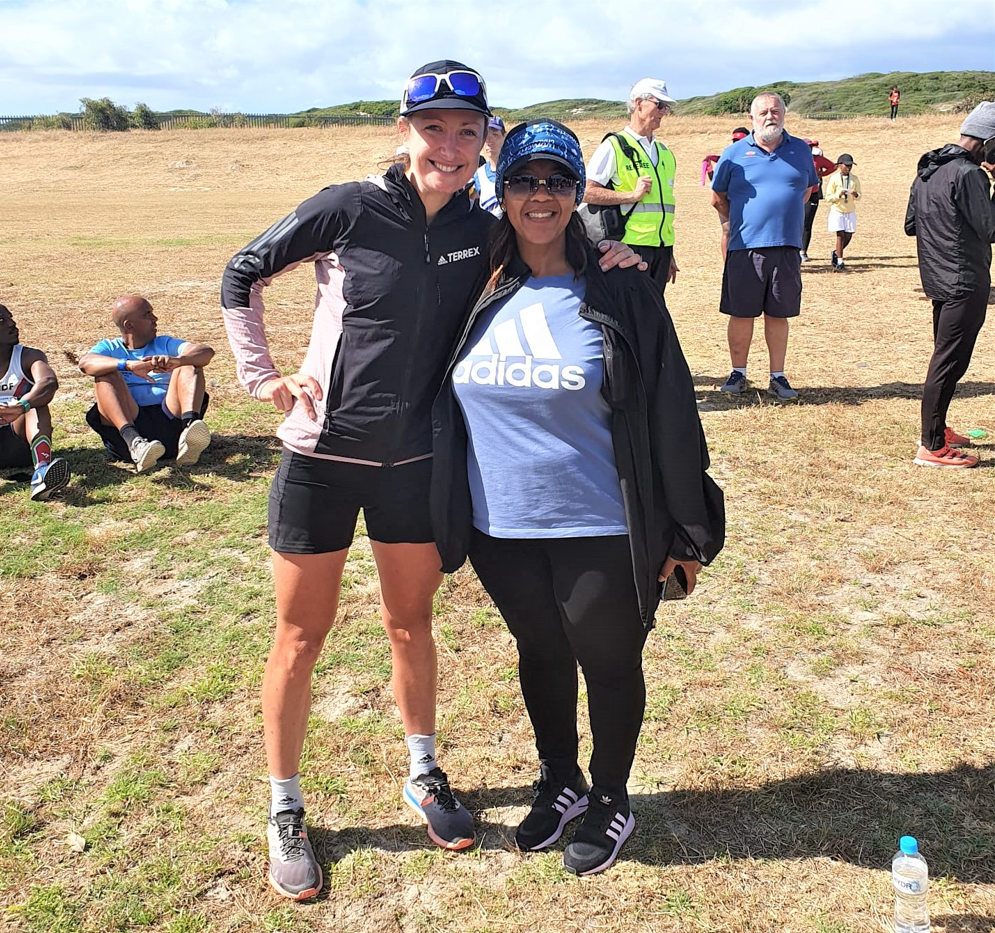 "One teacher had as many as 45 children in each class. The best teacher in the world would struggle to cope with so many at different levels of understanding – and some have little English.
"I took out small groups each day – just on reading and writing. Or just getting them to recognise letters.  I felt like I was being useful."
And her final day send-off showed she had been. A bag with the inscription 'Thank you Holly' is one of her most treasured items from her Cape Town visit.
"Holly was great, a real gift to us," said Gailyn Scarpa, Director of ABC for Life. "She didn't even say she was a professional athlete – I had to drag it out of her!  She is so humble. She was really impressive – she would arrive each day on her bicycle and would never talk about her own achievements. I can't speak highly enough about her."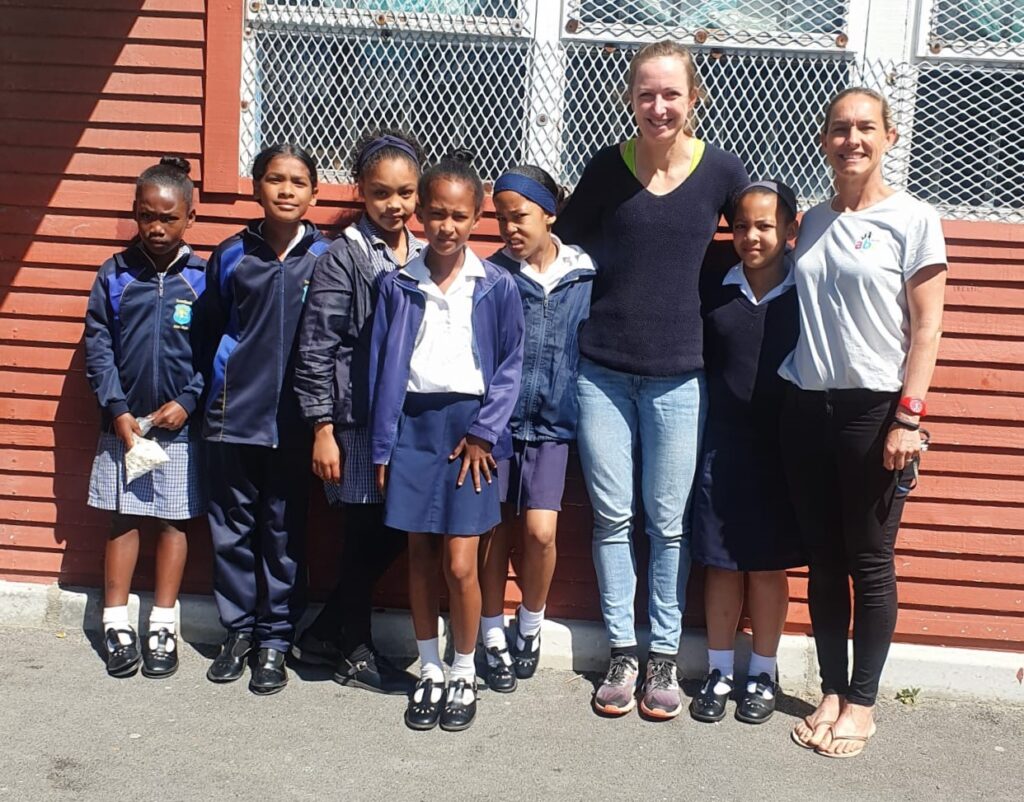 But Page's work with ABC was only part of her involvement with young people in Cape Town. Just minutes after touching down at Cape Town International, her conversation with her taxi driver from the airport set the tone for her South African sojourn.
"I said to him it was a shame that I was coming from England to run on Table Mountain but likely many kids from the Cape Flats, who see the mountain every day, might never have the chance to climb it. I said that if he could organise the kids, I would pay for them to get to the mountain and would take them up.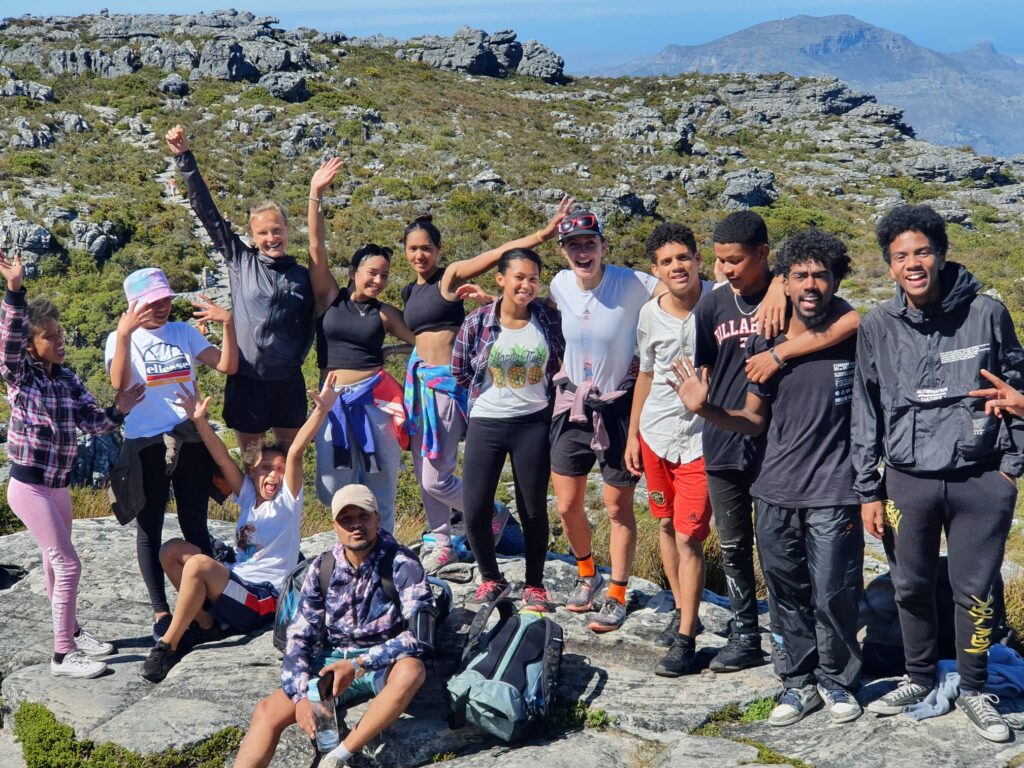 "He put me in touch with a youth group and in the end 14 teenagers came through to Tafelberg Road (near the base of the mountain), where we met.
"I recruited two of my adidas TERREX teammates, Anna Hahner (Germany) and Yaiza Marin (Spain) but said they could join only on condition they didn't post anything on social media. I felt we should do it because we wanted to – it was not about 'look at me'.
"These girls and boys had never been that high in their lives. They really had to push themselves to make it.  We walked up Platteklip Gorge and I think they probably hated me at times going up!" Page joked. "But in the end, they had a real sense of achievement at having made it."
Page looks back on her time in Cape Town with fondness.  "I enjoyed my UTCT race and also being part of our 13 Peaks Challenge team relay.  And I enjoyed taking part in a number of road races.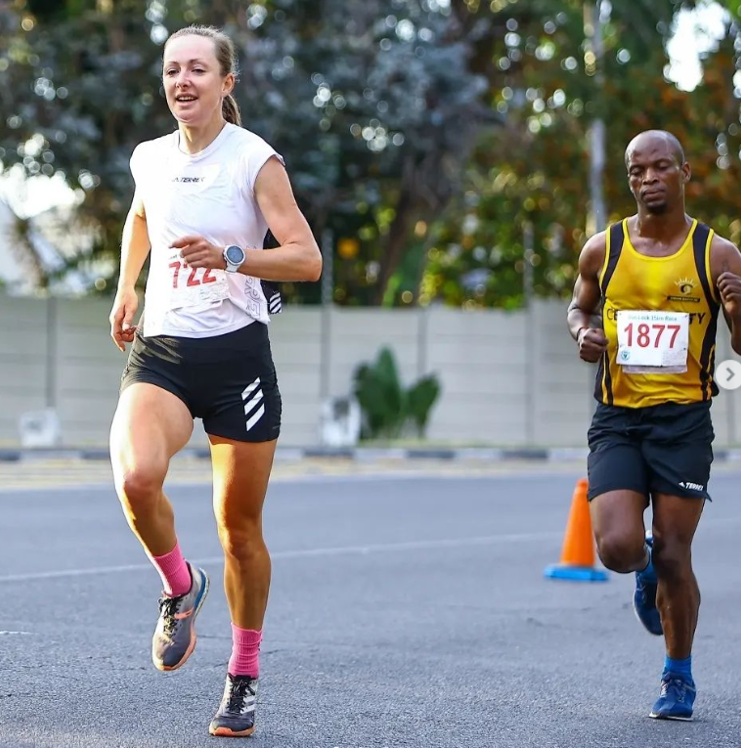 "But apart from running, there was the great feeling of trying to make a difference – moments of joy, such as cycling back over Suikerbossie after interacting with the kids in Hout Bay, listening to Jeremy Loops music, and seeing the (older) kids celebrating when they reached the top of Table Mountain! That was nice.
"South Africa is a beautiful country and holds a special place in my heart. But it is also one of the most divided places I've spent time in. While I was here, I tried to make a small difference to people who are being failed by a system they have no control over, those who have lost out in what I call 'the lottery of birth'.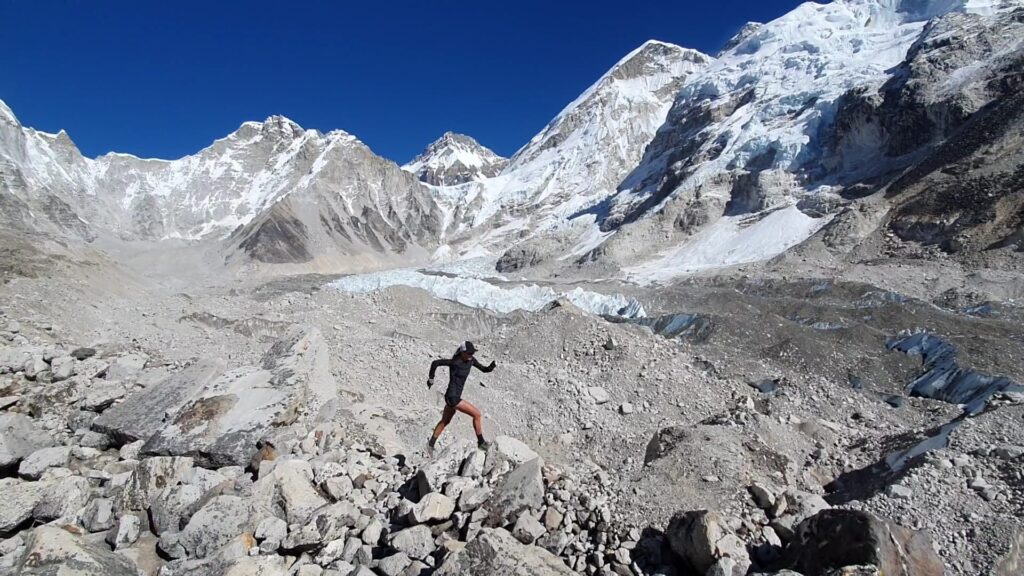 "I'll certainly return to Africa."