Somerset West runners, Hakeem Smith and Lovemo Nyaude (Team HTRCrew Trail Taxi), upset the form book when they took line honours in the 34km second stage of the Pickle Juice AFRICANX TRAILRUN this morning (Saturday 18 March), while strong-running Namibians Julia Jansen van Rensburg and Alexa Rack (Team Nam Power) made it two out of two in the women's competition.
Top road and trail athlete, Kerry-Anne Marshall, ran through the pain of a foot injury to join her triathlete brother, Stuart Marais (Team New Balance #WeGotNow), in an impressive second stage, the pair coming out on top in a competitive mixed-team category.
Well-known local trail athletes, Kyle Bucklow and Oli Morris (New Balance), were the model of consistency, coming in second and lead the overall race going into tomorrow's exciting final stage over 18km.  Just 1 min 21 sec separates the top three teams in one of the closest contests in AFRICANX history.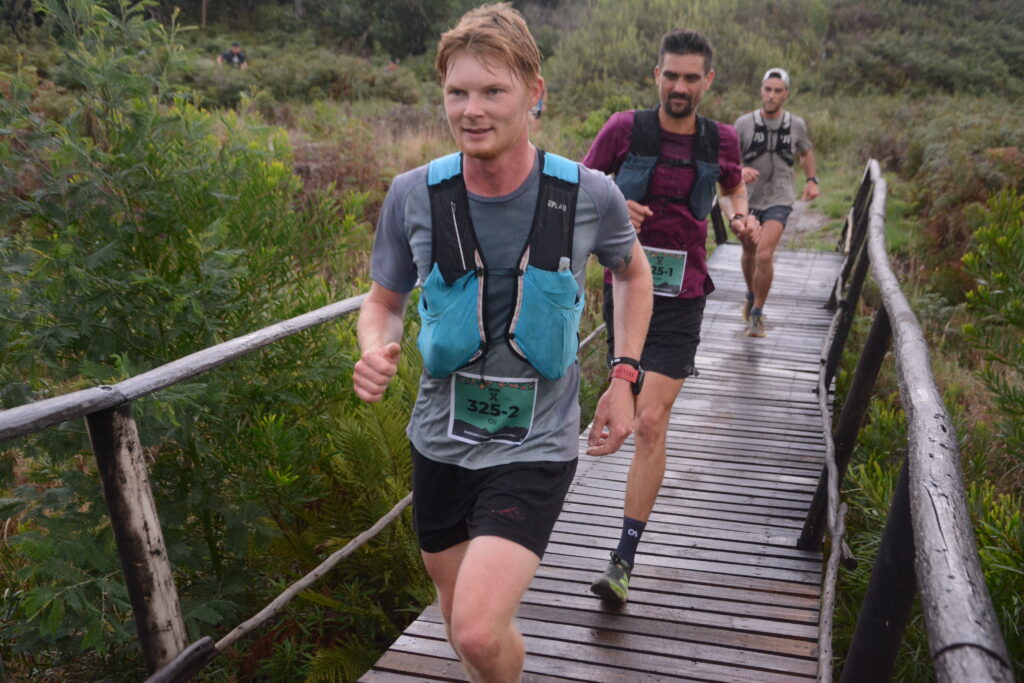 Low cloud and intermittent rain might have detracted from the visual spendour of the Groenlandberg region, but were ideal for the runners faced with a challenging 34km route between Elgin Country Club and race HQ at Houw Hoek Hotel, just 24 hours after a pacy first leg.
Several leading athletes were left to rue the speed of yesterday's first leg and struggled to maintain their form today. Severe leg cramps proved the downfall of Underson Ngube, who partnered John April to a commanding six minute lead in Stage One.
"This is the furthest I've ever raced," admitted Ngube. "It was okay in the first half today (they held the lead until 8km from home) but I cramped badly in the second. Hopefully I can recover overnight, and we can pull it back in tomorrow's final stage."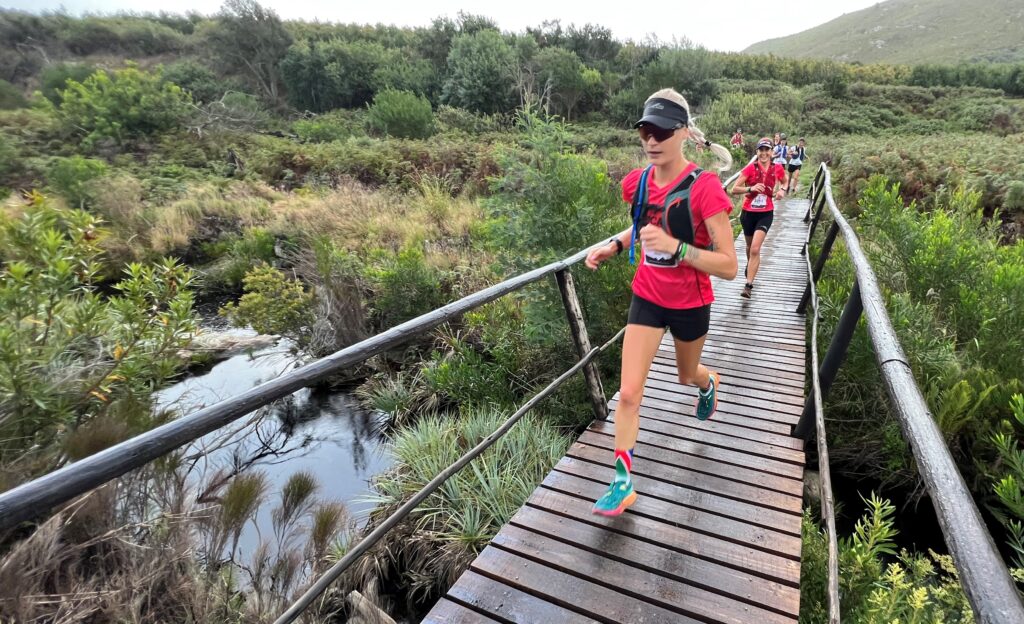 Six-time AFRICANX TRAILRUN winner, AJ Calitz also struggled. "Running with Bernie (Rukadza) is both exhilarating and exhausting," confessed Calitz. "Bernie could have taken it himself, but I just couldn't put it together today." The seasoned trailers crossed the line in fifth.
While Bucklow was pleased to be ahead going into tomorrow's final stage, he also struggled over the tough second leg. "To be honest, I found it hard to get going. Oli was strong today and I struggled to keep pace. I guess we paid a price for the fast start yesterday!"
Smith and Nyaude benefitted from their conservatism in the early stages.  The duo were back in 7th as the runners reached the rickety wooden breach at the first refreshment station 7km into the race, but gradually made up ground, before taking the lead from Underson and April 8km from home.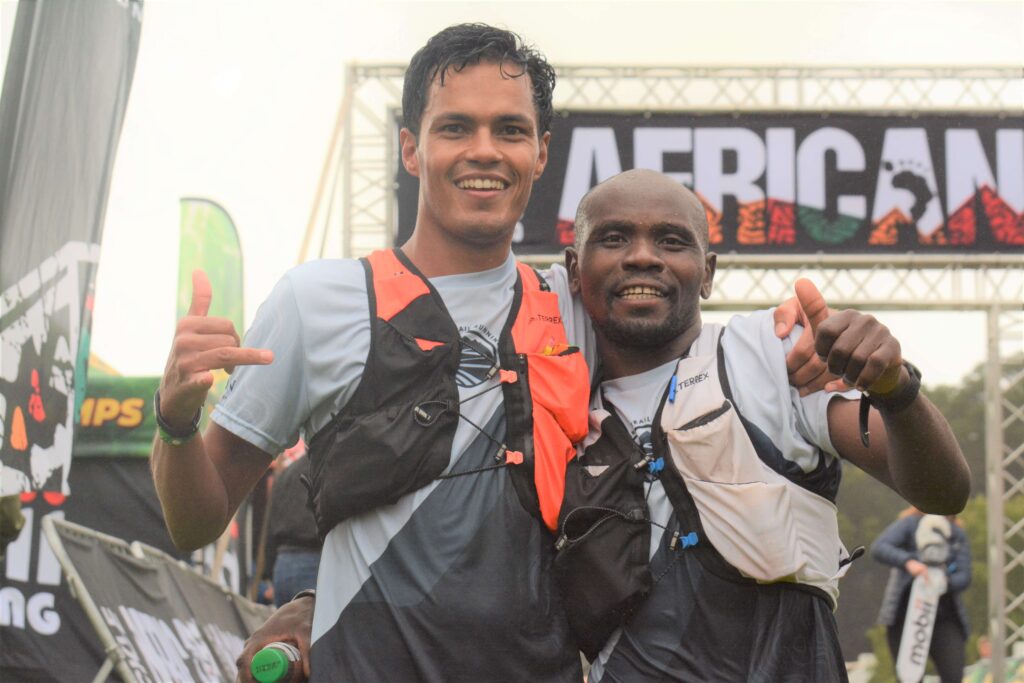 "We weren't thinking of winning," Smith admitted. "We just wanted to run consistently but it seemed that a few of the favoured teams were struggling and we gradually moved through the field. We overtook Kyle and Oli about 22km into the race and then took the lead about 8km from the finish.
"We love rubbing shoulders withs guys like AJ (Calitz) and Nicholas (Rupanga). Even in this race they told us 'Well done, consistent pace guys and keep eating'. It's such a great vibe and great trail running community."
The performance of the day belonged to Marshall and Marais, who won the mixed category contest by almost 12 minutes, finishing just four minutes behind the fifth-placed men's team, Calitz and Rukadza.  
"Today was amazing," said Marshall. "The routes were beautiful, fast, flowing but also some proper climbing. Stu was just strong – he just drags me up the climbs and sets a really strong pace. We had a good time together and did lots more chatting about memories today – yesterday I was just too breathless to speak at all!"
"It really was a true trail running route," said Marais. "There was so much beautiful single track with epic bundu-bashing sections which led to amazing trails. All in all, it was a great route layout. At about 20km Kerry and I both felt good, so we started to put the pressure on and ended up having a good run.
"It's a 'Party on Foot' – a huge jol out there, everyone is so friendly and happy to be out running. A hattrick stage win tomorrow would be the cherry on top, but we'll go out, see how we feel and hopefully it all comes together on the day."
Southern Cape runner, Melikhaya Msizi and his partner Anna Haw (Harmony CX) snatched second place in the mixed competition, just 37 seconds ahead of Kristen Heath and Jarryd Dunn (Team Nearly Dunn) with Chantel Nienaber and Chris Visser (COWrageous) a further 26 seconds back in third.
Jansen van Rensburg and Rack (Nam Power) appeared to grow stronger as the stage grew longer and took the tape in the women's competition in 3:16:49, six minutes ahead of runners-up Nicola De Villiers and Jani Kruger (Team RIOT). Grimes Sisters pair (Leani Potgieter and Isel Barnard) were less than two minutes back in third.
RESULTS: PICKLE JUICE AFRICANX TRAILRUN Three-Day Stage Race
STAGE 2
Date: Saturday 18 March 2023
Distance: 34 km
Start Venue: Elgin Grabouw Country Club
Finish Venue: Houw Hoek Hotel
TOP 5 OPEN CATEGORY:
OPEN MEN'S TEAMS:
1 Lovemo Nyaude and Hakeem Smith (HTRCrew Trail Taxi) 02:46:44, 2 Kyle Bucklow and Oli Morris (New Balance) 02:48:16, 3 Oliver Stapleton-Cotton and Mike Van Der Merwe (The Italian Jog) 02:51:32, 4 John April and Underson Ncube (Ride along 2) 02:55:07, 5 Bernard Rukadza and AJ Calitz (K-Way New Balance) 02:57:37
OPEN WOMEN'S TEAMS:
1 Alexa Rack and Julia Jansen Van Rensburg (Nam Power) 03:16:49, 2 Nicola De Villiers and Jani Kruger (RIOT) 03:20:35, 3 Leani Potgieter and Isel Barnard (Grimes Sisters) 03:22:18, 4 Nicole Bartsch and Monique Bartsch (The Bartsch's) 03:41:21, 5 Carla Pietersen and Larah Van Niekerk (Girls with Guts) 03:51:44
OPEN MIXED TEAMS:
1 Stuart Marais and Kerry-Ann Marshall (Team New Balance #WeGotNow) 03:01:49, 2 Melikhaya Msizi and Anna Haw (Harmony CX) 03:13:26, 3 Kristen Heath and Jarryd Dunn (Nearly Dunn) 03:14:03, 4 Chantel Nienaber and Chris Visser (COWrageous) 03:14:29, 5 Jono Gay and Tennille Gay (Team Mom and Dad) 03:31:36
TOP 5 OPEN CATEGORY GENERAL CLASSIFICATION (GC): STAGES 1 AND 2 COMBINED
OPEN MEN'S TEAMS:
1 Kyle Bucklow and Oli Morris (New Balance) 04:35:44, 2 John April and Underson Ncube (Ride along 2) 04:36:59, 3 Lovemo Nyaude and Hakeem Smith (HTRCrew Trail Taxi) 04:37:05, 4 Oliver Stapleton-Cotton and Mike Van Der Merwe (The Italian Jog) 04:44:19, 5 Bernard Rukadza and AJ Calitz (K-Way New Balance) 04:47:30
OPEN WOMEN'S TEAMS:
1 Alexa Rack and Julia Jansen Van Rensburg (Nam Power) 05:24:32, 2 Nicola De Villiers and Jani Kruger (RIOT) 05:30:57, 3 Leani Potgieter and Isel Barnard (Grimes Sisters) 05:34:26, 4 Nicole Bartsch and Monique Bartsch (The Bartsch's) 06:04:10, 5 Carla Pietersen and Larah Van Niekerk (Girls with Guts) 06:21:42
OPEN MIXED TEAMS:
1 Stuart Marais and Kerry-Ann Marshall (Team New Balance #WeGotNow) 04:59:38, 2 Kristen Heath and Jarryd Dunn (Nearly Dunn) 05:21:17, 3 Chantel Nienaber and Chris Visser (COWrageous) 05:25:00, 4 Melikhaya Msizi and Anna Haw (Harmony CX) 05:26:10, 5 Jono Gay and Tennille Gay (Team Mom and Dad) 05:49:23