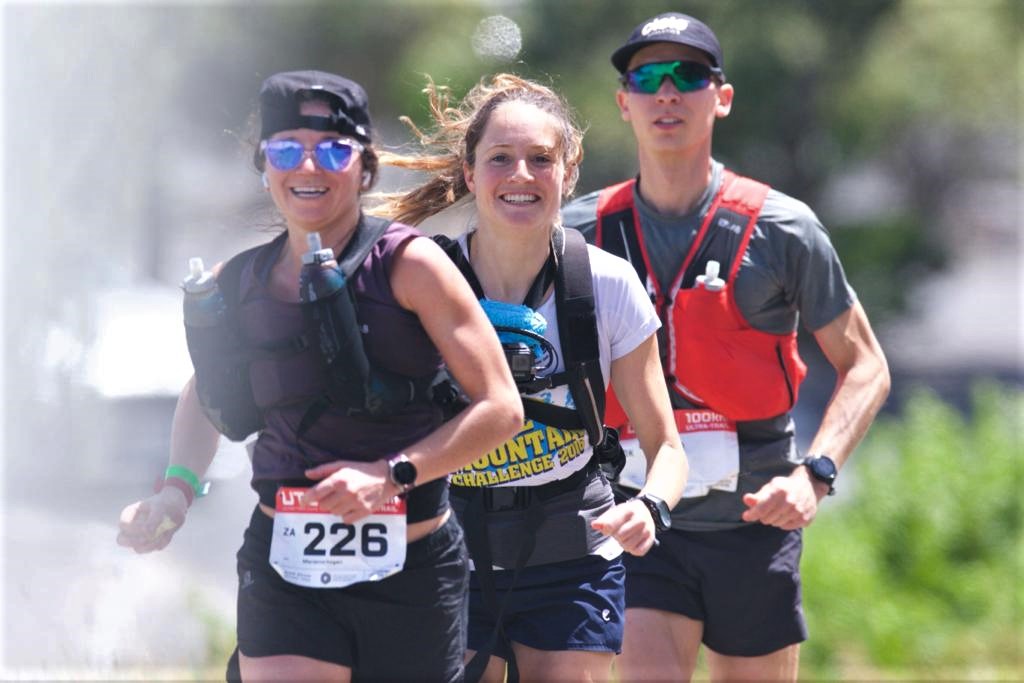 By Stephen Granger
Jim Walmsley and Courtney Dauwalter blazed to impressive victories on Table Mountain trails in last week's Ultra-trail Cape Town (UTCT) 100km, but there was an impressive 'behind the scenes' alternate 'relay run' over the challenging course with 4739 metres of total ascent by several of Cape Town's leading trail athletes.
A team of athletes was chosen to carry online cameras throughout much of the race, tracking the race leaders and bringing live images of real-time action to the world in a manner that has seldom, if ever, been equalled.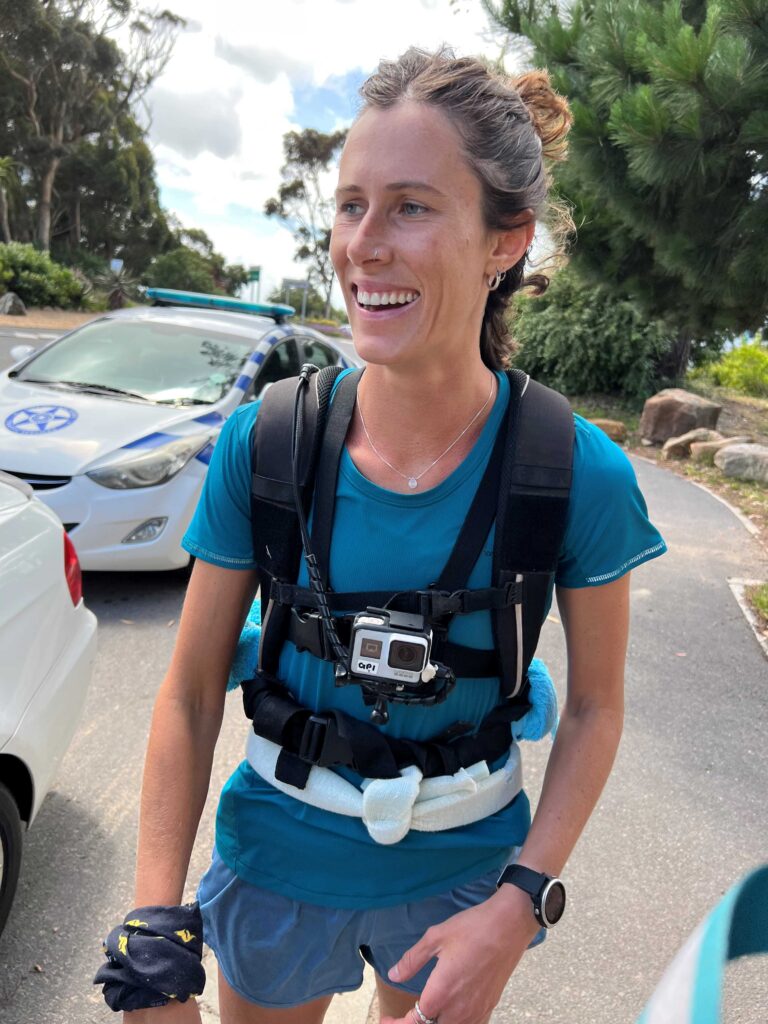 Kudos have come from many quarters on the quality of the broadcast, anchored competently by international and Olympic sports commentator Max Cluer, strongly supported by former UTCT champion, Zimbabwe-born Emily Hawgood, while Walmsley and Dauwalter themselves acknowledged that they had never previously experienced such camera tracking throughout the entire race.
Twelve leading local trail athletes – including the country's two top women marathon-distance trail athletes Toni McCann and Bianca Tarboton – were assembled for the task under by trail runner and film-maker Damien Schuman, with the aim to camera-track the top two male and female athletes for as much as the race as possible after first light at 05h30 – 90 minutes after the start of the race – and to provide the backbone of the international broadcast to the world.
The team consisted of Jonathan Black, Lucas Adams, Sebastian Thompson, Oriole Bolus, Rob Shaff, Toni McCann, Josh Grievson, Jarryd Dunn, Rob Tweddle, Lauren Granger and Bianca Tarboton, who spread out over much of the northern peninsula to reach the appointed positions for their respective legs via specifically designated drivers, all coordinated by Schuman with military precision.
"Runners worked on a leap-frog system," explained Schuman. "They would run a segment, skip the next, and then tag in again for another run. And based on ability we tried to match camera runners with a realistic competitor.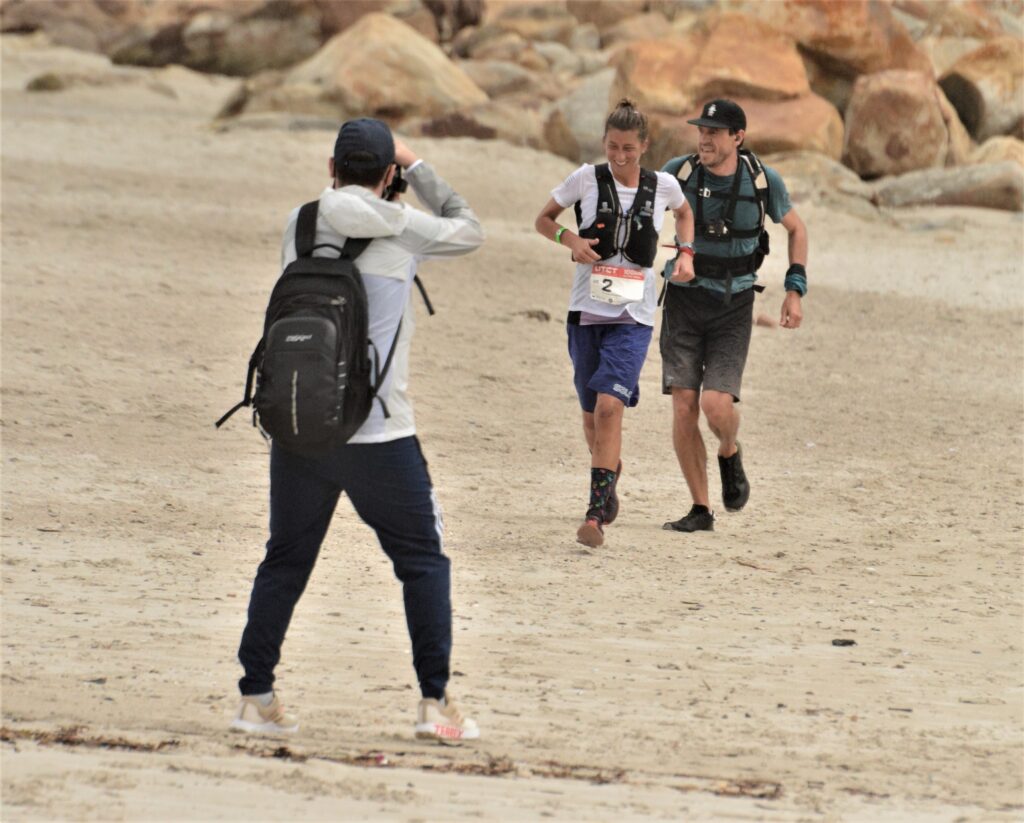 "Gear wise this was quite a first in SA," continued Schuman. "The packs had been custom-designed locally by Jacques Nel. The pounding and shaking that comes with running proved to be a small challenge on the gear (and on the runners!), but reception was really good. With a bit of suspension and padding we'll have a really good set up (for the future).
"From a planning perspective, it was pretty wild – we only had six packs to ideally document the 1st and 2nd men and women. And especially in the second half where positions spread out, our transition times became tighter and tighter. UCT proved the tightest – we got Jarryd (Dunn) switched on only about two minutes before Jim came past.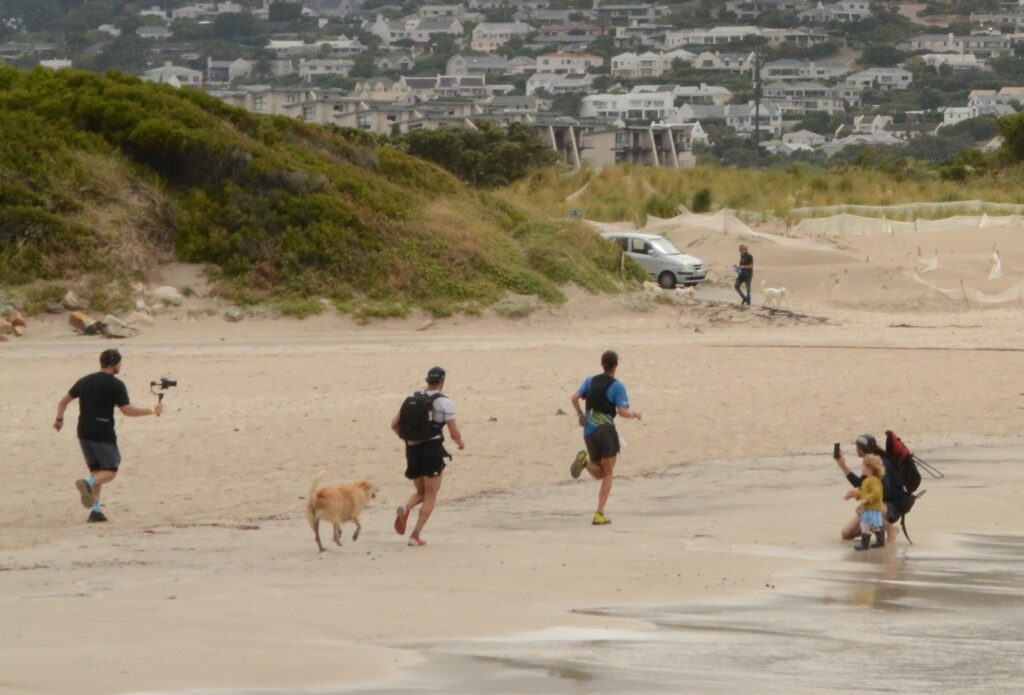 "We arranged that the runners on average would run about 12km segments with a 5kg pack with camera battery and support framework," Schuman explained. "Because of finicky GoPro wiring, the cameras were attached to chest mounts. The transmitters were necessary to guarantee constant coverage even where reception is poor. This is one area where other race coverage has struggled to date."
First 'running cameraman', Jono Black, set off from the Kloof Nek Aid Station 18.5 km into the race in hot pursuit of joint race leaders, Jim Walmsley (USA) and Andreas Reiterer (Italy), while Lucas Adams followed soon after, tracking first woman, Courtney Dauwalter up the short and sharp climb up Kloof Corner, along the contour and up Platteklip Gorge.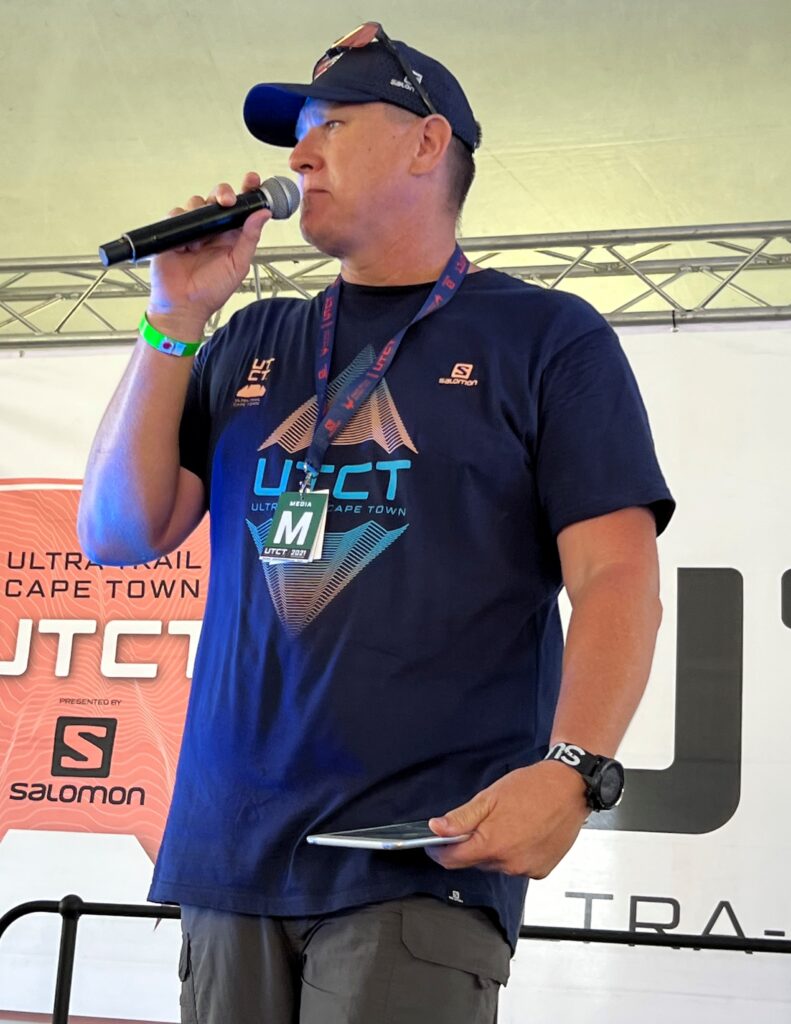 Walmsley's climbing skills are in a league of their own, and Black, himself a strong climber who earned the King of the Mountain award at the recent Mont Rochelle Sky Race, was unable to stay with the American in the final stages of Platteklip Gorge, but when Walmsley ran off course at the top of the climb, Reiterer became the new race leader, with Black hot on his heels.
Reiterer stayed ahead through 36km at Constantia Nek, with Black completing a 18km 'marathon' leg and the world was granted riveting live-action footage as the athletes ran into Orange Kloof on their way to Llandudno. Walmsley followed through the Nek two minutes later, having closed a minute on his Italian rival, while French athlete, Sebastien Spehler, was close in attendance in third.
The broadcasters waxed lyrical on the work of the camera crew. "This is a world-first, this is incredible," enthused Cluer as Adams tracked Dauwalter over the top of Table Mountain. "Whoever is running behind Courtney is doing an incredible job – keeping pace with her and keeping your balance with that big extra weight on their shoulders is really difficult."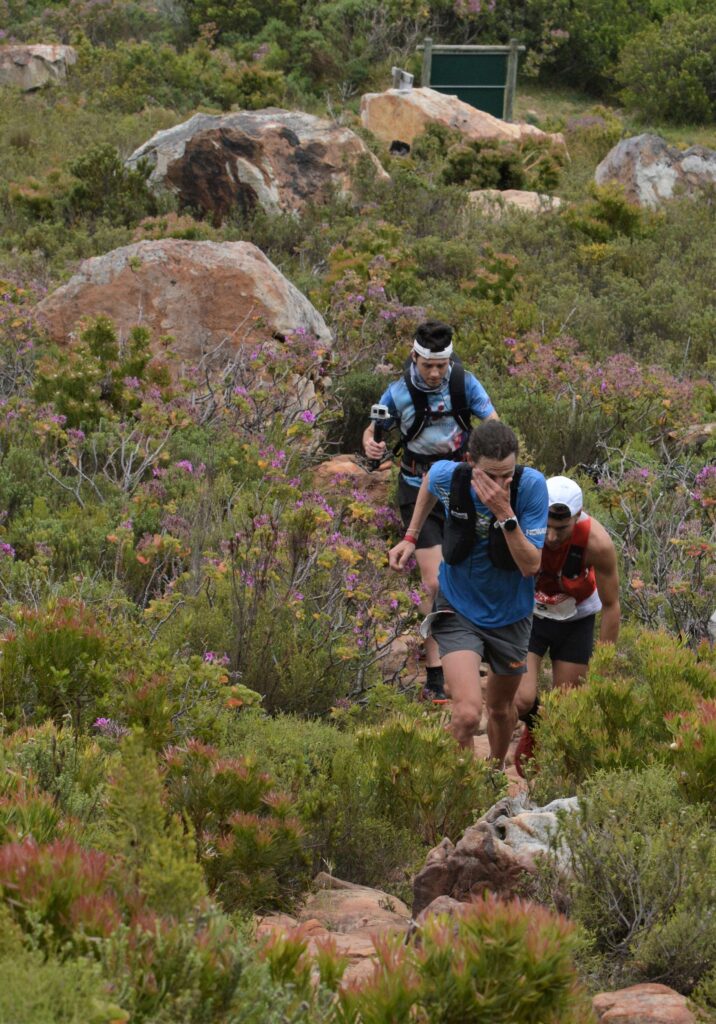 Well-known American athlete and commentator, Dylan Bowman, joined the broadcast from his home in the USA and added his admiration. "Chasing Jim and Courtney is no easy task especially when trying to navigate those technical trails. Even doing that for a mile is impressive. The way they have succeeded is testament to the professionalism of the organising team. The level of the athletes running with the cameras is so impressive – it is one of the best teams ever put together."
And Bowman could not hide his amazement at the live images as Walmsley and Reiterer emerged together at Suikerbossie before running down into Llandudno 44km into the race. "How cool is that?" he asked as Thompson kept pace with the leaders. "To have cameras on these athletes who can stay with the world's best athletes – that's the future of the sport and the best way to bring the story into the public's living room."
Shaff took over from Thompson from Rocket Road 50km into the race and set off in pursuit of Walmsley, who scarcely paused at the feed station, while McCann waited for the arrival of Dauwalter to take over from veteran runner, Bolus, and follow her over the steep climb up Suther Peak and down into Hout Bay.
"I had to put in a quick sprint to make up 30 seconds to catch Jim at the base of Suther Peak, not the best way to start the day!" admitted Shaff. "Jim's climbing was strong and relentless while the camera backpack weight made keeping up very tough.
"Then we were at the top and I was faced with a new challenge as he opened up on the downhill, clocking one or two 3min 35 sec kilometres down Karbonkelberg and across Hout Bay Beach. Luckily, I bade him farewell at this point, because I was properly broken!"
Impressively, Dunn was able to stay with Walmsley over the testing new section of the trail, climbing above East Fort to the disused manganese mine and back down to Constantia Nek, leaving Tweddle and Granger to follow in pursuit of the leading women.
It was now the turn of Tarboton to track Walmsley, down to the Alphen Trail aid station, then up again to Cecilia Forest, but the local athlete found tracking the world's fastest ultra-trail athlete carrying a substantial camera back-pack was a far cry from winning the women's contest at this year's Otter African Trail Run in record time.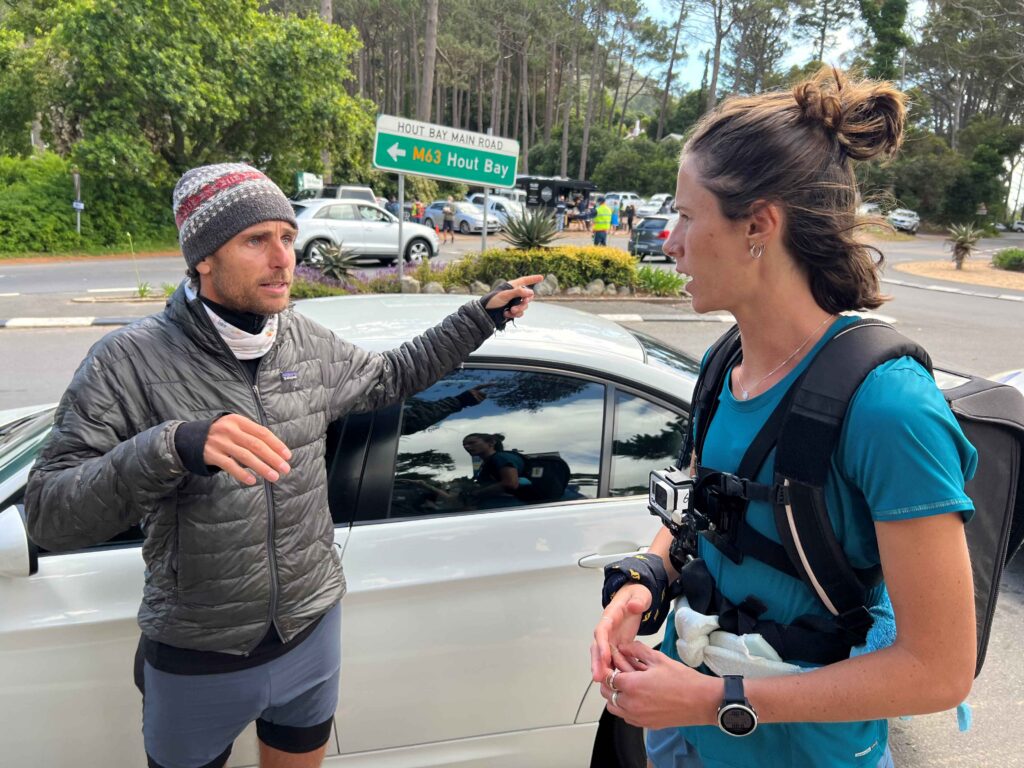 "It was tough," admitted Tarboton. "Running with an extra 5kg and a very uncomfortable backpack is not conducive to running faster than 4 min/km. But I loved every moment and am not ashamed of being dropped by Jim Walmsley on my 10km run and during his 100km one!
"My experience was mind-blowing. To watch someone move so quickly and fluidly after running 70 plus kilometres was exceptionally inspiring. I tried to hold on to him but got VERY dropped about 6 km in. I then took a shortcut, hoping to stick with him for the rest, but he flew past me yet again."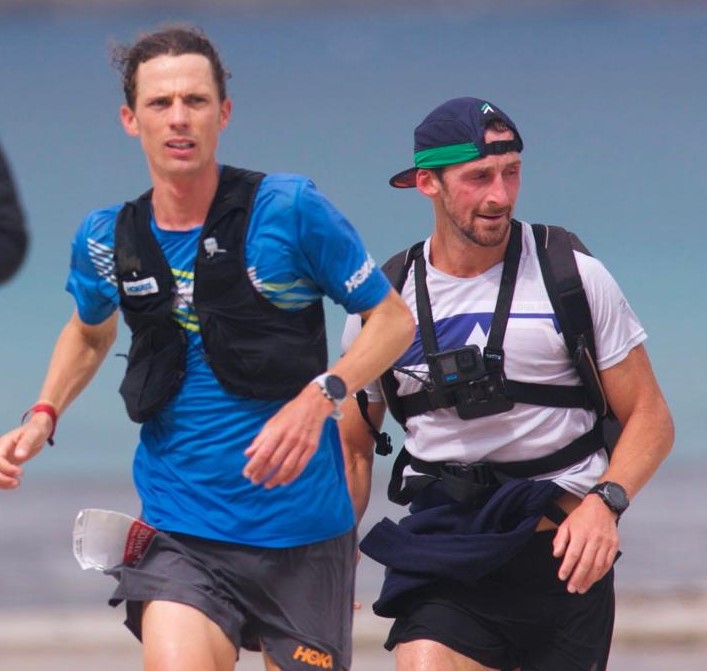 Shaff did his second leg over the same section, tracking Dauwalter at the head of the women's race between Constantia Nek at 70km and Cecilia Forest at 81km, before handing over to McCann. "Putting on the backpack again was not fun in anticipation repeat bruising but running with Courtney was loads of fun," reflected Shaff. "She moved consistently and smoothly on the downhill to Alphen, but then proceeded to maintain the same pace on the climb, which almost broke me for the second time that day!"
Thompson tracked Walmsley through to UCT, leaving Dunn to handle the American's strong finishing pace in pursuit of the race record, which he achieved with aplomb, after sorting a technical snaffle on the climb to King's Block House, where Walmsley got away from his tracker. Dunn was able to close the gap, stay the pace at speed along the contour around Devil's Peak and Oppel's Kop and finally match Walmsley's suicidal pace on the descent from Dead Man's Tree to the finish.
Cluer on mic was ecstatic about the closing visuals. "Shut the front door, drop the mike – you guys rock! I'm going to high-five this cameraman when I see him – he needs a bath of beer! The commitment of this team is nothing short of spectacular."
McCann was enjoying her second leg, tracking Dauwalter to UCT before handing over to Bolus for the final leg. "It was so much fun," she said at the finish. "Being able to run with one of the all-time greats of the sport was great and I learnt so much."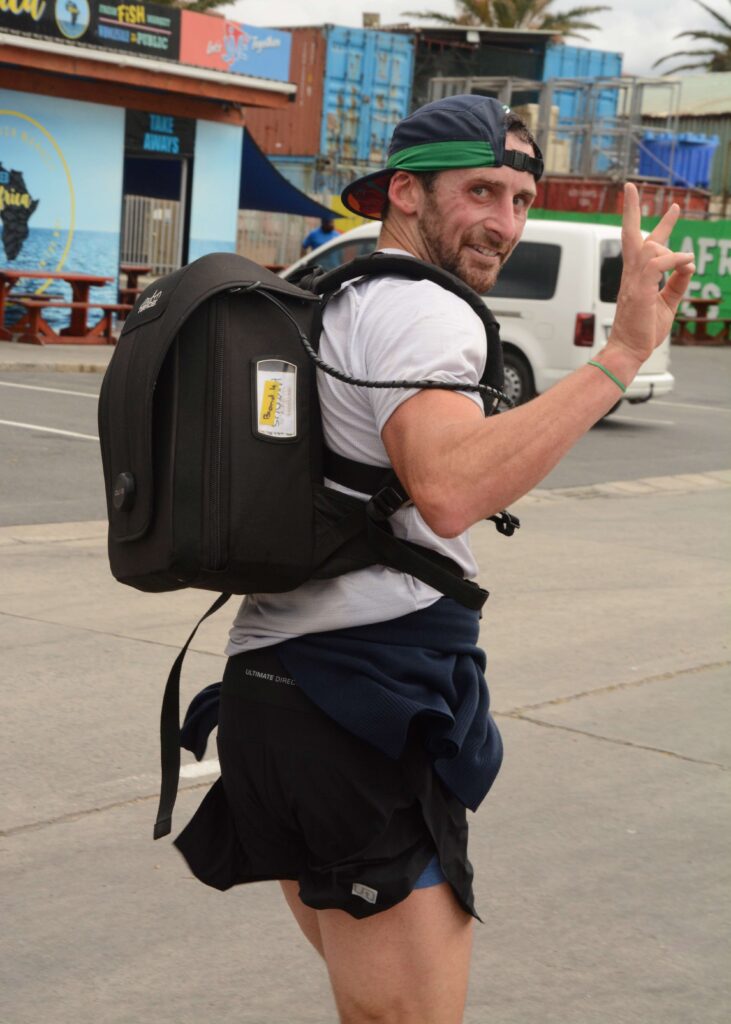 Overall, the camera runners worked hard, suffered bruises and chaffing and tough running challenges but all found the experience exceptional and valuable to their careers.
"It is truly inspirational to see the way in which these athletes move through the terrain, the consistency and pace which they are able to endure, even after eighty more kilometres than I did on the same day," remarked Shaff, who celebrated his birthday on race day. "It is awe-inspiring to have such amazing ambassadors to the sport."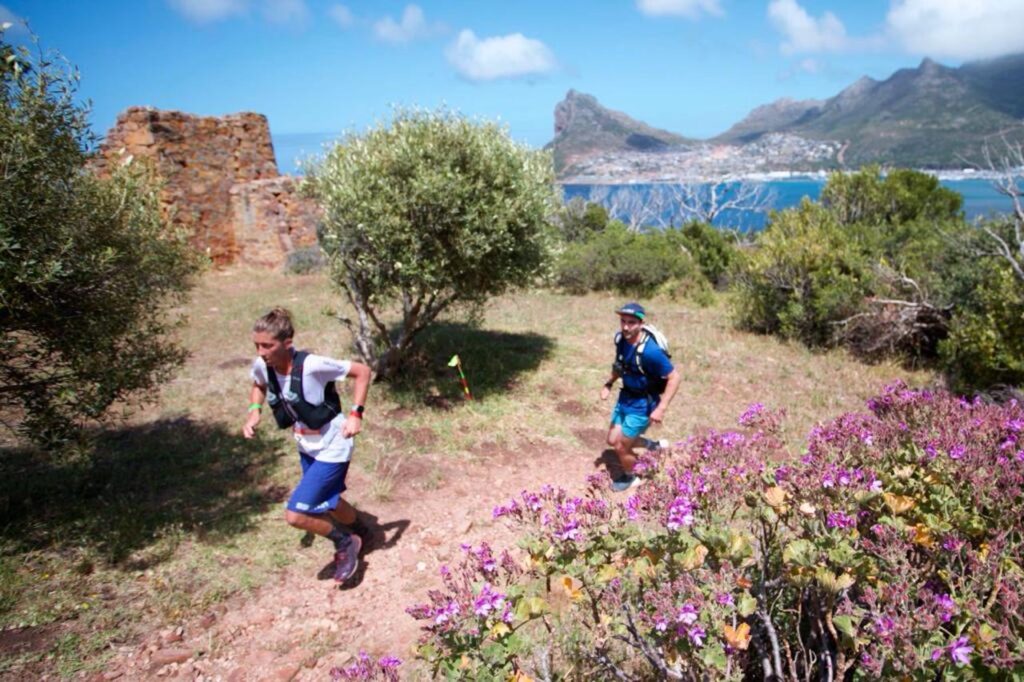 "As a broadcast runner, there were similar yet different types of race nerves," reflected Bolus. "These were not about stressing over fitness, running kit and whether you will wake up on time, but rather I would be able to stay with the lead runner or cope with a 5kg pack. Logistically it was a challenge, and Damien Schumann and the greater UTCT team did an amazing job pulling it all together."
"The runners loved the experience," concluded Schuman. "It was a great opportunity to witness masters of their craft in action, as well as getting a feel what record pace on a 100km is like."
©SPortsNetworkAfrica
www.spnafricanews.com