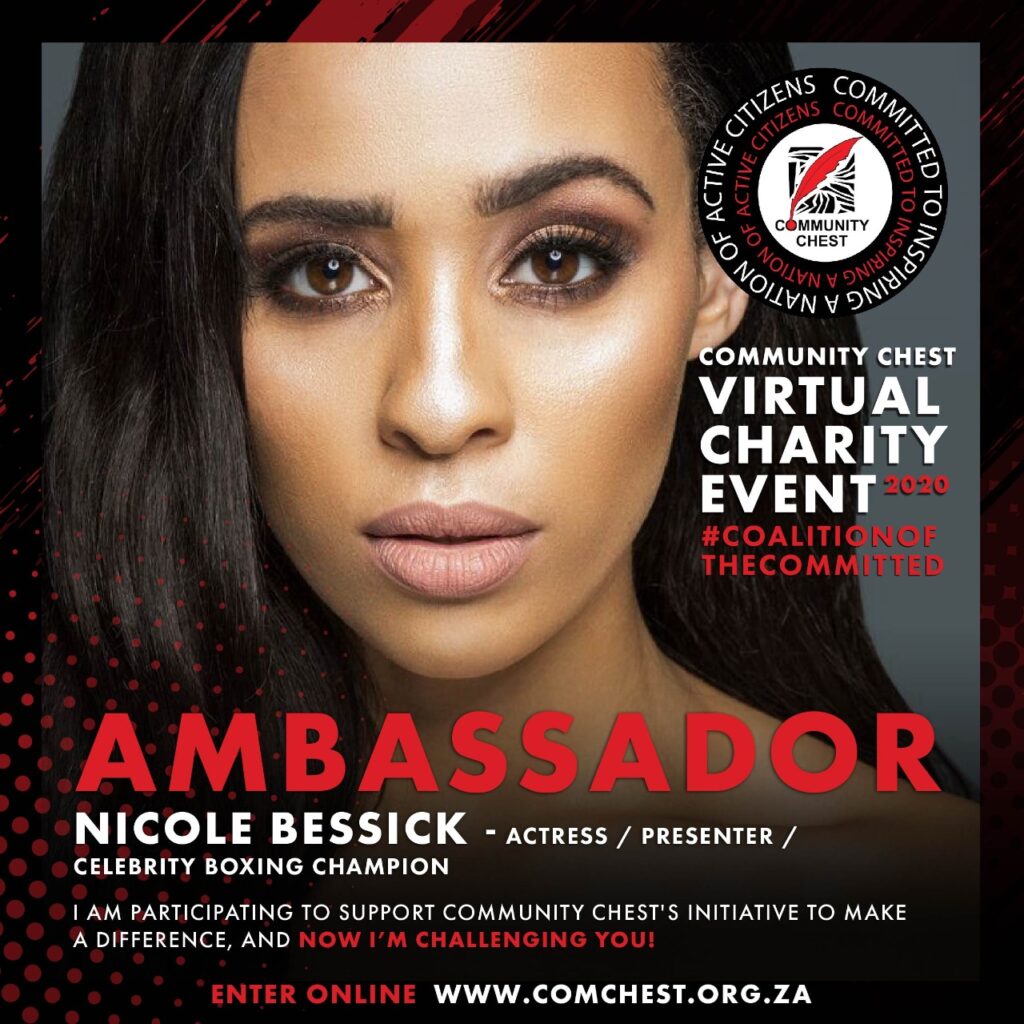 A Community Chest event in South Africa has taken on a "virtual" life of its own this week with a variety of "ambassadors" – from entertainment to sports, the arts, fashion and business – running around apartments, pounding treadmills and cycling indoors, some for days on end. All doing so virtually, in the name of charity – and health.
A wardrobe stylist ran countless rings around her apartment, a defence attorney completed a 'chilled and hungry' 100 km bike ride while an actress showed little mercy to her treadmill, pounding it for ten successive days before signing off as 'completed' – just three of thirty South African "ambassadors" who signed up to support the 2020 Community Chest virtual charity event,
Community Chest launched the Virtual Challenge, described as an "all-inclusive health festival where no one is left behind", to support hygiene in the education sector, specifically with the post-lockdown reintegration of students.
"The pandemic offered us a natural opportunity to focus on our key area of education and help in the challenging return-to-school transition after the lock-down," said Desiree Goliath, Community Chest Communications officer. "Proceeds raised will be facilitate the distribution of hygiene products and much needed resources for schools".
Organisers are inviting participants to focus on their personal health and fitness and "get moving" – all in aid of charity. "The event is open to walkers, runners and cyclists and there are options to suit each and everyone's fitness level," continued Goliath.
"The venue is your own home or a starting point of your choice to the finish line of your chosen distance. The distances offered are 5, 10, 20, 30, 50, 56 (Two Oceans Ultra-Marathon), 90.1 (Comrades Marathon) and 100 km, with a bonus "COVID route" of 19 km.
"You do not have to complete your chosen distance in a single day, but can split your distance over a week, month or throughout the remainder of the duration of the challenge up to 10th December."
Ambassadors have committed to undertake the challenge in support of a cause and are reaching out to their own extensive networks to sign up as many as possible.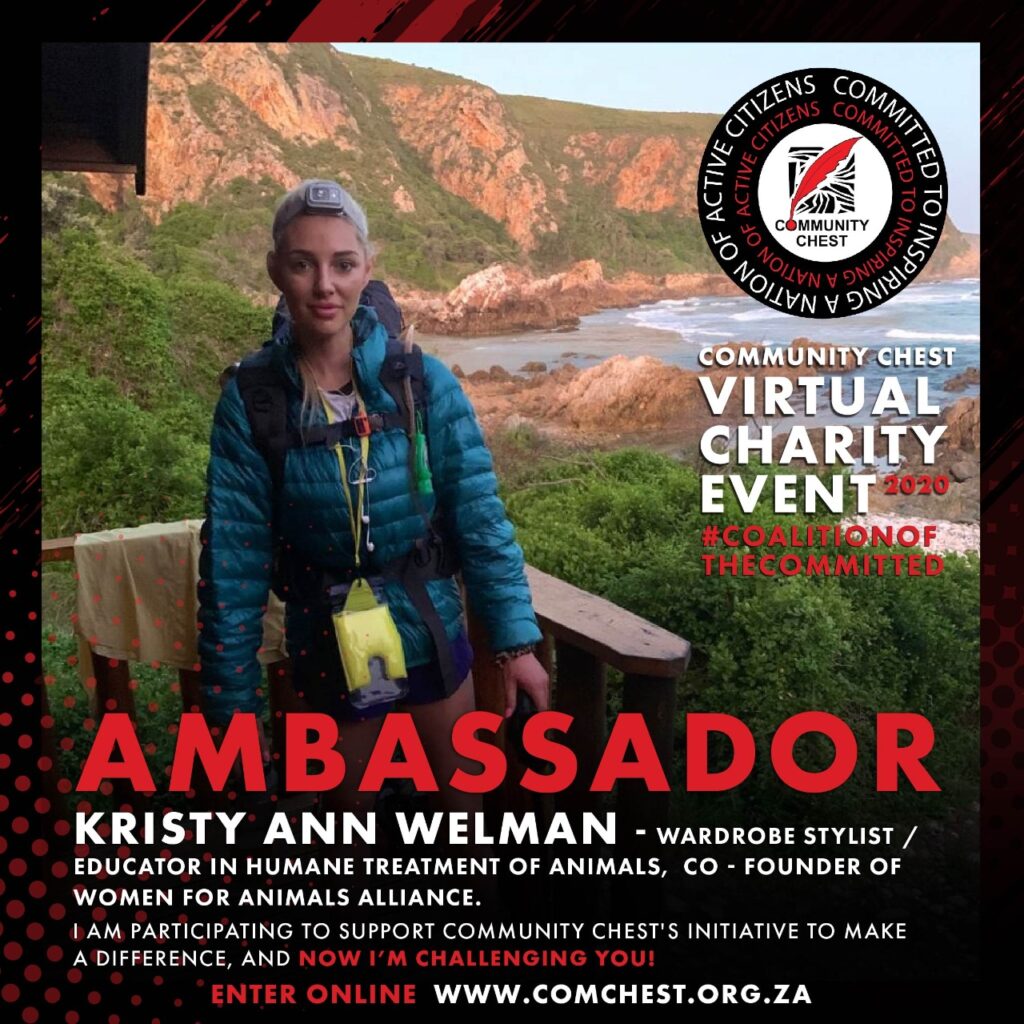 Kristy-Ann Welman, a wardrobe stylist by profession and educator on the humane treatment of animals by passion, went for broke, opting for the 100 km distance, which she completed in three consecutive days in June by running around her apartment living room. "I would love it for everyone to pick a cause and be a part of making a change.
"Through taking on something such as plastic pollution in oceans or veganism and contributing to charity, you will become a better person, and ultimately a happier one," she said.
Sports journalist Adnaan Mohamed chose to complete the 19 km COVID challenge, a number which also has meaning in terms of his own journey. "This year would have been my 19th Two Oceans Ultra and 19th consecutive Comrades. I at least managed to finish my 19th consecutive Cape Town Cycle Tour before lockdown!"
Pretoria defence attorney and nutritional advisor, Hendrik Marais, put his ketogenic diet theories to the test by going "cold and hungry" during his 100 km challenge. He has experienced first-hand the beneficial effects of dieting and exercise. "I was overweight as a child and never did sport at school," Marais admitted.
"I found that following a strict ketogenic diet (low carbohydrates and high fat) really made a difference and I took up running, cycling and swimming and became a triathlete."
"I chose the 100 km challenge, which I completed on a bike, starting out with a few friends at 6 am on a cold highveld mid-winter's day and after a complete night fast. It certainly pushed us into hunger and cold!"
For new "Binnelanders" star, Nicole Bessick, taking on the challenge seemed a mere extension of her action-packed, go-getting lifestyle. Best known for her role as Chloe on the eTV telenovela, Broken Vows, Bessick packs a punch – literally and figuratively, being the holder of the continent's first female celebrity boxing championship belt.
"I needed to learn boxing for some of my fight scenes and I really took to it," admitted Bessick. "That got me to enter the boxing championship contest and I've continued from there."
"I do my own action scenes and no-one messes with me now!" Bessick laughs. "I ran 10 km each day for ten consecutive days on a treadmill, finishing the 100 km last week.
"I felt much fitter afterwards and I felt great doing it because it was done with the purpose of promoting good hygiene and making schools safer. That includes programmes against bullying and gender-based violence at schools, causes which are close to my heart."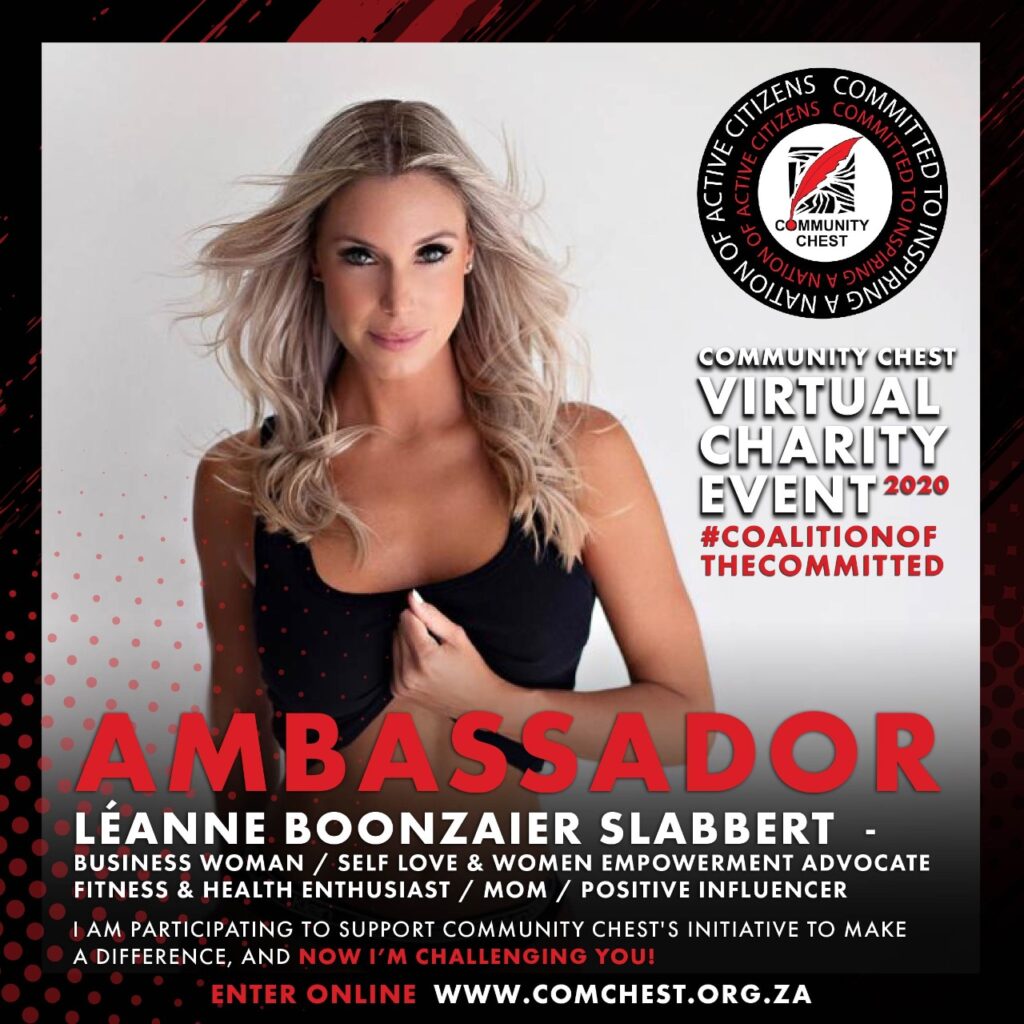 Business empowerment advocate, fitness and health promoter and mother to a five-year-old, ambassador Leanne Boonzaier Slabbert felt she had to support the Community Chest Challenge cause. "I understand the need for education. Our children are our future and we have to support them where we can.
"We are facing such uncertain and difficult times and I would do anything in my power to give back and support a cause that provides for kids to return to school in a safe and sterile environment,"
"I entered the 20 km challenge and have been encouraging all others to walk, run, cycle – whatever it is they enjoy to do support this cause. We can only be stronger together if we all work together and stand strong and support where we can."
Prizes over R100 000 are up for grabs, including luxury accommodation and attractive product prizes. Weekly lucky draws will take place throughout the event.
Entry fees, which will contribute towards supporting schools with their post-lock-down re-integration are R69 for distances between 5 and 19 km with all other distances costing R119. Commemorative T-shirts are available for R120. Web entries can be made at https://www.topevents.co.za/event/community-chest-virtual-charity-event/