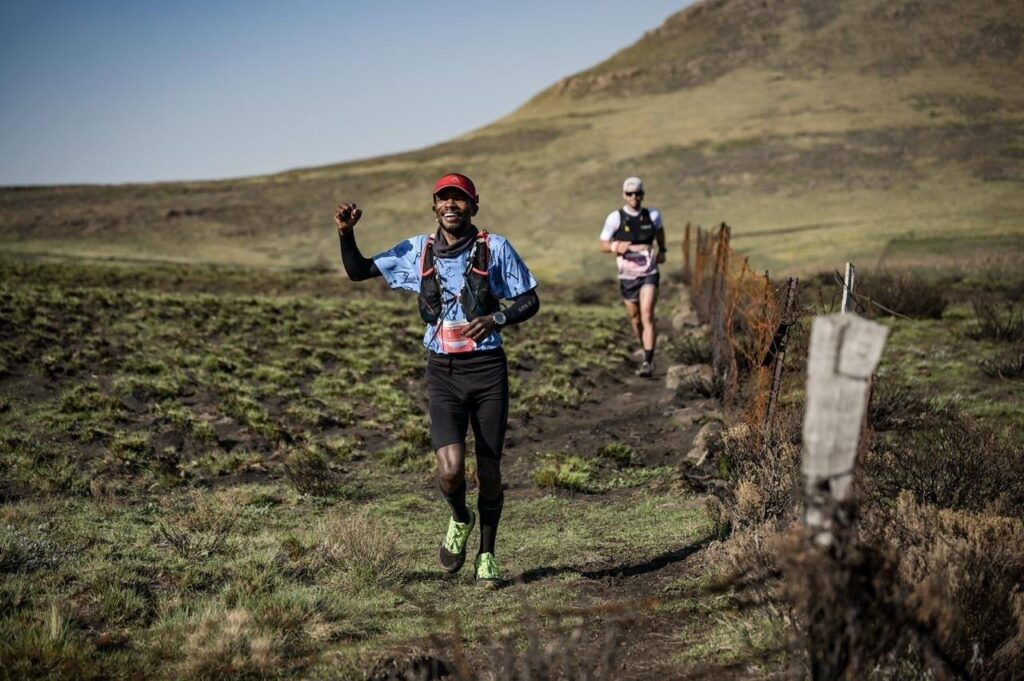 Thirty-six-year-old Spanish athlete Pere Aurell took line honours at the K-Way SkyRun 100km, run in perfect conditions in the Witteberg Mountains of the North-East Cape over the weekend but not before nail-biting drama over the final stages as last year's champion, Gauteng's Lucky Miya, came within three minutes of defending his title.
Aurell won the high-altitude race in 13 hrs 56 min 43 sec, with Miya clocking 13:59:39, over an hour ahead of third-placed runner in the men's competition, Johannesburg veteran, Jock Green.
Dutch athlete Ragna Debats, ran a superb race, closing on the leaders in the final stages to finish third overall and first in the women's race in a new record time of 14:21:23, signalling an impressive day's work for the Debats – Aurell family, currently on a world road tour with their six year old daughter.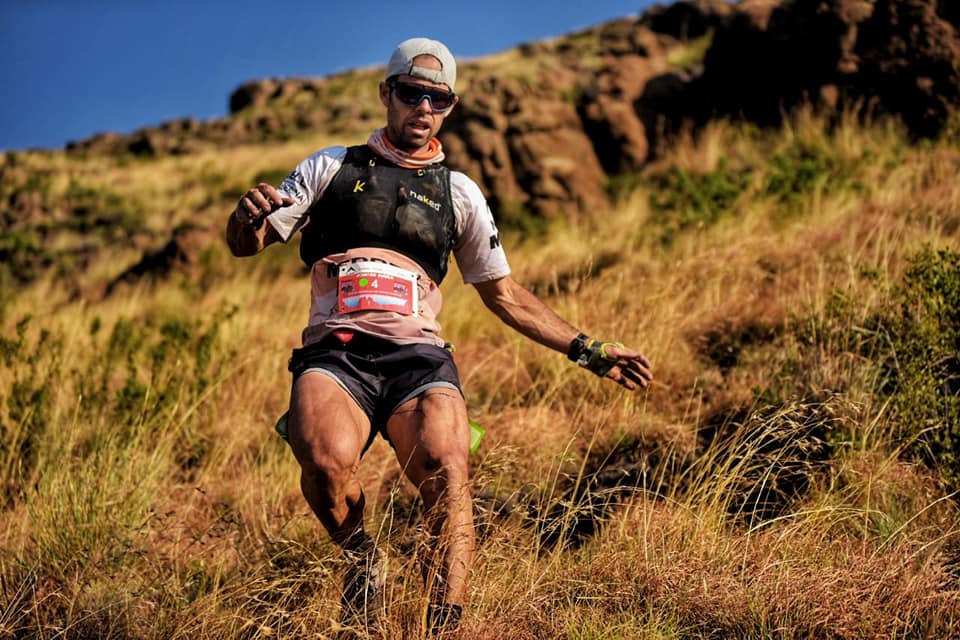 The race took a dramatic turn in the final quarter as Aurell, looking a runaway winner, potentially in record time, came unstuck as the combined effects of his earlier high-speed contest with Miya and the altitude took their toll.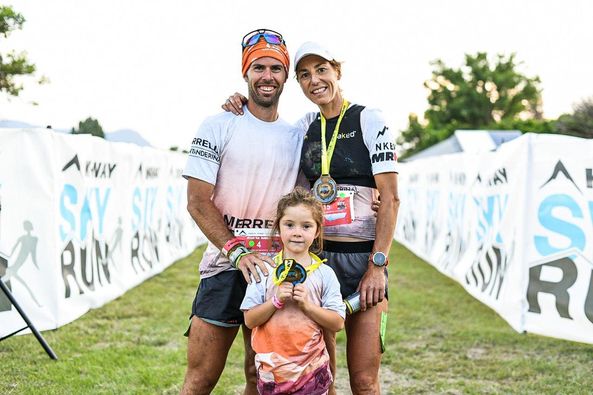 "I almost had to abandon the race after 80km," Aurell admitted. "I could hardly breath. Before that I'd had a lot of fun and all seemed to be going well. But I had to sit down quite often (after 70 km) to relax and breath, but at the same time the amazing landscapes were very rewarding. Luckily in the end, I put everything together and made it, and I'm very happy to have won the race!"
Miya conceded that their pacing upfront was not optimal. "The race was good, the weather was good. It's just that we didn't pace ourselves well from the start. I think we were a little bit too fast and we paid a price," Miya laughed. "But I recovered and finished strongly."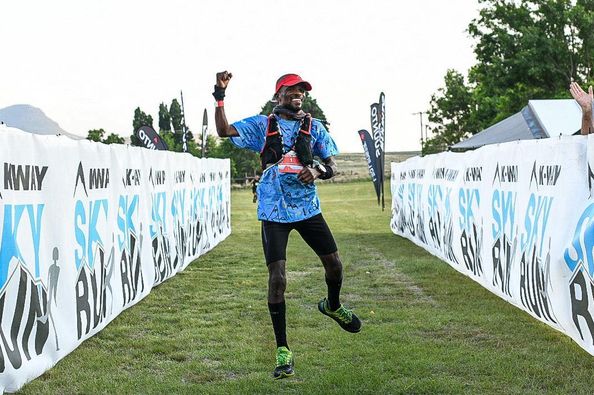 The performance of the day undoubtedly came from Debats. Unlike her husband and Miya, Debats' pacing was perfect, starting out in twentieth position and keeping on course for the record. "I completely loved the race," Debats enthused. "The views are absolutely amazing which makes it very easy on the mind.
"It was something new for me to self-navigate. I took the wrong path many times, but was able to correct and get back on the route. I enjoyed the navigation – it gives you something else other than just running. You have to look at the mountains and work out the best route to follow. I loved it. I started quite far back in the field but found I was passing people all the time, which kept me motivated."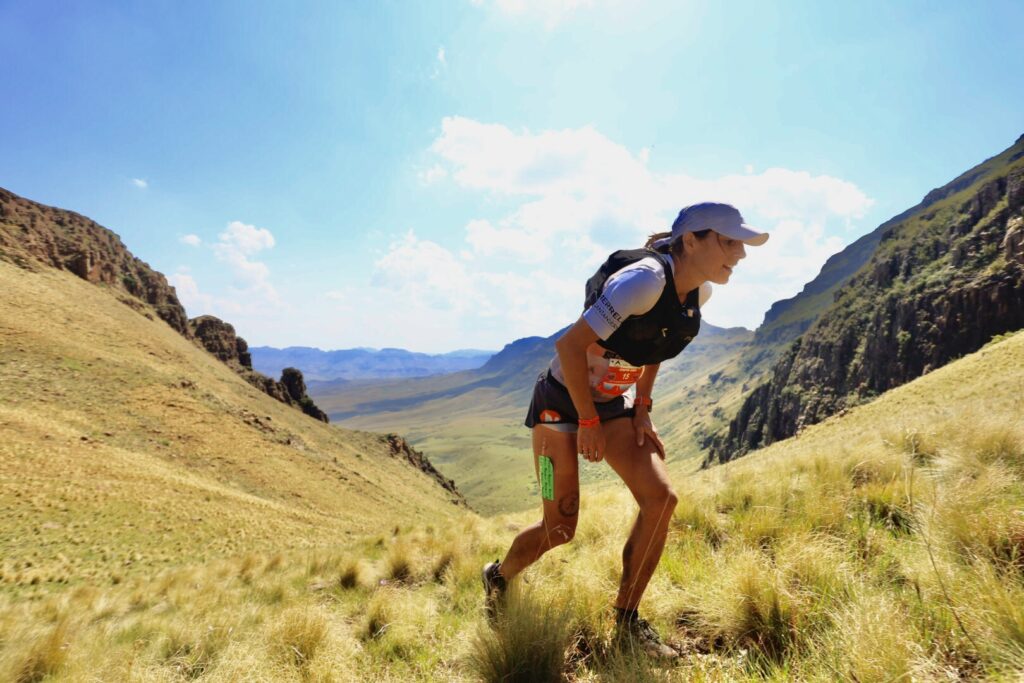 Earlier, Miya, Aurell and Pretoria's Ruan Van der Merwe opened a slight lead over veteran Jock Green and another former winner, Stewart Chaperon, in the pre-dawn section of the race. Van der Merwe dropped behind as the frontrunners reached 'Mount Olympus' after 18km, leaving Miya and his Spanish rival to race clear on their own. They reached 30km in 3 hr 25 min 40 sec, two minutes up on Van der Merwe, while Debats was twenty-four minutes clear of 2016 champion and record-holder, Nicolette Griffioen at that point.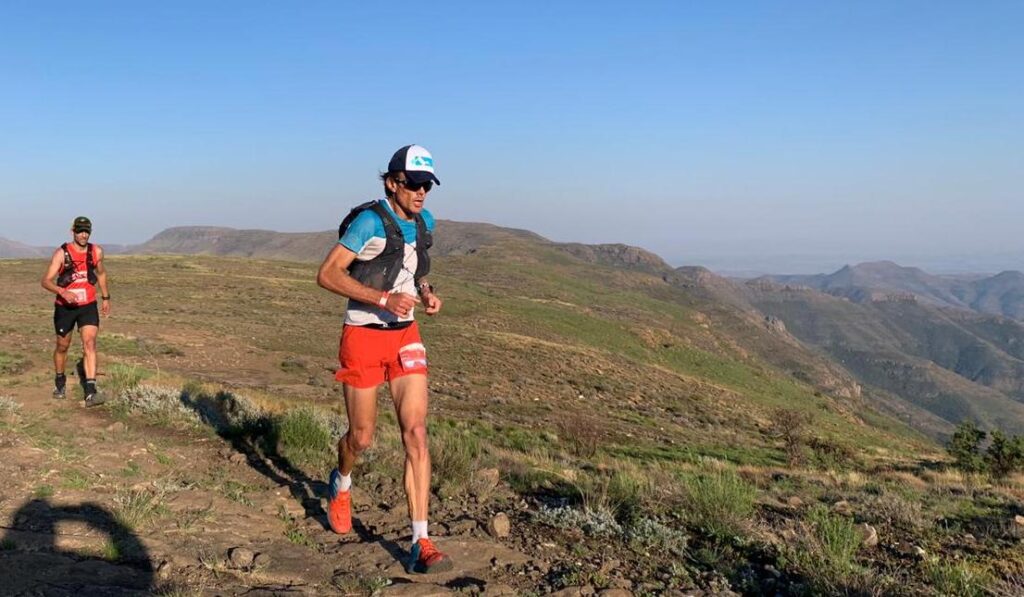 Miya broke clear of Aurell and at one stage held a three minute lead on his Spanish rival. But Aurell, who won the Otter African Trail Run just two weeks prior to the SkyRun, was never far off the pace. He caught Miya shortly before 'Skiddaw', 47km into the race, with the two athletes passing the 2405m elevation point together in 5 hr 27 min, with Van der Merwe was now 20 minutes behind.
The compulsory stop at Balloch after 57 km is regarded as the 'real half way mark' in terms of effort. Most athletes enjoy well-earned rest at for nutrition and massage, but the two leaders were in and out in a flash after their medical checks.
Aurell increased the pace, with Miya dropping behind rapidly, and he reached Edgefield at 67km in 8 hrs 01 min with a 16 minute lead on his South African rival, on course to eclipse KZN athlete Iain Don-Wauchope's 2014 record of 12:08:15. Green followed in third 40 minutes behind Miya.
But Aurell began to tire and the Catalan struggled on the long climb to the "turn point" below Breslin's Kop at 83km. All hope of a sub-12 hour and record time were now gone and the outcome of the race was still in the balance.
Debats, had moved strongly through the field and was now just 10 minutes behind Green in 4th overall, running comfortably, having left Balloch over an hour ahead of Griffioen.
Miya had begun to close on Aurell, but the fastest athlete in the field at that point was Debats, who had overtaken Green and passed the penultimate check point 17 minutes behind Miya, who was still 22 minutes behind the leader.
With the end in sight, Miya picked up the pace on the mostly downhill stretch and had slashed Aurell's lead through the final checkpoint at 94km, trailing by just 8 minutes. Debats, however, was even faster and was now just ten minutes behind Miya and closing rapidly.
Just six kilometres, including a steep technical descent to the finish, remained as the top three fought out a pulsating final sector. Any of the three were still with a chance of victory at that stage with just more than 40 minutes left to the finish.
With Miya closing fast, Aurell dug deep and lifted himself to clinch his second "nailbiter" in two weeks in South Africa, following his 20 second victory over Johardt van Heerden in the Otter. Aurell won in 13:56:43 – just 21 seconds slower than Miya's winning time last year and 2 min 56 sec ahead of Miya in one of the closest finishes in the history of the race.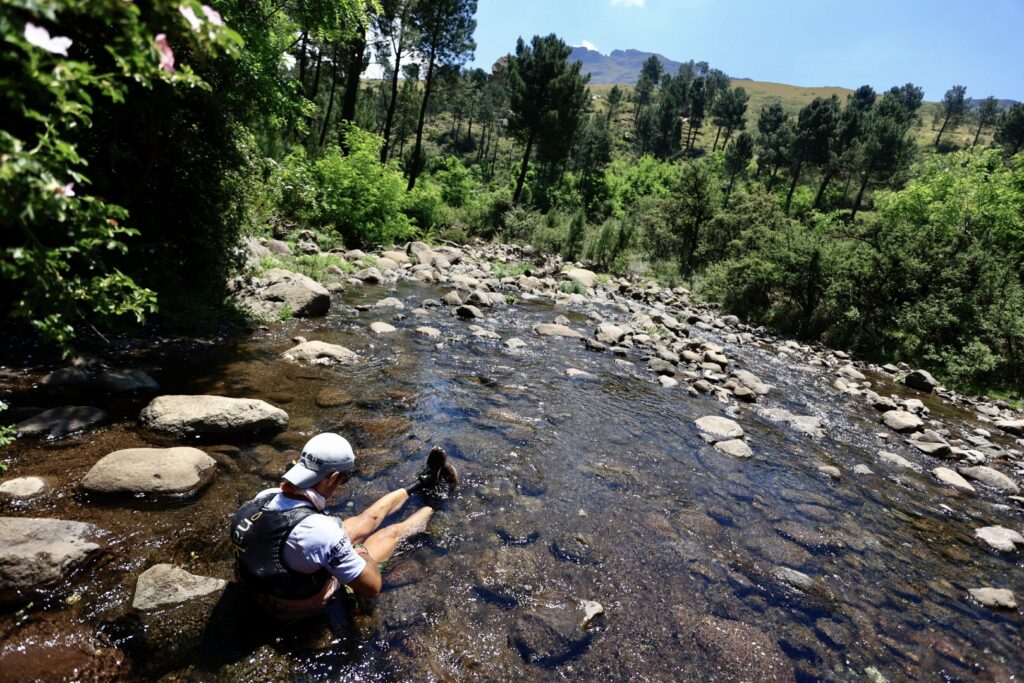 Debats ran out of real estate and with no chance of catching the leaders on the fast final stretch, backed off over the final kilometres to secure overall third position in a new women's record time of 14:21:23 – 55 minutes inside Griffioen's previous mark set in 2016 and 3 hrs 46 min ahead of Annelise Scholtz, who had overtaken Griffioen to clinch second position.
Gauteng ultra-marathoner and winner of last year's MaXiRace Cape Winelands 100km, Simon Tshabalala, won the SkyRun 65km in record time, his 8:37:48 improving by three minutes AJ Calitz' former record.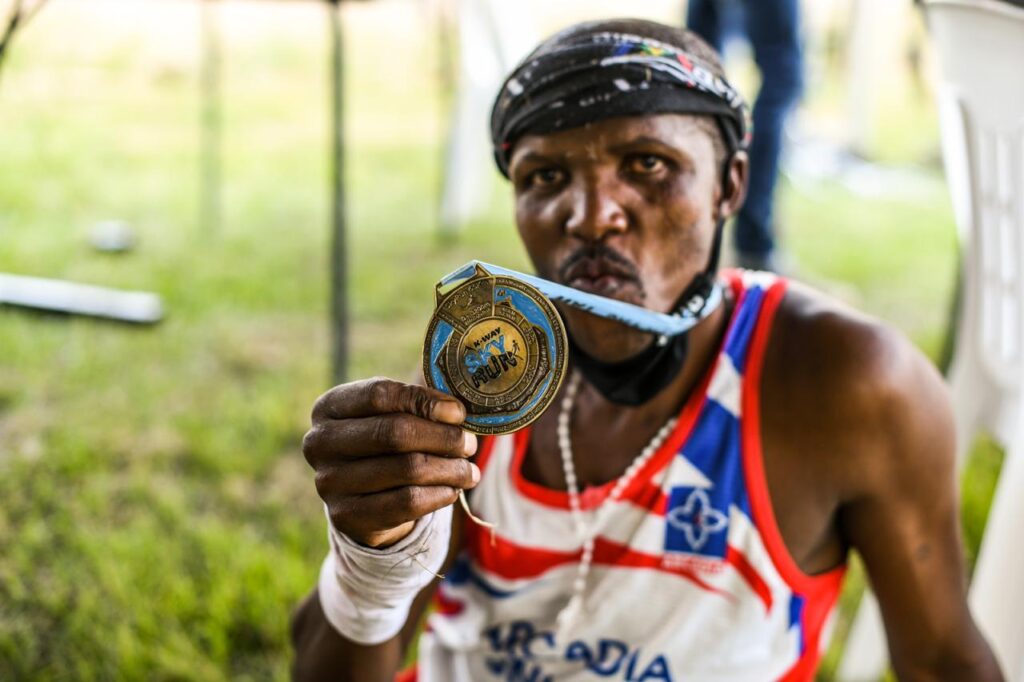 Tshabalala ran with the 100km leaders in the early stages, the two races having started simultaneously, before falling behind the relentless pace set by Miya and Aurell.
Tshabalala reached Balloch about 35 minutes after the two 100 km leaders – a measure of the exceptional pace set in the longer race.
"The race was great, but it was hot!" Tshabalala remarked. "It was my first time running SkyRun and doing self-navigation, so I have to say a big thanks to Jock Green who helped me a lot on the course. I'm happy with my win and I'd like to thank my coach Lucky Miya for his help and insight."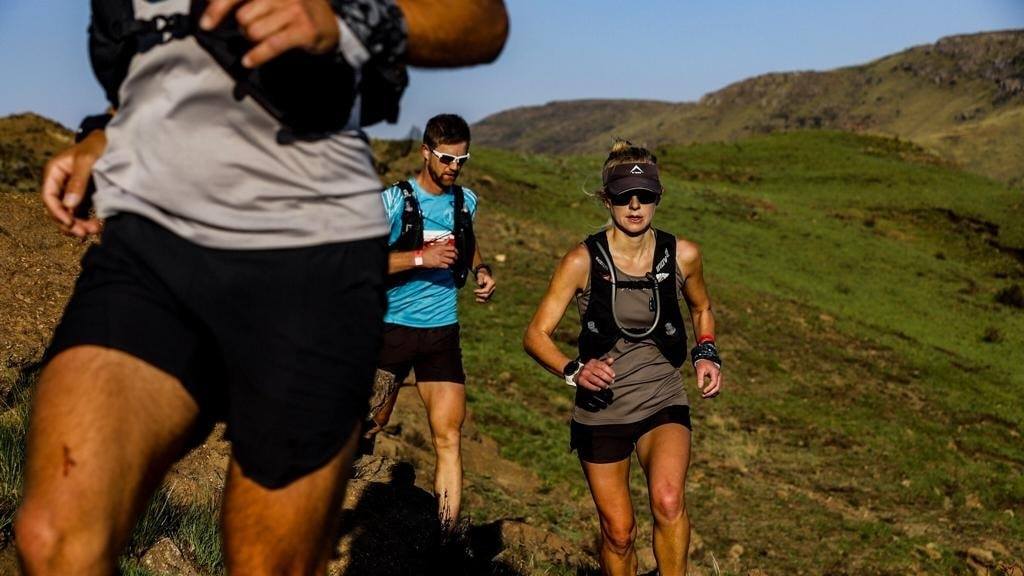 RESULTS:
K-Way SkyRun 100km
Men: 1 Pere Aurell (Spain) 13:56:43; 2 Lucky Miya 13:59:39; 3 Jock Green 15:25:27; 4 Dirk Immelman 16:04:58; 5 Kennedy Sekhuthe 16:30:51
Women: 1 Ragna Debats (Holland) 14:21:23 (record); 2 Annelise Scholtz 18:07:32; 3 Jessica Barrow and Suzette von Broembsen 19:26:11; 5 Nicolette Griffioen 19:45:56
K-Way SkyRun 65km
Men: 1 Simon Tshabalala 8:37:47 (record); 2 Quintin van Heerden 9:58:10; 3 Benjamin van Niekerk 10:41:54; 4 Alan Mildenhall 11:28:53; 5 Koos le Roux 11:42:54
Women: 1 Deanne Horn 10:47:19; 2 Trude Carstens 11:18:19; 3 Johanet Cilliers 11:25:23; 4 Meghan West 11:54:21; 5 Michelle Fourie 12:55:17
K-Way SkyRun 38km
Men: 1 Skippy Claassens 5:27:51; 2 Bryan McLagan 6:04:10; 3 Ben Labuschagne 6:36:05
Women: 1 Elise Wiese 7:07:01; 2 Hendrietta Nieuwenhuizen 7:33:30; 3 Marlize Bosch 7:33:38