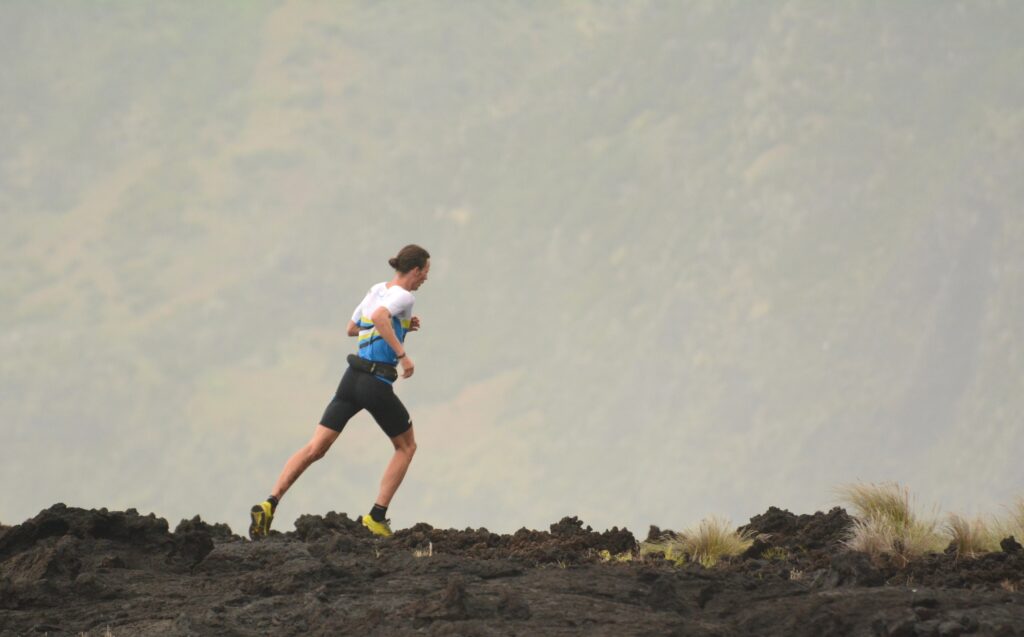 Two American athletes who enjoyed outstanding success at the recent Golden Trail Championship on the Island of Faial in The Azores may soon be racing on the African continent.
Jim Walmsley and Rachel Drake arrived in The Azores with formidable reputations but relative inexperience in the demanding and often harsh trail running environment. Both began the event with relatively conservative starts to take the respective overall runners-up positions, finishing with emphatic stage victories on the final day. Walmsley finally turned the tables on the seemingly impregnable Pole -and overall winner – Bartlomiej Przedwojewski, while Drake stunned the championship by outrunning Swiss super-star, Maude Mathys.
Walmsley and Drake have followed separate but similar paths in their athletics' careers. Both competed with distinction in track and field, road running and cross-country racing, but have achieved their greatest success in trail running. They won their respective golden segments in the USA – Walmsley in Arizona and Drake in the Pacific North-West – to win sought-after golden tickets to the Golden Trail event.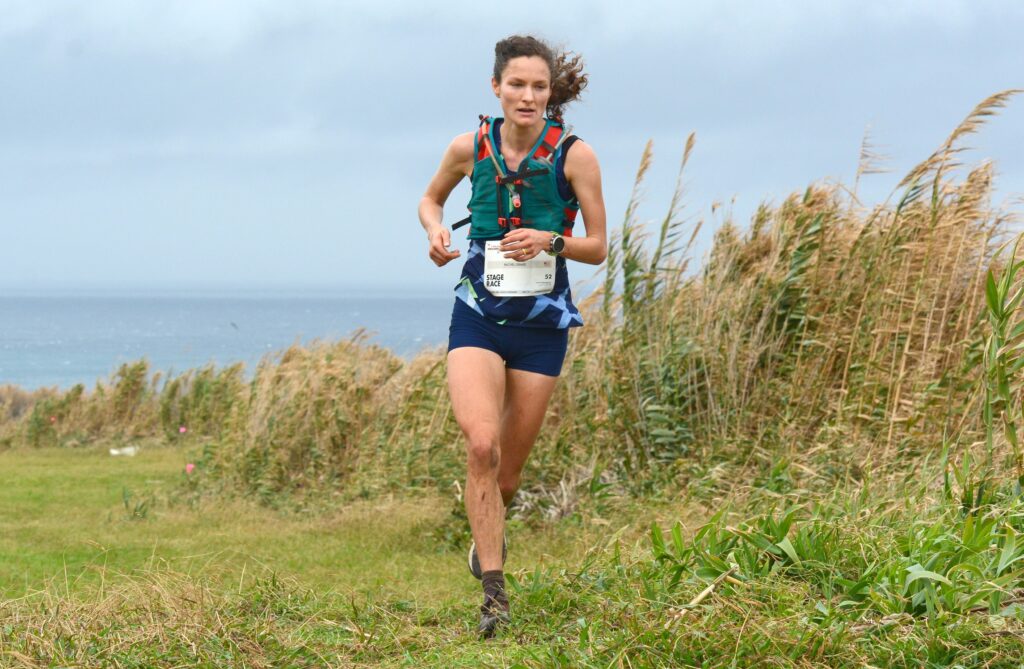 Walmsley arrived at the championship as one of the biggest names in ultra-distance racing, having won titles and broken records in many of the world's top ultra-trail and road races, including eclipsing Bruce Fordyce's world 50 mile road record, which had stood for 36 years, a performance acknowledged by the Comrades Marathon legend.
"Congratulations Jim Walmsley on setting a new World record for 50 miles at the Hoka One One race, and for running with such courage and dignity," Fordyce wrote after Walmsley had set the mark last year. "Your CV is extremely impressive and your bold, aggressive front running approach to racing is the direct opposite of my rather timid approach to the pain of any ultra!"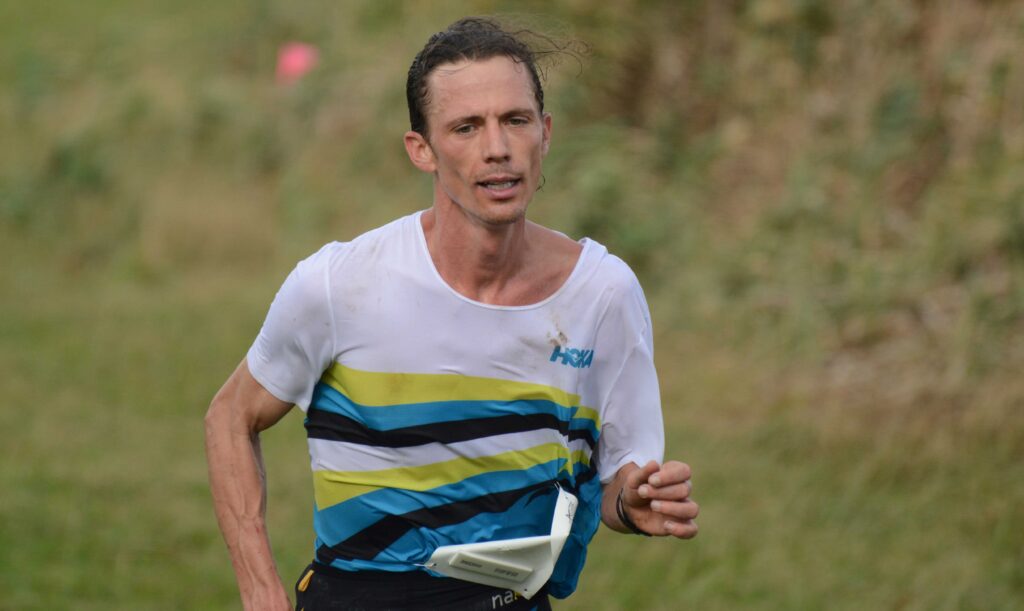 Walmsley also defended his title at the Western States 100 miler last year, setting new benchmarks for the great Californian ultra in successive years, following his defeat to South African Ryan Sandes in 2017. His winning time last year of 14 hrs 09 min 28 sec is so far ahead of what had previously been achieved at the WS100 that his record could well stand for as long as Fordyce's.
But by his own admission, Walmsley was entering new territory in making the journey to the mid-Atlantic, never having competed in a multi-day stage race and, being born and raised in the desert in Phoenix, Arizona, being somewhat unfamiliar with the terrain, territory and wet, muddy conditions which prevailed during the four days of racing.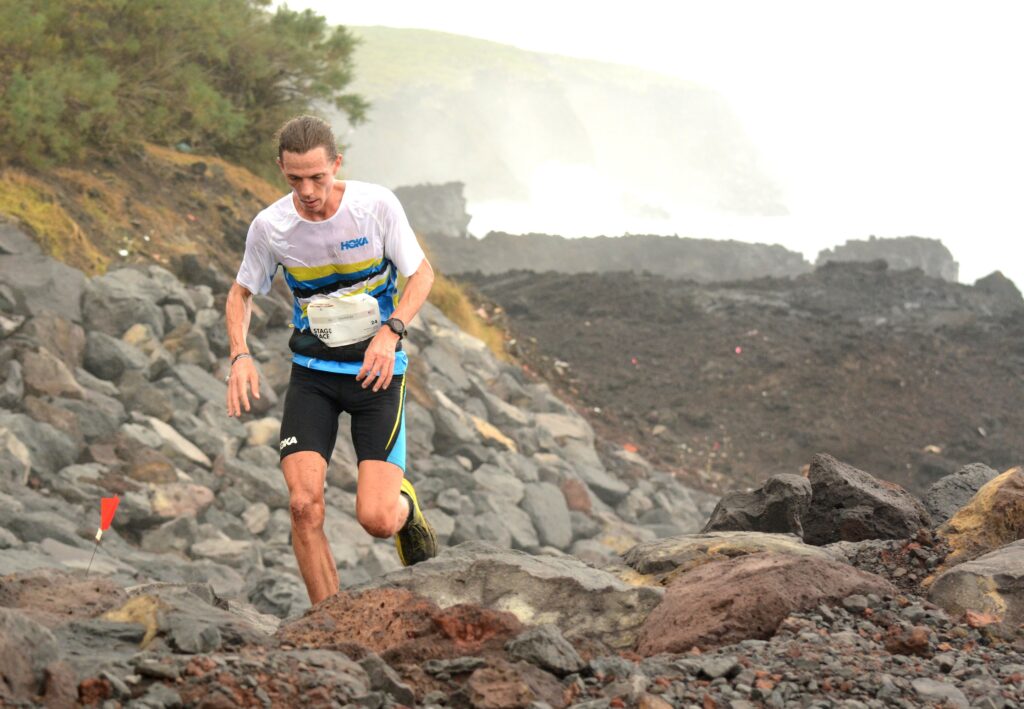 "This (type of running) is completely new to me," admitted Walmsley. "Challenging fun, which put me out of my comfort-zone and I think I got a little better by the end of it. But (it was) not quite my cup of tea and I think some of the other runners had an advantage on the technical muddy terrain.
"Targeting the GTC was a spontaneous decision for me. I only decided to do this race ten days before it started, after talking my partner into traveling for a race this year.
"I was fortunate that Salomon created a Golden Trail Segment near my home in Flagstaff, Arizona, so I was able to race into the series. I thought that was a very awesome entry process. All-in-all, the timing worked out for my being in good enough shape to have the confidence to sign up for a type of race I've never done before."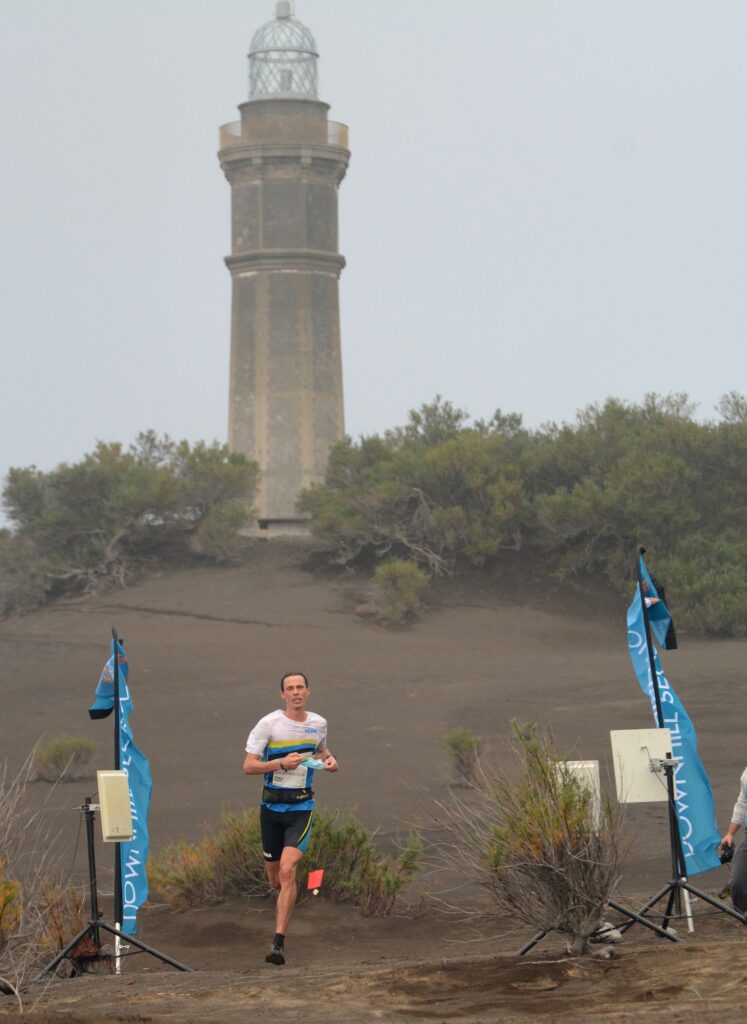 Walmsley has earmarked the Comrades Marathon in South Africa as a 'must-do' ultra-race, currently absent from his remarkable CV. "It's obviously an important ultra-distance race. I hope the 2021 race calendar can get back to normal. Assuming that, I will be running a couple road ultras, specifically with hopes of targeting Comrades 2021. I have a twin brother who is a huge rugby player and fan. I am hoping to bring him with me to South Africa someday as a second. He's already bought a Durban Sharks rugby jersey in preparation of a Comrades trip!"
But Comrades and the US Olympic trial marathon notwithstanding (Walmsley ran an impressive 2:15:05 in the Olympic trial in Atlanta in February this year, where Drake ran a solid 2:40:17), Walmsley regards himself as primarily an ultra-distance trail runner. And the iconic race around the Mont Blanc massif in France, Italy and Switzerland, the Ultra-trail Mont Blanc 100 miler in late August, remains his primary focus for 2021.
"I consider road racing as a balance of more structured training that I dabble in because it comes naturally for me having a track background growing up," Walmsley explains.
Drake's love for the outdoors was kindled from an early age. "My family loves spending time outdoors and they took me camping when I was two weeks old! My brother Ryan and I also spent time sailing and snowboarding," Drake explained. And with husband, coach and fellow-elite athlete, Tyler Green, sharing her love of the trails and outdoors, Drake gets to spend time outdoors in the places she loves.
Possibly Drake's academic prowess and easy-going approach to life and sport disguise her ability and competitiveness. "I love to run and improve but try not to take myself too seriously," admits Drake, currently researching a PhD in neo-natal metabolism and on a path to qualify as a medical doctor.
"I have some great friends back home that I run with a lot, Jessie Vickers, Marianne Falk, my Nike Trail teammate Keely Henninger (who ran Ultra-trail Cape Town in 2018) and others! And I enjoy being on the Nike Trail Team, it's fun because the Nike World Headquarters is in my home city (Beaverton, Oregon) so I've gotten to meet a lot of the wonderful people at Nike Trail."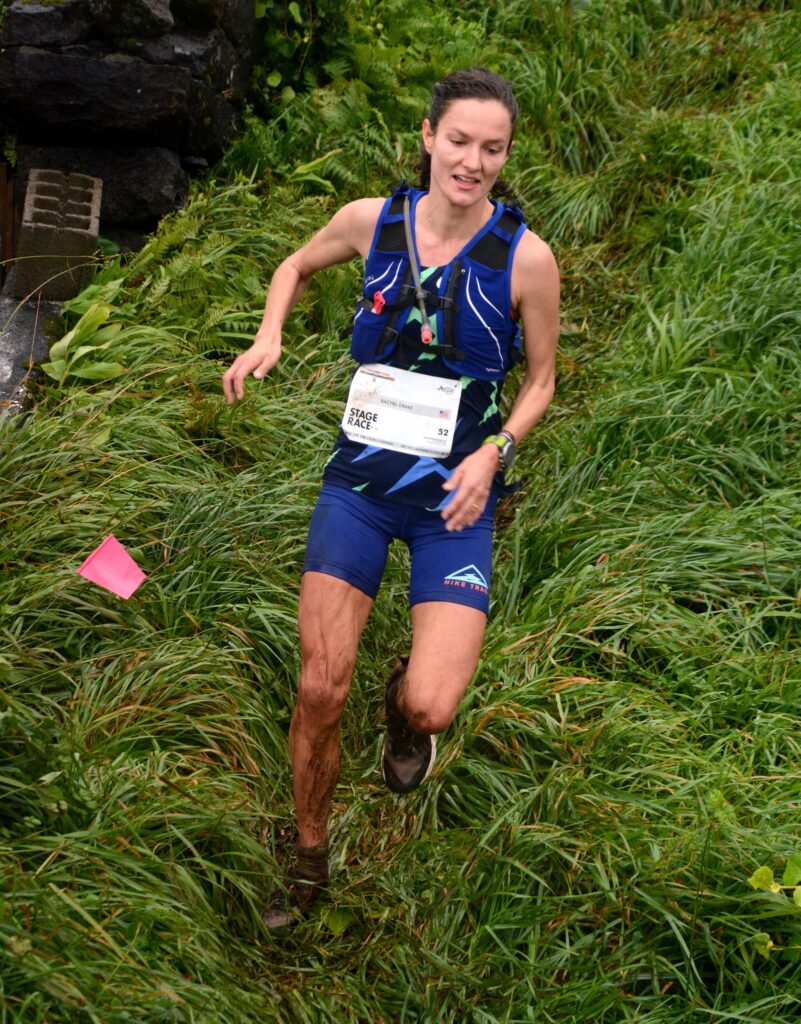 Turning to trail, rather than the road, for most of her more serious running was always a given for Drake. "I think it's a lot easier on the body and I personally enjoy it more. Trail running feels like an adventure and is a wonderful way to explore new places. To me, it feels like a free roller-coaster ride and the best form of self-expression!
"And while I can suffer alone in the forest, on the track or road people can watch you the entire time – I feel like a fish in a bowl !"
Drake surpassed her own expectations at the Golden Trail Championship. Like Walmsley, she was a Golden Series novice and inexperienced in stage racing. "I've been wanting to do a Golden Trail Series race, but all the other ones were cancelled this year, so I decided to target the GTC.
"I had a few different tiers of goals for (my participation in) the GTC. Top 10, top 5 and top 3 all sounded good to me, but there were so many strong athletes lining up I wasn't sure where I would stack up. I don't get too many opportunities to race internationally so I wanted to safely place in the top 5 or 10 rather than hurt myself and be out of the competition the rest of the time.
"So I stayed calm for the first two days, which put me comfortably in 4th place, and then with progressively taking more risks I was able to move up (to 2nd) and was happy with the outcome."
Like Walmsley, Drake has hopes to race in Africa in the not-too-distant future. "I became friends with (South Africans) Meg Mackenzie and Robert Rorich at the championship. They are both lovely humans and I would love to visit them in South Africa. I definitely have my eye on the Comrades Marathon and Meg told me about the Otter Trail and Whale Trail in South Africa, so those are on my list now too!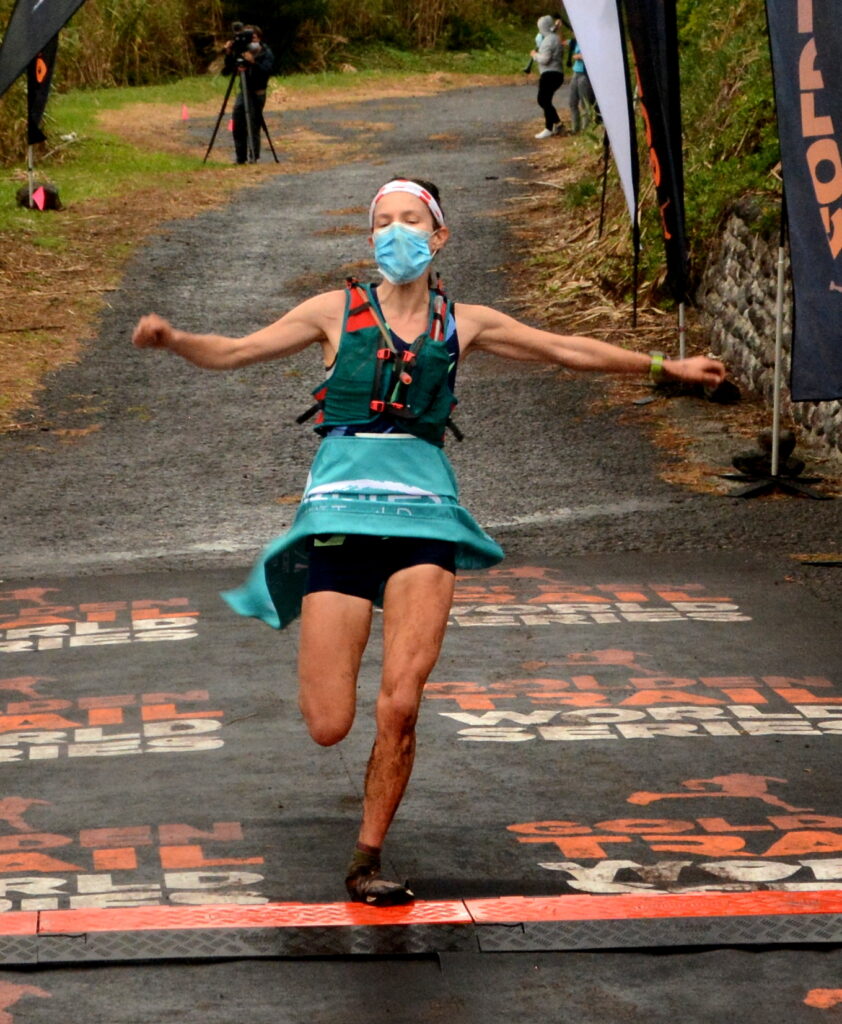 My (American) friends, Sally McRae and Keely Henninger, have both run Ultra-trail Cape Town. Keely said that she 'couldn't have chosen a better way to experience the culture, city, and gnarly trail. The race was unrelenting and beautiful."
Drake has already represented her country at the 2019 World Mountain Running Championships in Argentina and she has bagged trail running podium places against some of the best in the world. But a measure of her broader perspective on life is that her favourite running memory is being accompanied by "the most wonderful, enthusiastic fluffy black sheep dog" on an 18-mile run in Ushuaia in Argentina!
South African athletes will have to be at their best to hold off the trail and road challenges of Walmsley and Drake, should COVID and other global challenges permit the American pair to travel next year.