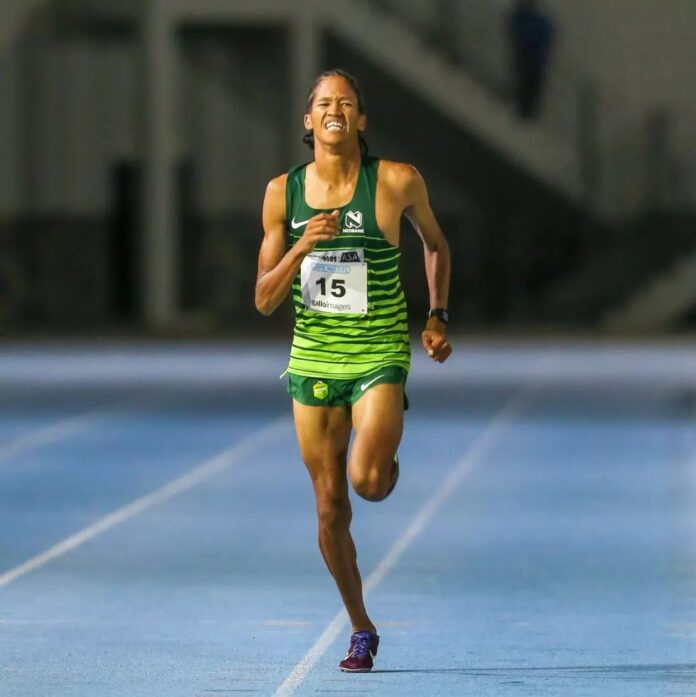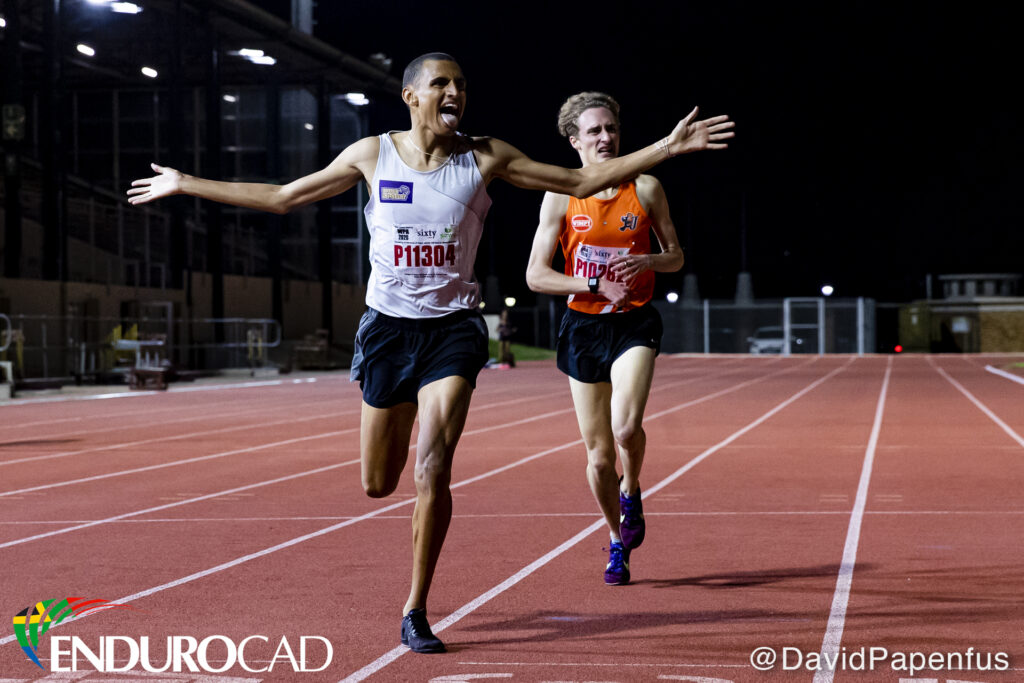 By Stephen Granger
Track is back with a bang in South Africa, with the Athletics South Africa Grand Prix 2 Intercontinental Series in full swing and a mouth-watering event scheduled for Stellenbosch next Monday (28 March).
The second in the Grand Prix 2 series took place at Green Point on Wednesday evening and while the gusting south-easter wind was an unwelcome visitor, the competition was of a high standard and the wind abated sufficiently for the lively crowd to applaud world-class athletics.
And The Athletes Academy Invitational Track Meeting, to be held on Monday in partnership with Maties Athletics and Endurocad, and sponsored by TKR Operations, gives middle distance athletes yet another opportunity to post competitive times ahead of the national track championships, which will be held at Green Point from 21 – 23 April.
Caster Semenya made light of the windy conditions which prevailed at the ASA Athletics Grand Prix 2 Continental Tour Challenger meeting at Green Point in Cape Town on Wednesday 23 March to record her best-ever time over 3000m and the sixth-fastest for the distance in South African track history.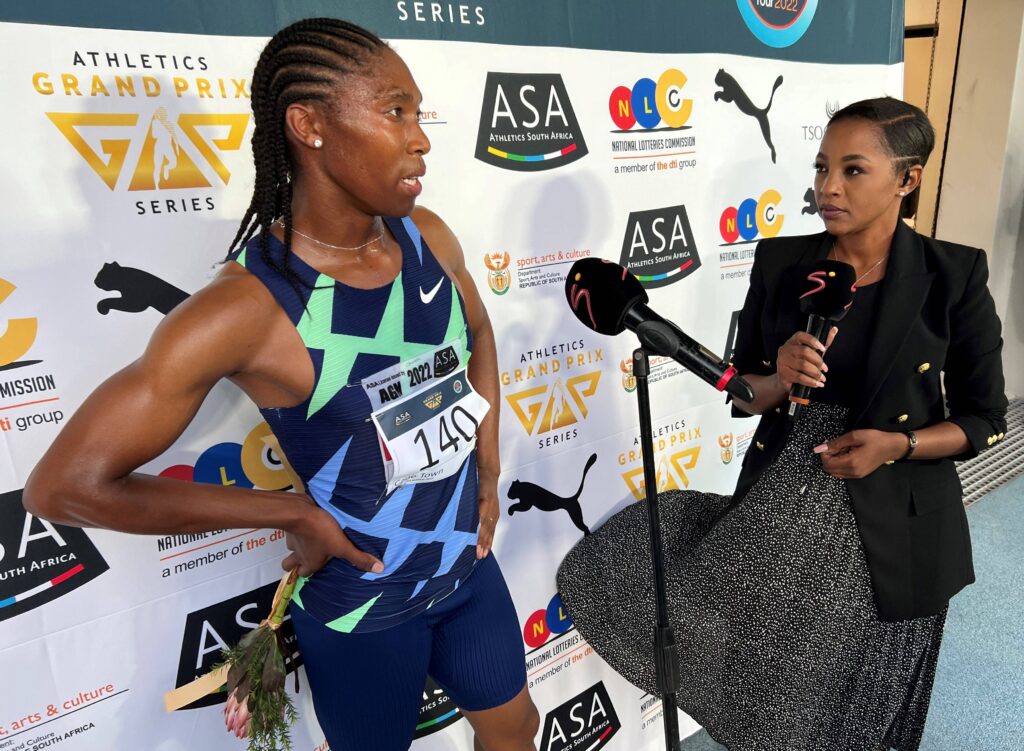 Five athletes – Semenya, Johannesburg road athlete Glenrose Xaba (coached by Semenya), the Van Graan sisters Aynslee and Kyla, and Cypress-based Thalia Charalambous – soon broke from the pack and formed the vanguard for the first two laps before Xaba upped the pace.
Only Semenya and Aynslee van Graan could stay the pace, with Van Graan dropping behind after half-way. With apparent effortless ease, Semenya increased her pace with 600m to go to race clear to win in 8 min 54,97 sec – a full 10 seconds inside her previous best, to give her confidence of qualifying for the World Championships in the 5000m. Van Graan overtook Xaba in the final lap to snatch second.
"The run looked like it would be a little bit shaky because when we arrived at the stadium the wind was pretty bad," Semenya said. "My warm-up with Glenrose (Xaba) was not great. But luckily before the start, the wind died a bit and that worked in our favour.
"Glenrose took on the pace up front and I hung back. It was a great race, and I'm happy with the result, dipping under nine minutes. We also achieved a goal for Glenrose and now we have to go and work more on her mileage to get her back to her best form on the road. The most important thing is to get her to believe in herself. I'm happy to have entertained the people – that's what I'm here for. It was good to have a lively crowd."
Van Graan, back in South Africa from her home in Sydney to visit her family, ran impressively to overhaul Xaba and finish second to Semenya in 9:09,63, coming out on top in the 'battle of the sisters', with older sister Kyla Jacobs 4th in 9:23:48.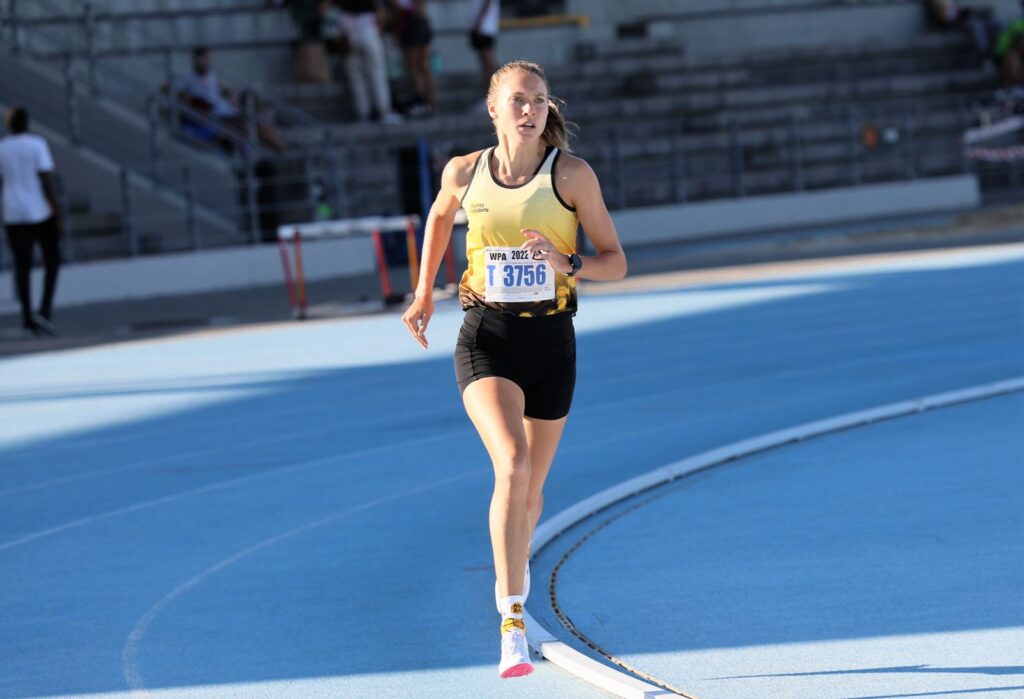 "I'm happy with my running, said Van Graan. "Tonight went well, and I'm confident of improving my best times in ideal conditions. I'm enjoying being back in South Africa for a short stay and it's great to have the opportunity to compete in some of these high profile track competitions. I had hoped to return last year, but COVID restrictions made that impossible.
"Kyla (her older sister) and I have similar abilities and our times are very close to each other. But of course there is always sibling rivalry between us – we never want to lose to each other!
"I'm enjoying being in Sydney and taking advantage of opportunities that are on offer, but we're not thinking of being there permanently. We will likely return home after five years or so. I'm really looking forward to running at Coetzenburg on Monday where the conditions are often perfect. Kyla and I will race the 5000m and will be chasing our personal best times."
It will be the first time in two years that the sisters, who both earned scholarships at Coastal Carolina University in the USA, will be competing against each other in their favoured distance over 5000m, where their best times differ by just one second. Kyla clocked 15:43 at last year's Endurocad meeting at Coetzenburg while Aynslee stopped the clock just one second faster at 15:42 at the New South Wales Championship in Sydney in February this year.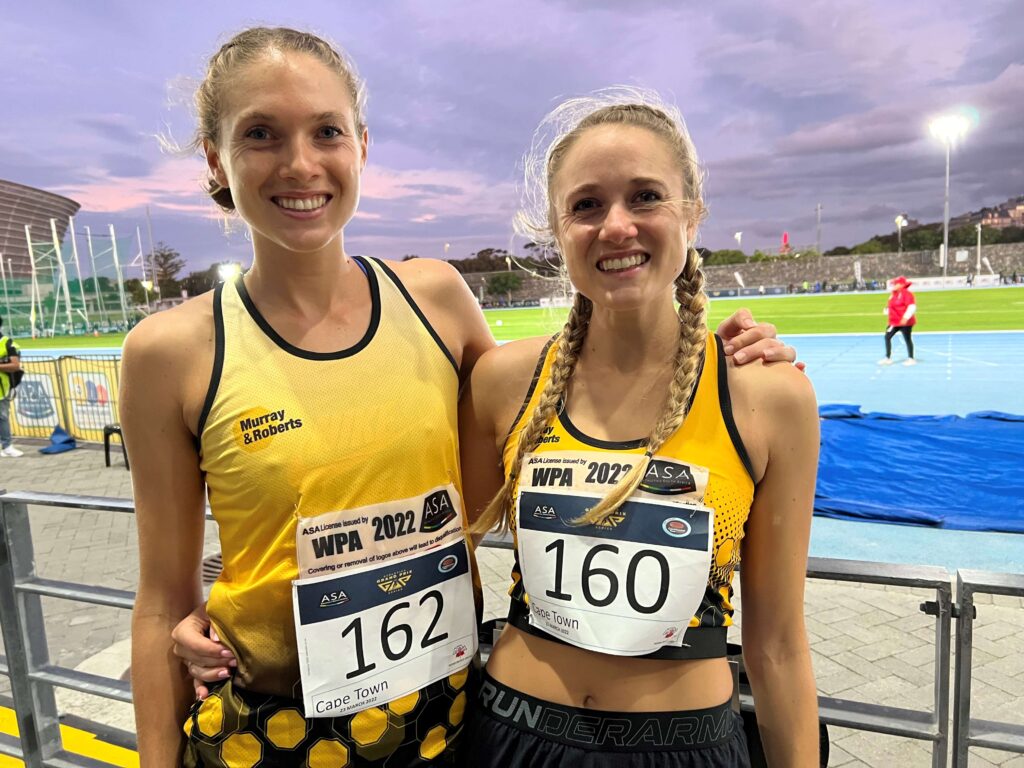 The sisters will face stern competition from Tayla Kavanagh, in particular, and Zimbabwe-born Fortunate Chidzivo. Better known as road athletes, the two have excelled over 10km, with the 20 year old Kavanagh recording one of the fastest times on South African soil with her 32:10 in Durban last year. She will be hopeful of improving on her best 5000m of 16:03, set just two weeks ago in Pietermaritzburg.
25-year old middle distance star from Rustenberg, Tshepo Tshite, made light of the wind to race to a huge personal best time in the men's 1500m, improving by four seconds to 3:36,09, the current world-leading time and just a second outside the stiff qualifying time for the World Championships in July.
In an epic dual with rising star, 23-year old Ryan Mphahlehle from University of Johannesburg, Tshite overtook on the final bend to win a thrilling race by less than a second, with Mphahlehle also clocking a big 'PB' in 3:36,86.
Masai athlete, Tumelo Machaba, edged out Chris Swart of North West University for third, with Nedbank's Bruce-Lynn Damons narrowly beating UWC student, Ashley Smith for sixth and the first local athlete home, in 3:43,20.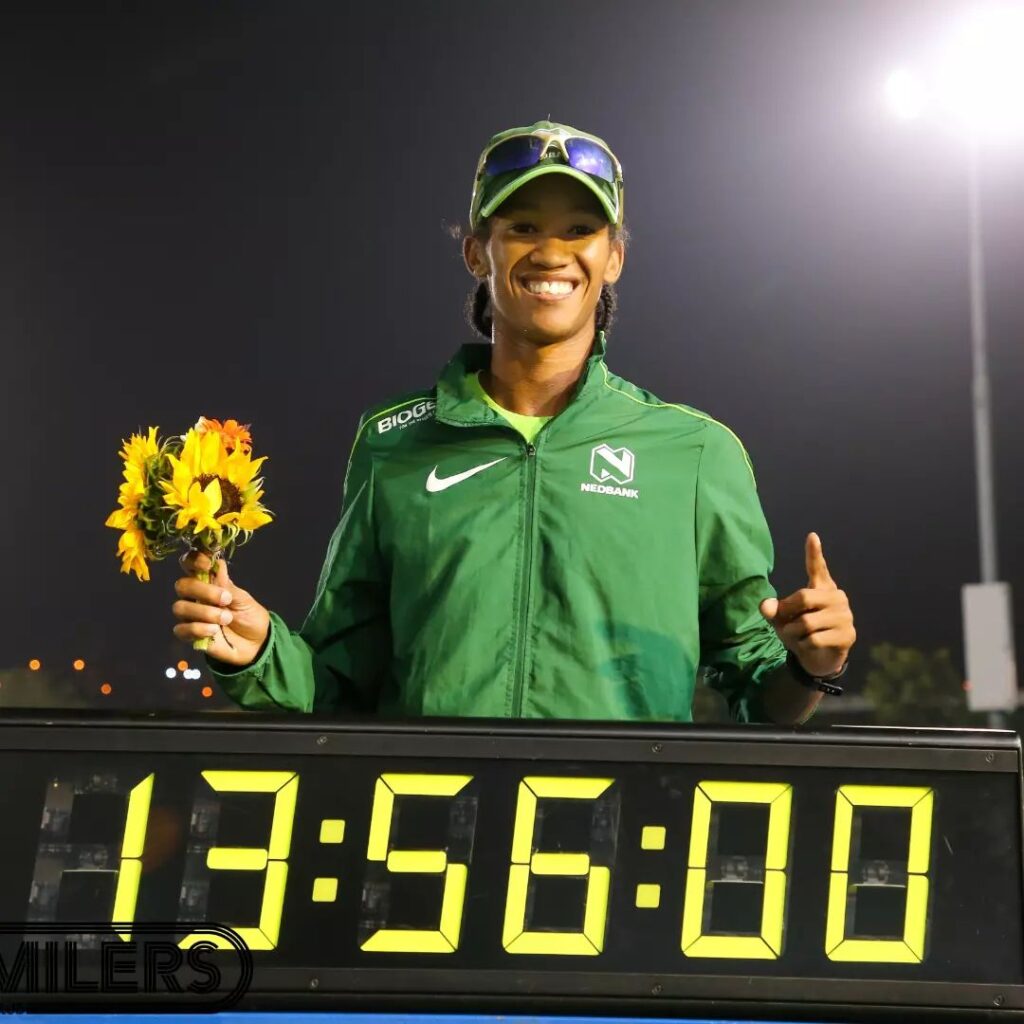 Mannenberg-born and raised, Damons, will be chasing a new personal best in the 5000m at Coetzenburg on Monday, having dipped under the 14 minute mark for the first time in January, clocking 13:56, while Smith, who set the Coetzenburg track alight last year with a series of impressive performances, including a sub-four minute mile, at the Endurcad meetings, will be racing his favourite event, the 3000m steeplechase.
Mitchell's Plain-born Smith is currently completing his honours in History at Stellenbosch University, where his thesis topic focuses on "the history of middle and long-distance running in South Africa". He hopes to add to that history himself and his goal is to achieve the 3000m Steeplechase qualifier (8:22) for the World Champs, just 11 seconds inside his current personal best time.
Smith is working hard to balance a heavy academic load with training as an elite athlete and faces tough competition from Rantso Mokopane (best time 8:28,75) and Tumisang Monnatlala (best time 8:33,02).
18 year old Danielle Verster, daughter of former national track and cross country star and ASA's head of Track and Field, Jean Verster, ran impressively at Green Point, being narrowly beaten in the 1500m by talented 20 year old TUT athlete, Prudence Sekgodisa, who raced to her best-ever 1500m in 4:20.03.
Verster was just a second behind in 4:21,21 and will be racing the 1500m again on Monday, this time up against another talented junior – 17 year old Naledi Makgatha, who recently won the national schools 1500m title. Both will be looking to dip under the 4:20 mark.
Monday night's meeting gets underway at 7pm with the men's pole-vault and ends at 9pm with the men's 1500m.
PRE-BOOKINGS ONLY VIA QUICKET at https://www.quicket.co.za/events/169160-invitational-middle-distance-track-event-28th-march-2022/#/
©SPNAfrica News
www.spnafricanews.com
| | |
| --- | --- |
| | ReplyReply allForward |