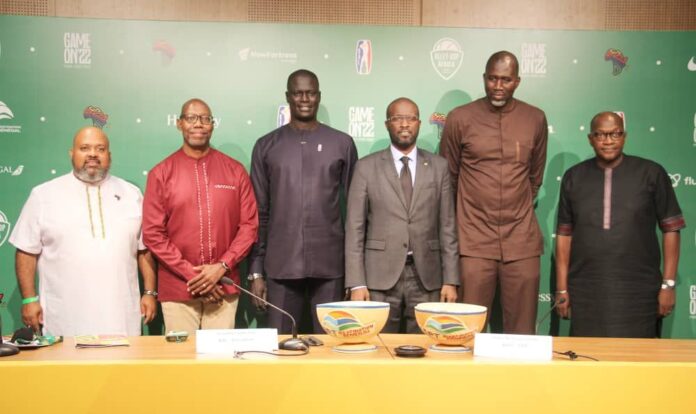 Tunisia's US Monastir on Saturday (May 28) defeated Angola's Petro de Luanda 83-72 to win the 2022 Basketball Africa League (BAL) Finals, which took place at BK Arena in Kigali, Rwanda and was broadcast to fans in 215 countries and territories.
US Monastir went 7-1 during the Sahara Conference group phase and Playoffs, defeating South Africa's Cape Town Tigers and Egypt's Zamalek in the quarterfinals and semifinals, respectively, before beating Petro de Luanda in the final to become the 2022 BAL Champions.
Zamalek defeated Cameroon's F.A.P 97-74 in the third-place game yesterday.
BAL President Amadou Gallo Fall presented US Monastir with the BAL Finals Trophy and US Monastir guard Michael Dixon with the Hakeem Olajuwon BAL Most Valuable Player award. Dixon recorded per game averages of 16.5 points and 4.1 assists and a team-high 21.3 points per game during the Playoffs.
NBA Global Ambassador Dikembe Mutombo, BAL Global Ambassador Luol Deng, Joakim Noah, Ian Mahinmi, Olumide Oyedeji and Charles Smith were among the former NBA players who attended games throughout the Playoffs.
Following the third-place game, the league announced several end-of-season awards, some of which honor pioneering African NBA legends.
José Neto (Petro de Luanda), who led his team to a 4-1 record in the Nile Conference before defeating Morocco's AS Salé and Cameroon's F.A.P to advance to the finals, was named 2022 BAL Coach of the Year.
Ater James Majok (US Monastir) who helped lead his team to a 7-1 record and the championship after recording per game averages of 11 rebounds, 2.4 blocks and 13.6 points, was name 2022 Dikembe Mutombo BAL Defensive Player of the Year.
Anas Mahmoud (Zamalek), who last year won the Dikembe Mutombo BAL Defensive Player of the Year following Zamalek's win in the inaugural BAL Finals, received the Manute Bol BAL Sportsmanship Award while Terrel Stoglin (AS Salé) who averaged a league-high 30.8 points over the course of the 2022 BAL season (minimum six games) was named 2022 BAL Scoring Champion.
Voting panels were comprised of coaches, team captains, sportswriters, broadcasters and NBA team scouts in attendance and varied by each award category. The 2022 Ubuntu Award, which is awarded to an individual or organization that has made an impact on the local community during the BAL season, will be announced at a later date.
The 2022 BAL season once again featured the top 12 club teams from 12 African countries and expanded to a total of 38 games that took place in three cities over three months: Dakar, Senegal (March 5-15), Cairo, Egypt (April 9-19) and Kigali, Rwanda (May 21-28). The single-elimination BAL Playoffs in Kigali featured the top eight teams from the group phases hosted in Dakar and Cairo.
National champions from Angola, Egypt, Morocco, Rwanda, Senegal and Tunisia earned their participation in the 2022 BAL season by winning their respective national leagues. The remaining six teams, which came from Cameroon, the Democratic Republic of the Congo, Guinea, Mozambique, South Africa and South Sudan, secured their participation through the Road to BAL qualifying tournaments conducted by FIBA Regional Office Africa across the continent from October to December 2021.
About the BAL
The Basketball Africa League (BAL), a professional league in its second season, is a partnership between the International Basketball Federation (FIBA) and the NBA, featuring 12 club teams from across Africa.
Headquartered in Dakar, Senegal, the BAL builds on the foundation of club competitions FIBA Regional Office Africa has organized in Africa and marks the NBA's first collaboration to operate a league outside North America. Fans can follow the BAL (@theBAL) on Facebook, Instagram, Twitter and YouTube and register their interest in receiving more information at NBA.com/BAL
©SPNAfrica News