By Stephen Granger
Jim Walmsley gave an exhibition of ultra-trail running the like of which has never been seen on the continent to win the Ultra-trail Cape Town in a new race record of 9 hrs 47 min 20 sec while fellow-American Courtney Dauwalter added yet another high profile ultra-trail title to her ever-expanding running CV with an impressive victory in 11:20:04.
"We may never see a run like that again," said an awe-inspired race-director, Stuart McConnachie, at the sight of Walmsley flying across the finish-line at the Gardens-Tech Rugby Club in the City Bowl.
Walmsley shook off the effects of stomach complaints in the early stages, a missed turn in the mist on the top of Table Mountain, which cost him five to six minutes and the tenacious running of French athlete Sebastien Spehler to improve Zimbabwe-born Prodigal Khumalo's 2017 mark by 3 min 40 sec on a course rated as between 20 – 30 minutes longer.
Several of Cape Town's leading short-distance trail athletes, roped into service to keep pace with Walmsley while they filmed him from behind from a mounted go-pro camera, were left in Walmsley's wake, leaving viewers with abbreviated visuals of Walmsley's disappearing heels. The Arizona athlete sped up hill and down-dale over smooth and rough terrain alike with remarkable consistency to clinch victory, two years after his friend and one-time training partner, Cody Reed took the title.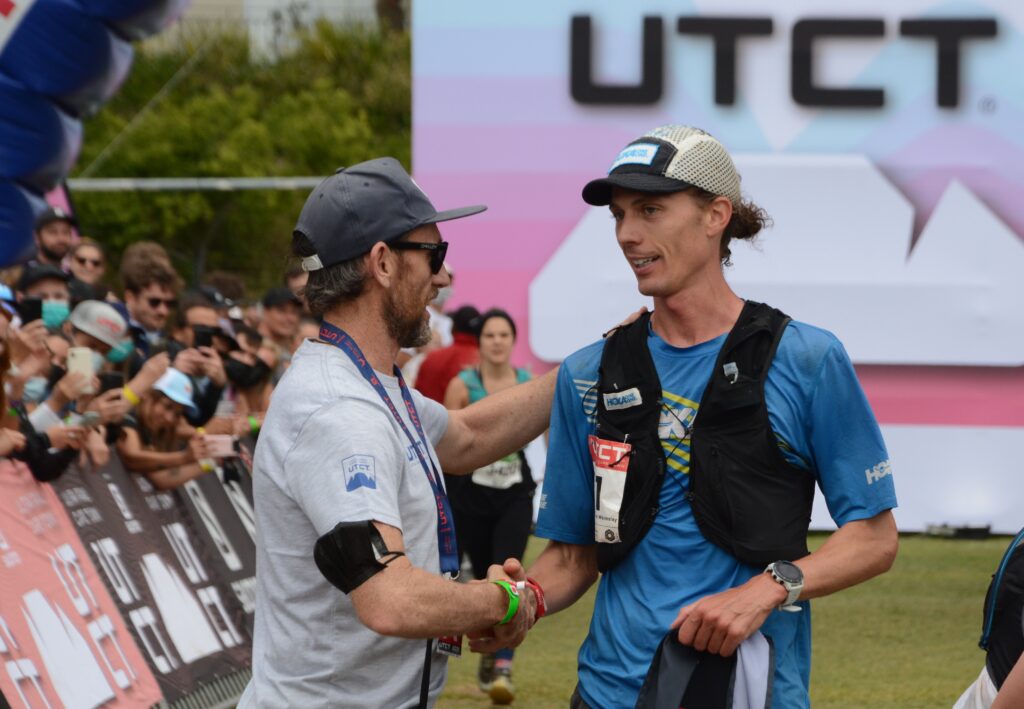 "That was a tough course but really good," Walmsley remarked. "The more-runnable second half of the course made the record possible and I had great support from all the runners (from the shorter races) I was passing in the second half. They cheered me on to make it happen.
"Competition was quite tough in the early stages and I lost the path at the top of Platteklip when Andreas (Reiterer) took the lead. I lost a few minutes and had to track back to regain the course which took a lot of energy.
"Then Sebastien (Spehler) made me work hard and we exchanged the lead a few times. He was amazing on the flat sections and downhills but I got lucky with that extra hill they added to the course this year after Hout Bay Beach which enabled me to finally break away.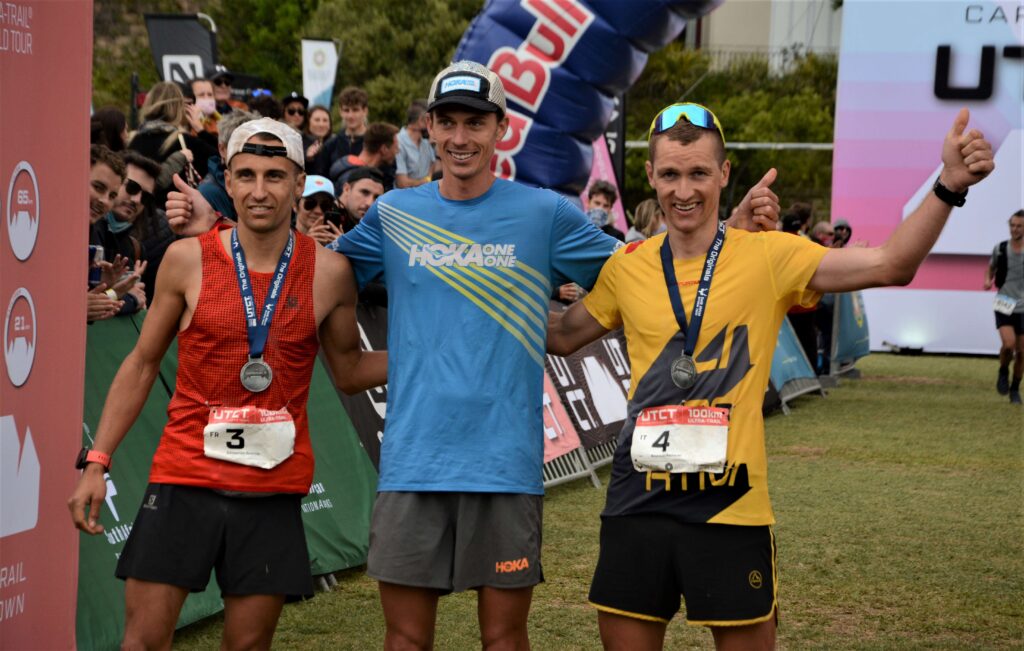 "The thought of the 100-mile race next year is quite exciting, but also a bit intimidating! I'll need to take a break now and then decide on my schedule for next year."
Walmsley put almost 30 minutes into Spehler from the time he finally took the lead above East Fort on Chapman's Peak, but the French athlete ran superbly and was well-pleased with his 10:16:20 for second place – 25 minutes ahead of the Italian Reiterer.
Canadian Mathieu Blanchard moved steadily through the field after a cautious start to finish in 4th and wonder whether a less-conservative start might not have earned him a podium position, with South African Daniel Claassen the first local athlete home in a career-defining 10:56:10 to take fifth place. Another Canadian, Jean-Francois Cauchon, placed 6th just a few minutes before three-times Comrades Marathon champion, Bongmusa Mthembu, who was delighted to finish strongly after dropping out of the 2018 race.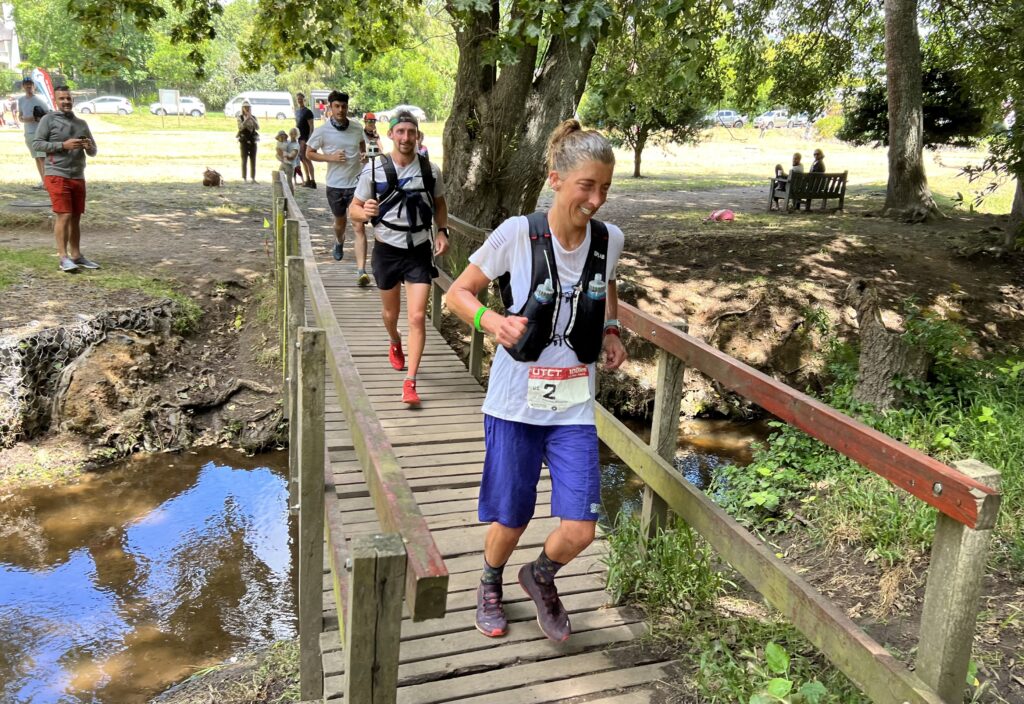 Dauwalter ran a constant pace throughout, and was 21st at the second check point at Kloof Corner. But wearing a smile which matched her distinctive knee-high shorts, the Colorado resident worked her way through the field to finish 8th overall in an outstanding run of ultra-distance consistency. Her time was 30 minutes slower than British athlete Beth Pascall's time in 2019 but given this year's course extension in length and vertical metres gained, Dauwalter's effort was not far-off Pascall's 'race of a lifetime' two years back.
"That was tough," admitted Dauwalter. "Probably one of the toughest 100km races I've run. But that's why we do it and it was enormous fun out there. The conditions were generally good for running and my crew were able to ice me down at the Alphen refreshment stop when the weather warmed up out of the wind.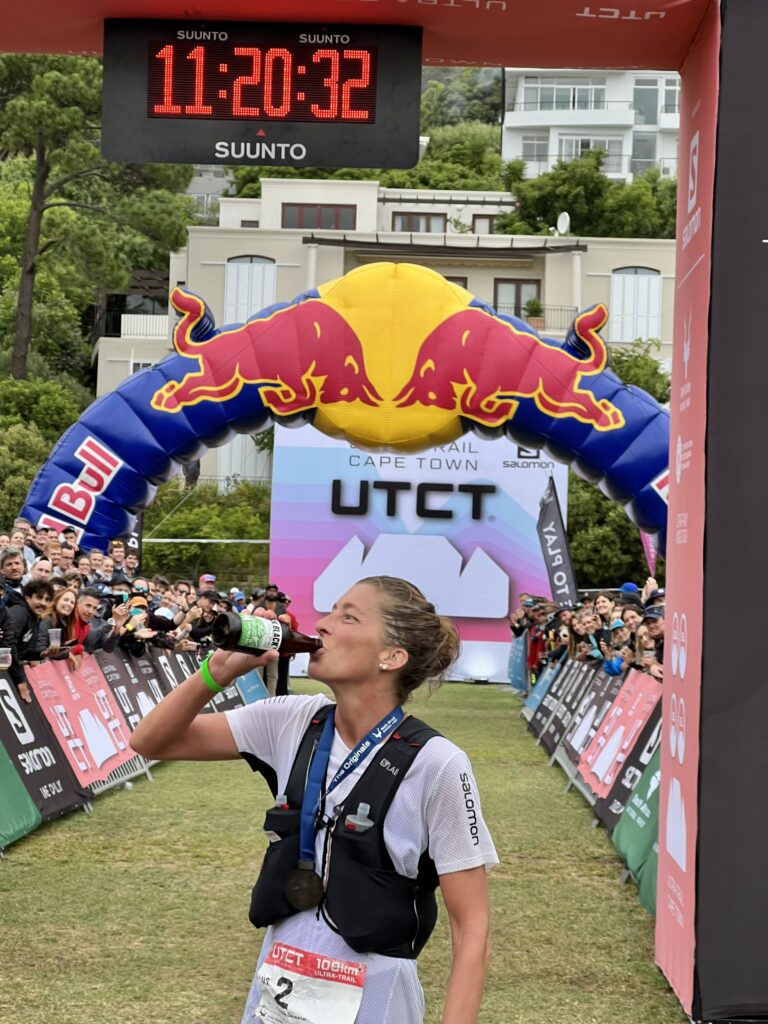 "But I may have to return – the 100 miler(an addition to next year's event) is really an interesting prospect!"
Dauwalter was the best part of an hour ahead of French-Canadian athlete, Marianne Hogan, who was delighted both with the course and her day's work. French athlete, Maryline Nakache, closed out the podium 12 minutes later ahead of the leading two South Africans, Ann Ashworth and 2015 UTCT winner Kerry-Anne Marshall.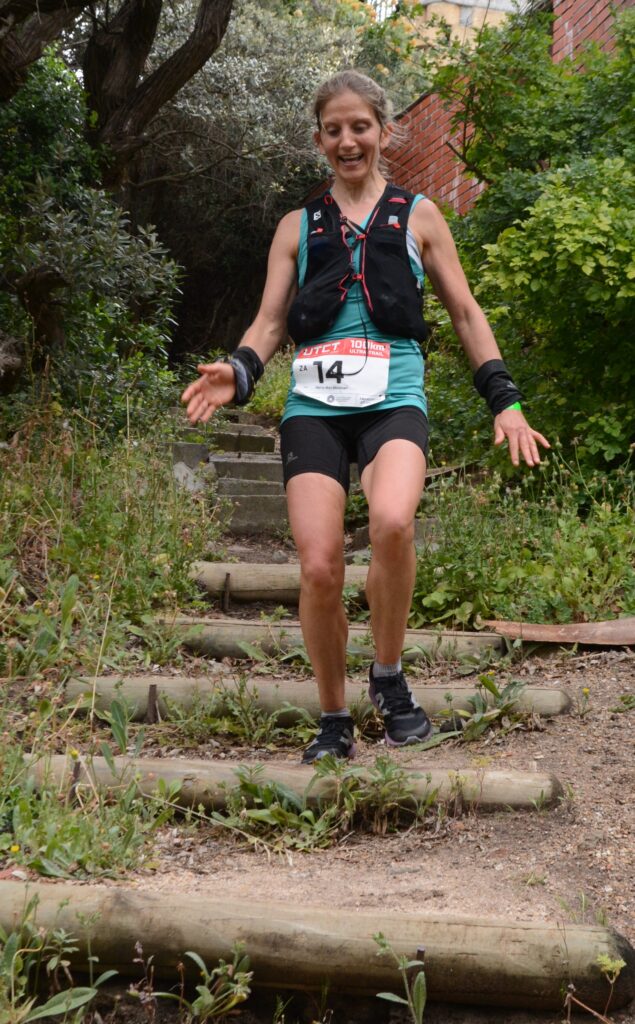 As in 2018, when he led for two thirds of the race, Reiterer set a fast pace, leading around Lion's Head and flashing though the first checkpoint at Signal's Hill in 57:45. Walmsley was at his heels, with Spehler in third, 24 seconds back.
The lead pair had a 30 second advantage at the first aid station at Kloof Nek with Spehler 30 seconds back. The trio were more than a kilometre clear and out of sight, with South Africans Daniel Claassen and Matt Healy over six minutes back in joint fourth.
Comrades champion Bongmusa Mthembu was running easily, just clear of fellow KZN athlete, Nkosikhona Mkhlakwana and close behind top Cape Town trail athlete, Kane Reilly.
Dauwalter was 17 minutes off the lead pace in 21st, with Hogan close behind in second place. Nakache was running just ahead of Ashworth in third, eight minutes behind Dauwalter.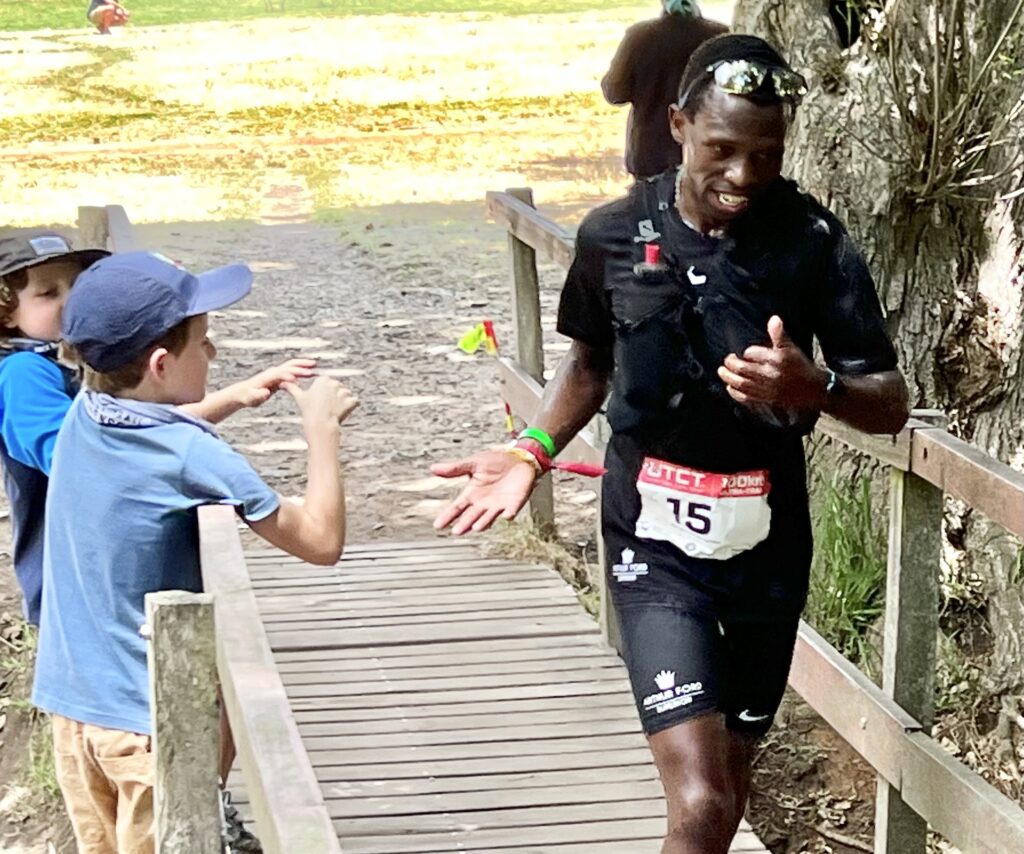 Walmsley moved ahead on the Kloof Corner climb and opened a gap on Reiterer along the contour to the base of Platteklip Gorge. Scarcely missing a beat, Walmsley climbed strongly in the cool, misty conditions and reached the top of Table Mountain in 2:25:42, 2 min 20 sec clear of his Italian pursuer. But navigational disaster struck Walmsley, leaving Reiterer over three minutes clear at Maclear's Beacon – Cape Town highest point.
Meanwhile, Claassen had climbed strongly up the gorge, cresting in fourth, just over a minute clear of Reilly and Mthembu. Cauchon was in sixth, just ahead of Healy. Leading veteran, Malawian Solicitor Manduwa was in eighth, with Swiss short-distance specialist, Pascal Egli and Makhlawana rounding up the top ten at the top of the mountain.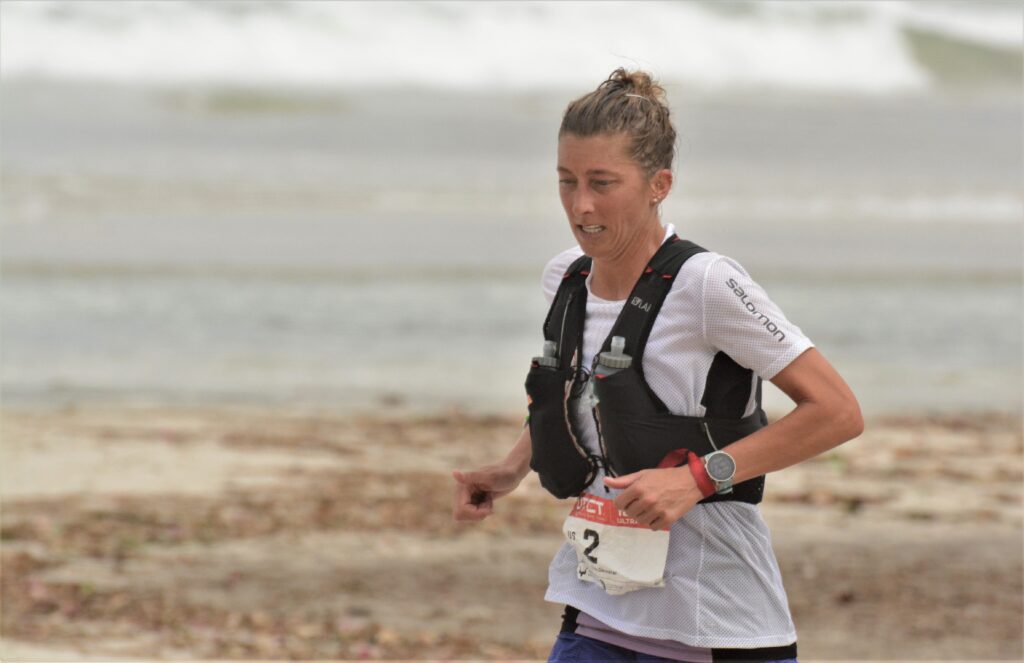 Dauwalter continued to make up places and crested Platteklip in 17th place in 2:51:35 with the unheralded Hogan second, six minutes back. Ashworth had moved into third ahead of Nakache with Kerry-Anne Marshall fifth in 32nd overall.
Walmsley gradually closed the gap on Reiterer and was two minutes behind as the athletes reached the check-point at Constantia Nek and set off through Orangekloof towards Llandudno. The American had drawn level as the athletes stopped for refreshment at the Llandudno Life-Saving Club, allowing Spehler, who scarcely paused at the check-point, to surge into the lead on Llandudno Beach.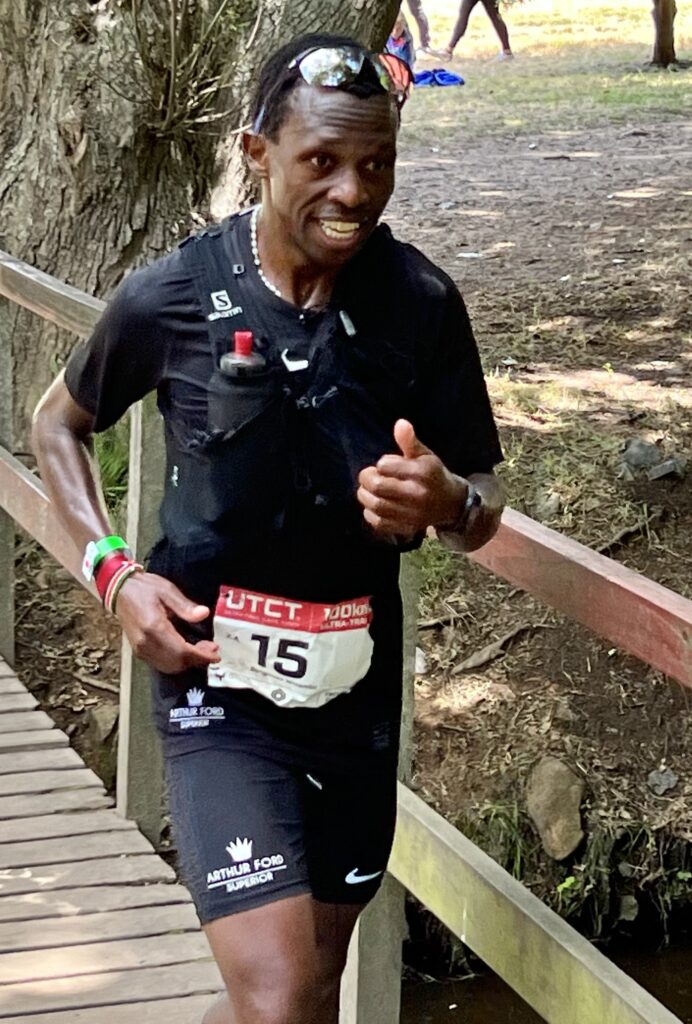 Walmsley's climbing skills saw him break from Reiterer and close on Spehler up the steep gradient to Suther Peak and he held a narrow lead running into Hout Bay Harbour, with Reiterer now eight minutes in arrears. Spehler again caught Walmsley on Hout Bay Beach and led the climb from East Fort, before Walmsley took over on the challenging climb, racing away to a fine victory.
Two more records went by the boards, with athletes making use of the coolest conditions in the event's history. Cody Reed opted for the 65km distance and improved Turkish athlete Meymet Soyturk's 2019 mark by two minutes, winning in 6:36:26, while German Marcel Hoeche ran like the previous evening's lightning, racing to victory in the 35km race in 3:34:25 – four minutes inside Reiterer's mark set in 2019.
Jade Bucklow was delighted with her win in the 65km, while leading South African trail athlete, Meg Mackenzie, returned from her new base in the French Alps to win the 35km in an excellent 4:06:42 – just two minutes outside Hayley Preen's 2018 best time.
Results
UTCT 100km
Men: 1 Jim Walmsley USA 9:47:20; 2 Sebastien Spehler (France) 10:16:20; 3 Andreas Reiterer (Italy) 10:41:21; 4 Mathieu Blanchard (Can) 10:54:18; 5 Daniel Claassen (RSA) 10:56:16; 6 Jean-Francois Cauchon (Can) 11:06:24; 7 Bongmusa Mthembu (RSA) 11:13:40; 8 Solicitor Manduwa (Malawi) 11:46:52; 9 Fabrice Fauser (Switz) 11:47:53; 10 Mathieu Clement (Switz) 11:47:53
Women: 1 Courtney Dauwalter (USA) 11:20:04; 2 Marianne Hogan (Can) 12:15:13; 3 Maryline Nakache (Fr) 12:27:06; 4 Ann Ashworth (RSA) 12:50:57; 5 Kerry-Anne Marshall (RSA) 13:14:52; 6 Amri Williamson (RSA) 13:54:39; 7 Annelise Scholtz (RSA) 14:18:58; 8 Linda Beniacova (Slovakia) 15:17:35; 9 Pip Dickson (RSA) 15:47:08; 10 Jo Keppler (RSA) 16:31:38
UTCT 65km
Men: 1 Cody Reed (USA) 6:36:26; 2 Brendan Lombard (RSA) 7:05:40; 3 Collin Kanyimo (Zimb) 7:05:51; 4 Kennedy Sekhuthe (RSA) 7:49:59; 5 Bruce Arnott (RSA) 7:54:40
Women: 1 Jade Bucklow (RSA) 8:44:45; 2 Olivia Dubern (RSA) 8:47:02; 3 Ashleigh Graham (RSA) 9:00:38; 4 Morag Faulds (RSA) 9:11:00; 5 Estee Cockroft (RSA) 9:11:24
UTCT 35km
Men: 1 Marcel Hoeche (Germ) 3"34"25; 2 Siviwe Nkombi (RSA) 3:49:35; 3 David Krone (RSA) 3:58:45; 4 Henry de Clercq (RSA) 4:09:41; 5 Rikus Saayman (RSA) 4:10:28
Women: 1 Meg Mackenzie (RSA) 4:06:42; 2 Leani Grimes (RSA) 4:25:33; 3 Sune van Heerden (RSA) 4:28:48; 4 Jamie-Lee Kinmont (RSA) 4:55:33; 5 Mia Uys (RSA) 4:56:10
©SPNAfrica News
www.spnafricanews.com