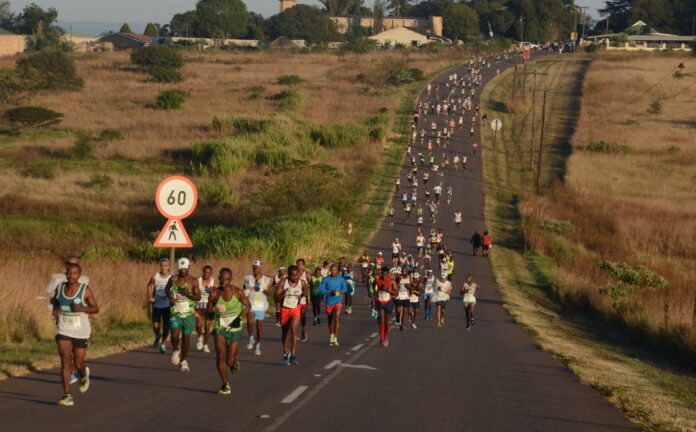 by Stephen Granger
Two of the world's greatest ultra-distance footraces take place this weekend, with the Ultra-trail Mont Blanc and Comrades Marathon coinciding for the first time in history and saturation television coverage of the two great races likely to ensure distance-running fans are left goggle-eyed and sleep-deprived by Sunday afternoon.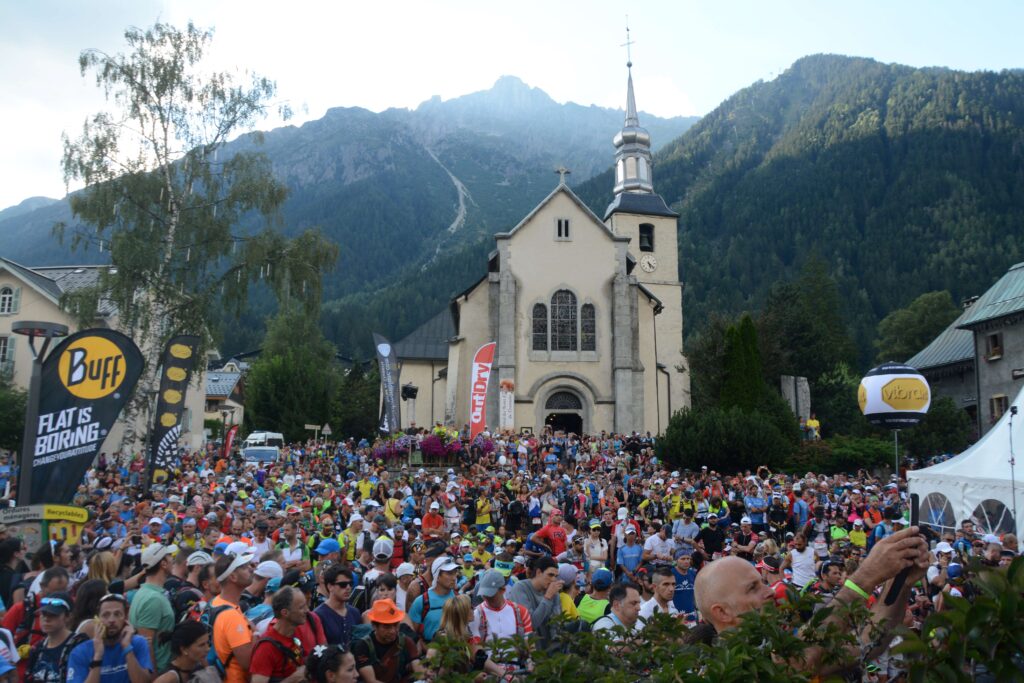 For the first time in the 101-year history of the Comrades, the epic 89km road race connecting Pietermaritzburg with Durban the race takes place in the second half of the year and after missing out on live action for the past two years due to the COVID pandemic, runners, spectators and television audiences can't wait for the race to get underway on Sunday.
And north of the equator, thousands of trail runners and hundreds of thousands of supporters and spectators are throwing themselves into the fare of the world's biggest festival of trail running, leading up to the big daddy – the 100 mile circumnavigation around Mont Blanc, starting Friday night at the French Alpine town of Chamonix and passing through Italy and Switzerland before returning to the finish in France.
One day top ultra-distance athletes could be vying for an unprecedented double – winning both races in a calendar year – and athletes of the calibre of Jim Walmsley, Courtney Dauwalter, Bongmusa Mthembu, Henri Ansio, Nkosikhona Mhlakwana, Dominika Stelmach, Camille Herron and Gerda Steyn, who have won notable titles in road and trail competition, could be tempted to take up the challenge. But for this year athletes will be focused on a single prize.
In just four days, runners from 70 nations around the world will descend on Pietermaritzburg to participate in the 95th edition of the Comrades Marathon, a 'Down Run' starting at Pietermaritzburg City Hall and finishing at Durban's Moses Mabhida Stadium. The Down Comrades route is best described by the 'Big Five' hills – Polly Shorts, Inchanga, Botha's Hill, Fields Hill and Cowies Hill, before a final ascent at 45th Cutting, just 8km from Durban.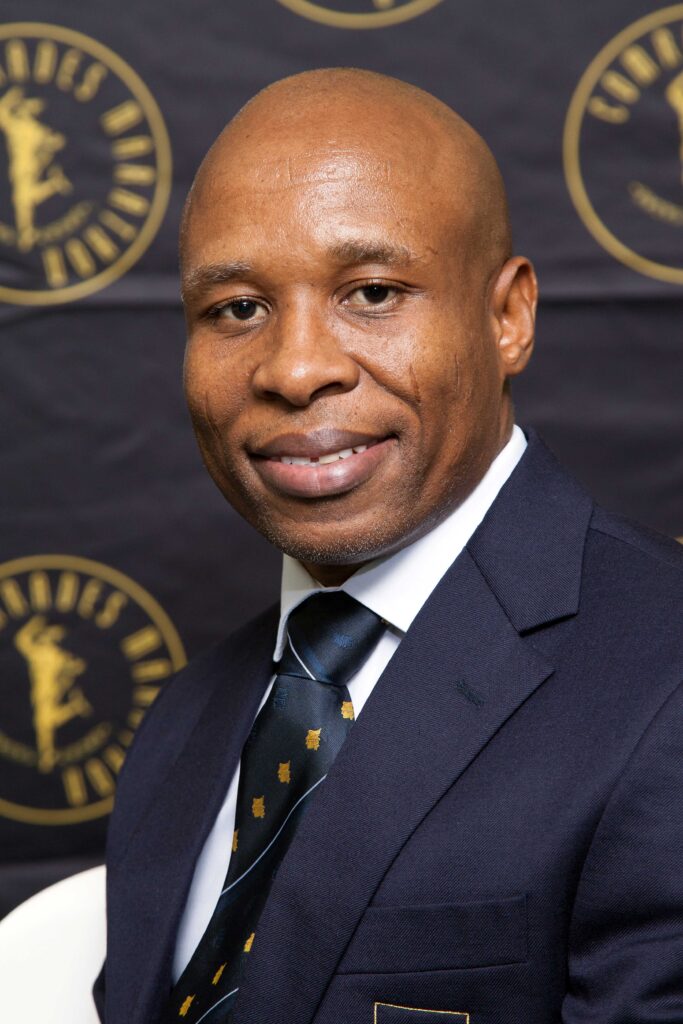 For newly elected Comrades chairperson, father of three sons and KZN provincial legislature Hansard recorder, editor and translator, Mqondisi Ngcobo, Sunday holds both fear and excitement. "Following on from someone as experienced as Cheryl Winn, herself a Comrades champion, is a scary task," admitted Ngcobo.
"I grew up with Comrades – I recall as a youngster I used to get up and listen to the radio commentary.  And now we're involved as a family, although my eldest son is much more interested in cricket! I've run Comrades but I'm more of a 'fish and chips' runner with my fastest time of 9 hours 11 minutes. 
"Cheryl (Winn) has been very supportive and we've called her back to the executive as an additional member. I served as Vice Chair under Cheryl for two years, but that was during COVID and there were no races during that period. This weekend is the real thing!"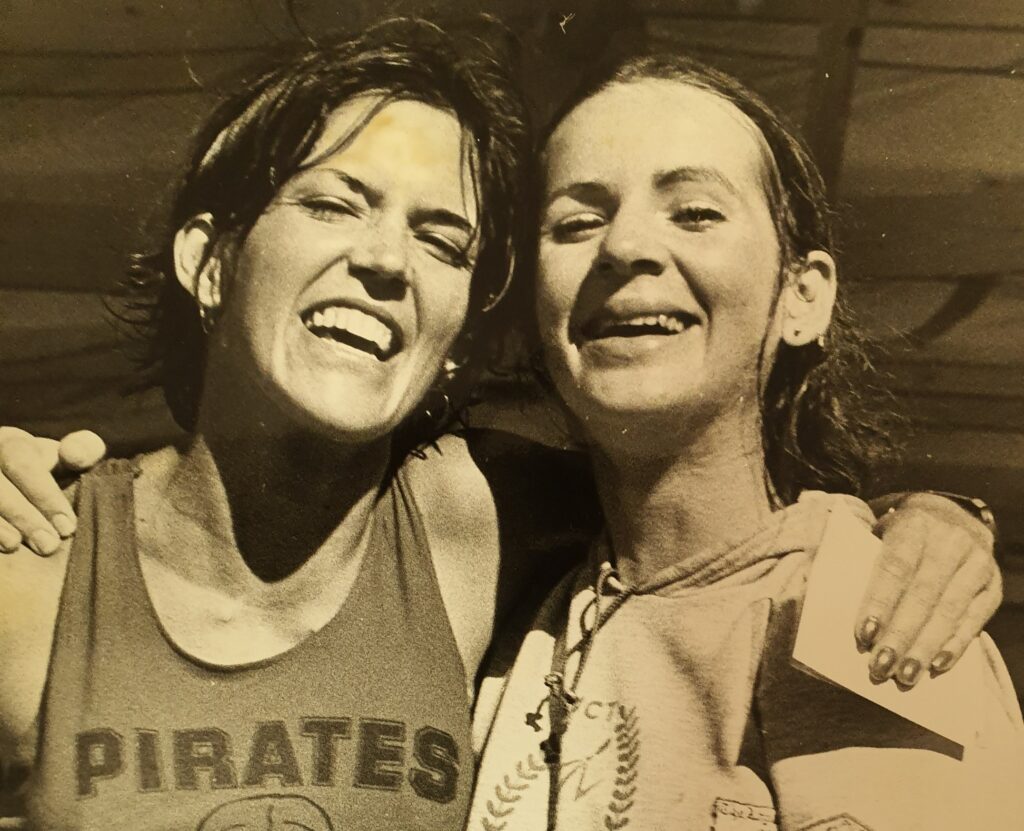 What scares and excites Ngcobo approaching D-Day? "The magnitude of the event scares me," Ngcobo admitted. "After all, it is the biggest ultra-marathon in the world. Secondly, we made the decision to move the date to August for the first time in the history of the race and the potential for warm temperatures on the day also makes me anxious. But fortunately, it's looking good with a high of 19 degrees predicted. And then there is always the fear of the unknown.
"The thing that excites me the most is our slogan 'The Return'. We're back after missing two Comrades – the first we've missed since the Second World War. And just that alone holds great potential and is going to make Sunday an exciting day.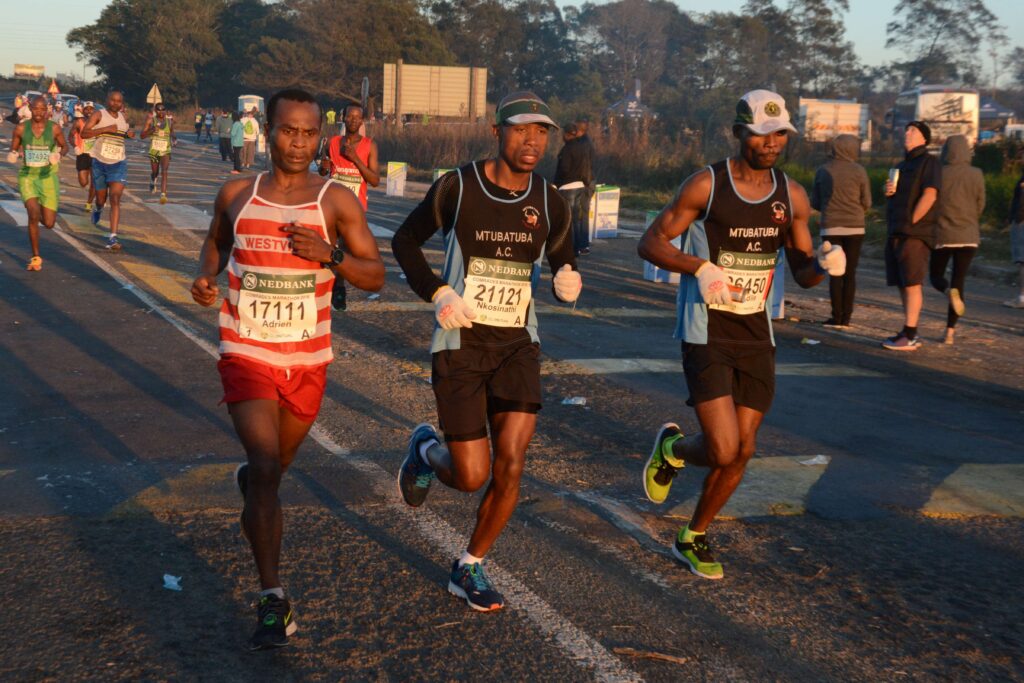 "Our vision is to stage the biggest and best ultra-marathon in the world, striving to remain the most inclusive sporting event in South Africa, and Sunday's race will help us live up to that vision," Ngcobo concluded
Inevitably, it will take a year or two before the great road race returns to its pre-COVID heights, but the signs are promising. The United Kingdom (223 runners) tops the list of participating countries from outside South Africa, followed by Zimbabwe (210), India (209), Eswatini (94) and Brazil (92).
Although down from 2019's 20 000, almost 16 000 have entered to run the classic ultra-marathon, with the male and female winners taking home R260 000, which will be doubled if they can improve on David Gatebe and Frith van der Merwe's 'Down' records of 5:18:19 and 5:54:43, set in 2016 and 1989 respectively.
While the women's field does not appear to offer the same depth of quality as in past years, the men's line-up looks as strong as ever with Africa's leading ultra-marathoners challenging for podium positions and a portion of the generous prize-money, which stretches to the top ten finishers.
The smart money is on three South African marathoners – 2019 'Up' winner, Edward 'Slender' Mothibi; three-times Comrades champion who was only seconds behind Mothibi in 2019, Bongmusa Mthembu; and new ultra-marathon star, Nkosikhona 'The Pitbull' Mhlakwana, whose second position in this year's Two Oceans Marathon, just three seconds behind the tall Ethiopian Edndale Belachew signalled his arrival at the top of South Africa's ultra-marathon tree.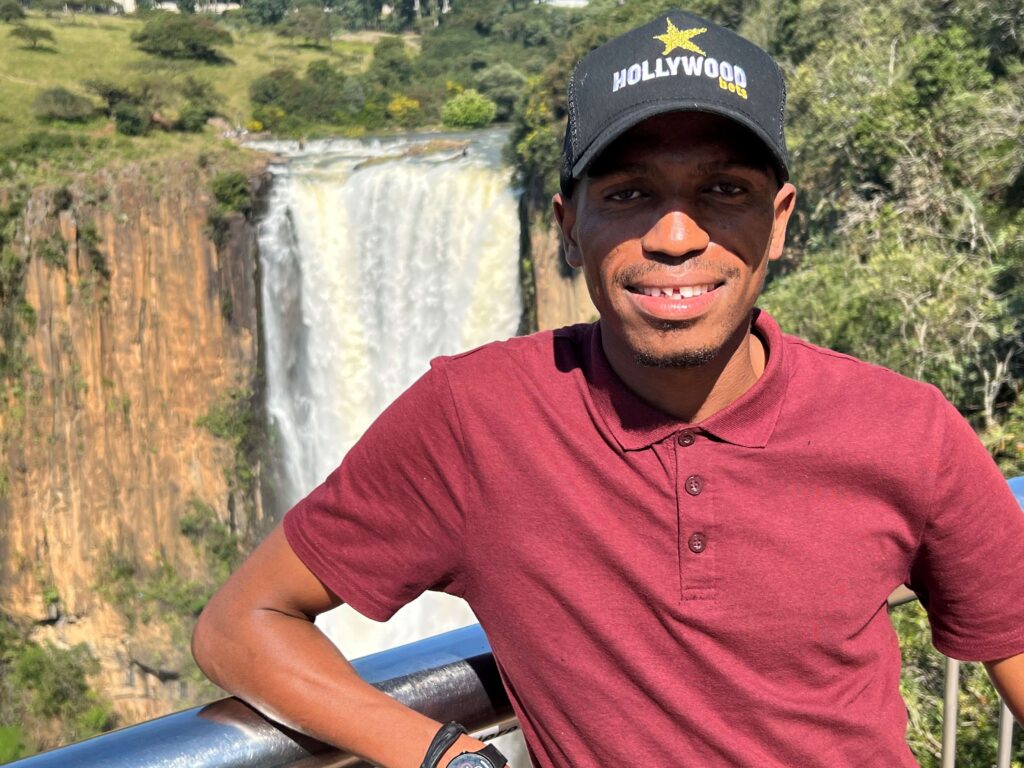 Mhlakwana, in particular, has improved consistently over the past few years since his cramp-affected 11th in the 2019 Comrades. Since then, he has won a number of high profile trail and road races, including the 2021 Ultra-trail Drakensberg 62km and this year's Prince Mangosuthu Buthelezi Marathon in the Eastern Cape.
"We've done the work, it's time to make it happen – I'm feeling good and looking forward to do my best on the day," said Mhlakwana. "My coach (former Comrades gold-medallist Prodigal Khumalo) urged me to keep it simple and stick to our goals – to finish in a better position and time than what I achieved in 2019.
"But that does not mean that if the opportunity comes along, I won't go for a higher position or even a win. I won't retreat from that. Anything is possible on the day – I'm here to compete against myself and the time goal we've set. I've been training hard and I'm much fitter than I was for the Two Oceans Marathon, having enjoyed some high-altitude training in Lesotho. I'm looking forward to my second Comrades and my first down run."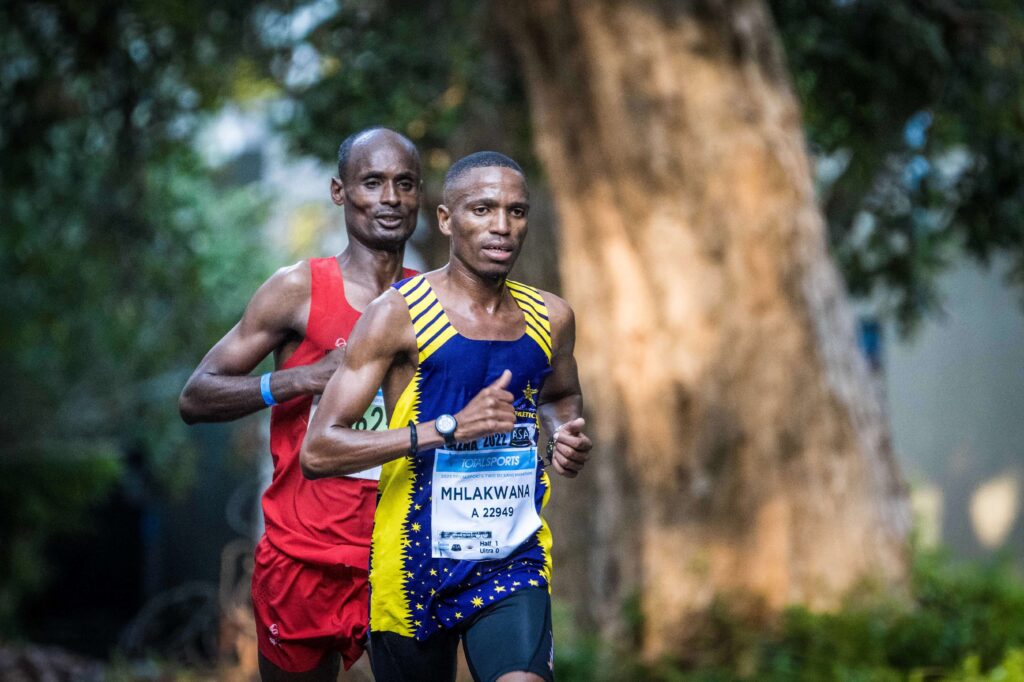 But several others in the line-up have the talent to oust the 'big three' on the day, including internationals Henri Ansio of Finland, whose results on road, trail and track in recent years have underlined his ability when running longer and further, Kenyan Justin Chesire, whose win in the 2018 Two Oceans and valiant effort to better Thompson Magawana's 'unbeatable' record the following year was proof of his talent, and this year's Two Oceans winner, Belachew. While this will be the Ethiopian's first race over this distance, no one is doubting his speed and ability.
Several other South Africans could surprise on the day, none more so than record-breaking 2016 Comrades winner and past Two Oceans champion, David Gatebe, and two rising stars Jonas Makhele and Ntsindiso Mphakathi, who shocked the world with their world-class 50km times in finishing second and third in the 2021 Nedbank Runified 50km in Gqeberha.
Russian athletes have often been to the fore in Comrades, in particular in the women's competition, and Alexandra Morozova would love to sustain that history of success in the 'Ultimate Human Race'. Morozova is no stranger to the podium at Comrades, having finished second on debut in 2017 behind American Camille Heron, third in 2018 behind Ann Ashworth and Gerda Steyn and second again in 2019 behind a record-breaking Steyn.
While Steyn is focussing on the New York City Marathon and will not be racing Comrades this year Ashworth, in her final competitive Comrades before retirement, and Herron could once more be thorns in Morozova's flesh. Both athletes have transitioned successfully between road and trail, with Herron having had considerable success in some of the world's biggest ultra-trail races. Known for running with her hair down, drinking beer, and eating tacos during ultramarathons, Herron is certain to be noticed and will be seeking her second win.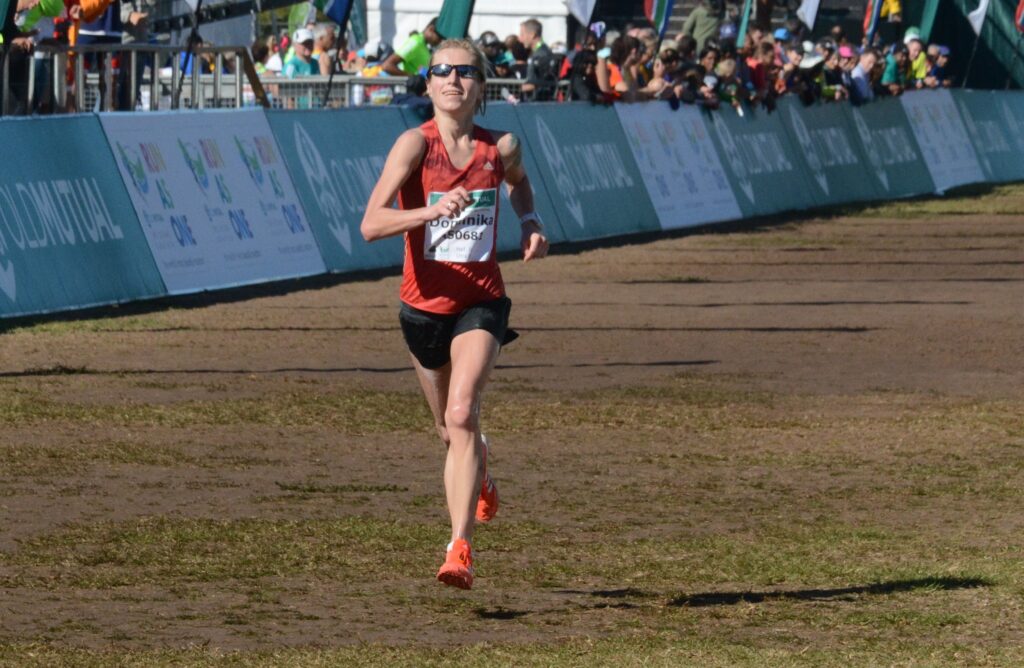 Since 2015, Polish ultra-marathon star, Dominka Stelmach has competed in 33 ultramarathons on road and trail, finishing outside the top five only twice. The tough-as-teak tattooed Pole bagged the runners' up position to Steyn in the 2018 Two Oceans, following it up with 4th the following year. This year she won the Black Canyon Trail 100km in the USA and finished 4th in the 24-hour Barcelona Race.
Running her second Comrades, local KZN favourite, Jenna Challenor, will hope to improve her 6th position in her Comrades debut, which followed an impressive runners-up berth to Belarusian Maryna Damantsevich in the 2017 Two Oceans Marathon.
While Adele Broodryk will be running her Comrades debut on Sunday, the doctor and senior lecturer in exercise physiology at North West University in Potchefstroom should not be under-estimated. While Broodryk appears to save her best performances for ultra-marathons – she came within a whisker of the record at this year's Om Die Dam 50km –her recent 34:49 10km at the Durban SPAR race this year showed her speed has improved markedly. A top five position is clearly on the cards.
2016 Comrades winner, Charne Bosman, 2017 Comrades gold medallist Danette Walley and Yolande Maclean are among others likely to be close to the leaders on Sunday.
While the battle for supremacy in both the men's and women's contests will be at the forefront of media coverage, including live coverage on SuperSport, Comrades has come to mean so much more than the footrace to the finish.
Since 1996, more than R62-million has been fundraised for charity by Comrades Marathon runners via their 'Amabeadibeadi' programme and an estimated R4-million is expected to be raised before Comrades race day on Sunday this year.
"Through the Amabeadibeadi Charity Drive, the Comrades Marathon Association (CMA) ensures we give back to our needy communities and contribute towards fundraising for the CMA's six official charities – Durban & Pietermaritzburg Community Chests, Childhood Cancer Foundation (CHOC), Hillcrest Aids Centre Trust, Hospice Association of KwaZulu-Natal, Rise Against Hunger and WildTrust," said CMA Charities Convenor, Pat Freeman.
"The role that these official charities play in community-based support, poverty alleviation, early childhood development as well as critical humanitarian, environmental and health advocacy greatly enhance the lives of thousands of South Africans," explained Freeman.
Back to the French Alps, where the world's top ultra-trail athletes will be tackling some of the most challenging of mountain trails in the shadow of the iconic Mont Blanc, at 4807m the highest in Western Europe. Indeed, the racing has already begun, with former UTMB 100 mile champion, Ludovic Pommeret of France, winning the 147km TDS. Italian ultra-distance athlete and prominent photographer, Martina Valmassoi, continued her recent good form, winning the women's contest.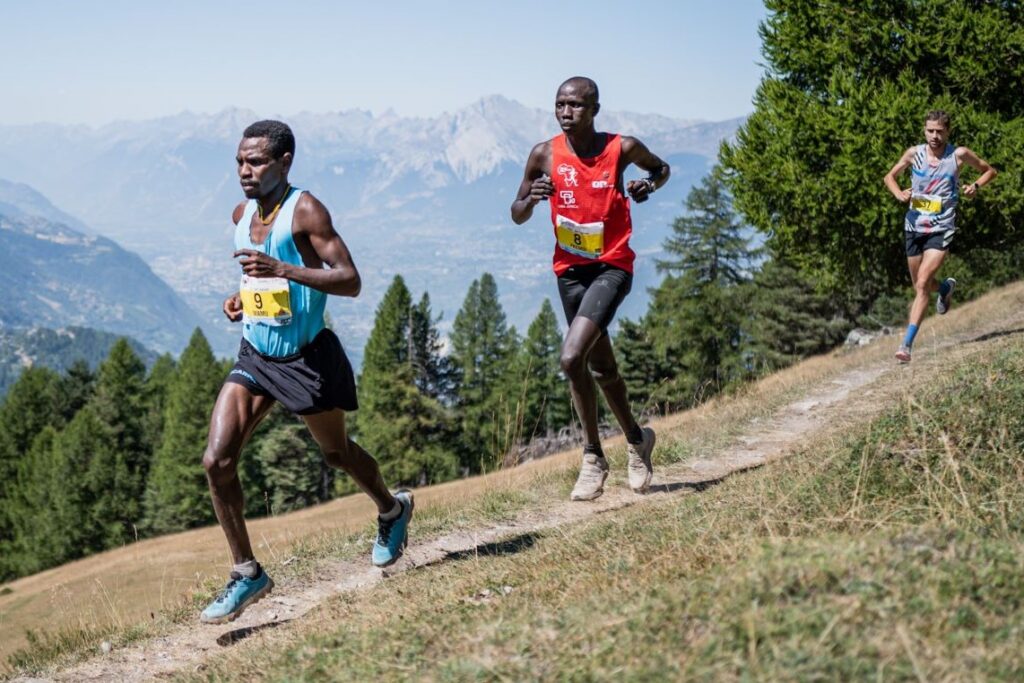 The first of UTMB's 'Big Three' – the OCC 55km with 3500m vertical gain – gets underway tomorrow (Thursday 25 August), followed on Friday with the CCC 100km (6100m vertical gain) and the UTMB 100 miler. African interest in tomorrow's 55km race centres on Eritrean Petro Mamu, 4th in the recent Sierre-Zinal 31km, in the men's contest and Toni McCann, winner of the Zugspitz 49km, in the women's.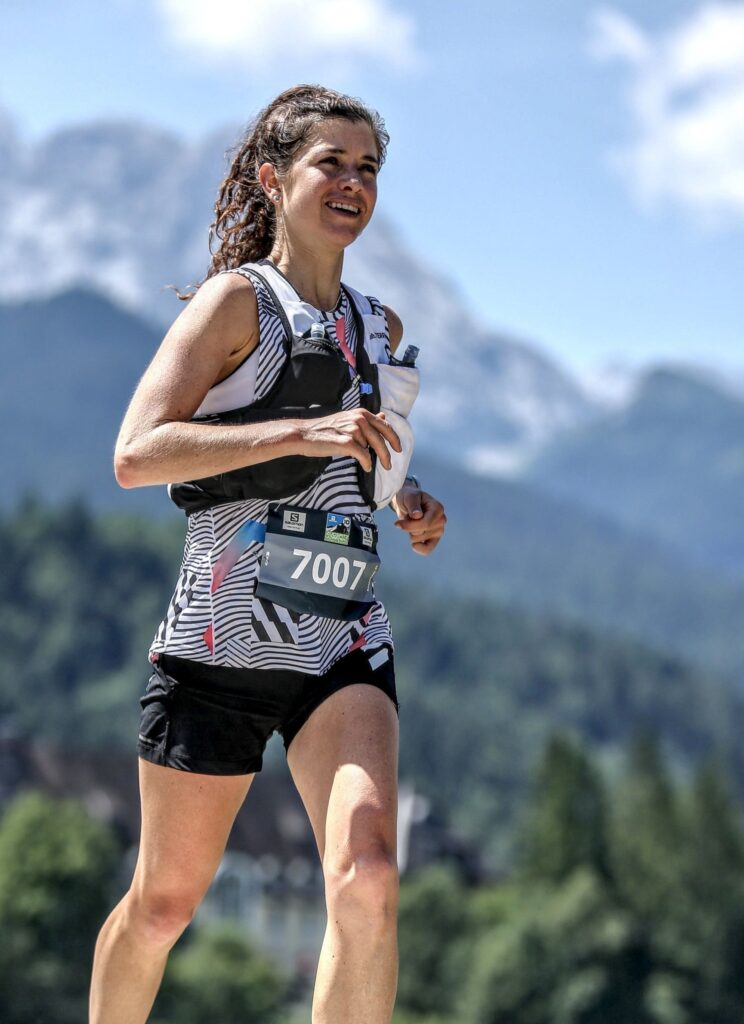 Polish athlete, Bart Przedwojewski, could prove Mamu's strongest rival with Spain's Manuel Merillas, French athletes Frédéric Tranchand and Nicolas Martin and Britain's Robbie Simpson strong contenders for the podium. In the women's race, McCann faces close to twenty athletes with podium aspirations, with Spain's Sheila Aviles and Sara Alonso (who narrowly beat McCann in the Transgrancanaria Marathon earlier this year), French athletes Anais Sabrié and Mathilde Sagnes, Eleanor Davis of Britain and Jess Brazeau of the USA among the strongest of the contenders.
South Africans Kane Reilly and Megan Mackenzie will be aiming for top ten positions in a stacked CCC 100km field. Reilly has enjoyed a relaxed build-up and shown good form in South Africa and will be looking to atone for a tough last quarter of the race last year, but will be up against the likes of Britain's all-conquering Jonathan Albon, Americans David Sinclair, Hayden Hawks and Dakota Jones, French athlete Thibault Baronian and Italian Andreas Reiterer.
Mackenzie, now resident in Chamonix, placed an excellent 9th last year and could be hard-pressed to move up a few positions against the likes of New Zealand's Ruth Croft, Czech Marcela Vasinova, former world champion Blandine D'Hirondel of France, Alisa Macdonald of Canada and much improved Kiwi, Caitlin Fielder.
A mouth-watering contest between two ultra-trail superstars awaits in the 100-mile circumnavigation of Mont Blanc, with all-time great, Kilian Jornet of Spain, up against Ultra-trail Cape Town champion Jim Walmsley of America. Winner of the 2021 Western States 100 miler, Walmsley floundered at last year's UTMB and is determined to set the record straight this year. But he will be up against three-time winner, Jornet, who will be returning to Chamonix in August for the first time in four years.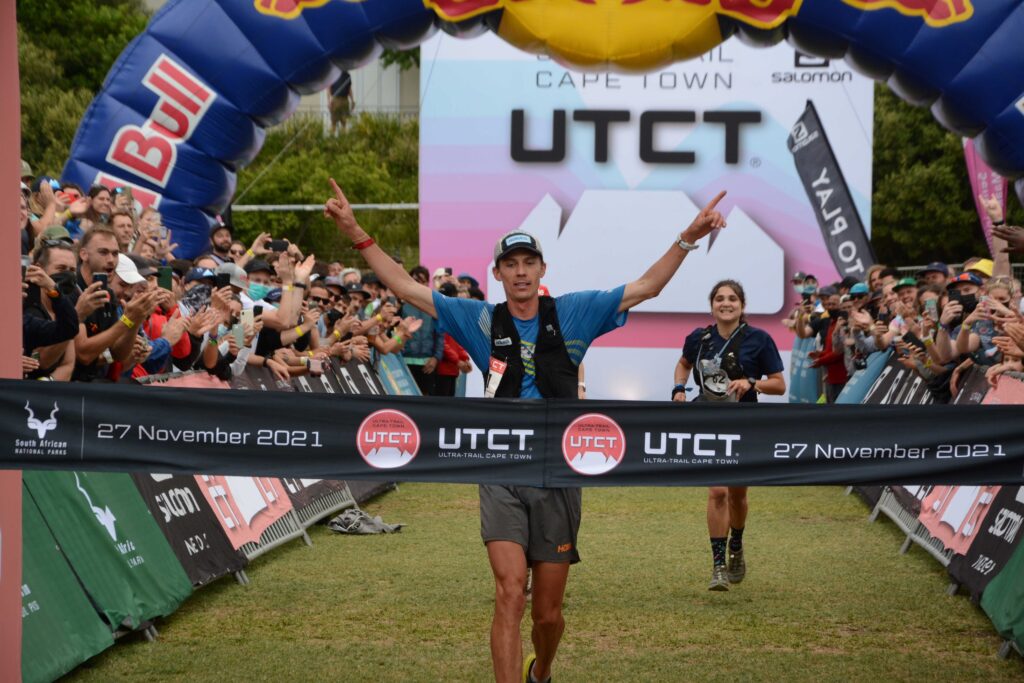 Unpredictable conditions and other pressure make UTMB one of the most difficult to predict and if one of the two giants should falter, a raft of runners will be waiting in the wings to pounce. German Hannes Namberger's recent form suggests a podium finish, while last year's runners-up Aurelien Dunand Pallz of France and French-Canadian Mathieu Blanchard will be out for repeat performances, if not better. Others to watch include Americans Zach Miller, Tyler Green and Tim Tollefson, Chinese athlete Jiaju Zhao, Britain's Tom Evans, Pau Capell and Pere Aurell of Spain, Scotty Hawker of New Zealand and former world champion, Luis Alberto Hernandez of Spain.
Zimbabwean Emily Hawgood is Africa's best hope of a top ten finish potentially improving on her 10th position last year. She placed 5th at this year's Western States 100 miler after leading the race and will be looking for a similarly impressive run this weekend. South African Naomi Brand placed 15th at UTMB in 2019 following her win in the Ultra-trail Drakensberg 100 miler five months earlier and will be looking for more success this weekend, potentially a break-through into the top ten.
England running doctor and former Ultra-trail Cape Town winner, Beth Pascall, returns after failing to finish last year and will be tough to beat if she is close to her best form. Swede Mimmi Kotka, Dutch star Ragna Debats, Americans Hillary Allen, Katie Schide and Brittany Peterson, Audrey Tanguy of France, Marianne Hogen of Canada and Spain's Azara Garcia all have the potential to take line honours on their day.
The OCC 55km starts tomorrow at 08h15 in Orsières in Switzerland, the CCC 100km at 09h00 on Friday in Courmayeur in Italy and the UTMB 100 miler at 18h00 on Friday from Chamonix.