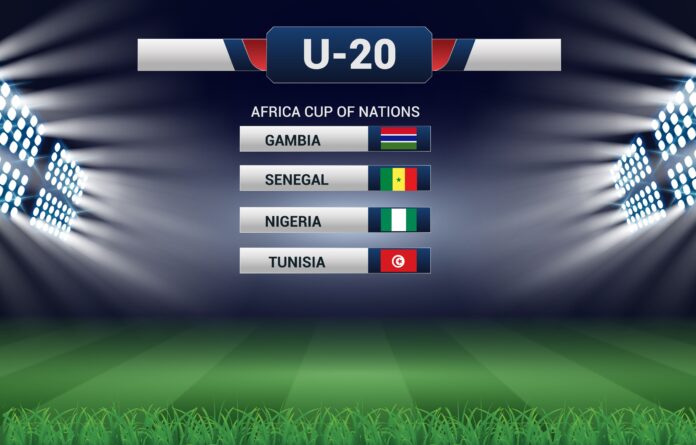 Africa's U-20 World Cup team slots are complete as Gambia secures a historic spot in the Afcon Under-20 finals. Will the Young Scorpions sting Senegal, to carry the 2023 Afcon U-20 title?
Bonface Orucho, bird story agency
Gambia, Senegal, Nigeria, and Tunisia will represent Africa in the FIFA U-20 World Cup taking place from 20 May to June 11, 2023.
The four teams secured their places following a thrilling last-eight stage of the ongoing TotalEnergies U-20 Africa Cup of Nations, in Egypt.
At the semi-final match played at the Cairo International Stadium on Monday evening (March 6), Gambia edged out seven-time U-20 world cup champions Nigeria with a 1-0 penalty win.
The winning goal scored in the seventh minute fulfilled Gambia's years-long desire to reach the finals.
Their historic qualification places them among some of Africa's footballing giants – in Nigeria and Senegal – during the finals.
According to the Scorpion's coach, Abdoulie Bojang, netting ten goals in the competition and not conceding any is good reason to believe the team will win the finals of the Cup of Nations, on March 11.
"We're a small country which now plays in the tournaments…It is a deserved victory. We will fight for the title against Senegal," he said.
The two sides have a similar record in the tournament, as they won all five matches without conceding a goal and scoring in each match.
Senegal defeated Benin 1-0 in the quarter-finals, advancing to the semi-finals, where they thrashed Tunisia 3-0 to reach the competition's final match.
Caf's Technical Study Group (TSG), a team of experts that assess matches and players in the competition, last week unveiled the list of names that make up the best XI of the Group Stage.
Using this as an assessment tool suggests an uphill task ahead for Gambia at the Cairo International Stadium on Saturday.
While four of the 11 players belong to the Senegalese team, Gambia's forward Alaigie Saine and team coach Abdoulie Bojang are the only ones featured from the Young Scorpions.
Senegal has also scored the most goals in the competition with 12 goals, while Gambia has had ten goals so far.
Competition between the two countries could come down to a battle of the top scorers – between Pape Diop of Senegal, who has five goals and Gambia's Adama Bojang, with 4.
bird story agency