African athletes have impressed at the World Athletics Championships in Budapest this week, walking away with a clutch of medals after Day Six, but Africa is expected to come into its own in the longest two races on the weekend (26 and 27 August).
Ethiopia has led the charge for Africa and is currently placed sixth on the medals table with one gold, three silvers and two bronze medals to their credit following Gudaf Tsegay, Letsesenbet Gidey and Ejgayehu Taye's clean sweep of the medals in the women's 10 000m and Diribe Welteji's silver behind the extraordinary Faith Kipyegon of Kenya in the 1500m, arguably the greatest 1500m athlete of all time.
Athletes from no fewer than six countries had won medals in the men's competition by the end of Day Six, with Fabrice Zango of Burkino Faso pulling off a major surprise in winning his country's first ever gold in the triple jump.
Kenyan Daniel Ebenyo winning in Cape Town in 2022, second in Budapest in 2023. Photo – Mark Sampson
Joshua Cheptegei of Uganda was strongly favoured to clinch his third world title in the 10 000m and lived up to pre-race billing with an emphatic display in seeing off the challenge of twice winner of the Run Your City Cape Town 10km, Kenya's Daniel Ebenyo, and Ethiopia's Selemon Barega, while the charismatic Moroccan Soufiane El Bakkali won the 3000m steeplechase title ahead of two other African athletes – Ethiopian Lamecha Girma won silver with Kenyan Abraham Kibiwot taking the bronze.
One of the revelations at the championships has been the sprinting form of Botswana's Letsile Tebogo, who won an unexpected silver medal behind Noah Lyles in the men's 100m and looks to be on his way to a second medal in the 200m.
Five African athletes have won titles thus far (and the US$70 000 incentive prize which rewards that feat) and a number of marathon athletes will be aiming to join the party over the weekend by taking the tape in the marathons – the toughest of all competitions.
The women's marathon on Saturday and the men's on Sunday will take place over a fast four-lap course over 42,195km with African athletes likely to contend strongly for gold, silver and bronze medals on offer.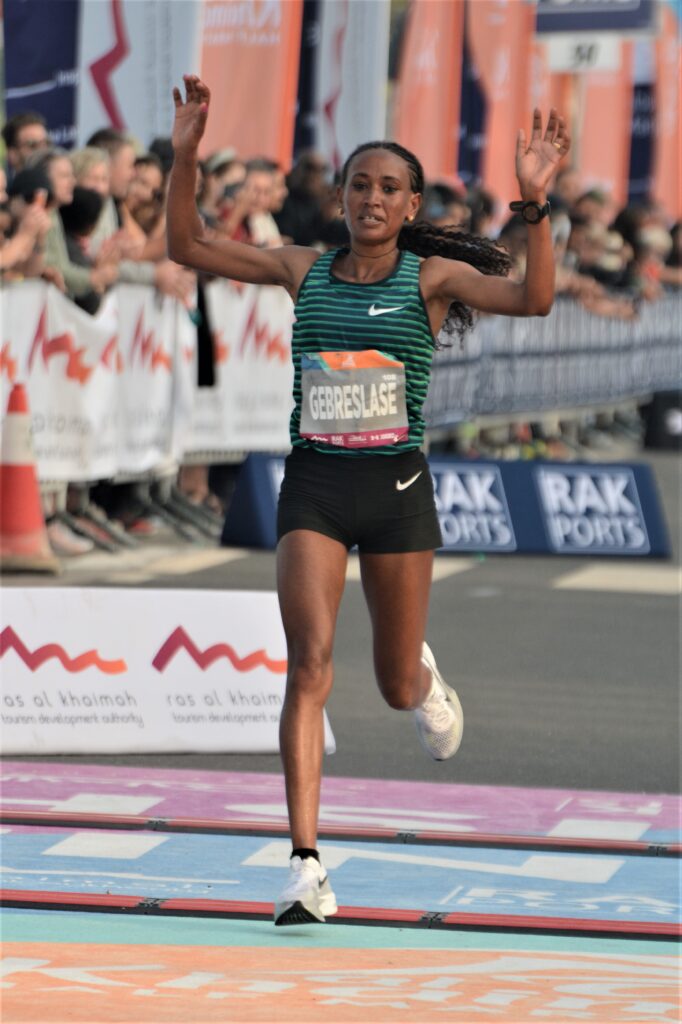 Gotytom Gebreslase of Ethiopian defends her title she won in last year's championship in Eugene, Oregon. Photo – Stephen Granger
The dominance of athletes from east Africa, largely Kenya and Ethiopia, in world marathon rankings typically translates into supremacy at the world's biggest city marathons. But this is not always the case in championship events, where the number of entries per nation are limited.
Nonetheless, the presence of some of the best marathon athletes in the world in the last two years will allow supporters of Kenyan, Ethiopia, Uganda and Morocco to believe they might add to their medal tally.
Kenya have not reached the heights of past championships, but in 28-year-old Rosemary Wanjiru they have one of the favourites to win the marathon. Her 2 hr 16 min 28 sec victory in the Tokyo Marathon in March this year followed on her runners-up position in 2:18:00 in Berlin in 2022 and with a 29:50 10km best, she has speed to burn.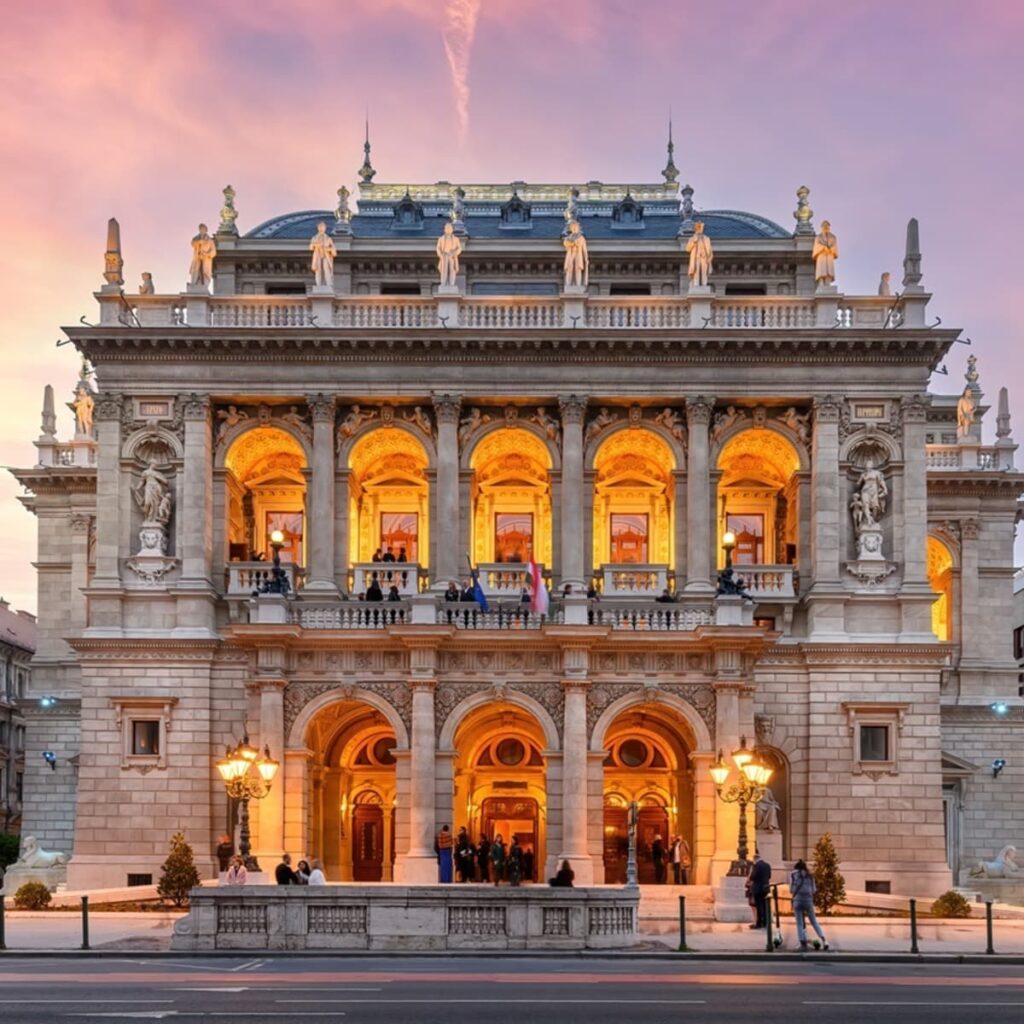 Competitors in the World Championship marathons can expect to be serenaded in operatic style as they run past the State Opera House in Budapest on the weekend.
But the Kenyan is not the fastest marathoner in the field, with Ethiopian Amane Beriso's shock 2:14:58 win in Valencia, Spain last December, taking pole position. If she can replicate her run nine months ago there may be none capable of stopping her.
While Ethiopian Gotytom Gebreslase 'only' boasts a marathon best of 2:18:11, the fact that she ran that time in winning last year's World Championship title in the USA suggests she will be tough to beat in her quest to retain her title.
Another Ethiopian, Yalemzerf Yehualaw, will be favoured by many for a win. The 24-year-old won the 2022 Hamburg and 2023 London Marathons six months apart and set a world 10km record of 29:14 in Spain last year.
With Ethiopia's fourth marathoner, Tsehay Gemechu, having raced faster than 2 hr 17 min in coming second to Wanjiru in Tokyo this year, the 'green and reds' look to have the advantage in Saturday's race.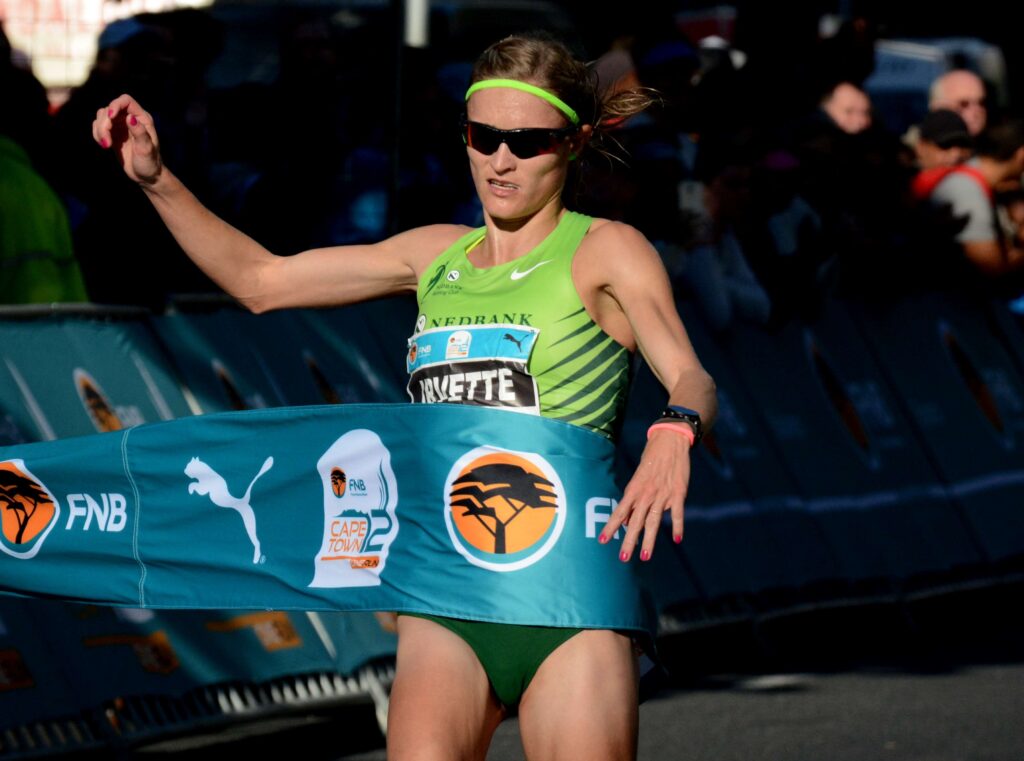 Irvette van Zyl – flies the flag for South Africa in the women's marathon. Photo – Stephen Granger
Other leading African marathoners who could be in the mix up front include Kenyan Sally Kaptich, winner of the Frankfurt Marathon in October last year, Ugandan Rebecca Cheptegei and former holder of the world 50km record, South African Irvette van Zyl.
With several of the world's leading male marathoners absent from Budapest, Kenyan Timonthy Kiplagat could prove a strong contender on Sunday following his win in last year's Melbourne Marathon and his second place in his best-ever 2:03:50 at Rotterdam, Holland, in April this year.
Fastest in the field is Ethiopian Tamirat Tola who placed third in this year's London Marathon in 2:04:59, some 1 min 20 sec slower than his best ever of 2:03:39, set in 2021 in winning the Amsterdam Marathon.
Leul Gebresilase of Ethiopia won in Valencia in 2018 in 2:04:31 and has a 59:18 half marathon to his credit, while Ugandan Stephen Kissa's speed over shorter distances – 27:13 over 10km and 58:56 for the half marathon – could be a factor on Sunday. The 34-year-old set a national record in placing second in 2:04:48 at Hamburg last year.
Kenyans Joshua Belet and Titus Kipruto and Ethiopians Deso Gelmisa and Tsegaye Getachew are all sub-2:05 marathoners and likely to feature in the top ten.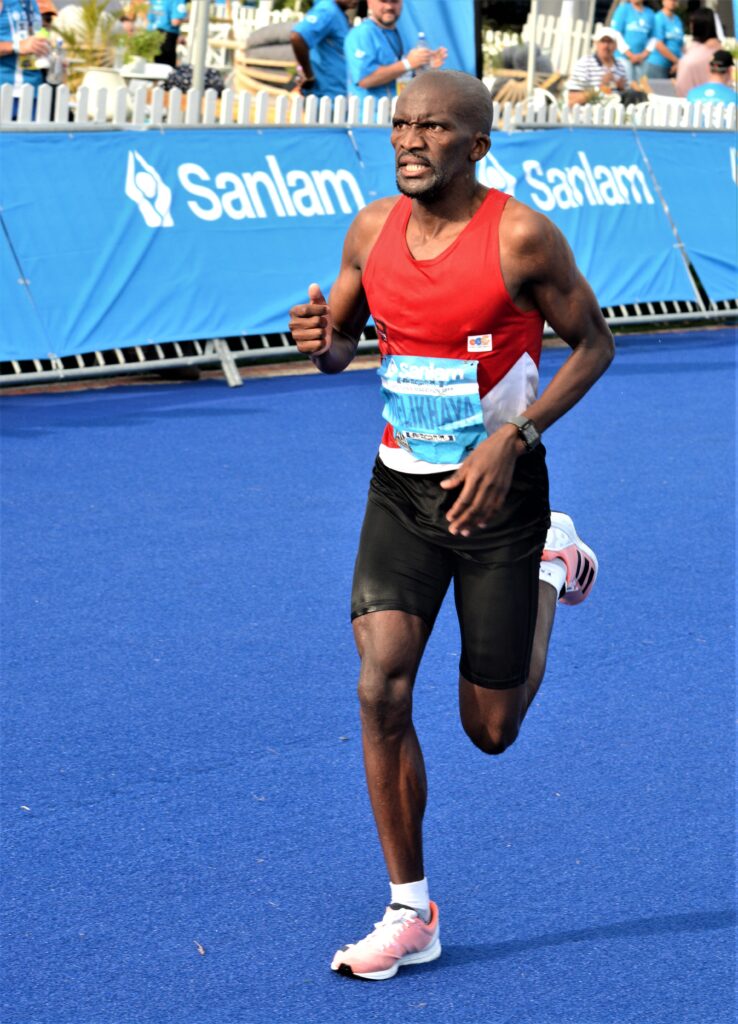 Melikhaya Frans finishing the 2019 Cape Town Marathon. Frans aims to run the race of his life on Sunday. Photo – Stephen Granger
Two other African marathons could also contend strongly. While Moroccan Mohamed El Aaraby and South African Melikhaya Frans may lack the fast marathon times of the east Africans, they have proved their ability in securing podium places, with El Aaranby clinching third in the London Marathon this year.
Frans holds the national 30km record and has enhanced his reputation as a tough competitor, taking the silver medal at the Athletics South Africa Half Marathon Championships in 1:01:03 last year. He has the added advantage of having his impressive personal coach, Michael Mbambani, with him in Budapest as the official coach of the South African Marathon team.
South Africans have raced well in championship marathons, notably in 1996, where Josiah Thugwane won gold in the Atlanta Olympics, and at the World Championships in Doha in 2019, when Stephen Mokoka took the lead just 2km from home before narrowly missing out on a medal.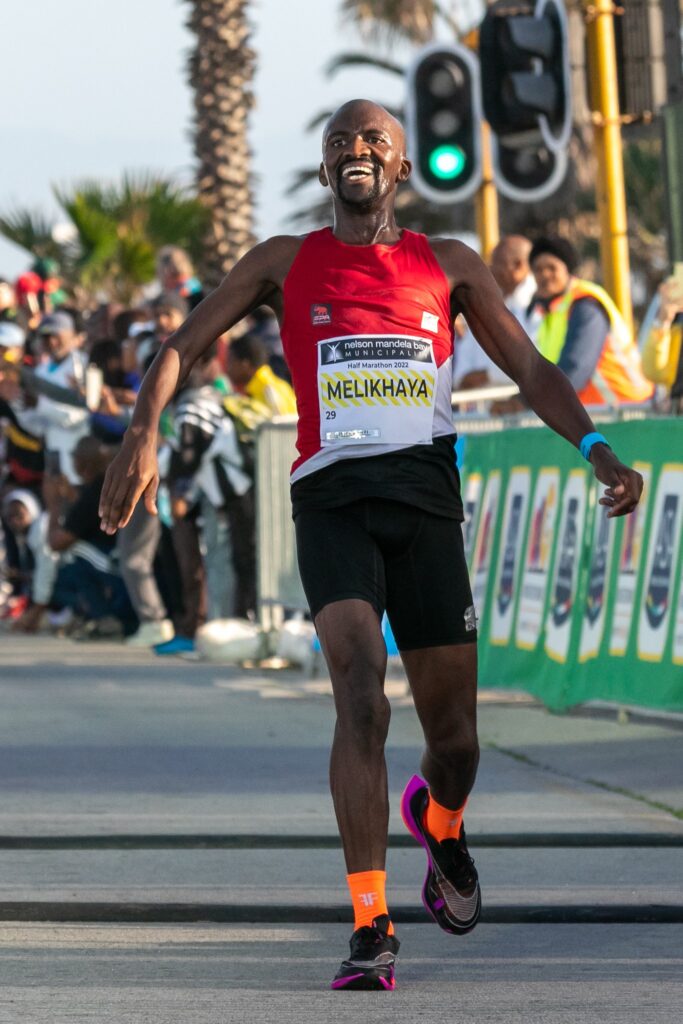 Melikhaya Frans sets a personal best half marathon time in Gqeberha at the 2022 national championships. Photo – courtesy ASA
"I have watched both of those races many times," admitted Mbambani from Budapest this week. "We have learned from these and have seen why Stephen missed out on a medal in Doha. 'Meli' will benefit from those lessons learnt. He has developed great speed endurance and I'm confident he will do well.
"I think the four-lap course will suit him and it will mean that I will be able to see him on each lap.
"Certainly, he will run the race of his life this weekend and will mix it with the leading contenders for as long as he is able. And who knows…"
Mbambani also had encouraging words for the other South Africans. "Irvette (van Zyl) is in a good space – she is healthy and fit and ready to race.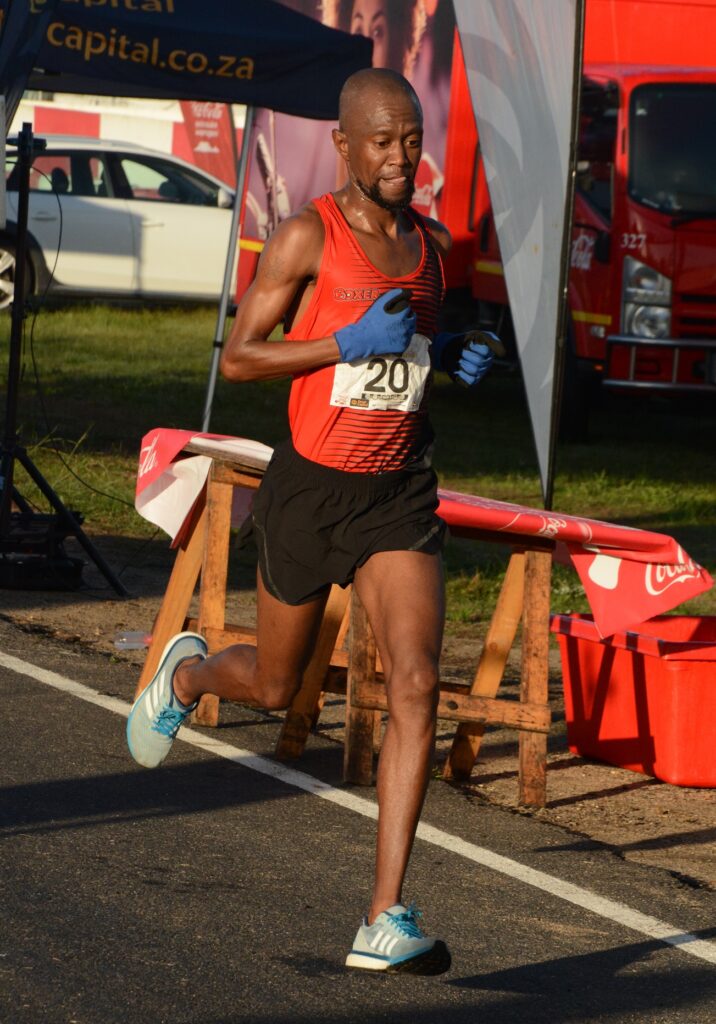 Tumelo Motlagale will start Sunday's marathon with confidence following recent good form. Photo – Stephen Granger
"Simon Sebeko is our national marathon champion and has also trained well. He is young with a positive mind and is sharing a room with Meli. Tumelo (Motlagale) has just come off a good half marathon results in Phalaborwa and has shown he is in good form.
"The team atmosphere is relaxed and positive and all are looking forward to racing for their country."