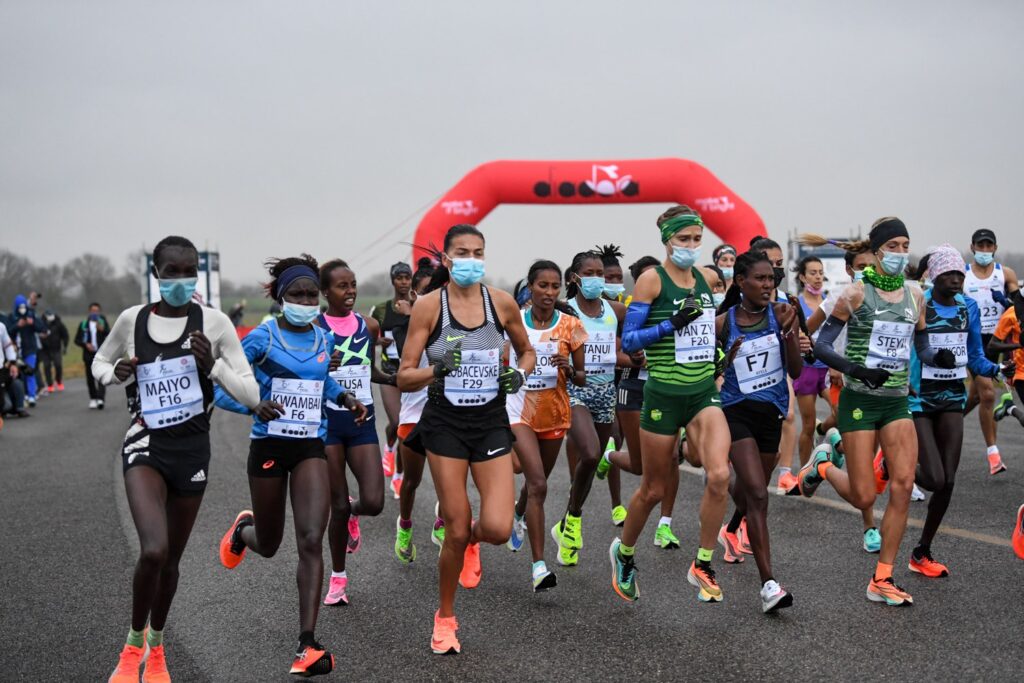 Kenyans Eric Kiptanui and Angela Tanui took line honours in impressive style at the Xiamen Marathon and Tuscan Training Camp Elite Race in Italy on Sunday morning (April 11) while South African Gerda Steyn, smashed the South African national women's marathon record.
Steyn, the darling of distance running in South Africa, smashed Colleen de Reuck's 25-year-old national marathon record in an elite race on an Italian airfield. It was billed as the last chance for distance athletes to qualify for the Tokyo Olympics, scheduled to be held later this year.
The event took place in wet, windy conditions in the Tuscan town of Siena and Olympic qualifying times of 2 hrs 11 min 30 sec and 2:29:30 were the targets on the day, with designated pacers engaged to support the cause.
Steyn had higher aims, however, including running faster than De Reuck's 2:26:35 winning time at the 1996 Berlin Marathon.  Wet and windy weather prevented her from doing so at last year's elite London Marathon, when she missed the mark by just 16 seconds, and similar conditions at the start of today's race threatened to poop her party once more.
A combination of the wind dropping as the race progressed and Steyn's determination, however, proved decisive and she sliced 1 min 7 sec off the mark to finish a competitive ninth in 2:25:28.
"I'm very, very happy but absolutely freezing," Steyn said, her teeth chattering while awaiting doping testing in chilly post-race conditions. "The wind was quite bad at the start and I thought this could be another attempt blown away, but fortunately the wind died down as the race progressed.
"I was quite isolated during the race," Steyn admitted. "There was a large group at the front who were going too fast in the beginning when I thought it best to conserve my energy and I was ahead of the following pack. Fortunately, I drew level with two male runners and we ran together for about 10 km.
"But then they dropped behind and I was on my own to the finish, although in the final few kilometres I managed to overtake some runners from the lead pack who had fallen off the pace. It's fantastic to have the South African record and it is a big confidence booster leading into the Olympics."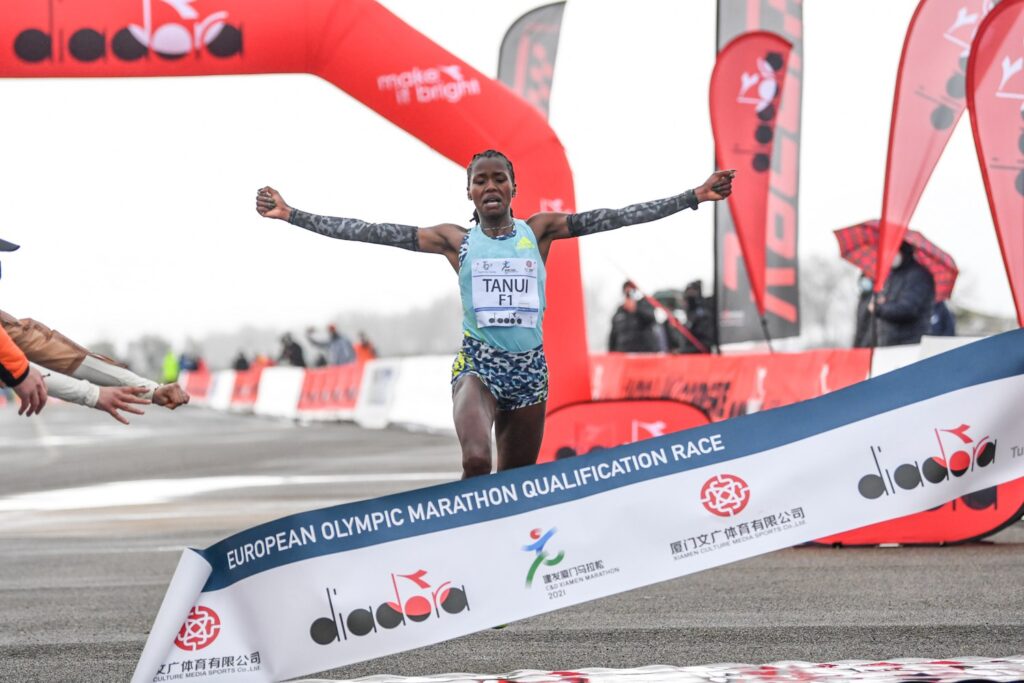 Steyn's Nedbank clubmate, Irvette van Zyl, finished three minutes behind Steyn and was over the moon with an Olympic qualifying and personal best time of 2:28:40. "I'm crying and smiling at the same time," an emotional Van Zyl confessed. "But they are tears of joy! I just could not stop hugging Gerda – it's been such a joy to be here with her. She's an amazing athlete and a wonderful person – just so positive about everything!"
Van Zyl had to overcome crippling injuries, including a career-threatening knee operation, in the last few years to return to elite marathon competition, and she was determined not to blow her chance. "When conditions were tough today and my calf started cramping in the last few kilometres, I just thought of the pain after my knee op and knew I could overcome it today and succeed.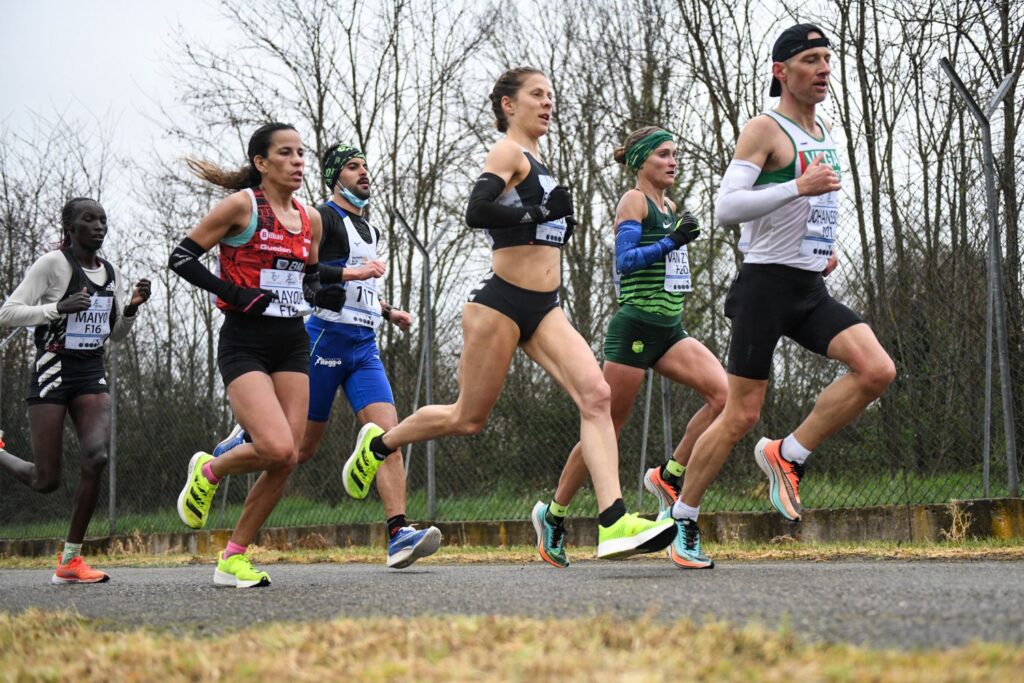 "After my woes at the London and Rio Olympics, I was determined to put it right this time. I know now I will be able to finish strongly at the Olympics if chosen."
Today's race is only the second occasion South Africa has had two female athletes finish faster than 2 hrs 30 min in an international marathon, recalling the 1997 Boston Marathon when Elana Meyer and De Reuck placed 2nd and 3rd respectively in 2:27:09 and 2:28:03.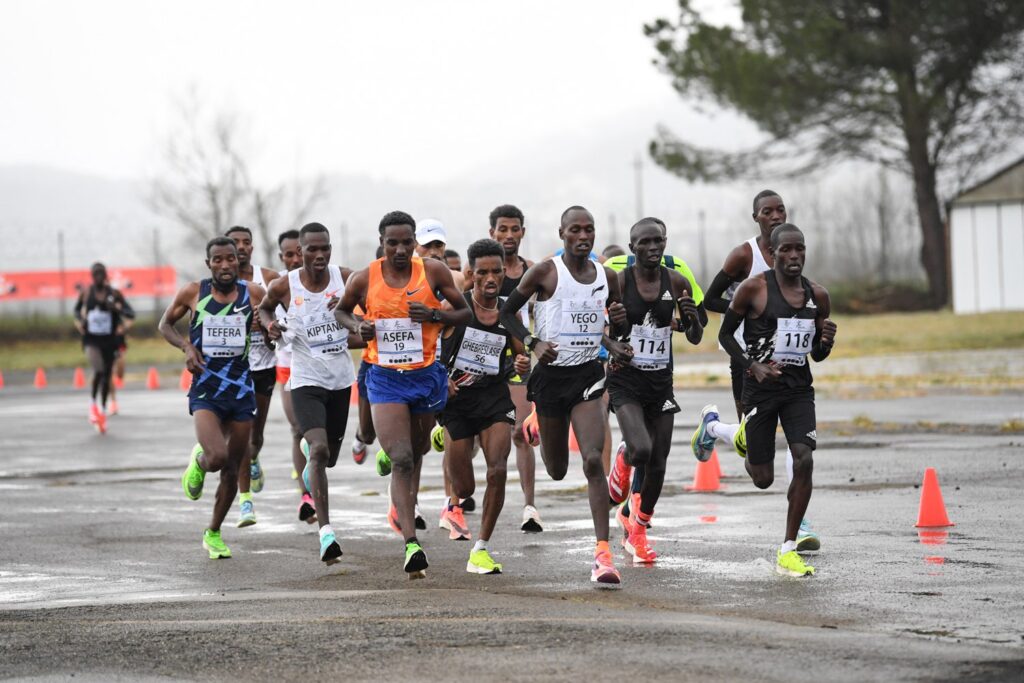 "Given the relatively bad conditions today and with the SA record out of the way, I think Gerda can go around 2:23 at the Olympics and Irvette, with more rest, potentially also a similar time," said Nick Bester, coach of both athletes.
While athletes from the south of the African continent were enjoying marathon success, once again it was athletes from the Great Rift Valley in the east who dominated up front.  No fewer than eighteen were still together through 32km, reached in 1:37:03, but repeated surges by Kiptanui (30 yrs) enforced 'social distancing' as the pack split apart at the seams.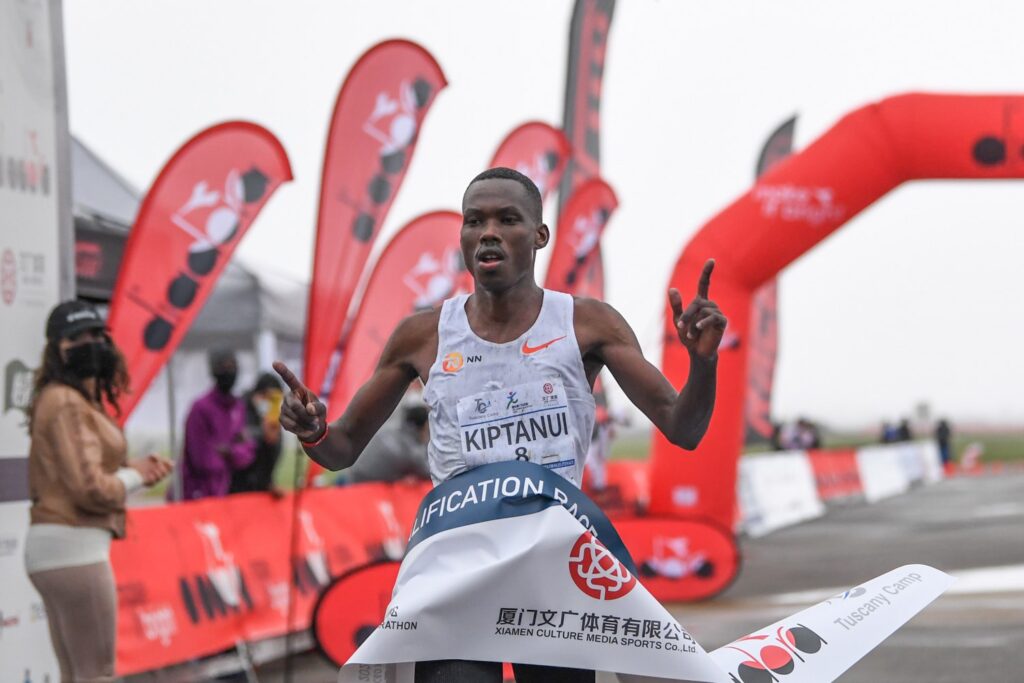 Just five kilometres on at 37km, only 25 year old Ethiopian, Abdi Fufa Nigassa, was still in contention and the two ran stride for stride over the final five kilometres, before Kiptanui's strong finish proved decisive. He crossed the line in 2:05:47 – a 30 second improvement on his previous best and just 10 seconds clear of his Ethiopian rival.
Nigassa, who placed 9th at the 2019 Cape Town Marathon in 2:13:33, ran the race of his life, his 2:05:57 improving by almost five minutes on his previous best in Hangzhou, China, in 2017. Morocco's Othmane Elgoumri took the final podium slot in 2:06:18.
In the women's contest, Ethiopian Rahma Tusa led a ten-strong lead pack at half way, reached in 1 hr 11 min, before the Kenyan trio of Tanui, Gladys Chepkirui and Delvine Meringor upped the ante. Only Ethiopian Gediyane Gedamu was able to stay the pace.
With 10km and two circuits left to the finish, Tanui (29 yrs) took matters into her own hands, drawing away from her rivals in an impressive solo attempt to break the 2:20 barrier.  She failed by just 8 seconds, but a five minute improvement on her previous best at Istanbul in 2019 and winning purse of $10 000 were compensation enough.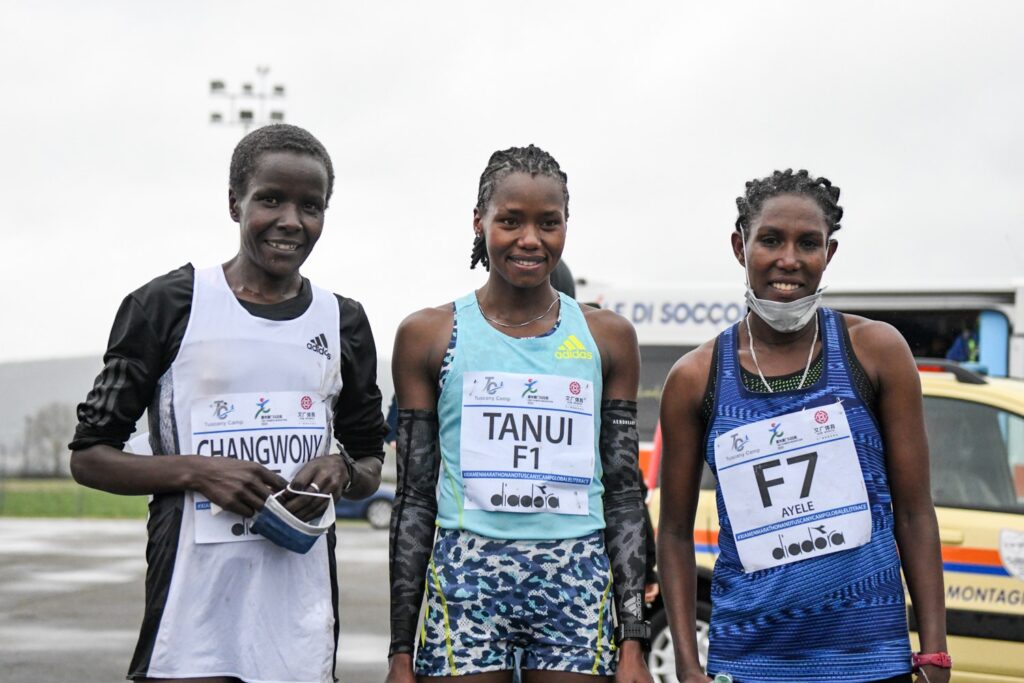 Fellow Kenyan Purity Changwony overtook Gedamu in the closing stages to place second in 2:22:46 with Gedemu third.
In the men's competition, 29 athletes beat the Olympic qualifying mark of 2:11:30, with local favourite, 37 year old Italian, Stefano Larosa, heartbroken at missing out by just 12 seconds. That left just two European athletes – Richard Ringer of Germany (2:08:49) and Khalid Choukoud of Holland (2:09:55) – beating the magical mark in a race billed as the "European Olympic Marathon Qualification Race".
It was delight for Moroccan Majida Maayouf, however, who was the 17th and final woman to beat the Olympic qualifier, beating the mark by just 6 seconds in 2:29:24.
Story by Stephen Granger.
©SPNAfrica News
www.spnafricanews.com