While Givemore Mudzinganyama landed 'the big fish', the 2023 Totalsports Two Oceans 56km Marathon (Saturday 15 April) was once again a triumph for Gerda Steyn, who raced to her second record victory in successive years and her fourth successive win in 'The World's Most Beautiful Marathon'.
Over 12 000 runners started the 53rd Two Oceans Marathon on Newlands Main Road shortly after 5am in cool conditions, with the leaders having to contend with a moderate head wind in the first half, before enjoy some help from a tailwind in the second. And with thousands of spectators lining the streets in the traditional Two Oceans supporters' zones, the Cape 'gees' was back to pre-COVID levels and the future of the Cape's greatest ultra-marathon appears assured.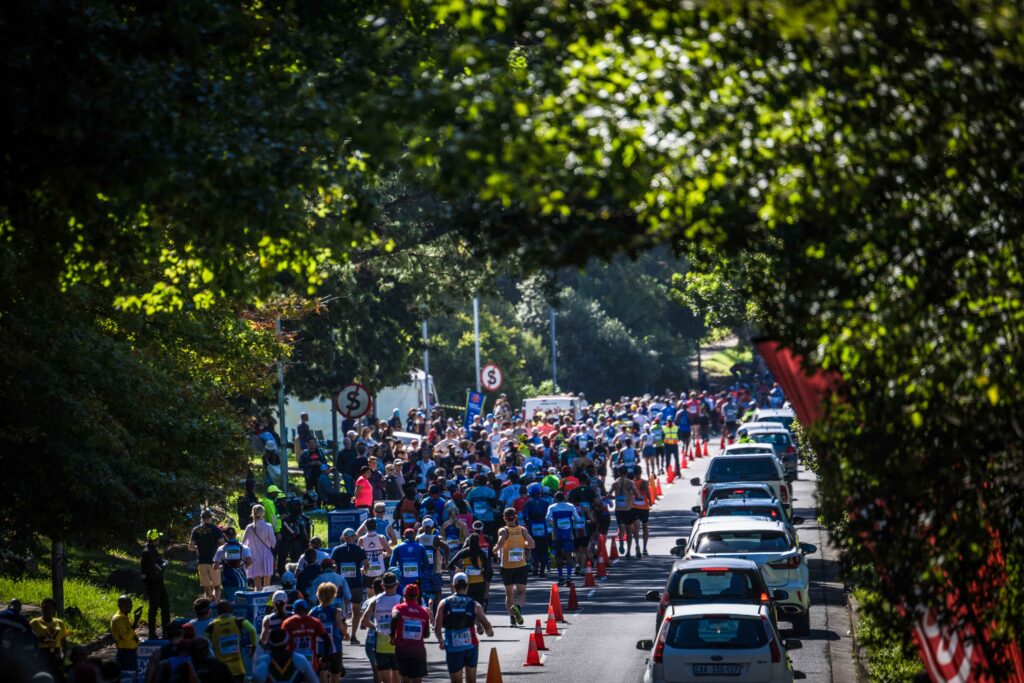 Steyn was at her best and simply had too much speed and strength for the strong Ethiopian quartet of Amelwork Bosho, Yeshiemebet Nguse, Tinebeb Ali and Ashakech Yami, who posted four Two Oceans golds from Ethiopia – the first time in Two Oceans history.
Although slowing on the race's biggest climb up Constantia Nek, Steyn had enough in the bag to be able to savour the moment, high-five cheering fans in the finish straight to take the tape in 3 hrs 29 min 06 sec and with it a record incentive which doubled her R250 000 first prize to half a million, and earned her the use of a KIA car for twelve months, both in South Africa and abroad.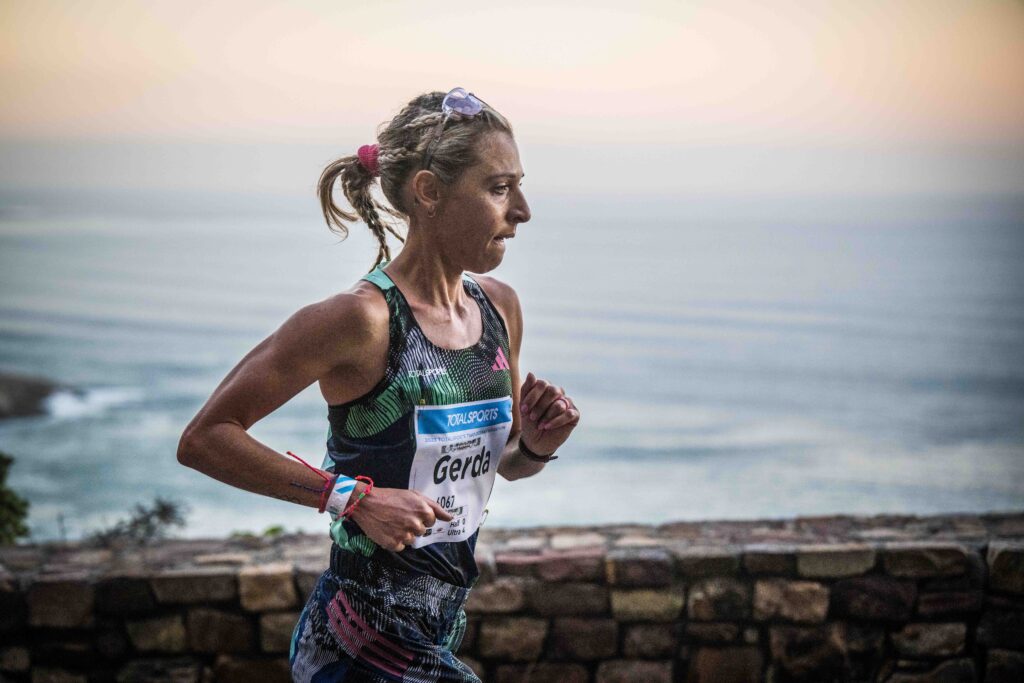 Steyn's husband, Duncan Ross, is an airline pilot but it was the Free State athlete, Steyn, who was flying on the weekend, shaving another 39 seconds from the stunning time she set last year when she eclipsed the legendary Frith van der Merwe's magic mark of 3:30:36, which had stood since 1989.
"I don't think I've ever been so emotional at the finish," remarked Steyn. "My whole family was here to welcome me. I just love this race and will certainly be back next year and hopefully for many years to come.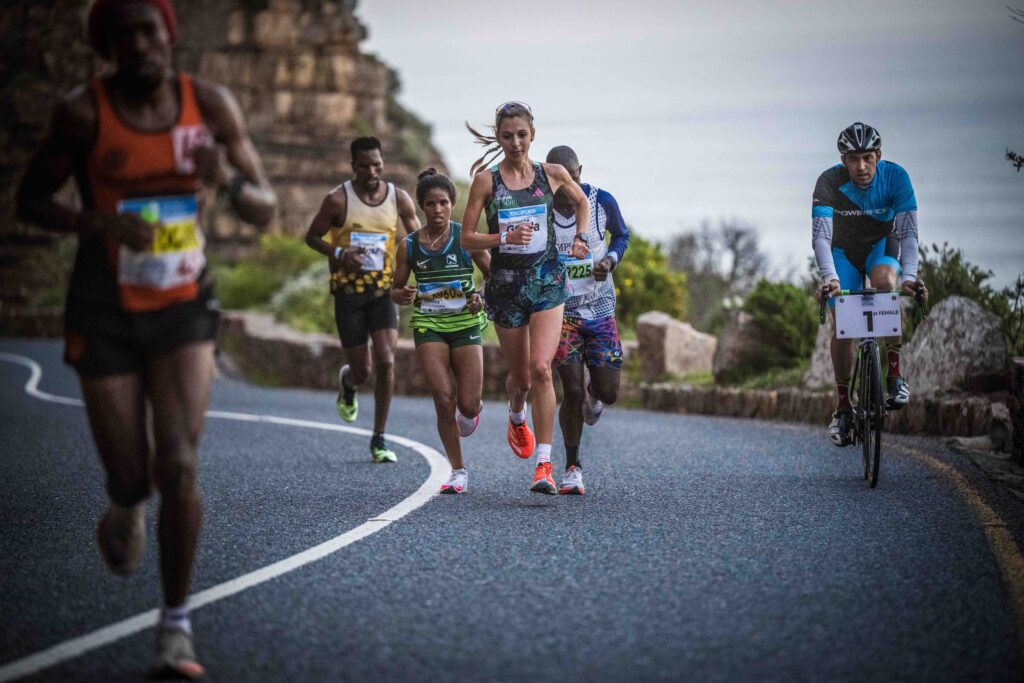 "My main aim was simply to go for my fourth win. I was racing head-to-head with the Ethiopian athletes for the first half and on Chappies before I was able to move ahead. But I thought the record might come if I maintained a good pace.
"At 50km, I worked out that if I ran 3:30 per kilometre to the finish I still would still have a few extra seconds to enjoy the moment and high-five spectators at the finish!"
Remarkably, Steyn did those calculations in her head, running at high intensity, no doubt her background as a qualfied quantity surveyor coming in handy. Another tool in an impressive toolkit of skills Steyn is continuing to build.
"This was a much more enjoyable race than last year's one," admitted Steyn. "I did experience a tough patch on Constantia Nek, but nothing like the 'dark place' I had to run through last year. But looking back, I'm pleased I had to endure that last year, as it gave me another tool which I can use in racing."
Zimbabwe-born and Johannesburg-based Mudzinganyama, 32, had previously dabbled in the Two Oceans, having run to 12th position in the 2015 Half Marathon and having earned an impressive runners-up medal behind Kane Reilly in the 2018 Long Trail race.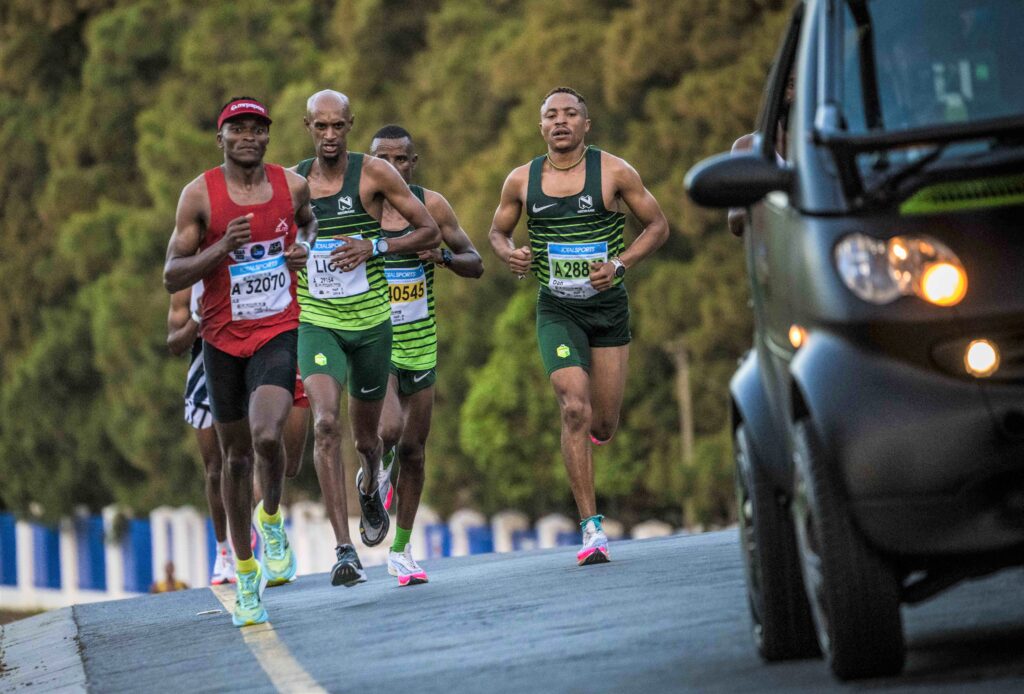 After experiencing considerable success as a trail athlete – including a hattrick of wins at the Cape Town Peace Trail 21km and partnering Edwin Sesipi to victory in the AfricanX team race – Mudzinganyama pondered his future as an athlete.
"I loved trail running, but you can't easily make a living in that discipline," Mudzinganyama admitted. "So after working at the ASICS shoe store in Johannesburg, I opted to become a full-time professional athlete and joined up with Hendrick Ramaala and his club, Entsika."
But it was a lesson in fishing, which was responsible for Mudzinganyama's path to Oceans' glory. "I was struck by what our manager said at our club's end of year meeting last November," Mudzinganyama said. "He said that while you could earn some smaller income with running regular shorter-distance road races, if you 'can catch one big-fish a year' you could make a real living.
"He was talking about the big races in South Africa, including Two Oceans, Comrades, Cape Town Marathon and Soweto Marathon. I liked what he said and decided to try to catch my fish in the Two Oceans! Training with Coach (Hendrick) Ramaala's running group at Zoo Lake has made a big difference and prepared me well for today."
Mudzinganyama's win was a product of good planning, great timing and superb execution and it didn't come easily. Shaking off charismatic Nedbank athlete, Dan Matshailwe, in the final quarter of the climb to Constantia Nek, Mudzinganyama surged past Maxed Elite race-leader, Lesotho's Lebello Mopenyane, on the approach to Kirstenbosch.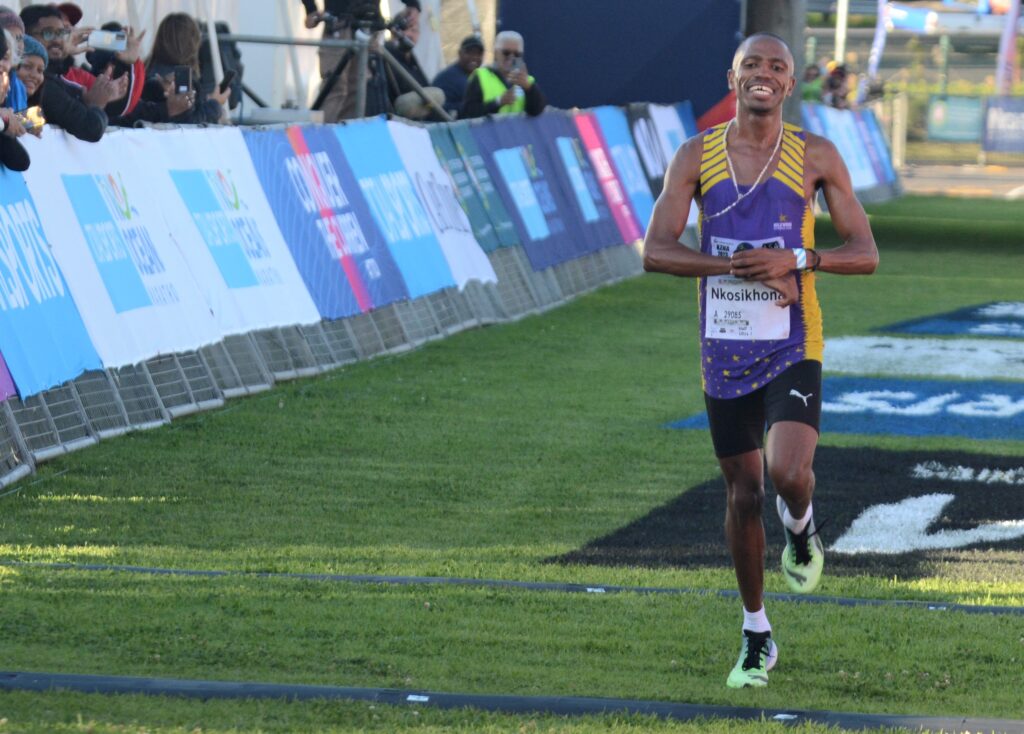 But Matshailwe's race was not yet run and he came back with a vengeance. And adding to the mix, last year's runner-up, Nkosikhona Mhlakwana, finally found his race legs and was flying through the field, setting up a thrilling finish for the second successive year.
It was anyone's race, but Mudzinganyama was as good as his name, and 'gave a little more' when he needed it most, racing home on the UCT Green Mile to win by just 23 seconds ahead of Matshailwe, with Mhakwana 21 seconds back in third.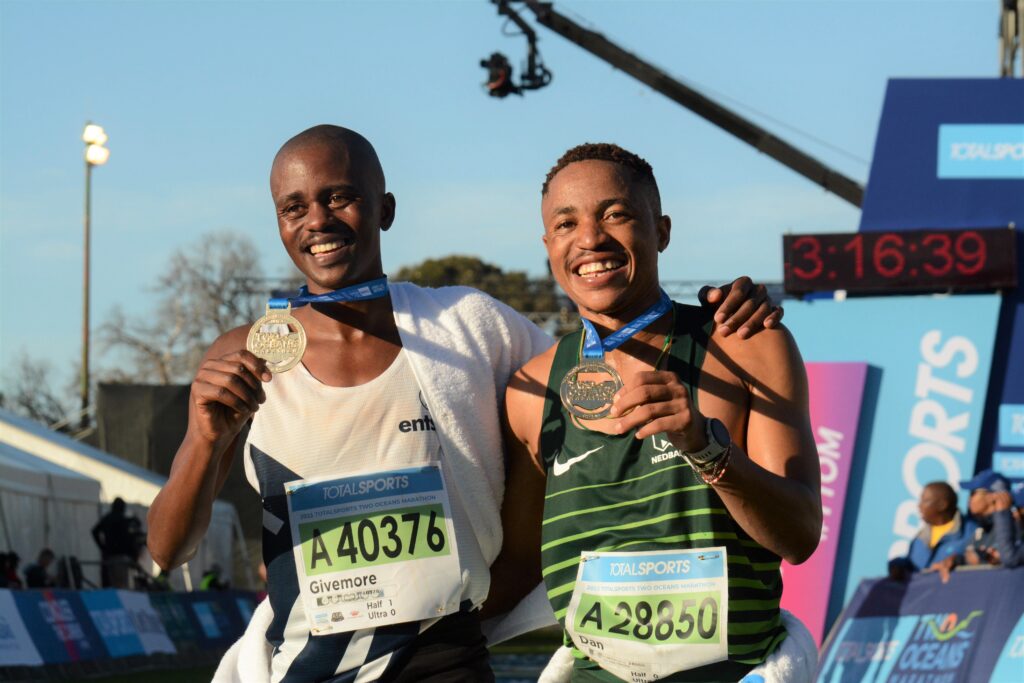 Remarkably, just as was the case last year, the first two across the line were Two Oceans Ultra-marathon debutants, with Mudzinganyama racing further than he has ever done in his life. And although the Mpumalanga-based Matshailwe put in a storming finish after struggling with his quadriceps earlier, the Zimbabwean was never going to concede victory and he held on in superb style to claim victory.
Entiska gained their second gold with Msawenkosi Mthalane crossing the line in fourth, 40 seconds clear of Mopenyane, who had led race from shortly before halfway until he was overhauled by Mudzinganyama just over 5 km from home.
No fewer than six clubs sharing the gold medal spoils, delivering anticipated artist's palette of colour. Maxed Elite bagged three golds, Ensika and Nedbank two each and one each from Holywood, Phantane and Murray & Roberts.
Back to the women's race and the intensity of the race in the early stages as the lead quintet jockeyed for position. But from the time that the game Ethiopian athlete, Ali, conceded defeat after momentarily regaining the joint lead with Steyn on the Chappies descent, there was little doubt as to the destiny of the 2023 winner's trophy.
However, the battle for the minor podium places delivered its share of excitement.
Leading Ethiopian, Bosho, has moved up through the field after a conservative start, overhauling her compatriots in the final quarter of the race to move into second place. Running strongly, she looked certain for second, before a fast-finishing Carla Molinaro, who returned to Cape Town and the land of her birth at the end of last year 'to find some sun' after an extended period in England, appeared out of nowhere, closing fast on Bosho.
In the end, Bosho clinched second, 12 minutes behind Steyn, but just 9 seconds clear of Molinaro.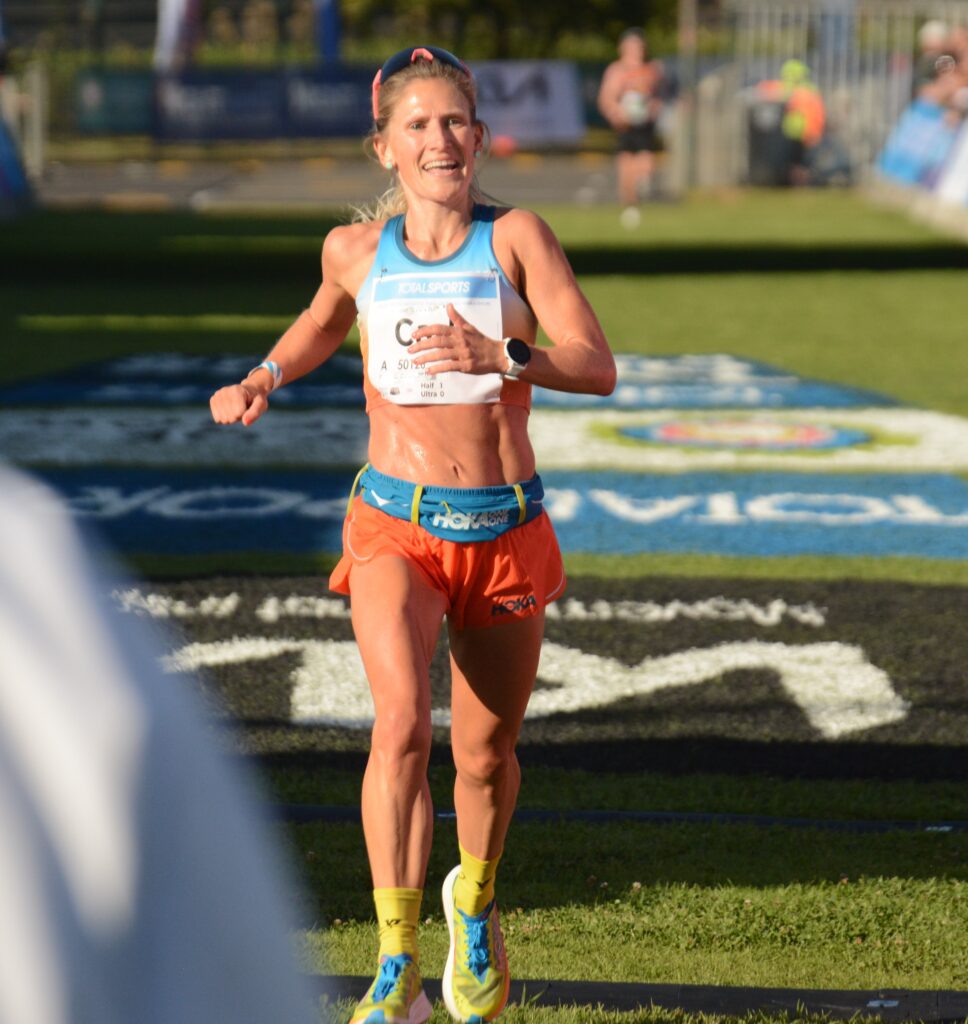 "That was the run of my life," said a delighted Molinaro, who raced through the standard marathon mark in Hout Bay in 2hrs 46 min, just a few seconds off her personal best for that distance. "I can't believe my race today – it was just perfect."
RESULTS
Men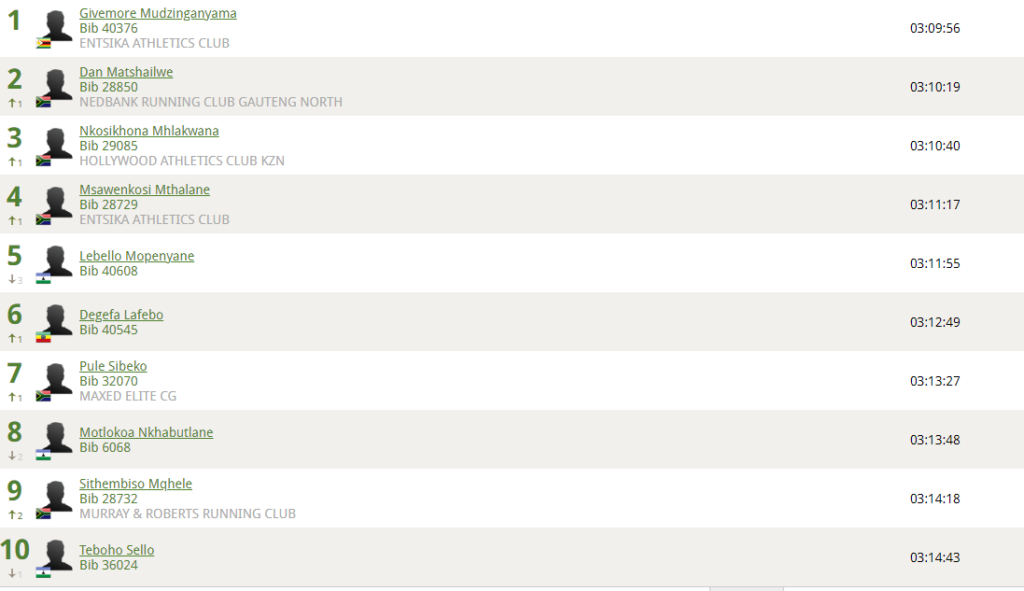 RESULTS
Women