South African trail athlete, Toni McCann, raced to an emotional season-opening victory at the Transvulcania by UTMB 'Volcanes' 48 km on the Spanish island of La Palma yesterday morning (6 May), with another South African, Meg Mackenzie, finishing strongly to take the final podium position in the premier race over 72km.
Both athletes have been selected to represent South Africa at the World Championships in Austria in June, and both earned much-valued invitations to race at Ultra-trail Mont Blanc (UTMB) in Chamonix, France, in late August.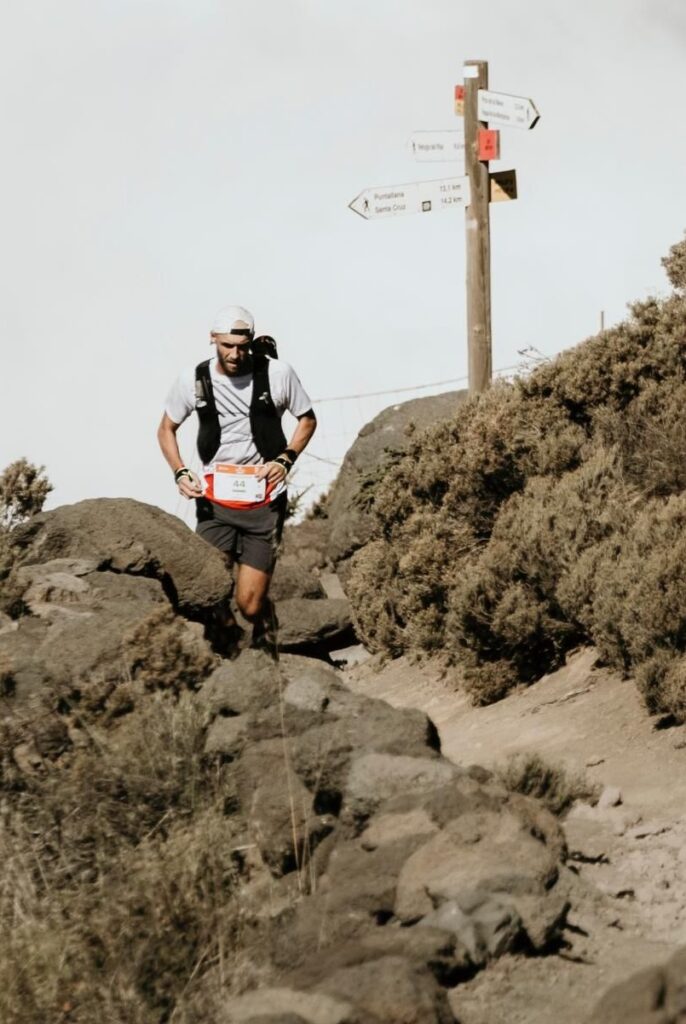 Daniel Claassen on single track at high altitude on his way to 11th position in the 72km. Photo – Salomon content
Another South African chosen for the World Championship team, Daniel Claassen, ran an excellent race in a stacked men's field in the 72km, finishing 11th , less than a minute outside the top ten.
Athletes from around the world were captivated by the beauty of the volcanic island surrounded by turquoise sea, enjoying their outing in mixed weather – cool on the ridge lines at high altitude but warm and sunny on the lower sections.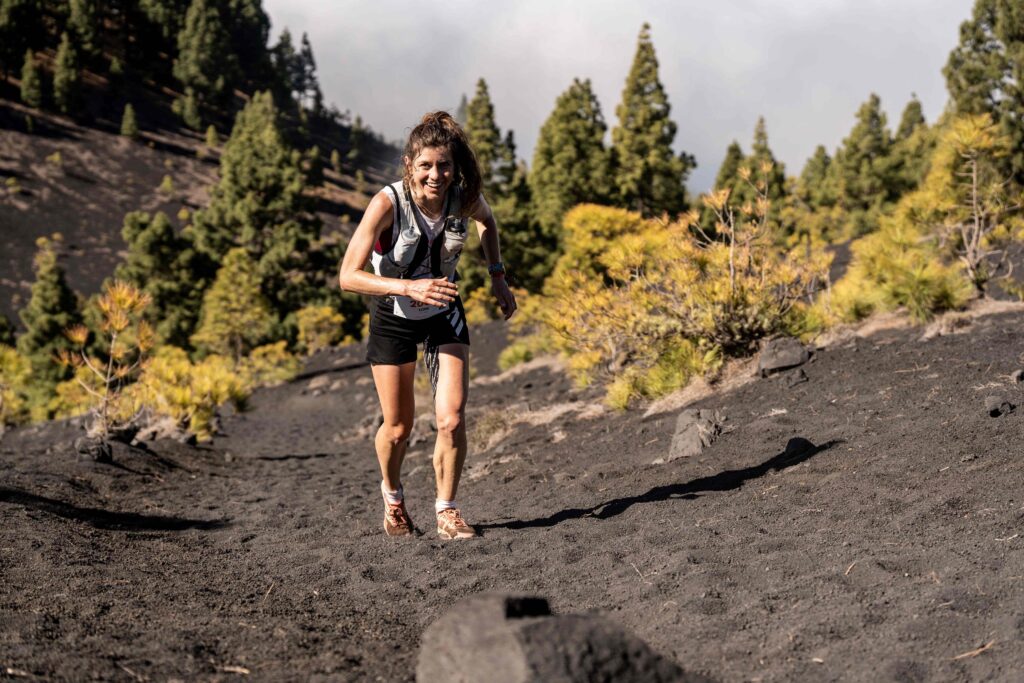 Toni McCann running in second place on the steep ascent of volcanic rocks. Photo – Ian Corless
McCann overhauled early leader, her Swedish adidas TERREX teammate, Emelia Brangefalt, shortly after 30km and raced clear in the final quarter to win in 4 hr 49 min 23 sec, six minutes clear of Brangefalt, with Spanish athlete, Julia Fort Gomez third in 4:56:35.
"I'm quite overwhelmed – it's a little bit surreal," said McCann on the Livestream channel shortly after crossing the finish line in the island's town of Los Lanos.  "I wasn't sure I'd even start today, so to start, feel good and to win – it's a little bit overwhelming. I'm really happy."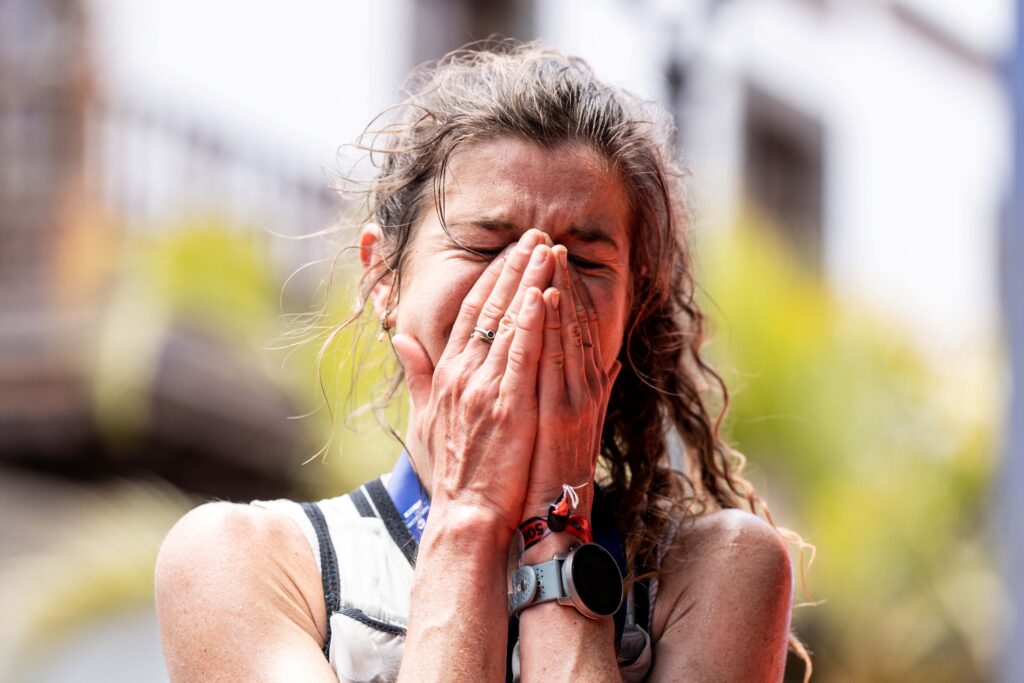 Toni McCann – 'overwhelmed but really happy' at Transvulcania. Photo – Ian Corless
McCann had to overcome the stress of 'life, training and travel' and some physical 'niggles', which hadn't resolve themselves in the week leading up to the race, in order just to get to the start line.
"My body was responding badly to that overloading stress, so I wasn't feeling great. I didn't run at all this week, so went into the race fresh. I wasn't sure at all how I would feel – it was a gamble.
"It was a mental struggle for the first 20km," McCann admitted. "I wasn't sure how my body would respond. It was an emotional run for me – there was a lot of doubt. My goal was simply to finish so to finish first is surreal.
"What got me through the low patches was looking up and seeing the incredibly diverse terrain and landscapes – it was incredibly beautiful.
"Part of the reason we do these races in amazing places is to interact with people and the environment. And although this terrain is tough on your body, it's important to embrace everything that La Palma has to offer. It's been one of my best ever races."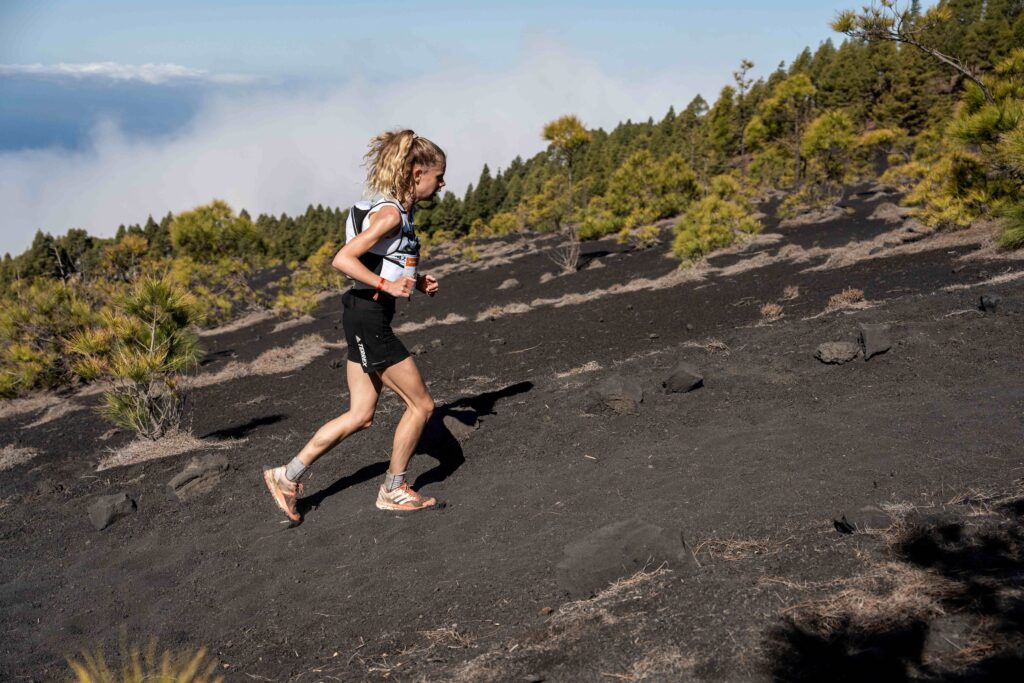 Emelia Brangafelt_climbed strongly up the volcanic rocks to lead the race. Photo -_Ian Corless
Brangefalt used her strength on the initial climbs to race into an early lead, which she held through 30km. "Emelia (Brangefalt) did amazingly," said McCann. "She's an incredibly strong climber – her climb up the steep volcanic section made it look easy! My goal was to stick with her as long as possible, so I tried to keep her in sight without pushing too hard.
"But I felt a slump at 20km when my energy was low and I was struggling. But I knew my strong suite was still to come – the steep descent, so I held myself back enough to be strong in the second half. By 30km I had caught up a bit and I knew I might catch her if I held myself together. I guess it paid off."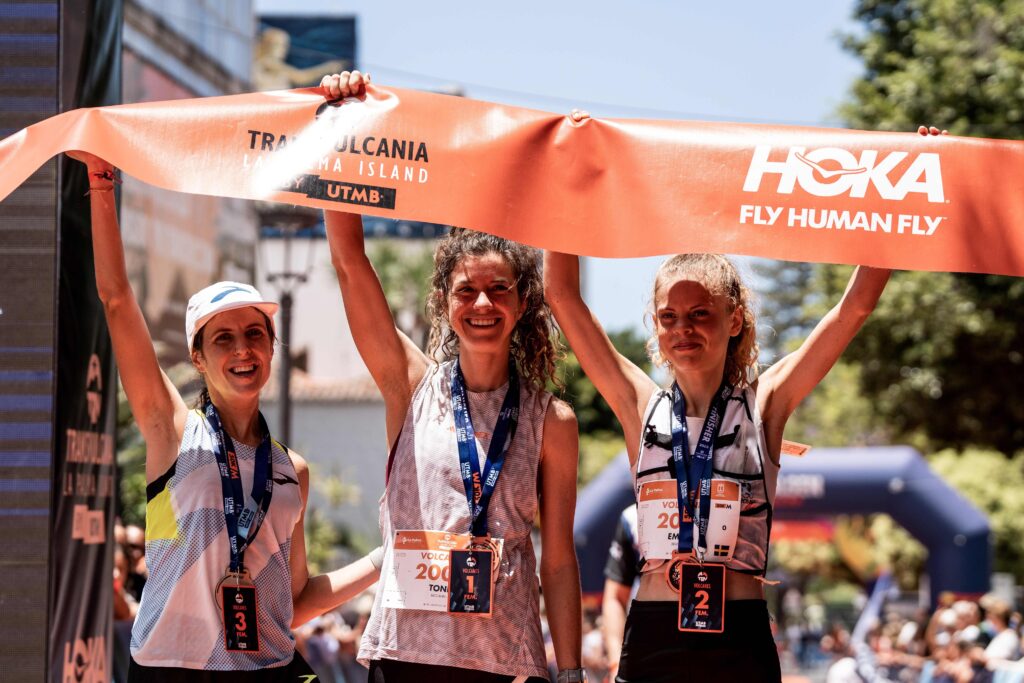 Winner Toni McCann with runners-up Emelia Brangafelt and Julia Fort Gomez. Photo – Ian Corless
For McCann it was mission accomplished as the Cape Town-based athlete was looking to tie up an early qualification for UTMB, which she duly achieved. "I needed to stay composed and make the podium without having to kill myself to do so!" continued McCann.
"As my season opener it was a confidence booster. Having an opener which makes me feel that my training is on track feels good. The fact that I managed to push through and come out the other end gives me confidence for the season to come."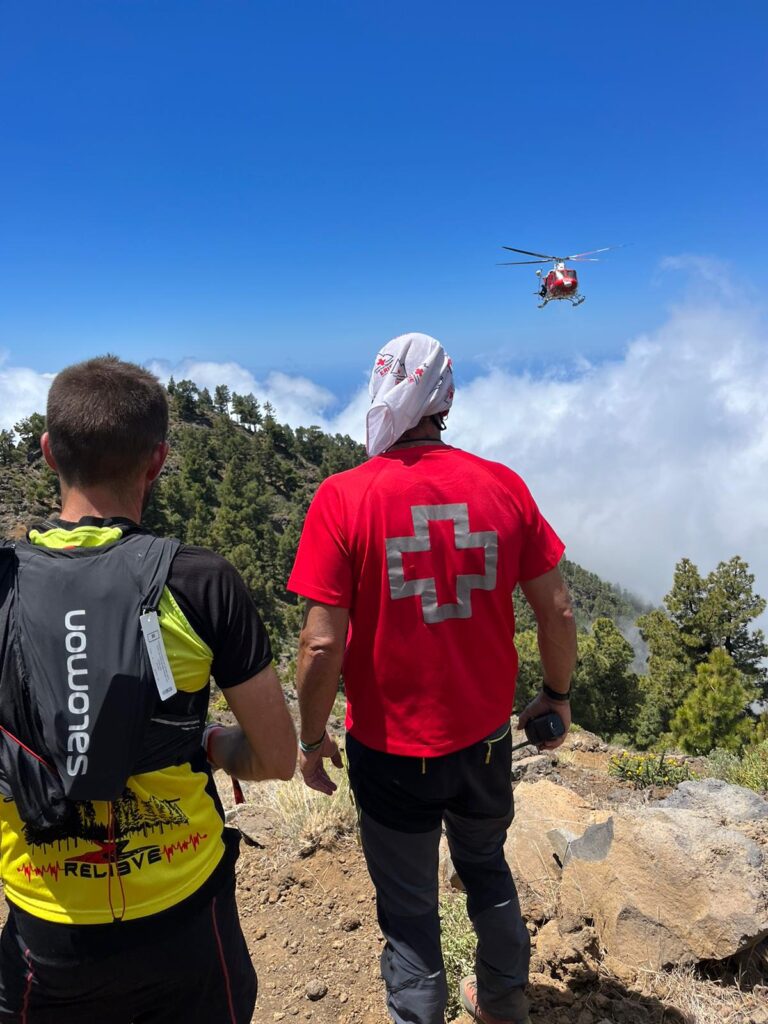 Emergency rescue incident held up athletes for 15 minutes. Photo – Meg Mackenzie
Mackenzie was equally impressive in the 72 km and might have run into second position had it not been for an emergency mountain rescue, which held up athletes in the first half of the race. "Meg said she had to wait 15 minutes without moving, while the two leading women were through before the rescue hold-up and were unaffected," said Mackenzie's partner, James Montgomery.
In an exciting tussle for podium places, Mackenzie made up significant ground in the final quarter on early race leader, Polish athlete, Edyta Lewandowska, and raced away from fast-finishing Italian, Francesca Pretto, to cross the line in 9:28:06, 19 minutes behind winner, Salomon athlete Martina Valmassoi of Italy, and just over six minutes behind Lewandowska.
Claassen enhanced his reputation as a world-class ultra-distance athlete. "I'm very pleased with the day," Claassen remarked. "It was a seriously stacked field and to get close to those big names is a good confidence booster.
"The course is brutal, so I started conservatively as I wanted to make sure I could catch the guys later in the race. I felt good throughout, although hit a bit of a bad patch between km 40-50. That was a really hard section, at high altitude. But I made up some good ground on the downhill.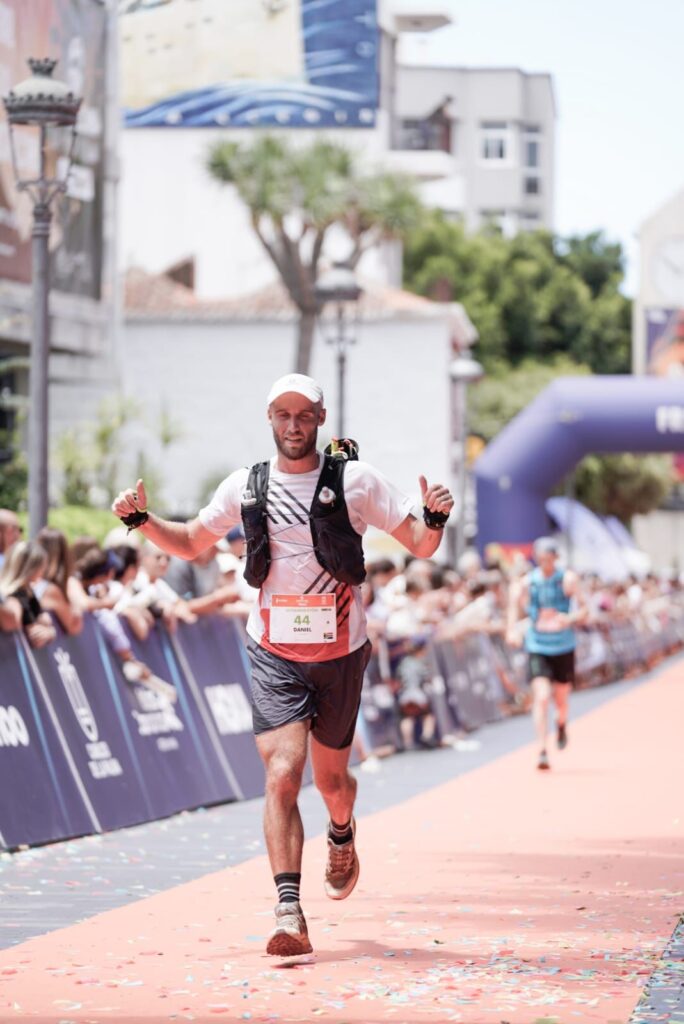 Daniel Claassen finishes 11th in the Transvulcania 72km. Photo – Salomon content
"I couldn't see number 10. I was trying to catch him, but he knew I was coming and just did enough to stay ahead of me. Regardless, I'm really happy with a good day on the trails."