Kane Reilly turned the tables on long-time rival, Johardt van Heerden, racing to a record-breaking victory at the Cape Town Trail Marathon by Ryan Sandes, while Landie Greyling took the women's title after a race-long battle with close rival Kerry-Ann Marshall.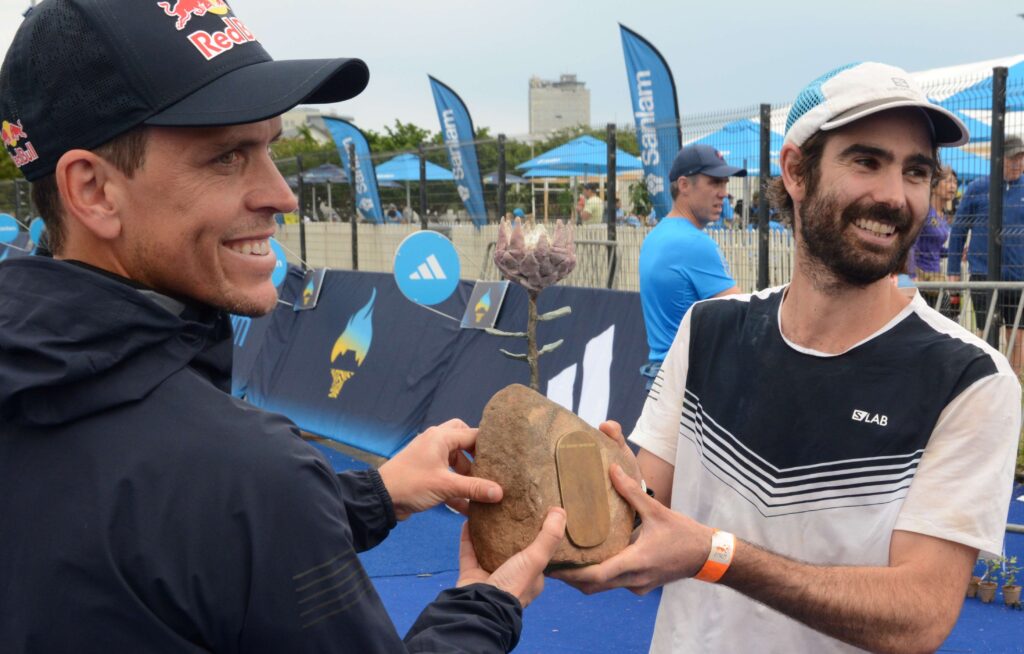 And in a high-speed duel, Johannesburg athlete, Lesiba Precious Mashele, saw off the challenge of Eastern Cape's Melikhaya Frans in the Sanlam Cape Town 10km Peace Run. Mashele bagged his fourth Peace 10km title, clocking a swift 28:46 to win by five seconds. Top 5000m track athlete, Kyla Jacobs, won the women's race in 34:08.
The trail marathon took place over a testing 46km course (with 2200m vertical ascent) from Green Point, around Lions Head and over Table Mountain, returning through Kirstenbosch, Newlands Forest and around the face of Table Mountain and over Signal Hill to the finish at Green Point.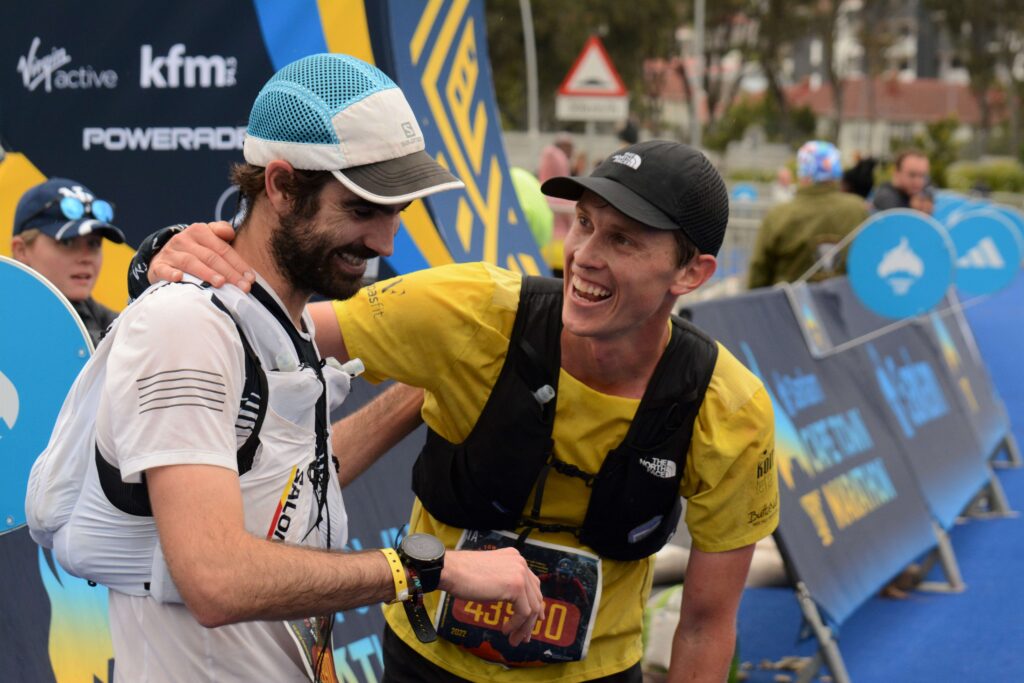 There was no more popular winner than Reilly with the 30-year-old Cape Town athlete putting together the long-awaited race of which many knew he was capable. After several near-misses during the year, it all came together just a week after he ran second to Van Heerden at the Otter African Trail 'Retto' Run. There he struggled during the final-quarter after leading through 30km.
There would be no fall-off today, however, as Reilly finished strongly, widening the gap over his rivals to win by 7 minutes from Van Heerden in 4 hrs 14 min 14 sec – 3 min 8 sec inside Van Heerden's time in the inaugural race last year and six minutes faster than his own 2021 time. Remarkably, three of today's top four finishers raced the Otter last week, with several favoured athletes, who had followed a more conventional regime leading up to the race, falling away in the second half to finish out of the top placings.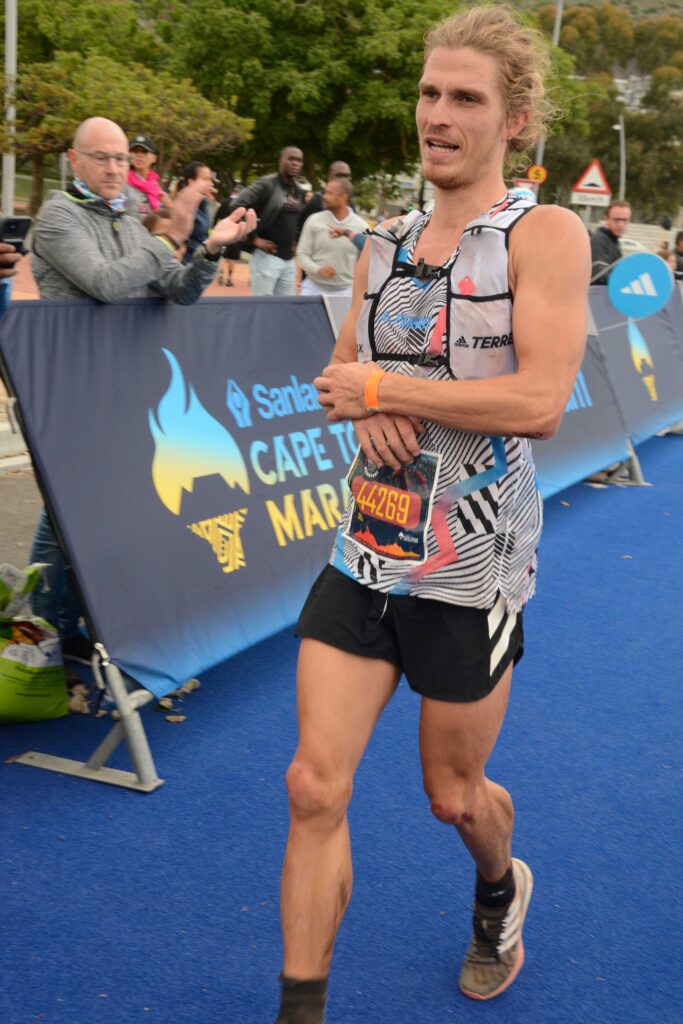 Strong-running adidas TERREX athlete from Germany, Marcel Höche, made up ground in the second half after falling heavily on a descent on the lower slopes of Lion's Head, just 5km into the race. Höche was fifth at halfway at Kirstenbosch and moved up to finish third, with Kyle Bucklow, another Otter racer, fourth.
"It went really well today," said Reilly. "I kept a reasonable pace up Platteklip. I didn't go crazy but worked the climb and established a lead.  But by the time I'd descended to Kirstenbosch, it was a closer than I'd hoped (Van Heerden was just a minute back with Two Oceans Trail winner, Collin Kanyimo, another minute in arrears in third).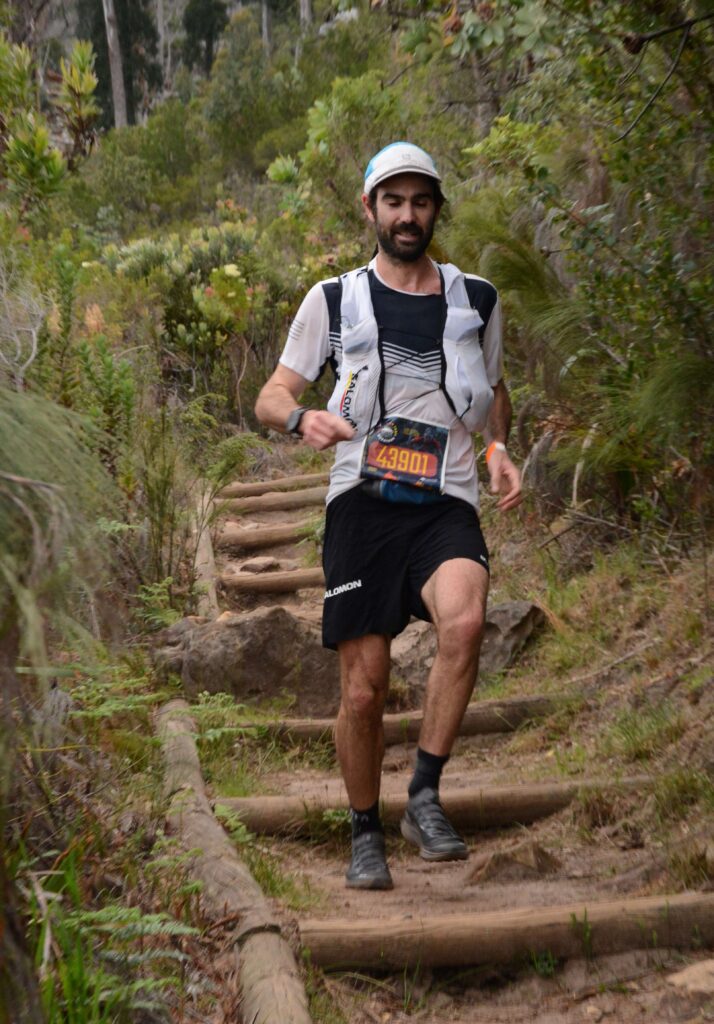 "I find I run better when I forget about everyone else and treat it just like a training run. Then I reached the contour path and felt concerned, as that was where Johardt passed me last year. But I got into my rhythm and as he hadn't caught me, I gradually felt safer. I used the climbing to my advantage but didn't put myself under pressure on the downhills."
The race was won and lost in the 7km between Kirstenbosch and King's Blockhouse, where Reilly opened over four minutes on Van Heerden.  How did Reilly achieve that on the stretch which proved his downfall last year? "That's my 'Hood!" said Reilly. "Now that we're living in Newlands, that's where I do all my training these days and I know it very well.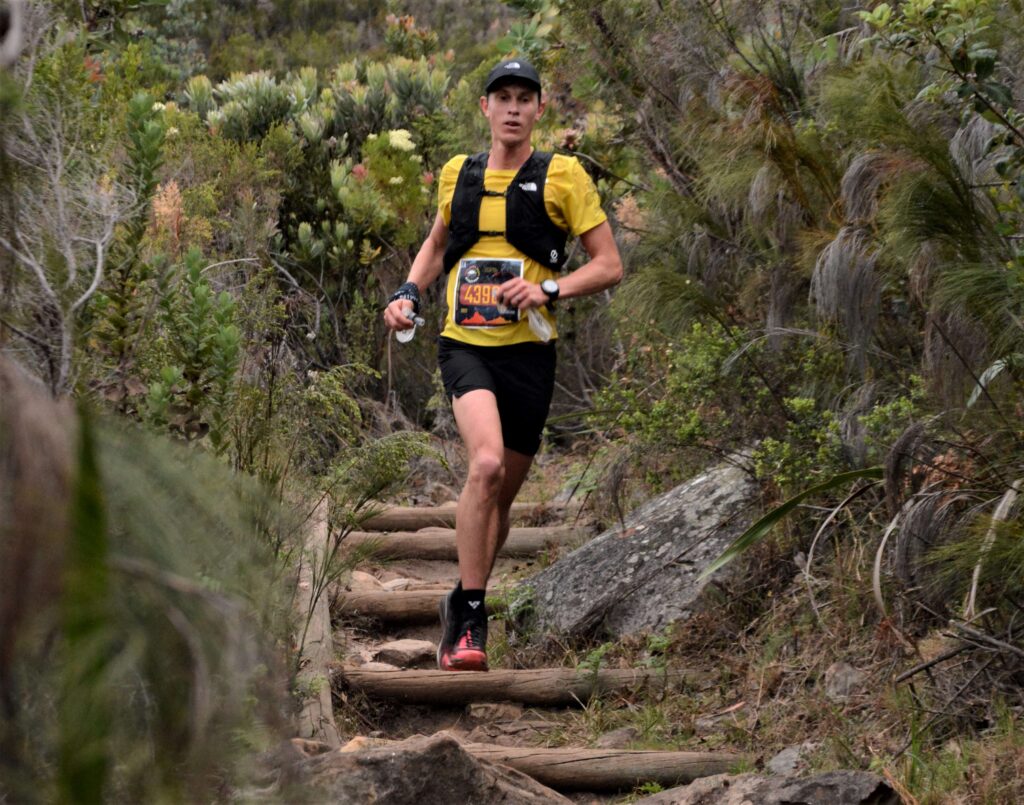 "I thought that if I just kept going, I wouldn't get caught. I shifted into 'Hout Bay' mindset (Reilly has beaten Van Heerden twice on the Hout Bay Trail Challenge) and then I was not concerned about being caught. I was definitely not running for second today. It was all or nothing."
As Reilly grew stronger, Van Heerden was having a rare off day and slowed, unable to force his body into a repeat of his Otter triumph last week and Reilly raced to his first victory over Van Heerden since the Rhino Challenge in the Drakensberg in September 2019.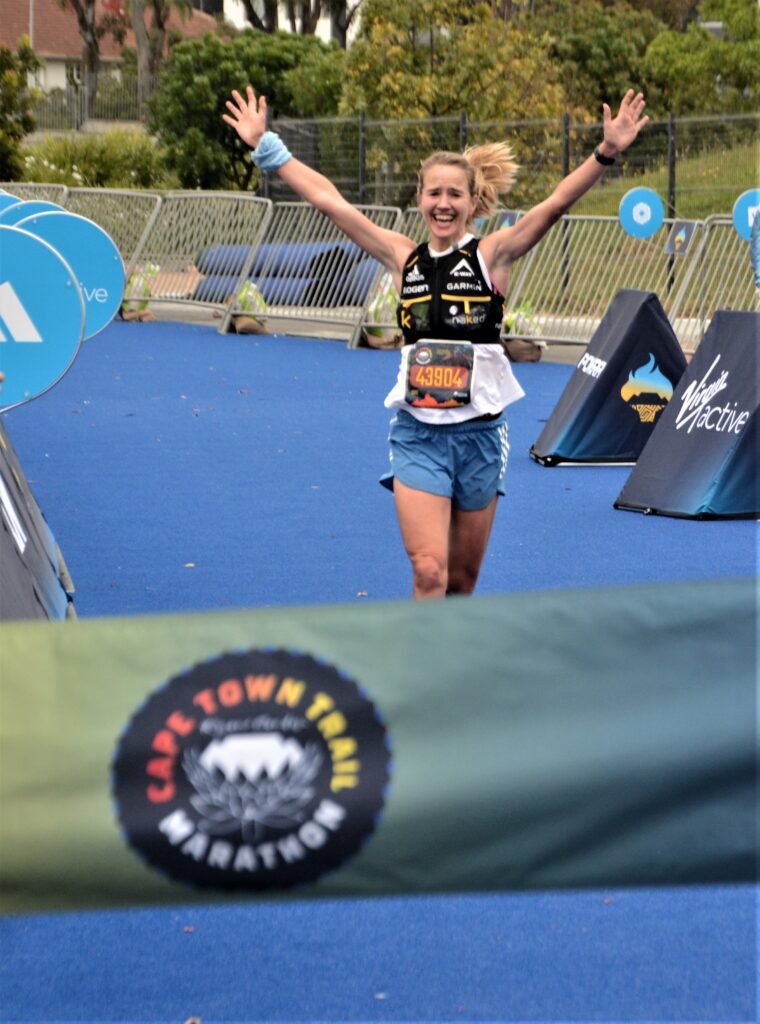 Both Greyling and Marshall have been gradually rebuilding their strength and regaining their best form after taking time out from their sport to start families, both focused on success in the end of year Ultra-trail Cape Town. Greyling had twice beaten Marshall in closely-fought races, at the George MUT 42km and the Whale of Trail 53km and she won again today, but not before Marshall had threatened to pull one back.
The Newlands physiotherapist and Comrades and Two Oceans Marathon gold medallist took the lead climbing Platteklip and was two minutes clear of Greyling at Maclears Beacon. "It's impossible to stay with Kerry-Ann on the big climbs," said Greyling. "She just seems to float up! By the time I reached the top, she was gone.  I'd hoped to close the gap on the downhill but my legs just were not responding in the first half of the race."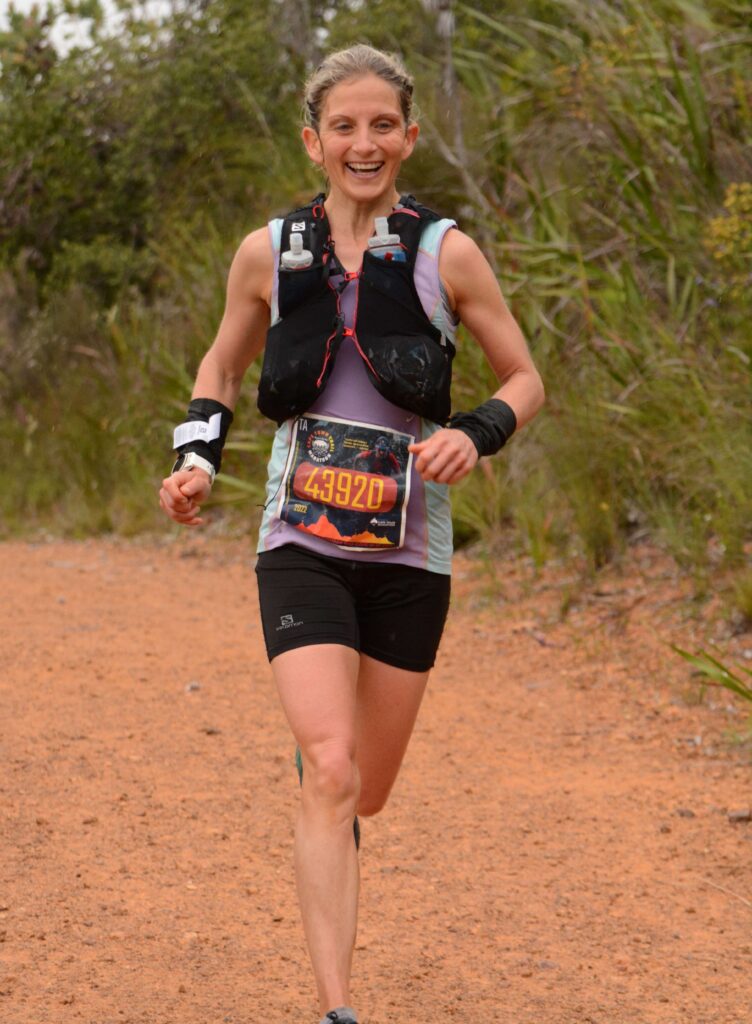 Marshall maintained the two-minute margin through Kirstenbosch (22km) and the Kings Block House (29km) but muscle cramps, which have been her nemesis in recent months, returned in no uncertain measure, leaving her virtually paralysed. Fellow-runner, Kyle Nortje, came to her rescue to get her back onto her feet, but her lost time enabled Greyling to close the gap and take the lead.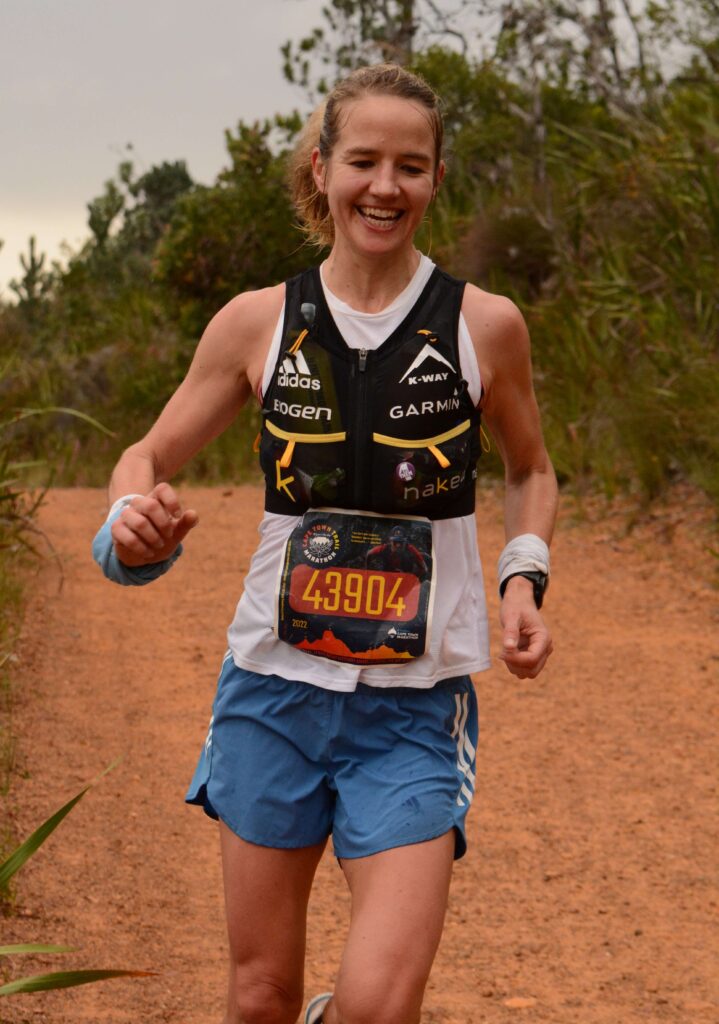 While Marshall slowed, Greyling's leg-muscles finally 'kicked in'. "I don't know what it is, but I seem to struggle to get going early on in a race," she said. "Fortunately, at around 30km I started to feel myself again and was able to finish strongly." Greyling crossed the line in 5:24:23, 21 minutes outside Toni McCann's time last year but five minutes inside Ann Ashworth's 2021 second-placed finish.
Once back into her stride, Marshall was able to hold the cramps at bay to finish just three minutes after Greyling and 15 minutes inside her time last year.  Johannesburg's Nicolette Griffioen completed the podium twenty minutes back of Marshall.
In the closest finish of the day, Siboniso Soldaka retained his title in the Cape Town Trail 22km after a race-long duel with experienced trailer, Siviwe Nkombi. The pair broke from Kohlwani Gumbo after 8km before Soldaka opened a small gap just 3km from the finish to cross the line in 1:34:05 – 25 seconds inside his winning time last year and just 11 seconds ahead of Nkombi.
British athlete, Holly Page, had not run further than 15km since February 2021 after a debilitating period of surgery and rehabilitation on an ankle injury, but she surprised herself by holding on to win by 6 minutes over her teammate, Yaiza Marin of Spain, in 1:58:29.
Results (RSA unless otherwise indicated)
Cape Town Trail Marathon by Ryan Sandes 46km
Men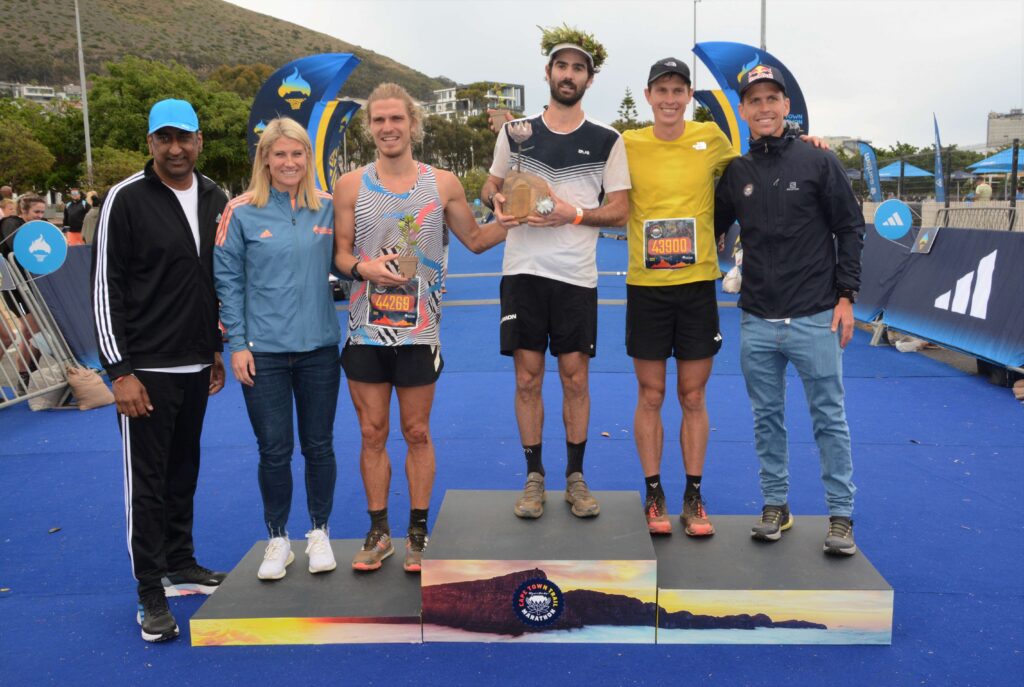 1 Kane Reilly 4:14:14 (record); 2 Johardt van Heerden 4:21:41; 3 Marcel Höche (Germany) 4:36:24; 4 Kyle Bucklow 4:49:54; 5 Collin Kanyimo 4:58:39; 6 Oli Morris 4:59:17; 7 Oliver Stapleton-Cotton 5:04:14; 8 Kelton Miller 5:05:59; 9 David Long 5:06:10; 10 Teboho Noosi (Lesotho) 5:07:09
Women
1 Landie Greyling 5:24:23; 2 Kerry-Ann Marshall 5:27:33; 3 Nicolette Griffioen 5:47:31; 4 Kristen Heath 6:26:52; 5 Jessie Waldman 6:30:50; 6 Alex Tasker 6:38:54; 7 Marisa Geyer 6:53:33; 8 Chantel Nienaber 7:09:42; 9 Karen Rossouw 7:12:11; 10 Michelle Rolfe 7:12:46
Cape Town Trail 22km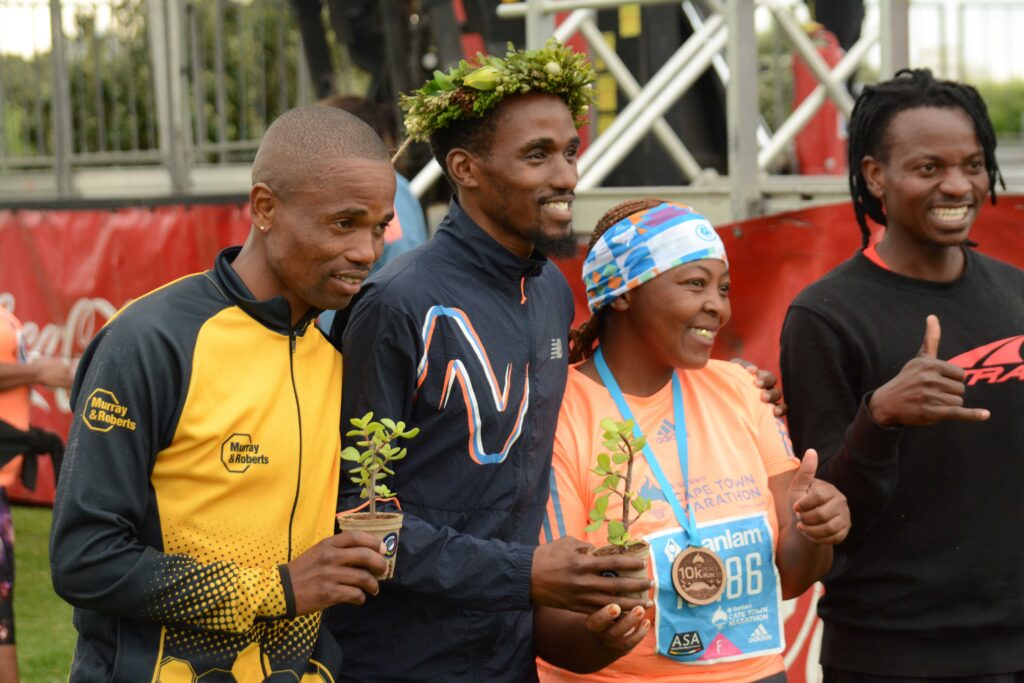 Men
1 Siboniso Soldaka 1:34:05 (record) ; 2 Siviwe Nkombi 1:34:16; 3 Kohlwani Tranquil Gumbo 1:37:48; 4 I van Robinson 1:44:34; 5 Phakamani Madlala 1:49:41; 6 Lyle Morris 1:54:37; 7 Jacques Badenhorst 2:00:34; 8 Jack Espach 2:03:10; 9 Shaldon Naicker 2:09:19; 10 Alex Baisch 2:09:19
Women
1 Holly Page (UK) 1:58:29; 2 Yaiza Marin (Spain) 2:04:31; 3 Leani Grimes 2:09:28; 4 Janet Meyer 2:23:37; 5 Janet Adam 2:28:35; 6 Uriah Khatib 2:31:13; 7 Jacomin Smit 2:33:16; 8 Michelle Voerman 2:33;56; 9 Kaie Rosborough (Canada) 2:37:13; 10 Elke Brink 2:41:49
Sanlam 10km Peace Run
Men
1 Lesiba Precious Mashele 28:46; 2 Melikhaya Frans 28:51; 3 Anthony Timoteus 29:06; 4 Moses Tarakinyu (Zimbabwe) 29:08; 5 Wellington Varevi (Zimbabwe) 29:13; 6 Andries Sesedi 29:14; 7 Elijah Mabhunu (Zimbabwe) 29:34; 8 Bruce-Lynn Damons 29:36; 9 Edward Jack 30:23; 10 Tendai Zimuto (Zimbabwe) 30:31
Women
1 Kyla Jacobs 34:08; 2 Lusanda Mgoqi 34:44; 3 Nwabisa Mjoli 35:45; 4 Lara Rossouw 36:05; 5 Sazenathi Ntombini 36:12; 6 Mia Steytler 36:41; 7 Alexandra Quenet 37:08; 8 Christiane Adriaanse 38:14; 9 Ilham Omar 38:27; 10 Catherine Skosana 38:43