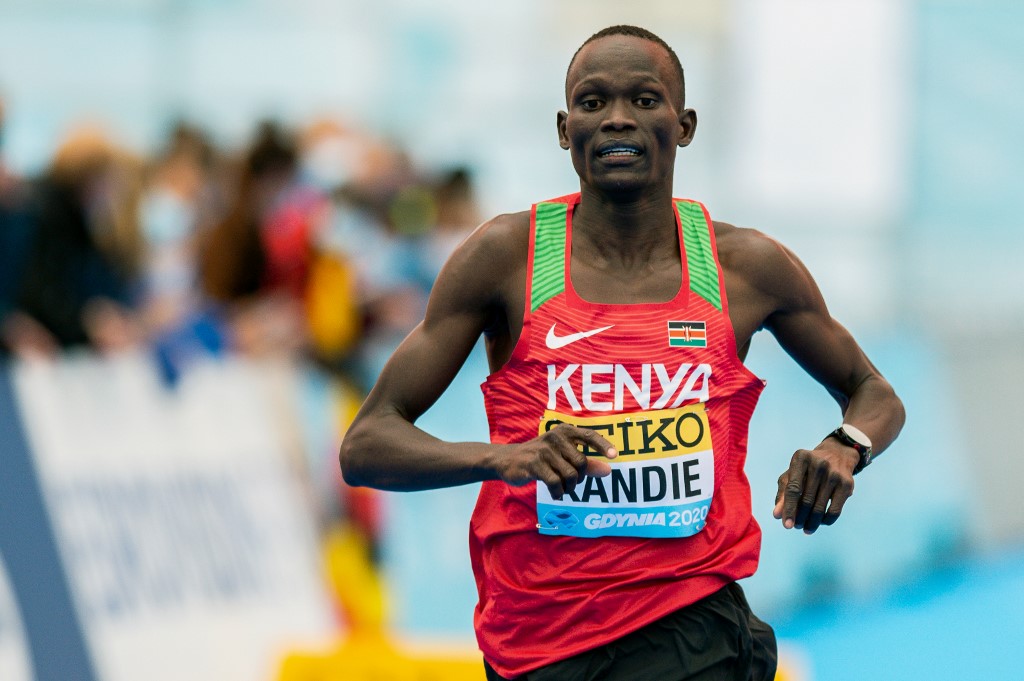 by Stephen Granger
Kibiwott Kandie's world record-breaking run in the Valencia Half Marathon was a remarkable feat of distance-running.
Kandie led three others across the line faster than his Kenyan compatriot Geoffrey Kamworwor's former world record of 58 min 01 sec. In terms of sustained speed and endurance over a substantial distance on the road, it is doubtful the world has ever seen it's like.
Four athletes running 21.0195 km in under 58 minutes on a certified course, when the previous fastest half marathon had seen three dip under 59 minutes (and only two went sub-59 minutes at October's world championship in Poland), represents one of the most significant improvements in an established distance-running event.
It's not as if the half marathon has been recently introduced to athletics. The IAAF first recognised a world half marathon record in 1965. British athlete, Ron Hill's then 1:05:44 is substantially slower than Ethiopian Ababel Yeshaneh's current women's record (mixed gender races) of 1:04:31. The Association of Road Racing Statisticians (ARRS) were somewhat quicker off the mark, recognizing Hill's compatriot, Brian Hill-Cottingham's 1:07:01 in 1960 as their first official world record.
It took the IAAF another 13 years to recognise American Marty Cooksey's 1:15:04 as the first official women's half marathon record.
Apart from Ethiopian Abebe Bikila's 1:04:28 in 1964, which was timed at the half way mark of his Tokyo gold medal race, the early progression of the 21km record, was largely a European and USA affair, with the great Welsh marathoner, Steve Jones (1:01:14), and American Mark Curp (1:00:55), both achieved in 1985, the last from those regions to hold IAAF-recognised records over the distance.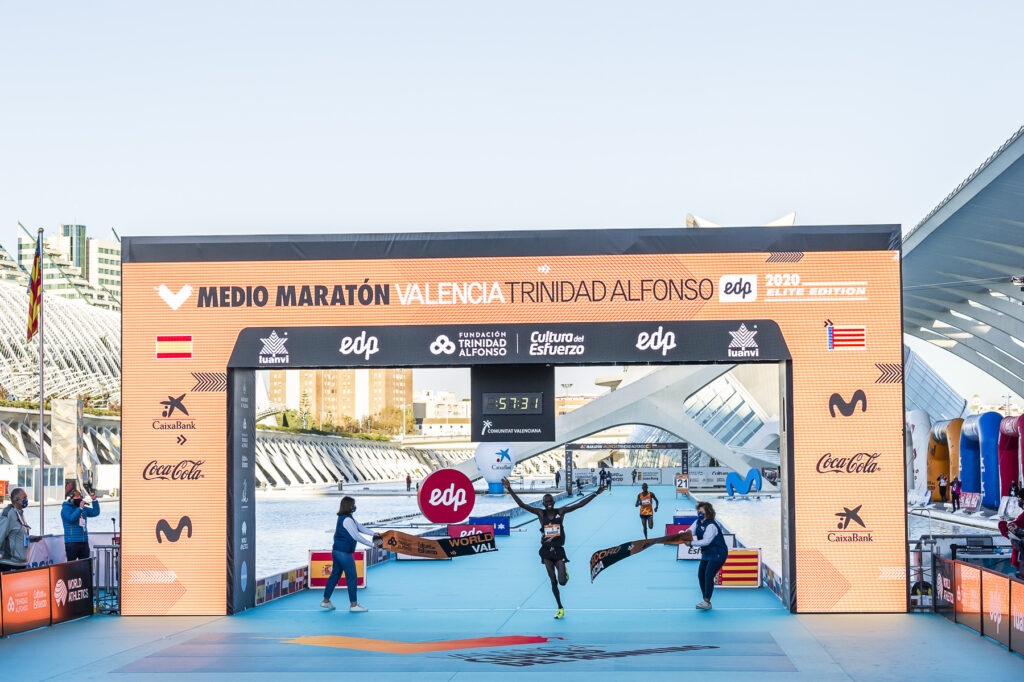 South African's were to the fore in the late1980s with Mathews Temane and Zithulele Sinqe virtually dead-heating at a national championship event in East London in 1987 in 1:00:10, with Temane credited with the world record. A measure of the rate of improvement in recent decades is that Temane's time is now rated a lowly 245th on the world all time list!
Australian Steve Moneghetti chipped four seconds off the mark in Tokyo in 1993 before athletes from the East African Highlands took control.
From the time that Kenyan Moses Tanui (59:47) became the first in the world to run the distance faster than 1 hour, and with the single exception of Portugese athlete, Antonio Pinto, whose 59:43 set in Lisbon in March 1998 stood for just three weeks, Kenyan, Ethiopian and Eritrean athletes have steadily improved the time over the next two decades.
Notable among them include Paul Tergat's 59:17 in 1998 and 59:06 in 2000, Haile Gebrselassie's 58:55 in 2006 – the first athlete under 59 minutes, Eritrean's Zersenay Tadese whose 58:23 in 2010 was achieved five years after he had set a world record of 59:05, Kamworwor's 58:01 in Copenhagen last year and finally Kandie's 57:32.
The progression of the women's record follows a similar pattern, with European and American athletes dominant in the early years, including such notables as Americans Patti Catalano and Joan Benoit, Norwegians Grete Waitz and Ingrid Kristiansen and German Uta Pippig, before South Africa's Elana Meyer stepped up to claim the first of her four half marathon world records, starting with a 1:07:59 in East London in 1991 and ending the 20th century with a 1:06:44 in Tokyo in 1999.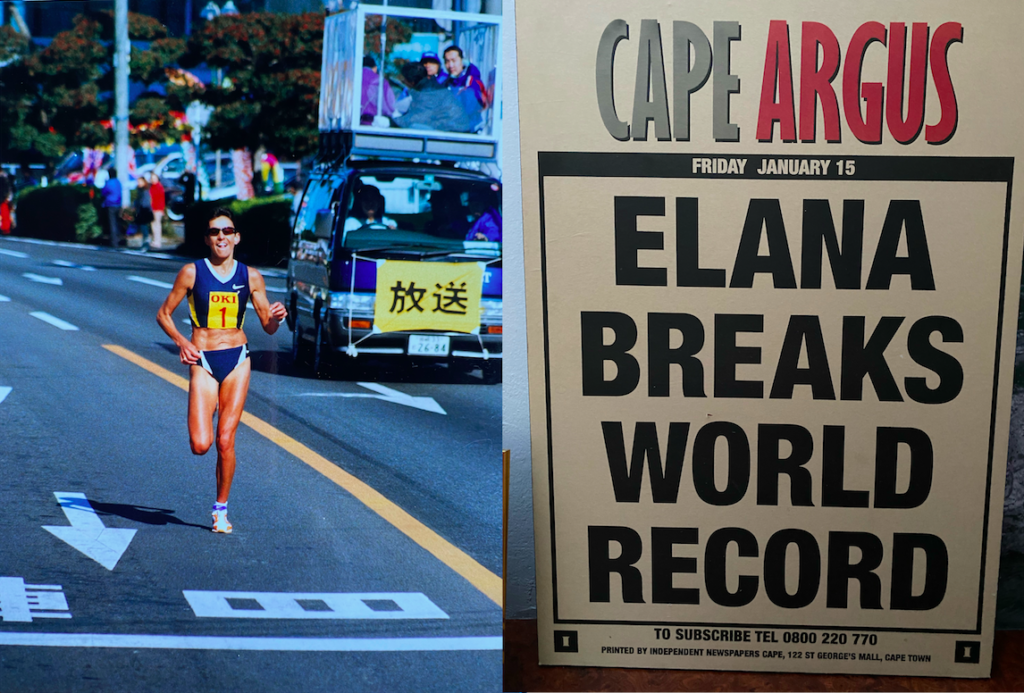 England's marathon great Paula Radcliffe (1:05:40 in 2003) and Kenyan-born Dutch athlete, Lornah Kiplagat (1:06:25 in women's only race in 2007) gave Europeans some respite before Kenyans and Ethiopians took over, with the likes of Mary Keitany, Florence Kiplagat, Joyciline Jepkosgei and Peres Jepchirchir dominating the record-breaking action. Ethiopia's Ababel Yeshaneh currently holds the mixed gender record of 1:04:31, set in the UAE in February, with Jepchirchir the women's only record of 1:05:16, set at this year's world championships in Poland in October – just two seconds faster than world 1500m record holder, Genzebe Dibaba's winning time in Valencia last weekend.
For the record, Kandie turned the tables at Valencia on Ugandan Jacob Kiplimo, winning by 5 seconds in 57:32, exactly the same margin that Kiplimo defeated Kandie in this year's World Half Marathon Championship in Poland in October. World 10 km record holder, Rhonex Kipruto, placed third in 57:49 in his debut 21km with a third Kenyan, Alexander Mutiso, fourth in 57:59.
But are the achievements of Kandie and co as far away from Hill's effort 55 years ago (Hill would have been passing 18 km as Kandie crossed the finish line) as one might imagine? For years arguments have raged in Formula One racing: is it the driver or simply the best car which is decisive? Most agree that both are needed for success.
The 'running shoe revolution' in recent years has transformed distance running performances. Although World Athletics have now applied certain guidelines as to what is and is not permissible, the carbon plate inserts into the shoe's midsole undoubtedly yield faster times – some have estimated as much as three minutes in the marathon for an elite athlete.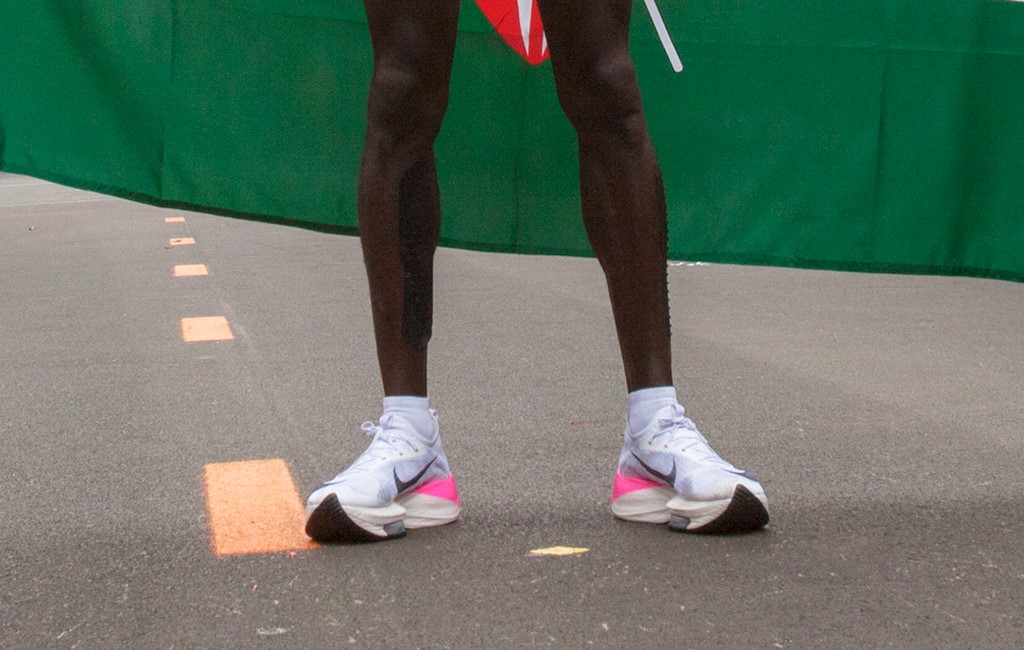 "The sport has been re-calibrated in the last few years by shoes," said sports scientist Ross Tucker recently in a radio interview. "Nobody has confidence in what times mean anymore… and whether to attribute them to human effort."
But while recognising the difference the new shoes have made, Van Zyl Meyer, World Half Marathon gold medallist and four times record holder, believes there are a range of factors required for running fast times. "Performances recently have been fantastic – both in men's and women's road racing," Van Zyl Meyer acknowledged.
"Factors giving rise to these incredible times in the last few months include the effect of the COVID pandemic, where athletes have been starved of competition and focused on solid training, the depth and quality of the competition and conditions on the day.
"And then there are various places where you just run fast, such as Monte Carlo for middle-distance track and Berlin in the marathon, which is a combination of ideal temperatures and calm weather, the course, the vibe and also a belief that fast times can be run there.
"It is very important that you believe you can do it. In Kenya you're born into a belief system where you just know you're born to be a great runner. There is just no doubt in their minds and so many role models around who have already achieved that. When I was in high school, my coach Charles Faasen would predict the times I would run. 'Elana van Zyl will run 4:30 for the 1500m', he would announce. And I did it because I believed in him!
"Unfortunately, our culture in South Africa is often the reverse. To win the rugby world cup, Rassie Erasmus had to overcome the prevailing belief of the nation: they will never win it… We need to learn lessons from our fellow Africans to return to running the fast times we achieved in the 1980s and 1990s."
Story by Stephen Granger
©SPNAfrica News www.spnafricanews.com