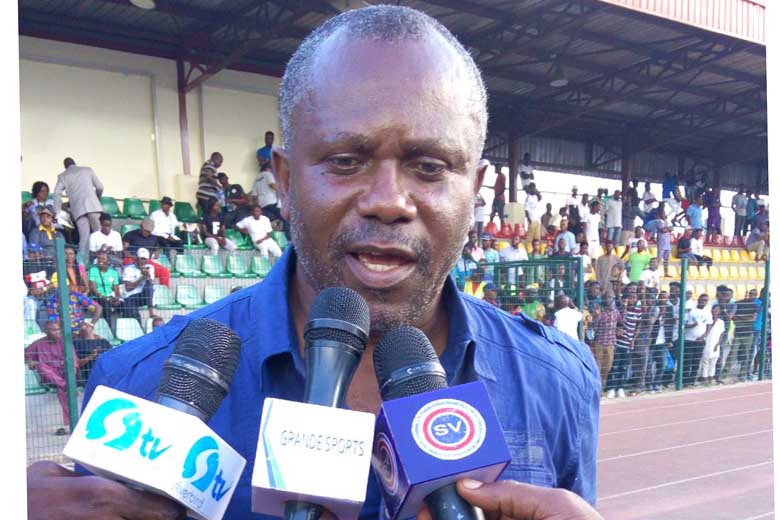 Nigeria Women Football League (NWFL) Premiership side, FC Robo Queens' manager, Emmanuel Osahon has thrown his full weight behind Christopher Danjuma to return as the head coach of Nigeria's U20 women football team, the Falconets.
Danjuma who is the head coach of NWFL Premiership side, Nasarawa Amazons, is the immediate past coach of the nation's U20 women team as well as the women's top team, the Super Falcons, on an interim basis.
The nation's football governing body, the Nigeria Football Federation (NFF) is intensifying efforts to fill vacant coaching positions at the national level for both the men and women's sides.
Osahon said the Nasarawa Amazons' tactician is unique and well endowed with an uncommon ability to discover raw talent as well as bring rookies to the national and international limelight.
"For me Danjuma is a good coach and the best option for the Falconets' coaching job which he has presided severally in the past with outstanding performances and credible results.
"Most of his products are the ones leading in the national team as upcoming players in the mainstream team, Super Falcons.
"His ability to discover talents is unmatched and unrivalled in the history of grassroots coaching. For him to discover and have the confidence to bring unknown players to go and play at the World Cup proper is a huge plus to him as a coach.
"Our biggest undoing towards good performance at the global stage is just that preparation has always been poor and not to be blamed on Danjuma because he is a good coach from all ramifications.
"Another huge plus for Danjuma is that he does not believe in big names, readymade or established players.
"Danjuma is highly disciplined on and off the pitch, when it comes to discipline he is unrivalled, that stands him out among his colleagues.
"Some other coaches who are equally disciplined always look out for readymade and established players.
"As far as Danjuma is concerned if you are good, and you have the raw idea and talent you are coachable, he has what it takes to unlock and bring out the talent in you to fruition. He's well disciplined, a man of principle and down to earth very understanding," said Osahon.
Osahon said it will be most unfair to blame Danjuma on past failings especially the failure of Super Falcons to clinch a ticket for the women's football event at the 2020 Tokyo Olympic Games after the substantive coach, Thomas Dennerby abandoned the team in the middle of the first leg of the African qualifying series.
The Falcons eventually lost the opportunity to secure a ticket in a dramatic fashion to West African foes, Ivory Coast who they held to an energy sapping 1-1 draw at Agege Stadium in Lagos after a barren draw in the first leg in Abidjan, Ivory Coast.
"Danjuma is always coming at the wrong time that is always his fault – you know people have their right to say whatever they like, freedom of speech – he's always coming at a wrong time when there is one issue somewhere, camp is not settled, a lot of things not being in their right places.
"Maybe he is not lucky to be the messiah at that particular time that's what I see not that he is bad or responsible for missing out on Tokyo 2020 Olympic Games," said Osahon.
Danjuma recently guided the side to a gold medal in the women's football event at the 2019 All Africa Games in Morocco, leaving the silver and bronze medals to Cameroun and hosts, Morocco respectively.