by Stephen Granger
Thirty-three-year-old actuary, Patrick Cameron-Smith, and research & analysis leader in a software company, Emily Djock, stepped up into the trail-running big league with emphatic winning performances at the annual Peninsula Ultra Fun Run (PUFfeR) which took place over 65 km between Cape Point and Green Point this morning (Saturday 1 October 2022).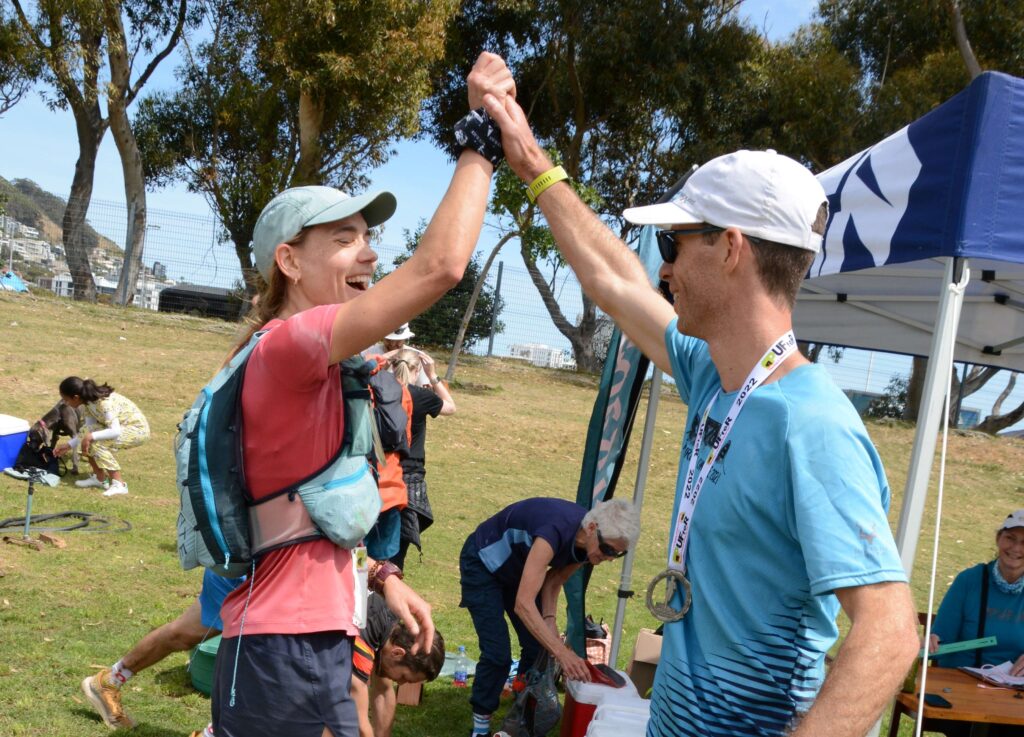 One of the oldest trail races in Africa, the Puffer has been run from the southern-most point on the Cape Peninsula, Cape Point, to the northern-most point at Green Point along the spine of the peninsula's mountain chain, since 1995. Red Hill, Black Hill, Silvermine, Vlakkenberg, Constantia Nek, Maclear's Beacon, Platteklip Gorge and Signal Hill are some of the notable placenames along the way which define the Puffer.
The race used to start from the foot of Cape Point lighthouse, but COVID-related reasons saw the start move to the main gate of the reserve in 2020, reducing the 75km distance by 10km. The race has retained the shorter version and this year's edition got underway pre-dawn in perfect running conditions.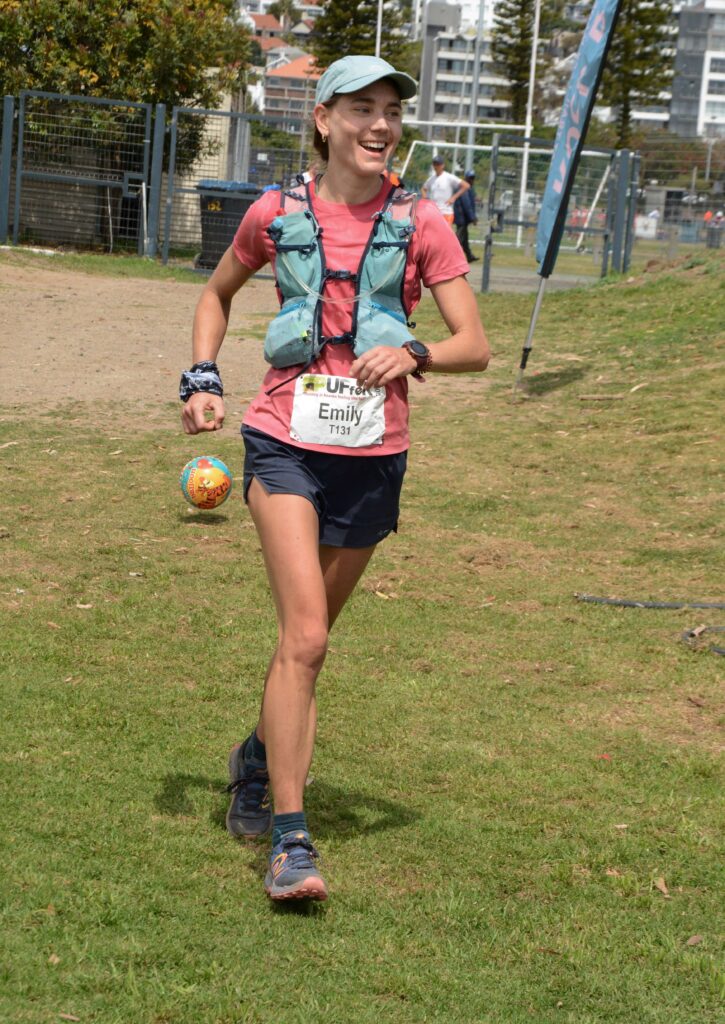 Cameron-Smith won in 6 hrs 39 min while in the performance of the day Djock placed fifth overall to win in a superb 7 hrs 17 min – a massive 1 hr 10 min inside Dalene van Staden's winning time last year.
Cameron-Smith only took up the sport of trail running as an escape from 'COVID prisons' in 2020, initially doing 'the odd 5-6km around the neighbourhood' before discovering the joys of the sport on the mountain. "I was blown away by the beauty of just being there on the mountain and knew I had to do more of that." His win today was a remarkable achievement from someone who had no significant sporting background and, in his words, was "the one who was always picked last in sporting games". The controlled and disciplined manner in which Cameron-Smith clinched victory belied his young years in the sport.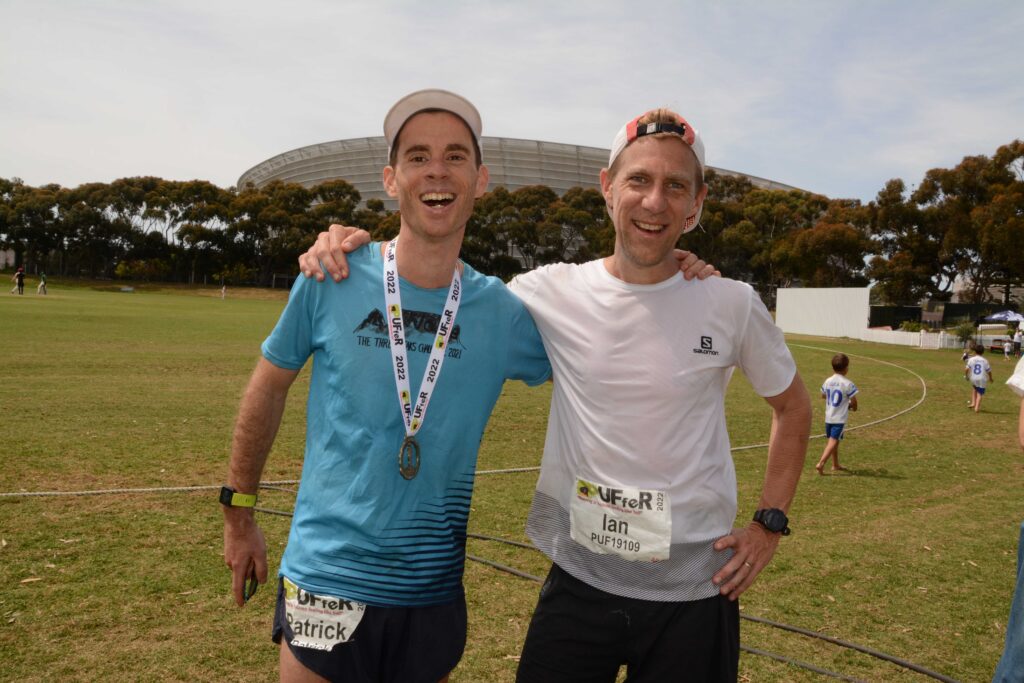 Just months after his initial foray along mountains trails in 2020, Cameron-Smith was persuaded to give Puffer a go. He found the going tough but finished the race and was back the following year to grab an impressive third behind experienced campaigners, Kyle Bucklow and Pieter Calitz. This year he was well prepared.
After running in the lead group from the start, Cameron-Smith eased back at Black Hill, allowing 2018 Puffer winner and race favourite, Ian Metcalfe, Calitz and Grant Johnson to set the pace. This trio were looking good for podium positions, running strongly through Silvermine with Cameron-Smith and Damien Will running together in fourth.
Veteran trailer, Calitz, had taken the race lead on the climb to Vlakkenberg and held it on the descent. "I'd been feeling quite good and running with Ian and Grant through Silvermine and upper Tokai," said Calitz. "Then I pulled away on the climb up Vlakkenberg and felt I was clear running down towards Constantia Nek.
"So I was surprised when Patrick came past while I was having a pit-stop towards the end of the descent, as I'd last seen him when he dropped off the lead group around Noordhoek. We ran into the Nek together, and I was even more surprised to see Damien (Will) the next into the Nek, as he had dropped behind shortly after the start. In fact, he took the race lead as he was first out of the feeding station at Constantia Nek."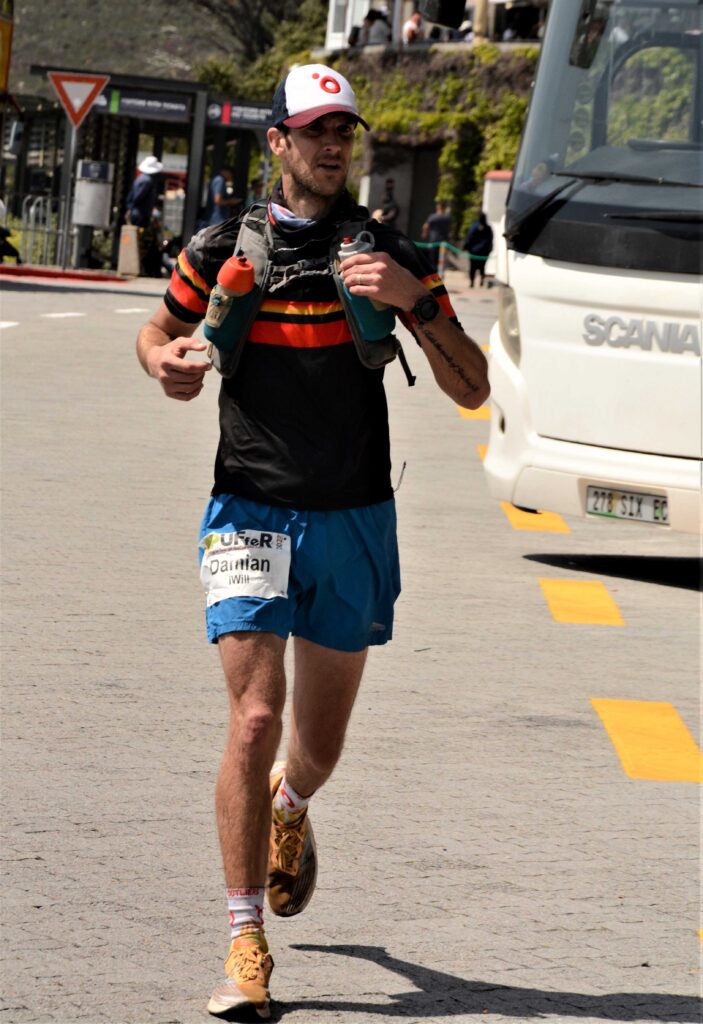 Calitz was second out, catching up to Will on the single-track paths on the ascent, the two running together ahead of Cameron-Smith, but shortly after hitting the concrete road – the steepest part of the ascent Calitz' race fell apart dramatically.
"I suddenly felt nauseous and had to stop in order to be physically ill," Calitz continued. "As I lost more and more solids and fluids, my strength just left me and I could do little more than walk the rest of the way to Maclears. Patrick soon overtook me and runners just kept coming past. But it's amazing how considerate trail runners are – each one stopped to ask to check I was okay. And then Emily, running as first woman, overtook me just before Maclears and even though she was chasing the win, stopped to check that I could continue."
Cameron-Smith drew level with Will on the last part of the climb to the Overseers Cottage, before using another challenging section – the single track along Smuts Track to the race high point at Maclears Beacon – to his advantage. He had opened a winning seven-minute lead by the aid station at the highest point on Table Mountain.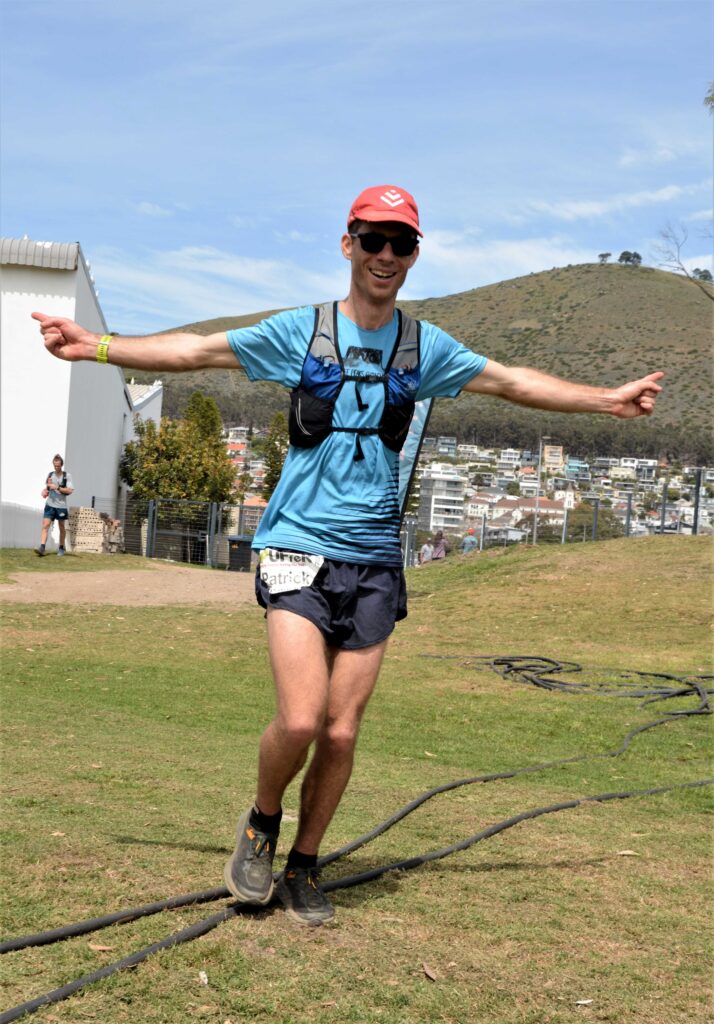 Dodging day-trippers on Platteklip Gorge, Cameron-Smith shook off an impending attack of adductor muscle cramp to finish strongly and race home in triumph in 6 hours 39 minutes – 36 minutes inside his time last year and just 18 minutes slower than top distance athlete Kyle Bucklow's fastest time on the shorter Puffer course of 6:21, set last year. "I never felt confident of winning – and my muscles felt as if they might cramp," said Cameron-Smith. "And then the Noon Day Gun went off incredibly loudly, just as I was running past it. And that seemed to spur me on to the finish!"
Will came in second in 6:55 – 39 minutes faster than his time in finishing 6th last year and one position improvement on his third place in 2020. Thomas Vermaak finished strongly to edge out Metcalfe by two minutes for third place.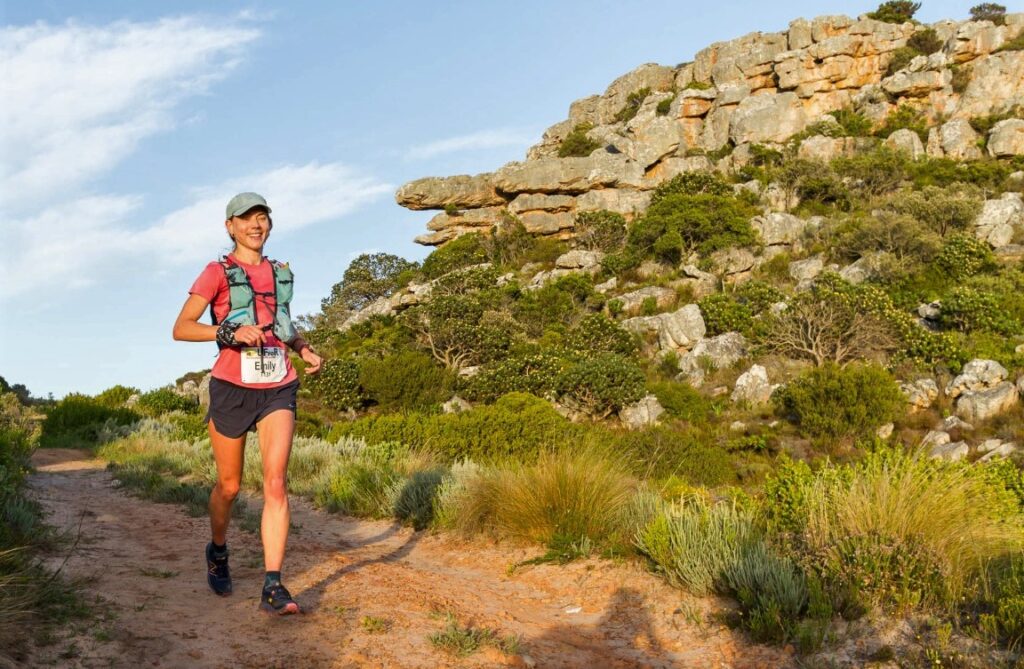 For Puffer debutant with a background in zoology and environmental science, Djock, it was a day to remember. The Tamboerskloof athlete has been enjoying an exceptional few weeks in the sport. She placed third behind Kerry-Anne Marshall at the Mont Rochelle SkyRace in early September and won the AfricanX One-day Experience 42km two weeks later before winning the Puffer this morning. "It's fairly new to me to be on the podium so frequently," admitted Djock.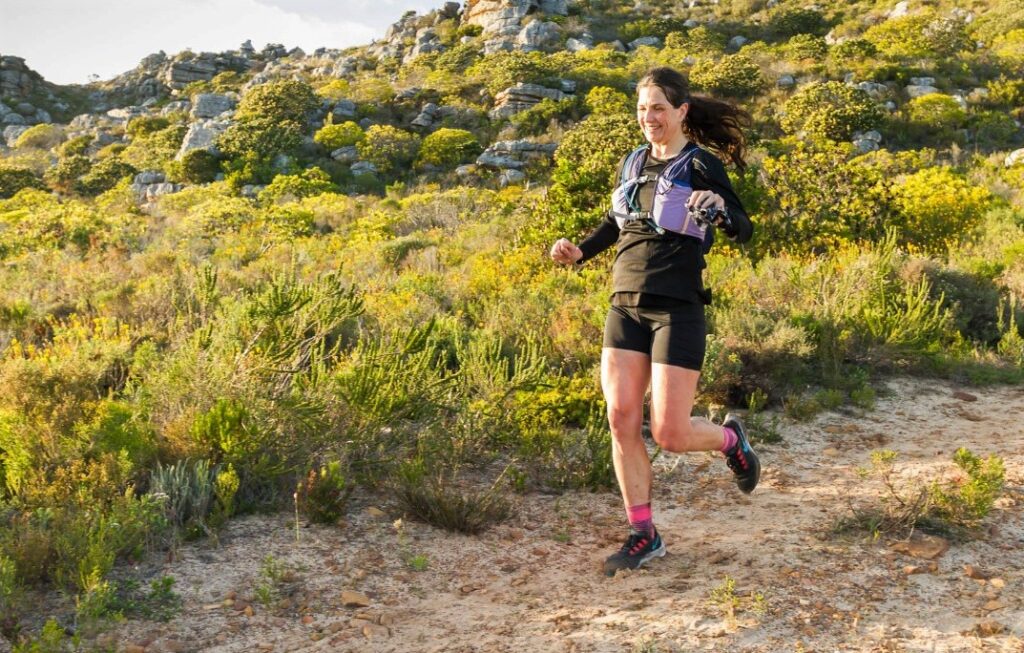 "I took a (legitimate) short cut on Black Hill and came out ahead of Lisa, so I didn't see her at all in the race. I assumed that Jade was in front of me all the way – I don't know her, but knew she was super-strong and only found out much later that she did not run today.
"I lived on and off in South Africa for a total of seven years but been back for four years after living in the Netherlands – my husband is from there. I'm originally from Wisconsin where I enjoyed a different type of running. I joined Atlantic Athletics club on my return to South Africa and that has helped with my transition from road to trail.
"Smuts Trail was the toughest part of the race today. I really battled on that technical stretch on tired legs, but then it improved after Maclears and I felt quite good towards the end."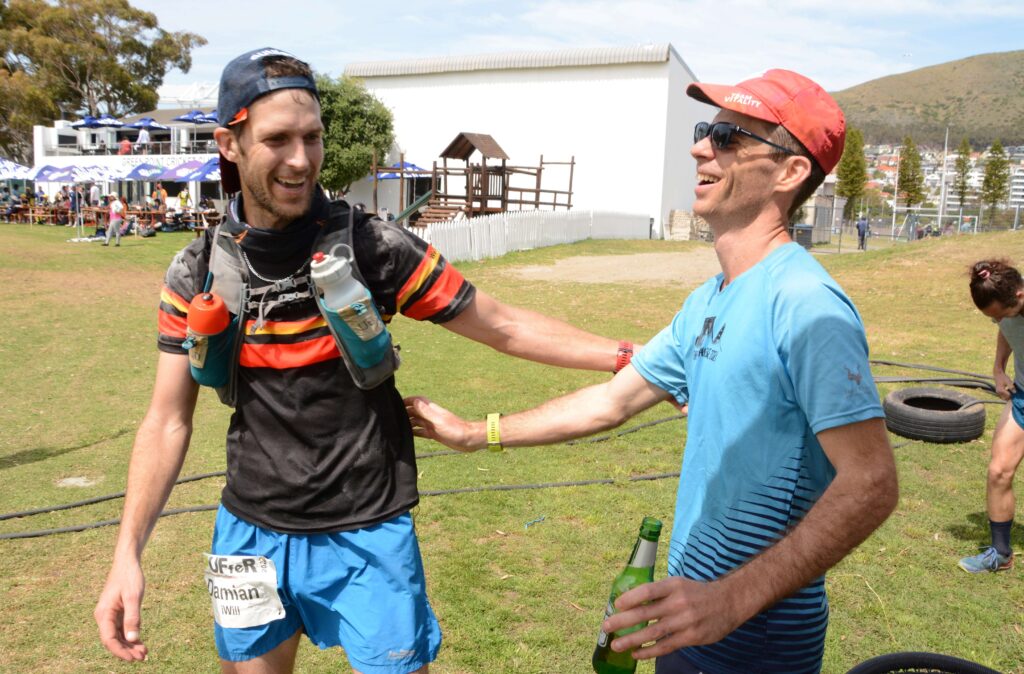 Results
Men
Patrick Cameron-Smitth 6 hrs 39 min
Damien Will 6:55
Theuns Vermaak 7:07
Ian Metcalfe (1st veteran) 7:09
Michael O'Leary 7:27
Nicolaas du Plessis 7:29
Jack Macdiarmud 7:35
Dave Van Ginkel 7:39
Trevor Jackobs 7:51
Petrus de Klerk 7:52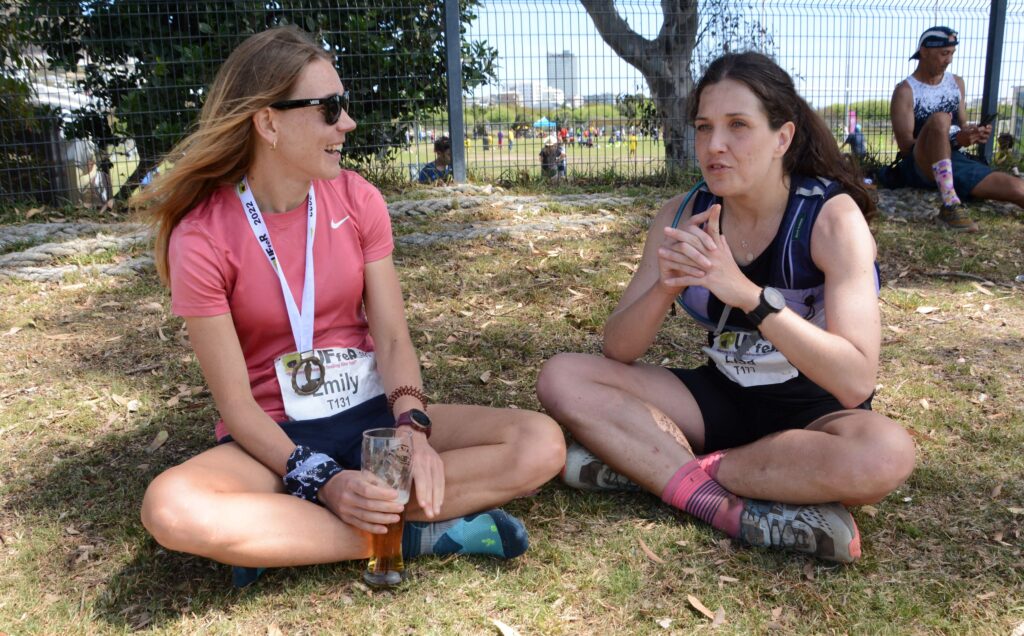 Women
1 Emily Djock 7:17
2 Lisa Pringle 7:52; 3 Carine Cagiano 7:59
4 Madison Barefield 8:09
5 Jesse Walman 8:24
6 Lisl Evason (first veteran) 8:36
7 Leigh de Necker 8:39
8 Cheryl Bucklow (first master) 9:09
9 Karen Wentzel 9:22
10 Sue Mackinnon 9:35