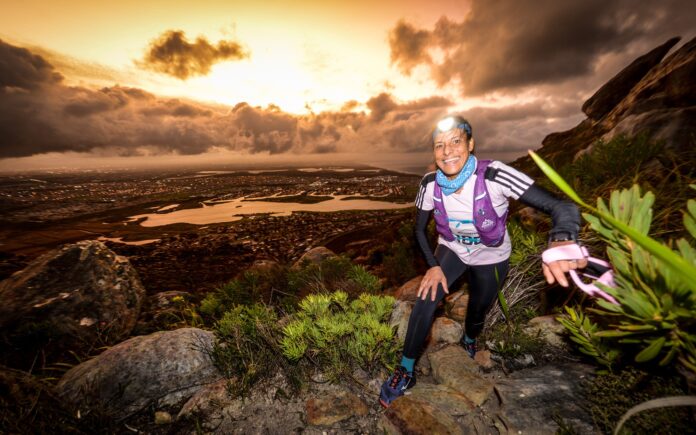 by Stephen Granger
ASICS athlete, Robbie Rorich, raced to a notable victory in challenging conditions at the Muizenberg Trail over 21,5km this weekend (Saturday 2 July), while a new talent emerged in the form of Nadine van Driel, who surprised defending champion Lijan van Niekerk in an exciting women's competition.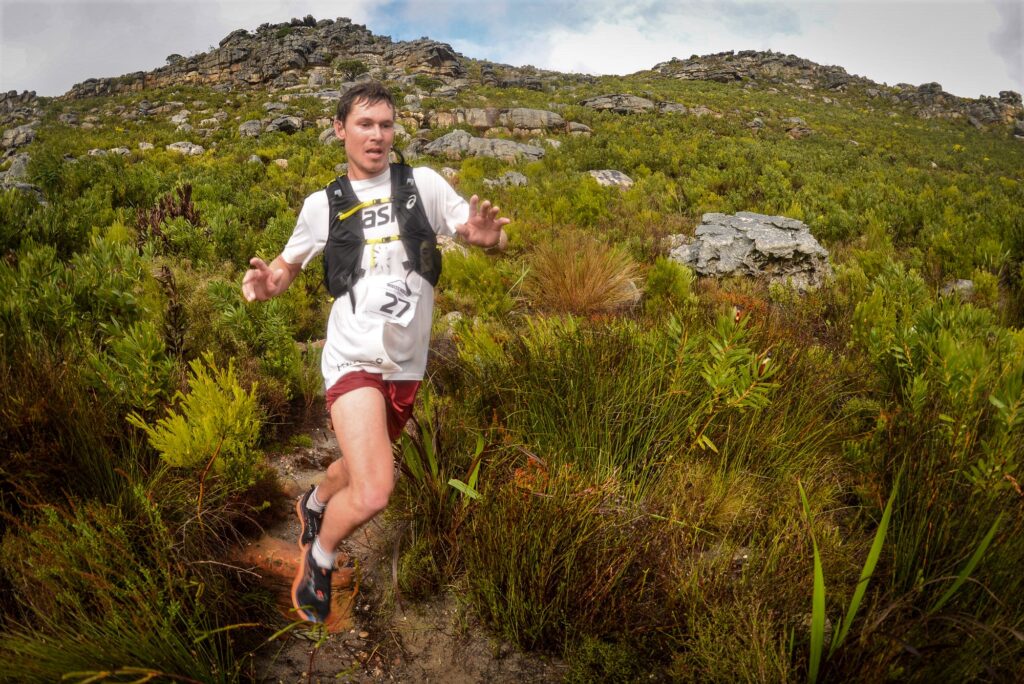 Cold temperatures and driving rain were the order of the day as Cape winter weather delivered a full package of tricks, adding several degrees of difficulty to the already testing circuit of the Muizenberg and Kalk Bay Mountains. Some, including Rorich, embraced the elements, turning the tempest into a high-speed play-fest. Others battled to complete the distance, their bodies struggling to generate sufficient heat to sustain themselves.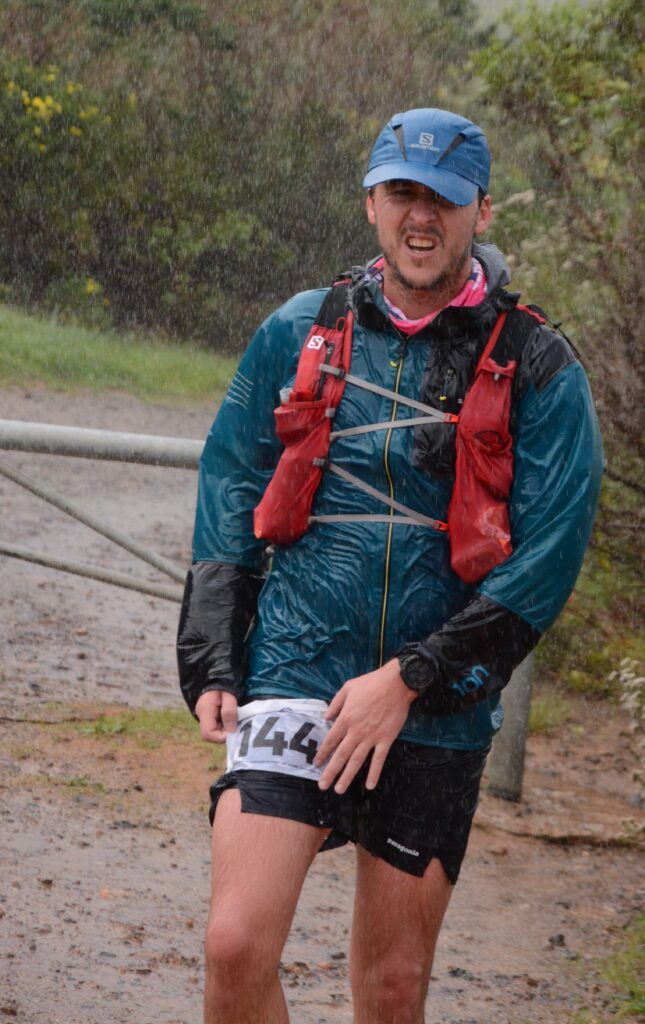 Muizenberg Trail was the second leg in the newly-established Triple Crown, following the Old Fisherman's Trail Challenge (OFTC) three weeks ago and ahead of the finale at Hout Bay Trail Challenge in three weeks' time.
If OFTC winner, Kyle Bucklow, had hoped that Rorich would be slowed by the effects of his 100km race at the George Mountain Ultra Trail race just two weeks ago, he would have been disappointed. Rorich's surprisingly fresh legs provided a great contest, with the result in doubt until the final descent.
"It was fun out there," said Rorich. "I felt quite fresh following the George MUT 100km – it was a good shake-out. I think the break I took from running at the beginning of the year helped me a lot. And it was great to get a new pair of shoes just a day before the race. I'd been running with really old shoes and these made a huge difference on the downhill sections."
Bucklow's strong climbing ability ranged against Rorich's remarkable skills on descents, with the lead changing hands several times before Rorich got away in the final quarter, using the final downhill from the Muizenberg Peak Saddle to cement victory.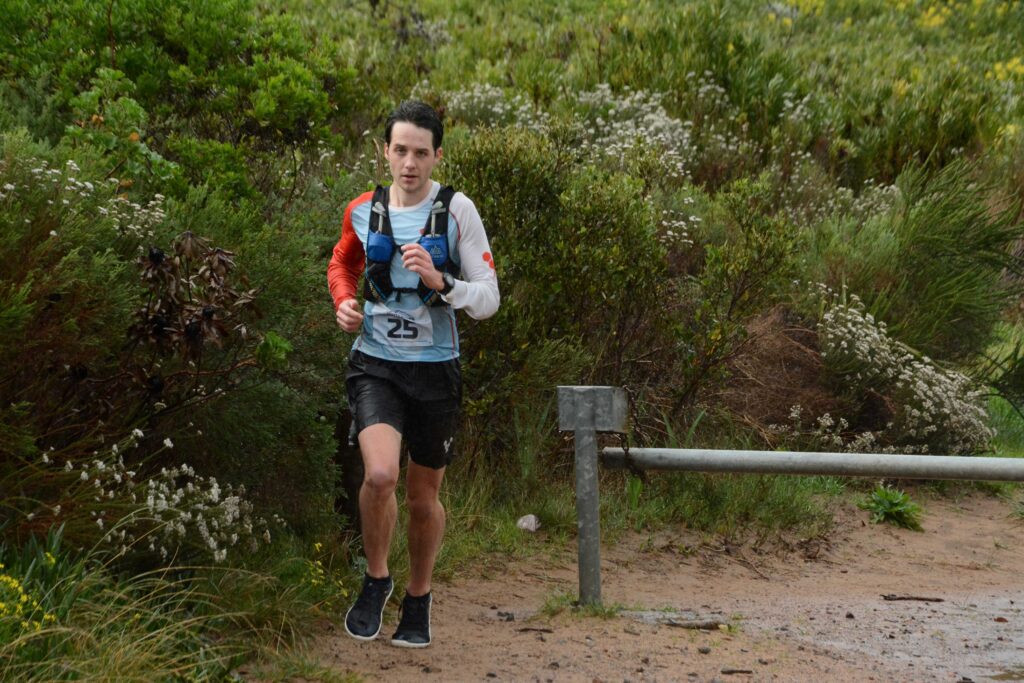 But first it was last year's champion, Jarryd Dunn, whose climbing skills came to the fore on the long ascent to Muizenberg Peak. Bucklow caught him as the athletes summited and took over at the helm on the single track down to the top of Farmer Peck's Valley.
Over a minute back from the leaders at the summit, Rorich hit back down Farmer Peck's. He passed the leaders and opened a gap of 20 seconds over Bucklow as he ran through a rain-squall at the base of Bailey's Kloof 8km into the race. Dunn was a close third with 2020 OFTC champion, Siviwe Nkombi, fourth.
With the runners starting slowest to fastest, the elite men departed two hours after the first runners and were soon making inroads on the earlier starters. A key point of interest was whether the leading women would be able to hold off their male counterparts, something they managed to do by just four minutes.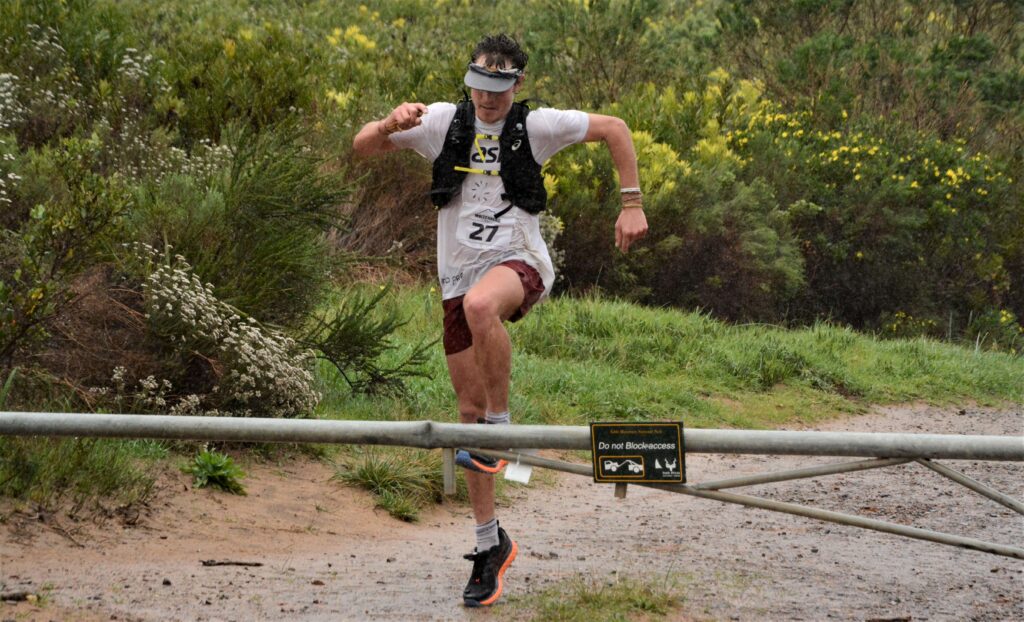 Bucklow came back strongly to draw level with Rorich on the climb back up to Nellies Pool and the two ran together for several kilometres before Rorich broke away on a single-track approach to the Amphitheatre. Although Bucklow closed the gap on several occasions, Rorich was never again headed.
Another squall hit as the athletes dropped onto Deadman's Path back to the Silvermine East Gate Check Point at 15km, but while some wilted, Rorich exalted, splashing his way around the mountain tracks at speed. "The rain was coming at us horizontally," recalled Dunn, still in third at that stage. "Straight into my face, stinging my eyes."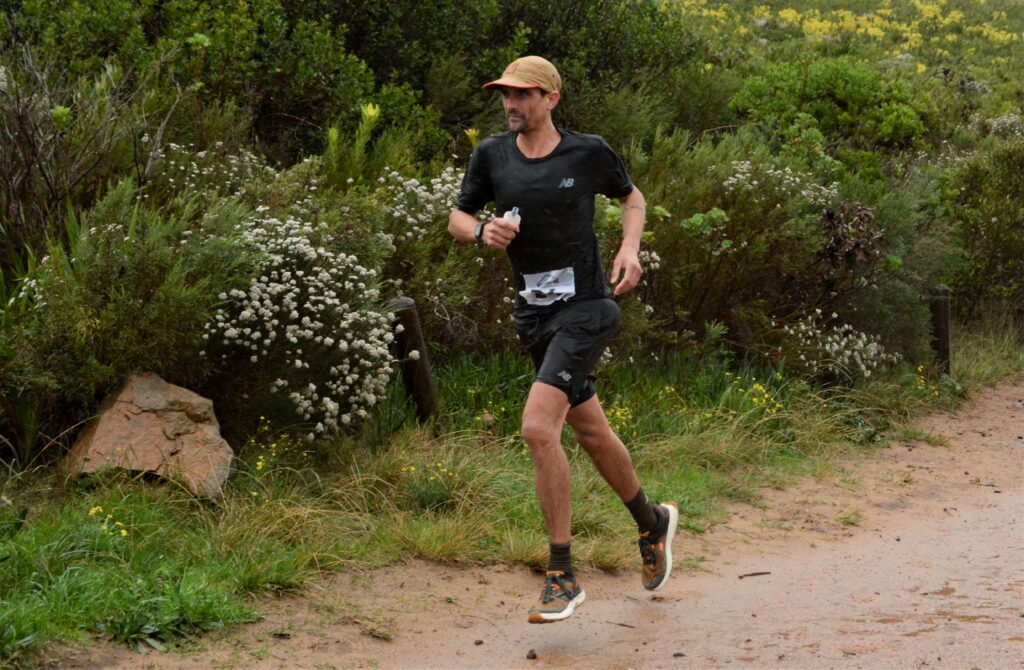 Rorich led at the Silvermine East check point but Buckow was not out of contention, running through just 15 seconds behind. Rorich stayed ahead on the single track climb to High Steenberg Peak and the last climb to the Muizenberg Peak saddle, before making hay on the descent back to the Sea Scout base on Zandvlei to win by two minutes in 2 hr 07 min 25 sec – 8 minutes faster than Dunn's winning time last year in similar conditions.
First elite male athlete across the line, however, was Nkombi, some five minutes ahead of Rorich, but sadly the Murray & Roberts runner had missed a turn in the cloud, mist and rain, cutting off a significant section from the course and was omitted from the final results.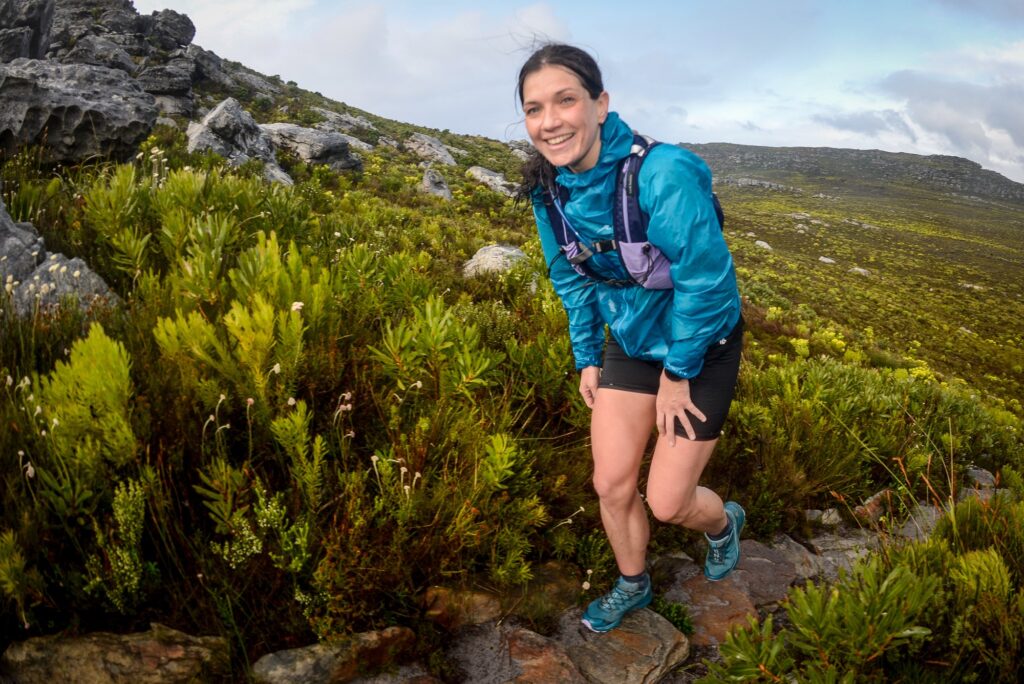 Van Driel, or Van Niekerk who crossed the line just 30 seconds behind. Lisa Pringle, winner of the Special Edition 50km in May, placed third.
32-year-old graphic-designer photographer from Pretoria, Van Driel, ran the race of her life to win the women's contest. She took up running just five years ago, after her move to Cape Town switching from road to trail which she found more to her liking. Preferring to run lower-profile shorter-distance events (apart from an impressive second place to Hayley Preen at the Jonkershoek 21km in May), she came into the Muizenberg Trail almost unnoticed.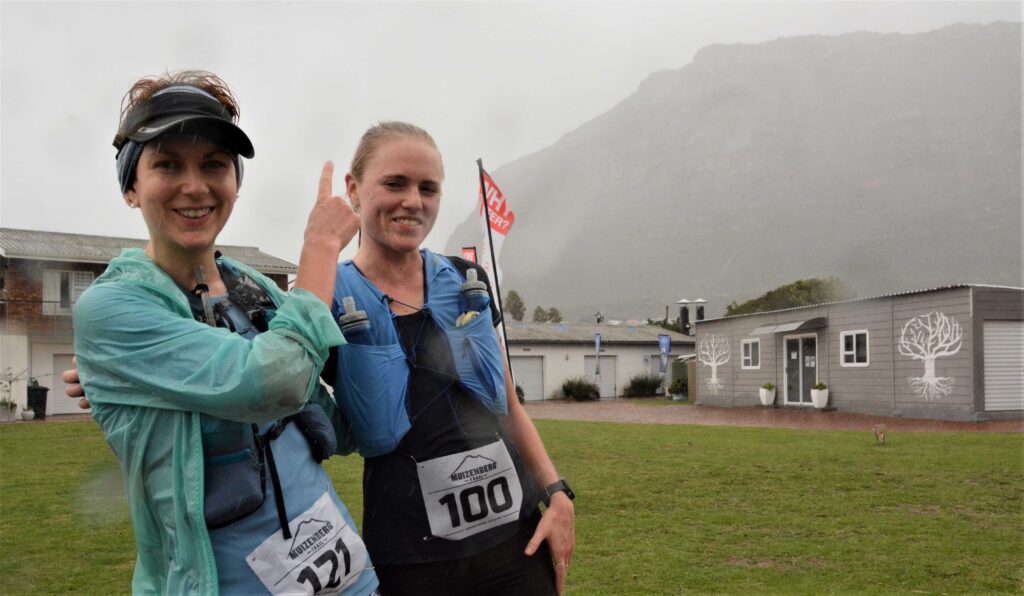 But noticed she was, as she overtook Van Niekerk on the first climb to Muizenberg Peak Saddle, moving into the lead which she retained throughout the race. "Climbing is my strength," admitted Van Driel. "I'm pretty hopeless at running downhill! But I've been working on my strength and my core muscles and think that this has paid dividends in managing my back pain."
Van Niekerk was below par, possibly the result of a full programme of racing in recent weeks, and navigation also came into play. "There were a few missed turns, but just the last one might have cost me," Van Niekerk admitted. "I think I missed the recommended route around High Steenberg Peak as I was chasing Nadine with just a few kilometres to go and by the time I corrected she was too far ahead to catch her."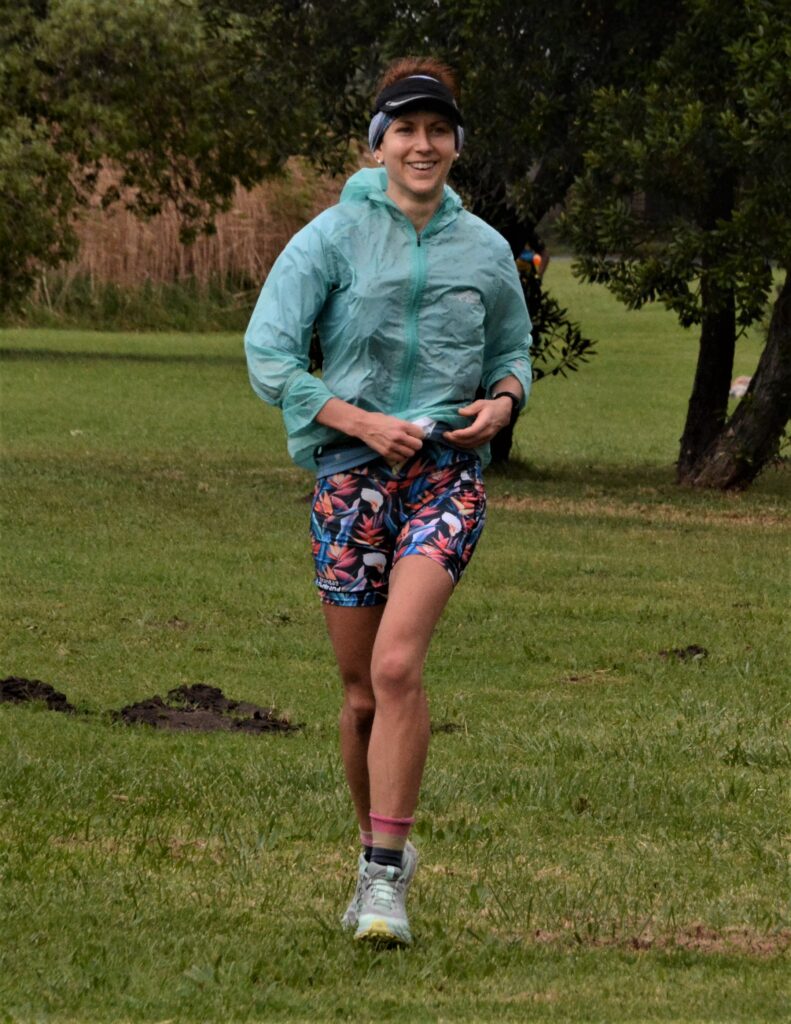 Van Niekerk closed a 2 min 20 sec gap on the Muizenberg Peak Saddle to just 32 seconds at the finish, but ran out of race distance, leaving Van Driel to cross the line a winner, in 2:47:32. Pringle finished a further
Van Driel held on to win in 2:47:32  –  just 32 seconds ahead of Van Niekerk, with Pringle third, another five minutes back.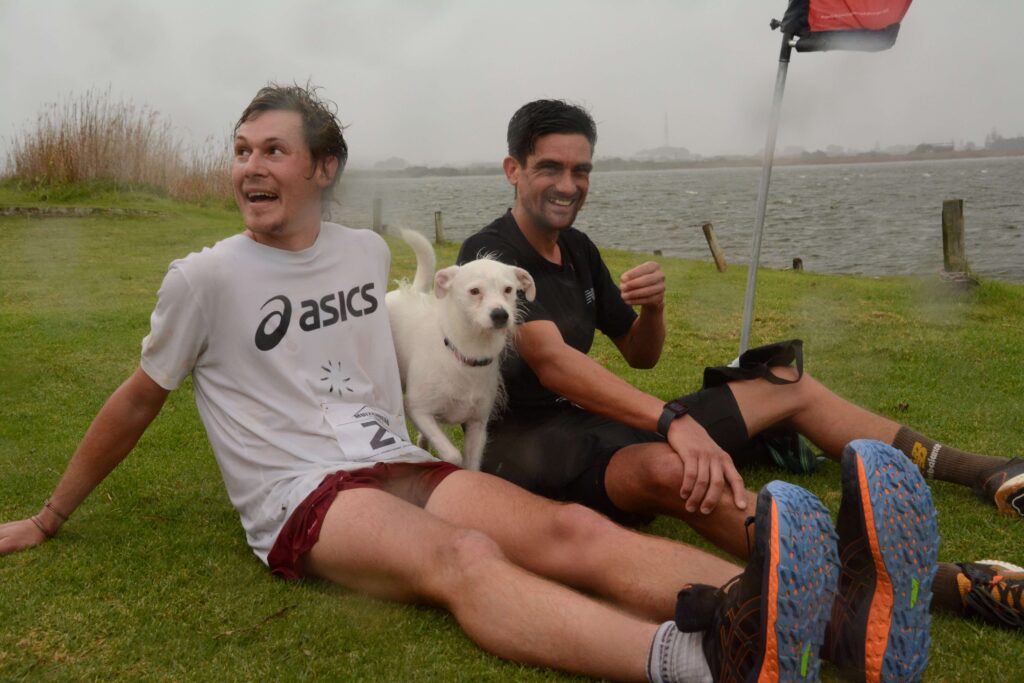 Results: Muizenberg Trail
Men
1 Robbie Rorich 2:07:25; 2 Kyle Bucklow 2:09:11; 3 Jarryd Dunn 2:11:17; 4 Kelton Miller 2:25:29; 5 Kyle Nortje 2:29:21; 6 Bengi Goldberg 2:36:33; 7 Jacob Courtney 2:37:15; 8 Harry Banda 2:46:34; 9 Thomas Vermaak 2:49:18; 10 Michael Obery 2:55:29
Veterans
1 Mark Gething 3:04:58; 2 Troy Squires3:18:36; 3 Valentino Arendse3:31:25
Masters
1 Richard Kruger 3:14:18; 2 Paul Diedericks4:09:27; 3 Graham Robinson 4:26:30
Grandmasters
1 Bruce Dickson 3:39:21
Women
1 Nadine van Driel 2:47:32; 2 Lijan van Niekerk 2:48:04; 3 Lisa Pringle 2:53:15; 4 Natalie van Reenen 3:03:15; 5 Julie Huckle 3:15:23; 6 Retha Wareham 3:28:42; 7 Lorene Jeantet 3:36:29; 8 Caitlin Perry 3:44:31; 9 Caryn Kennedy3:58:28; 10 Trish Lane 4:02:20
Veterans
1 Retha Wareham 3:28:42; 2 Caryn Kennedy3:58:28; 3 Vinoda Urisohn 4:45:44
Masters
1 Julie Huckle 3:15:23; 2 Trish Lane 4:02:20