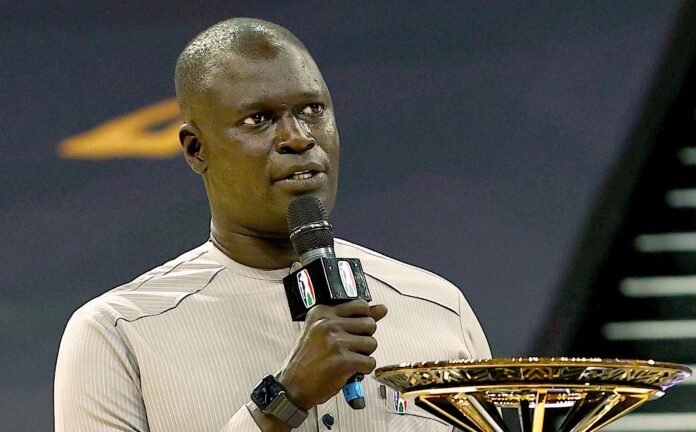 The conclusion of the second season of Africa's newest league, the FIBA and NBA-backed Basketball Africa League has shown that support for the game is growing by leaps and bounds. That's good news for Africa's urban youth, for youth culture and continental collaboration. It's also helping the NBA grow the sport's impact well beyond the court – a key aim of the league, says BAL President, Amadou Gallo Fall, for whom the BAL is "bigger than basketball".
bird story agency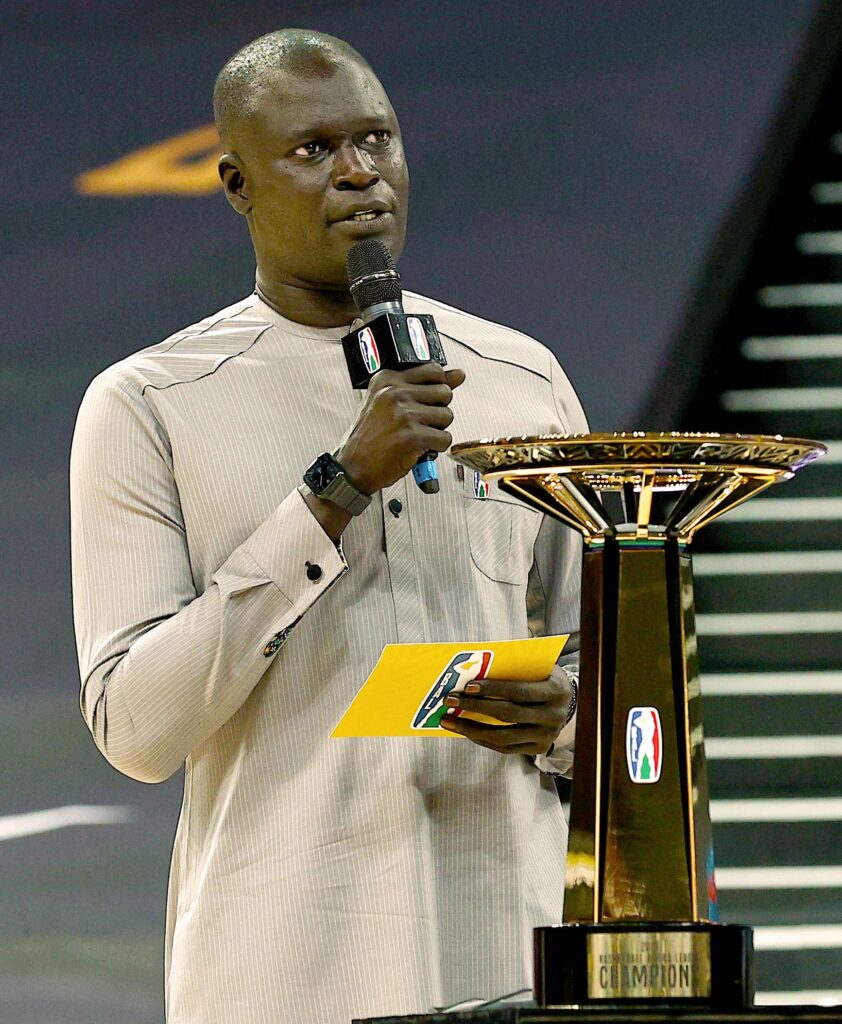 Amadou Gallo Fall is in the car and the connection is lousy. He's on his way to pick up his young daughter and has made time in his hectic schedule to take a call while he drives. We switch to a direct call and the connection improves.
The Basketball Africa League president is now based at the league's headquarters in Senegal, but Fall, 58, previously lived in Johannesburg as NBA Vice President and Managing Director for Africa. So he's comfortable driving and talking in the Johannesburg traffic. In fact, this is a man who is comfortable anywhere on the continent – or in the USA, for that matter. He was in Boston for the NBA Finals, earlier in June.
He would still have had his eye on activities in Africa, though… June 16 might have been the day the Golden State Warriors clinched the title in the final game against the Boston Celtics but it was also an important day for the Junior NBA, which held a clinic in Soweto on June 16 – Youth Day. And Fall is laser-focused on Africa's youth.
Fall launched his youth-focused SEED Project in 1998 while he was still studying in the USA, as a graduate student from Senegal. That was before his NBA career began with a position at the Dallas Mavericks. Today, SEED – or, Sports for Education and Economic Development – is a huge organisation, supporting 2,000 students. The organisation's mission is to use education and basketball to develop the next generation of leaders in Senegal, Gambia and the USA. Fall's position with the Mavericks gave rise his role in Africa developing basketball on the continent for the NBA – which led to the NBA Africa role. Then, in 2019, the NBA partnered with FIBA to create the Basketball Africall League.
Which is what today's interview is about. In just two seasons, the league has taken off – in part thanks to a much-vaunted one billion US dollar valuation – and has already had a substantial impact on basketball in Africa. While there are many people who have worked hard to make this league a reality, it is this man, Amadou Gallo Fall, whose continued and consistent – and largely unsung – drive to develop basketball in Africa, has brought profound and lasting change. And he is not close to being done.
"The goal is to make the Basketball Africa League one of the best professional basketball leagues in the world in the next few years," he said, speaking over the traffic.
That is no small statement. And coming from anyone else it might be taken as hyperbole. But no other league on the continent has come close to receiving the television coverage of the latest season of the BAL, which reached fans in 215 countries and territories, in 14 languages through free-to-air and paid TV broadcast partnerships with Canal+, ESPN, NBA TV, Tencent Sports, TSN, American Forces Network (AFN) and Voice of America (VOA), as well as via livestream on the NBA App, NBA.com and NBA.com/BAL.
The NBA's involvement in Africa has received huge traction on social media, too – helping to cement the sport's place as the second-most popular on the continent, after football.
"Just in a regular season, we have over 400 million engagements with our fans across our digital platform, our website, and Twitter, Facebook, and all those interactions are going to help drive the popularity of the league," Fall said.
It wasn't that long ago that basketball was a minority sport popular mostly in Africa's inner cities; a game with street appeal but very little organised support or media coverage. The presence in the NBA of African players like Dikembe Mutombo, Hakeem Olajuwon and Luol Deng opened the eyes of young players across the continent, to new possibilities. Sponsors arrived – if haphazardly – too. A new narrative emerged in which basketball, through the NBA, offered a path to personal development – both sporting and educational. The SEED project, Junior NBA initiatives, Basketball Without Borders and others provided routes to discovery – even, eventually, to an NBA draft.
The NBA Draft 2022 is a case in point. It saw 8 African players drafted. The event on June 23 had wide African representation, with two players – Christian Koloko of Cameroon and Khalifa Diop of Senegal – getting a lot of media attention.
Arizona centre Koloko was selected by the Toronto Raptors with the 33rd pick. He is the first Cameroonian player drafted into the NBA since Pascal Siakam, in 2016.
Gran Canaria (Spain) forward Diop was selected 39th overall by the Cleveland Cavaliers, becoming the first Senegalese to be drafted since Gorgui Dieng was selected 21st overall in the 2013 Draft.
Both Koloko and Diop participated in Basketball Without Borders global camps – in 2018 and 2019 respectively.
The BAL has also had wide support from commentators on social media, some of whom are also, thanks to basketball, making the transition to traditional media commentating.
"The BAL gives an opportunity to grow local talent not just to players on the court but in the media department as well. I know it's still the foundational period for the league so there's a sense of perfection in the air, hence the reliance on expatriates. I hope that there's a mid to long-term plan to get more local African talent involved in the fundamental aspects of the live broadcasts rather than fly in expatriates, to double the impact on the sector," said Femi Adefeso, who thanks to his prominence on social media, is now also a regular on pay tv giant, SuperSport.
"You see Usher Komugisha courtside at the BAL and it reminds you of the great Doris Burke and Craig Sager in the NBA Finals. It's a huge platform for growth and a showcase for the world to see her. This also serves as an audition role for the NBA or WNBA if ever they were to consider an African courtside reporter. Beyond that, just being a role model for younger journalists and commentators – particularly women – to see themselves calling a men's basketball game, is of huge impact to the African media space," he said.
So how does the BAL plan on taking basketball even further on the continent?
Firstly, the format itself. Featuring 12 club teams from across Africa and headquartered in Dakar, the BAL builds on the foundation of club competitions organised by FIBA's Africa regional office. It also marks the NBA's first collaboration to operate a league outside North America. Following the interruption caused by the COVID-19 pandemic (the NBA was one of the first pro sports leagues to lock down), the BAL is looking to ensure its third season has a wide geographic spread.
"We are going back to what the original format was. Which was, as you know, when we were going to launch in 2020, we were going to play in seven different countries, or the six countries for what we call our regular season in a caravan format and then having the finals in Kigali," Fall said.
That format may be more expensive than running a more centralised league but it is good for the host countries.
"We talk about building a new economic growth engine, the fact that having these teams in different African cities, and the impact it has on local tourism, and getting people to travel to know the continent, to experience, you know, our vast cultural diversities and all the things that we were able to see, for example, in Kigali, especially with people travelling from different parts of the continent, to come and experience our finals, I think that's, that's, that's a really good signal."
The development angle seems to be part of the DNA that the NBA has in mind for the BAL – and it is very much a part of all that Fall touches, from SEED, to Junior NBA, to Basketball Without Borders, to the NBA Academy.
"One of the innovations this year is we put out this Elevate program, where we established a direct link between the NBA Academy Africa and the BAL; we assigned one NBA Academy young prospect to each of the 12 teams, and we've seen, really, you know, the reception and how these players have been able to showcase their talent. And they're from different places, different countries – Senegal, Nigeria, or, Cameroon, Morocco, Egypt, you know, from across the continent – DRC."
There can be few sporting codes where investment has had such an amplifying effect on the continent as in basketball. However, the impact needs to be seen and measured, given the kind of investment that is going into the game.
"I think we will measure success by how impactful we are in local leagues, because what you see is teams starting to, you know, get organised and give themselves a chance to win their local leagues in order to come and participate in the BAL. So we're gonna have that local effect."
Way bigger than basketball
While the BAL may seem very team and player-focused, the dream is far larger. It's a whole ecosystem that allows teams to grow locally and build business opportunities that can sustain them, all feeding into the BAL – and other programs on the continent.
"It's the number two sport on the continent. So we don't really, you know, limit ourselves, we feel like, in the way also we are growing the league, it's. what we say is, it's bigger than basketball. We want the most casual fans or people who may not be huge sports fans, to still find engagement touchpoints with our league… fans of all ages, from all across genders, can find the product attractive and find a reason to want to be at the games or consume our merchandising. That's, you know, I think that's gonna offer us opportunities. The biggest segment is young, and Africa is the youngest continent. So this is why we like our chances in terms of, you know, how far we can go and take this league."
While there is certainly financial risk – as other investors in the wider African sports ecosystem have discovered to their cost – the potential positive impact of the BAL could range far beyond the financial, or even the developmental, impact on basketball alone. There is likely to be a significant impact on other sports, according to Fall.
"We have an opportunity to bring to build a robust basketball business industry, and that is going to anchor a robust sports business industry, across Africa."
The rivalries building up in the league are already becoming legend and that has had an amplifying effect. US Monastir of Tunisia's revenge win over Petro de Luanda of Angol in the finals had fans talking from one end of the continent to the other.
Gary Rathbone, head of sports at South Africa's public broadcaster, SABC, one of the continent's largest TV stations, had this to say of the league's influence:
"I think the main impact had been getting African sports fans excited about basketball as a game beyond their own borders. In the same way that the UEFA Champions League has made European football about more than just the various national leagues, the BAL has got fans to appreciate the game across borders or regional teams. In the future I can see Kenyans supporting Angolan teams, South Africans supporting Egyptian teams, Egyptians supporting Nigerian teams and that sort of thing. As in the UCL, as some teams come to dominate the league, their supporter base will expand beyond their local regions. That will benefit the game of basketball across Africa as a whole."
Support from fans is also likely to see a big boost from Nigeria as Nigerian basketball "gets its groove back". The country seems to have reversed a controversial decision to withdraw from international competition until warring factions of the country's national basketball management resolve a leadership dispute.
"Nigeria, I have no doubt is, you know, on its way to being resolved. That country certainly needs to be on the forefront because we know what it represents – what it can mean, in terms of being on the global stage – and being able to challenge any country, you know, and I'm talking basketball specifically; we want Nigeria, Angola, Senegal, any of these countries to go and compete for medals in in the Olympics or World Championship, Cameroon, you know, so, for me, that's really what the opportunities are. I have no doubt that the Basketball African League is going to help in this process because we're going to have stronger national leagues," Fall said in conclusion.
Certainly, there's a new dynamism in African basketball, a focus that has not been there before. And that can only be a good thing – for basketball, for youth development and for African sports in general.
bird story agency