Forty-year-old trail legend, Ryan Sandes, showed there's still competitive life in his legs when he raced to an emphatic victory in the Mountain Ultra Trail 100 miler (MUT Miler by UTMB) which took place on mountain trails around the southern Cape city of George this weekend (Saturday 27 May).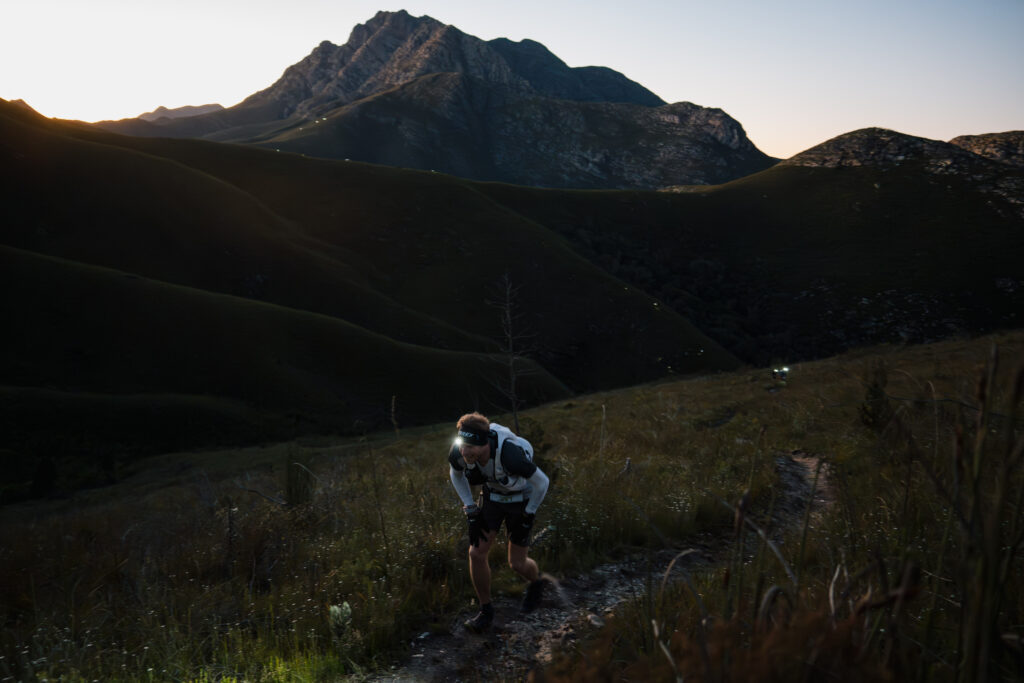 Sandes has enjoyed one of the longest spans of competitive ultra-trail racing in the business, having enjoyed international success over two decades, and turned in one of his best performances this weekend as a steppingstone to his return to his nemesis – the Ultra-trail Mont Blanc 100 miler – in late August.
Although the cold and sunny weather was perfect for trail running, heavy rain prior to race-day turned tracks into a mud-MUT. Nonetheless a number of athletes excelled, setting record times.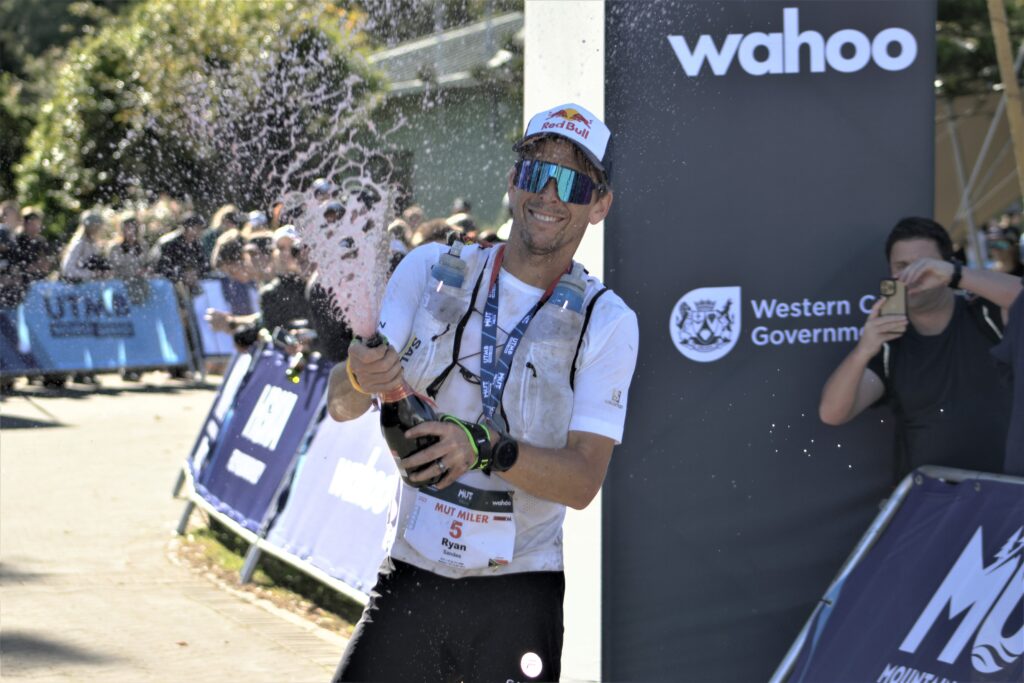 Feel-good factor – Ryan Sandes celebrates after winning the MUT Miler by UTMB. Photo – Craig Gerber
"That felt good!" said Sandes after crossing the finish line in 21 hrs 46 in 32 sec in the inaugural 100-mile event. "It's been an epic last 21 hours – all a bit of a blur. There were some really amazing and challenging memories.
"The course was super challenging – the mud made the going hard. But I'm really stoked with how the race went. I went through a low patch in the early hours of this morning when I was sleepy tired but once the sun rose, I felt I was nearly home."
Doug Pickard, who bettered Sandes' Ultra-trail Drakensberg 100 miler record last year, finished over an hour in arrears in second place and over an hour ahead of seasoned ultra-runner, Gabriel Kriel, who finished third.
Johardt van Heerden celebrates his victory in the MUT60. Photo – Craig Gerber
Three of the athletes who will be representing South Africa at the World Championships in Austria next month had impressive 'shake-out' runs. Johardt van Heerden, Bianca Tarboton and Lijan Burger won their respective races in spite of holding back from a full-out effort with an eye on Austria.
Van Heerden, who has enjoyed running in the Outeniqua Mountains in the past, looked completely at home in the MUT 60km, racing to a record-breaking win over American Jeshurun Small. Van Heerden's impressive 5:55:18 was 16 minutes inside Kane Reilly's course record set last year and 20 minutes ahead of the adidas TERREX athlete, Small.
German athlete, Kimi Schreiber, wins the MUT60 in record time. Photo – Craig Gerber
"Overall I'm happy," confided Van Heerden. "The American athlete struggled on the single track so I could run easily towards the finish. It was definitely not a flat-out effort – I'm keeping that for Worlds!"
German athlete, Kimi Schreiber, struggled in the mud, but still came home a comfortable winner in 7:19:18, 18 minutes inside Taryn King's 2021 course record and 43 minutes clear of Jada Lindstrom. Samantha Reilly was another five minutes back in third.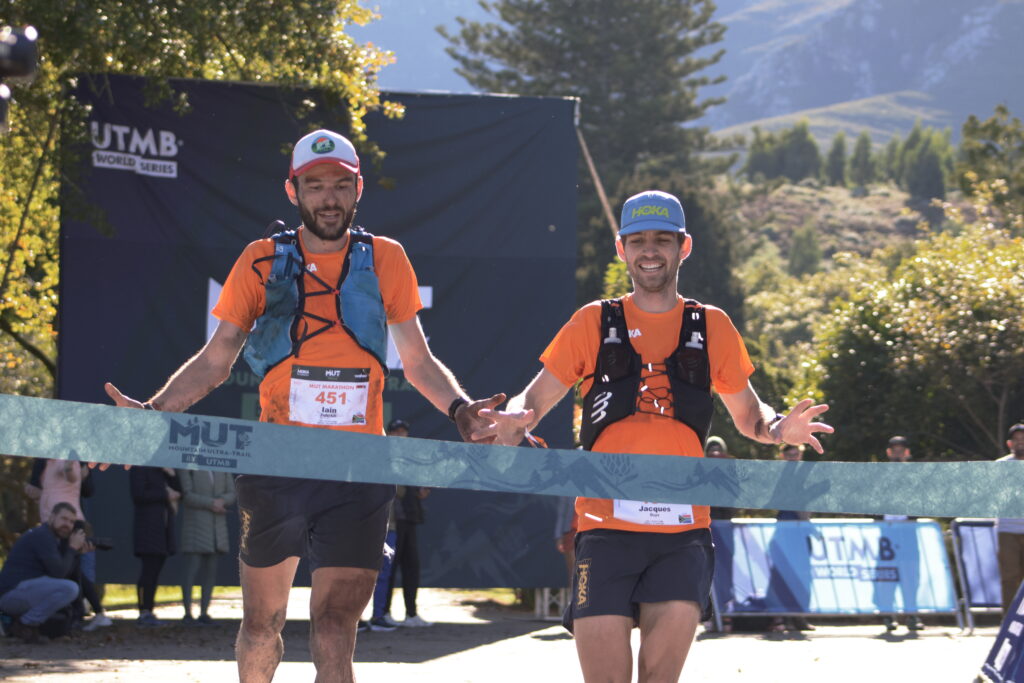 Iain Peterkin and Jacques Buys take the tape together to win the MUT Marathon. Photo – Craig Gerber
Iain Peterkin retained his title in the MUT Marathon over 42km, sharing the honour with his former Pretoria training mate, Jacques Buys. The pair crossed the line in 4:31:00, less than two minutes off Peterkin's winning time last year but some way off Buys' 4:07:43 record set in 2021.
Tarboton delivered one of the performances of the day in the MUT Marathon, finishing third overall, less than seven minutes behind the leaders, her 4:36:55 eclipsing Landie Greyling's 2022 course record by 33 minutes.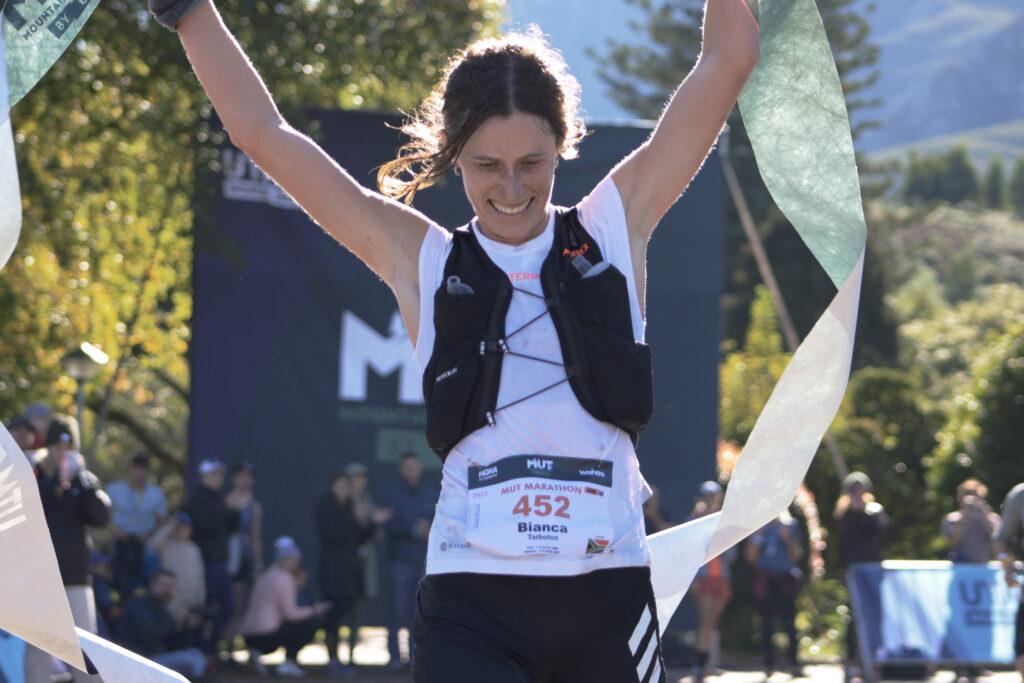 Bianca Tarboton wins the MUT Marathon in record time. Photo – Craig Gerber
Local athlete Rebecca Kohne trailed forty minutes back in second place with Sumé van Heerden third.
"I think the fact that I hadn't even thought of racing helped me," said Tarboton. "I had decided not to race to rest a bruised bone in my foot, but then changed my mind at the last minute. I think that saved me from the pre-race hype and calmed my mind.
"I was mostly in 4th or 5th position, then one or two dropped back towards the end and I made up a couple of positions.
"I felt very much in control – I never felt I was pushing the limits. I held back, especially on the downhills, to protect my foot.
"It was freezing at the start – I wore my gloves till past half-way – and the mud was quite something. My shoes are wrecked!"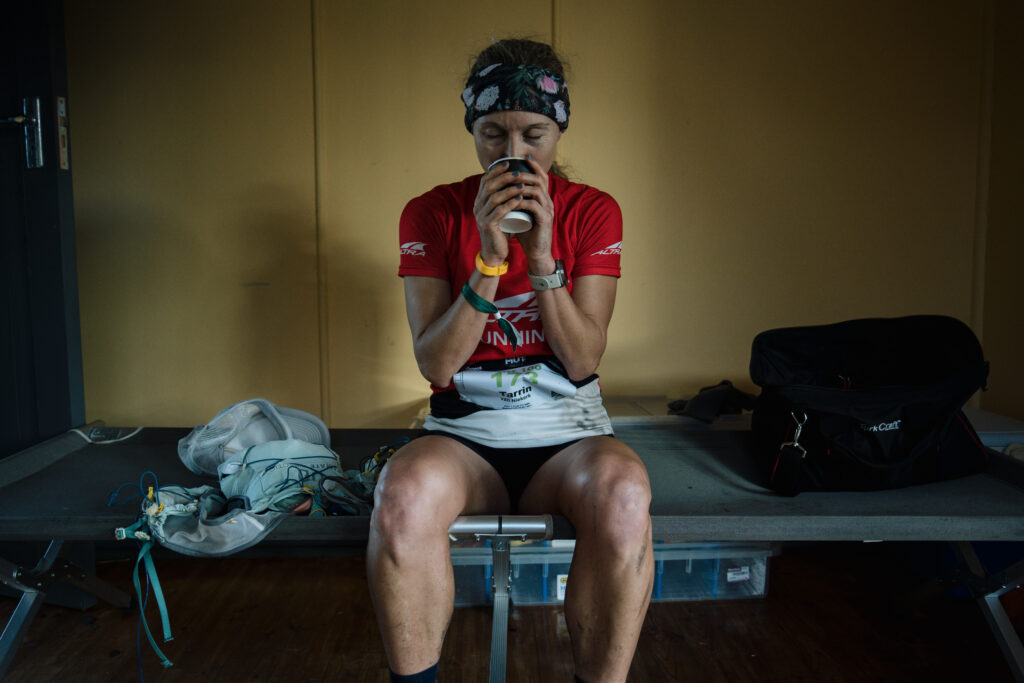 Tarrin van Niekerk replenishes her exhausted body at a refreshment station. Van Niekerk defended her title in the MUT 100km. Photo – Simon Pocock
Last year local master athlete, Bruce Arnett, and Cape Town physiotherapist, Tarrin van Niekerk, won the titles in the inaugural MUT 100km race and both successfully defended their titles with solid wins in this year's 100km. Arnett crossed the finish line in 13:39:13, just 10 minutes ahead of Michael Molyneaux and an hour outside his time last year, while Van Niekerk won in 15:02:39, 27 minutes slower than her time last year.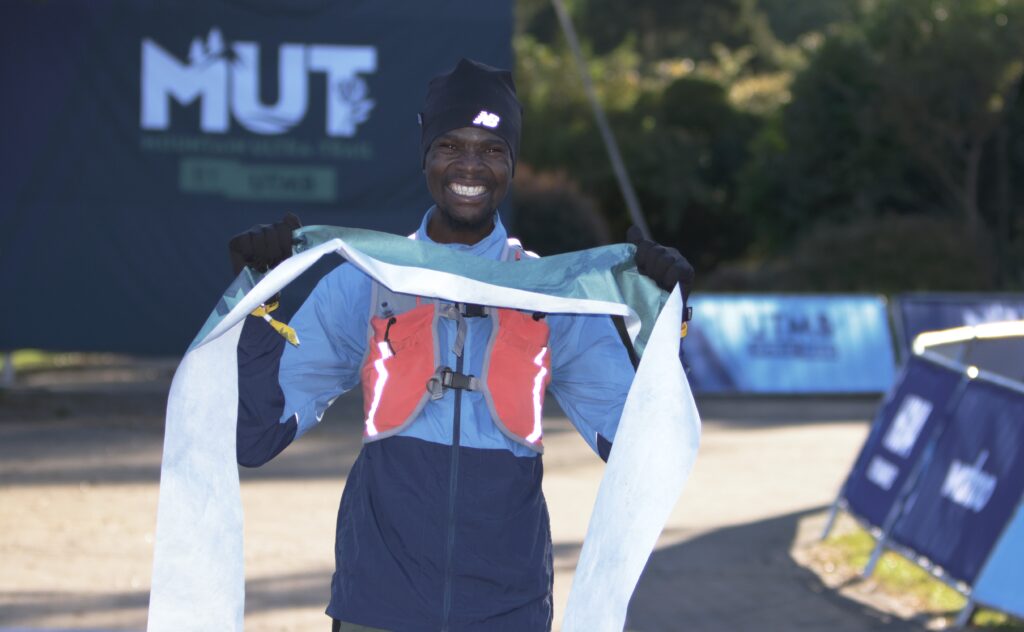 Underson Ncube successfully defended his title in the MUT Challenge over 25km. Photo – Craig Gerber
Oudtshoorn athlete, Underson Ncube, defended his title in the MUT Challenge over 25km, with Stellebosch-based Lijan Burger taking honours in the women's competition.
Results (RSA unless indicated otherwise)
MUT Miler (162km)
Men: 1 Ryan Sandes 21:46:32; 2 Douglas Pickard 22:54:50; 3 Gabriel Kriel 23:56:07; 4 Matthew Bouch 24:58:52; 5 Omar el Sawy (Egypt) 29:32:43
Women: None finished at time of writing
MUT 100
Men: 1 Bruce Arnett 13:39:13; 2 Michael Molyneaux 13:49:40; 3 Guido Tagge 14:20:40; 4 Justin Broadley 14:24:13; 5 Jean-Pascal Gross (France) 14:26:36
Women: 1 Tarrin van Niekerk 15:02:39; 2 Kelly Freeth 15:14:00; 3 Sveta Becker 15:34:33; 4 Erika Mohr-Holland 15:57:43; 5 Natalia Mastrota (Italy) 16:54:35
MUT 60
Men: 1 Johardt van Heerden 5:55:18; 2 Jeshurun Small (USA) 6:15:32; 3 Mvuyisi Gcogco 7:04:27; 4 Joshua Blackshaw 7:05:40; 5 Lukas van der Merwe 7:10:32
Women: 1 Kimi Schreiber (Germany) 7:19:18; 2 Jada Linstrom 8:03:56; 3 Sam Reilly 8:09:04; 4 Karolina Wierzhowiak (Poland) 8:53:08; 5 Julia Bickel 8:56:20
MUT Marathon (42km)
Men: 1 Iain Peterkin 4:31:00 and Jacques Buys 4:31:00; 3 Rikus Saayman 4:43:32; 4 Matthew Kane 4:59:38; 5 Zibele Bala 5:02:59
Women: 1 Bianca Tarboton 4:36:55; 2 Rebecca Kohne 5:16:12; 3 Sume van Heerden 5:25:08; 4 Rebecca Watney 5:35:07; 5 Estee Cockcroft 5:47:24
MUT Challenge (25km)
Men: 1 Underson Ncube 2:01:22; 2 Christiaan van den Heever 2:05:17; 3 Ruben Dlepu 2:21:33; 4 Greg du Toit 2:25:45; 5 Allan Lamont 2:29:53
Women: 1 Lijan van Niekerk 2:25:57; 2 Vicky Welham 2:36:20; 3 Nadine van Driel 2:43:18; 4 Melissa van Rensburg 2:46:23; 5 Megan Belton 2:55:58