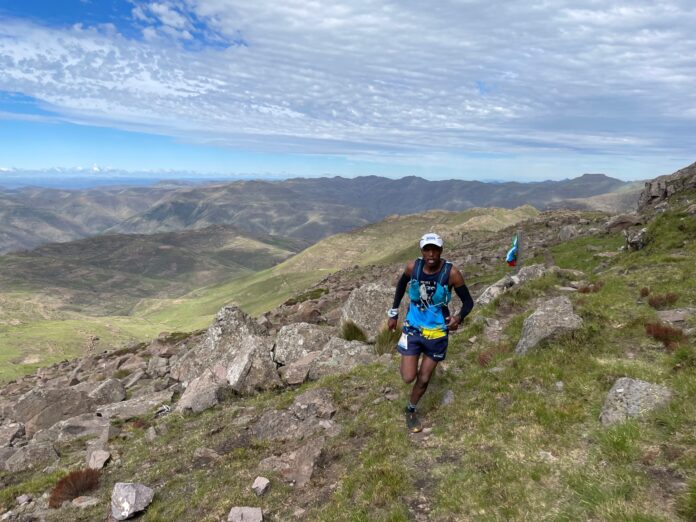 By Kelly Burke and Stephen Granger
Despite a slippery, overgrown course from heavy rainfalls in the area, Simon Tshabalala, showed once again why he is one of the leading mountain runners in South Africa, by taking the 100km 2022 K-Way SkyRun podium position for a second year in a row in a time of 13hrs58min20sec over the weekend (Saturday 19 November 2022).
Freezing night temperatures with a wind chill of minus 7 degrees made it tough going for those choosing to race the full 100km, but more favourable day-time conditions led to record-breaking performances in the 65km and 38km races.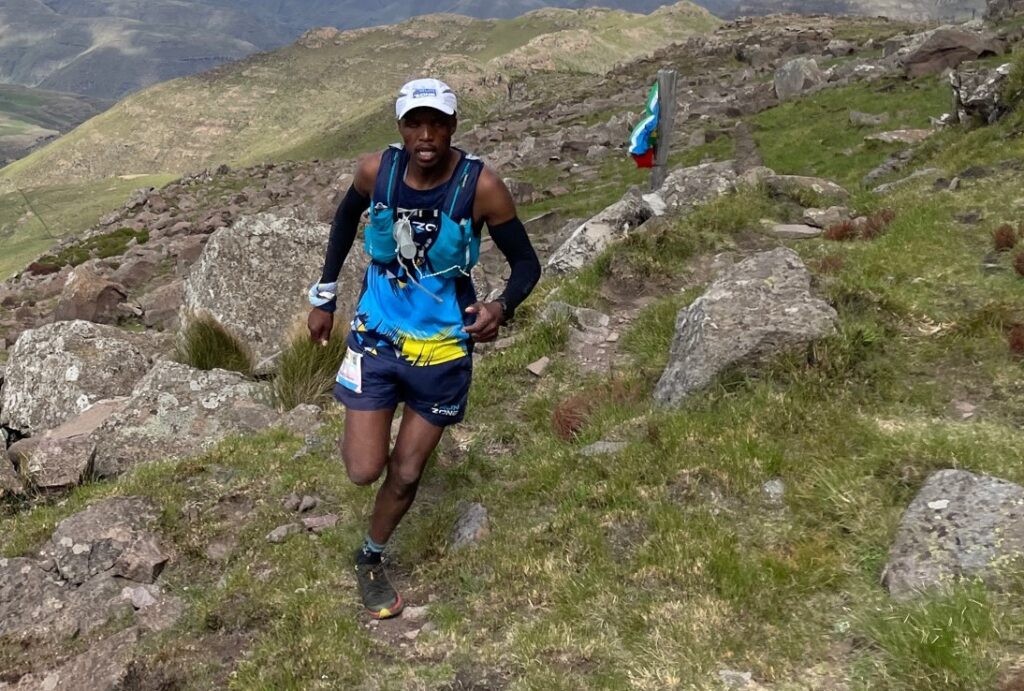 Last year Tshabalala missed Iain Don-Wauchope's long-standing Skyrun course record by just seconds in a superb 12 hrs 09 min 38 sec victory, to win by almost 50 minutes ahead of strong-running Stellenbosch duo Grobler Basson and Christiaan Greyling, but the testing conditions meant that this year's contest was more about the win than the time.
Tshabalala was in class of his own, winning by more than an hour ahead of Gauteng ultra-trail athlete, Admire Muzopambwa, with Erhard Blom a further 6 minutes behind in a close third.
"I am so happy with my win today," beamed the 100km route winner, Simon Tshabalala. "I have been nursing an injury for the past few weeks and then with today's wet conditions, I was not able to go as fast as I had planned, but I am really happy to take the title again for the second year in a row!"
Second place went to Admire Muzopambwa in a time of 15hrs00min31sec and third to Erhard Blom in 15hrs06min01sec.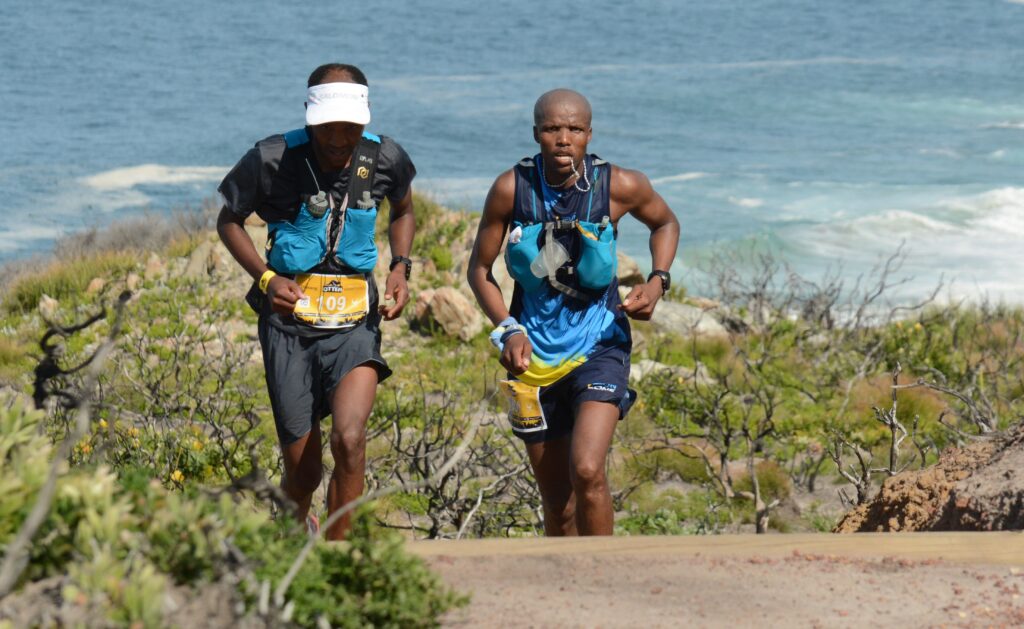 Tshabalala's win proved particularly sweet following his difficult debut at last month's Otter African Trail Run, where he faded in the second half to finish out of the top twenty, and will give him renewed hope for the new year in trail running.
Simone Malan, took top place on the women's 100km podium with a solid win in a time of 17hrs55min00sec. "Wow I feel so incredibly blessed, not only to have run this amazing route in these majestic mountains, but to be the first lady over the line in the 100km course and under 20hours is just beyond my wildest expectations."
While some way off Tarin van Niekerk's winning time last year, Malan was over 2 hours clear of closest rival Caro Jordaan, who finished in 20hrs09min39sec, with Nikki Caromba third in 20hrs36min07sec.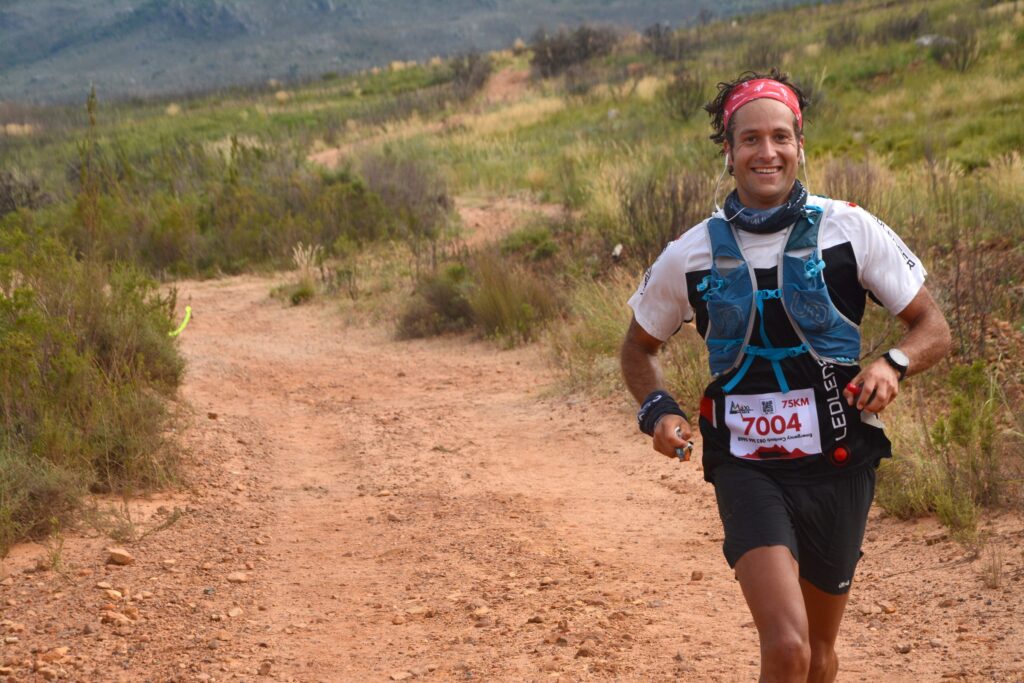 In the 65km race, first place went to Grobler Basson, who despite making a few navigational errors on course, was able to set a new course record in a time of 08hrs02min11sec, beating Tonic Masilo's 2021 record by seven minutes. "I had a brilliant day out on the course, the weather was great, and I really enjoyed myself," says Grobler Basson. "The course was very wet and overgrown, so it was quite tricky in places, but I had a great time!"
Masilo had to be content with 2nd place this year, crossing the line in a time of 08hrs27min32sec, with Thato Kabeli in 3rd in 09hrs00min28sec.
2022 Dusi Marathon winner Bianca Haw took first place in the women's 65km race, crossing the line together with her fiancé, Andrew Houston in a winning time of 11hrs21min30sec. "What an amazing run, I have been wanting to come back to SkyRun for a while now, mainly just to beat a friend of mine's time, so to have done so, I am in my element," laughed Haw.
2nd place went to Estee Cockcroft in a time of 11hrs40min18sec, and 3rd to Carna Koch in 11hrs49min10sec.
Taking a break from being behind the lens photographing SkyRun this year, Chris Strydom, set a new course record for the 38km route in a blistering time of 04hrs09min18sec, with Melanie Pieterse and Micaela Louw tying for 1st place in the women's race in 06hrs53min39sec.
"Conditions were really tough out there for the competitors this weekend. The heat, wet ground, and overgrown vegetation and then below freezing conditions overnight showed us once again why SkyRun is called A Hell of a Run!" said race organiser, Mike de Haast from Pure Adventures. "This year has definitely been one of the toughest conditions for competitors with almost 40% of the 100km field dropping out, but we know that once you have been bitten by the mountain bug, we should see that 40% back next year to finish !"
Results
100km Men
Simon Tshabalala 13hrs58min20sec
Admire Muzopambwa 15hrs00min31sec
Erhard Blom 15hrs06min01sec
100km Women
Simone Malan 17hrs55min00sec
Caro Jordaan 20hrs09min39sec
Nikki Caromba 20hrs36min07sec
65km Men
Grobler Basson 08hrs02min11sec
Tonic Masilo 08hrs27min32sec
Thato Kabeli 09hrs00min28sec
65km Women
Bianca Haw 11hrs21min30sec
Estee Cockcroft 11hrs40min18sec
Carna Koch 11hrs49min10sec
38km Men
Chris Strydom 04hrs09min41sec
Tsepo Nyapotse 04hrs35min58sec
Werner du Preez 05hrs00min09se
38km Women
Melanie Pieterse 06hrs53min39sec
Micaela Louw 06hrs53min39sec
Louise van Jaarsveld 07hrs15min26sec
Susan Ferreira 07hrs15min26sec