Two Oceans Marathon director, Debra Barnes, has promised to re-ignite passion for the event. Speaking at the organisation's Annual General Meeting, in Cape Town, Barnes said she would ensure this by forging appropriate partnerships that would help "bring back the love".
Despite recent challenges, Barnes vowed to continue to grow "purpose-led partnerships" and to follow the marathon's 50th anniversary mantra to "keep moving forwards".
Barnes undertook to host a world-class event and ensure the Two Oceans contributes to the growth of running in South Africa. The involvement of communities along the route, including Imizamo Yethu at Hout Bay, would form a major part of the strategy moving forward.
Barnes outlined the event's four-fold strategy for surviving in a 'COVID world' as one based on innovation adaptability, on growing the event's global stature, on greater responsiveness to crises and on "runner-centrism" – maintaining runner loyalty and love of the event through clear communication.
Barnes acknowledged that it would be unlikely that a mass event Two Oceans would be held in 2021, given COVID uncertainty but outlined a three-fold programme of potential events for the new year.
The programme includes a Challenge of the Champions as well as a charity half-marathon series and a series of regional races. The Challenge consists of a reduced-number "elite" event on Easter Saturday, with 300 "elite" runners and 9700 top qualifiers with a sub-four-hour marathon a minimum standard. The charity series is to be run between January and March 2021, while the regional series is to be held from July to August, in conjunction with the Western Cape Department of Tourism.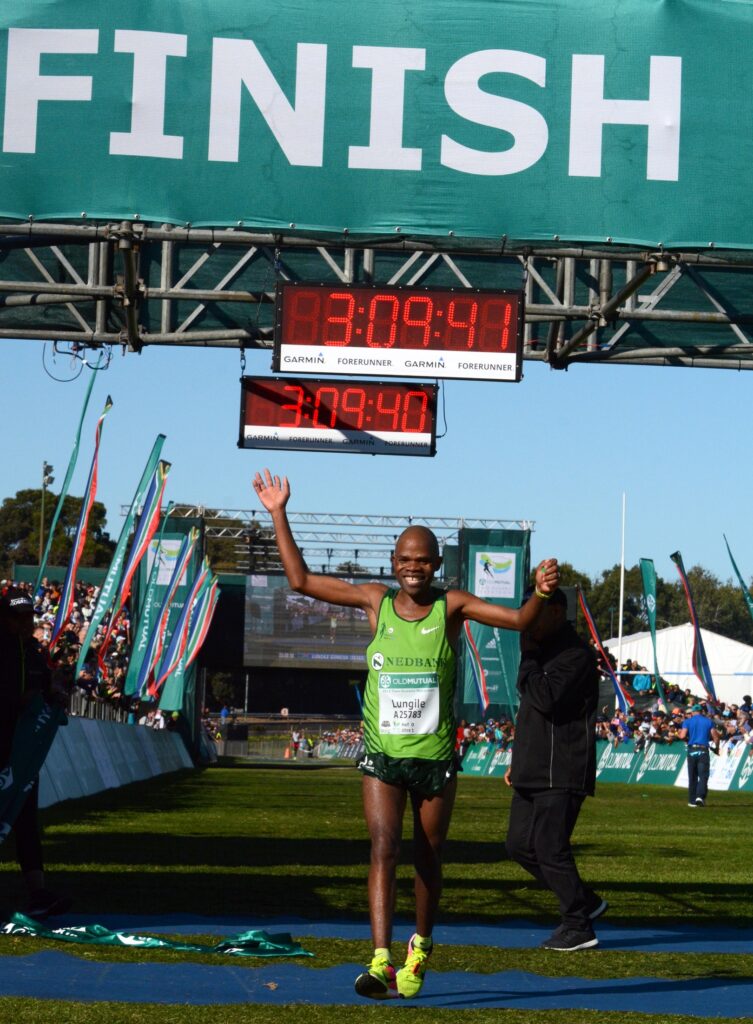 Meanwhile, the resignation of the former board chair, Rodney Maharage who, together with the head of the finance committee, Safwaan Lewis, had been the subject of an investigation into alleged financial and governance irregularities was seen by some members as an appropriate step to commence with a clean slate. However, the re-nomination of Lewis by Celtic Harriers to serve again on the board was questioned and could become a flash-point for future disputes.
With four nominees each from founder-club Celtic Harriers and Western Province Athletics to serve on the 2021 board, the AGM election focussed on the election of three 'ordinary members', with Graham Benz continuing to serve in that capacity for another year.
Allan Ryninks, William Swartbooi and Elizabeth Short were elected from eight candidates nominated, although considerable confusion resulted from the late withdrawal of the candidacy of James Evans and Sue Ullyett.
Ryninks is the chair and founder of the Wildrunner Athletics Club and has 40 years experience in IT, financial management and independent brokerage in the corporate field. He has been associated with the TOM since 1983 and is a returning board member.
Swartbooi is an executive life coach with extensive human relations, labour and industrial relations experience for the City of Cape Town and degrees in municipal finance and public administration from the University of Stellenbosch. He has run ten Two Oceans Ultra Marathons and four half marathons and has served on the board for six years.
Short is a newcomer to the board. She is current race director for the Satori Athletics Club with over fourteen years' experience in event management, having founded her own event management company. She holds B Mil degrees in Human Sciences and Security and African studies.
While the commitment to global excellence is welcome, several prominent distance-running athletes have expressed concern for the current state of TOM, while expressing their hope for one of Cape Town's leading mass events to again reach its former glory days, where it was judged as equal, and even superior, to the Comrades Marathon.
Prominent transport engineer and holder of the most Two Oceans ultra-marathon medals (44) Tony Abrahamson, emphasises four elements he regards as essential for both good governance and to restore the Two Oceans to a world-beating event. "Governance is key. Hopefully those elected at the AGM for 2021 will be competent to oversee good governance. If not others must be co-opted," Abrahamson noted.
"Secondly, forward planning workshops are needed to ensure that the TOM mandate is undertaken and to put to bed, with transparency, all the issues raised in the investigation report.
"Thirdly, it is essential to determine what resources are required to achieve the goals. I am surprised at the small amount allocated for staff – R5 million out of a budget of R30 million. Too many service providers are employed, when better salaries should be paid to ensure top employees can undertake the work themselves.
"And finally, it is important that TOM's (Two Oceans Marathon) financial position is secured.  TOM is fortunate to be able to call on financial reserves in these lean times, but it is essential to land the sponsorships that an event such as Two Oceans demands."
Cape Town Marathon ambassador, Elana van Zyl, is equally concerned at the struggles of the Two Oceans, an event she regards as unique in South Africa as the world's most beautiful marathon. "There is nothing in the world to touch it and it must be re-established as a winning event in its own right," said Van Zyl, who is concerned about the allegations of governance irregularities.
"An event like Two Oceans should never lose a sponsorship," she emphasised. "You don't opt out of an event like TOM unless there is a good reason to do so, and not to have secured a new title sponsor is a major concern.
"As with any major event, it is critical to have the right people behind the steering wheel, but something's not right there and it hasn't been okay for a while now.   COVID has saved the butt of TOM and I would like to see it take its rightful place back in the fold for the City of Cape Town, the Cape Town Marathon and the industry as a whole."
Story by Stephen Granger
©SPNAfrican News www.spnafricanews.com