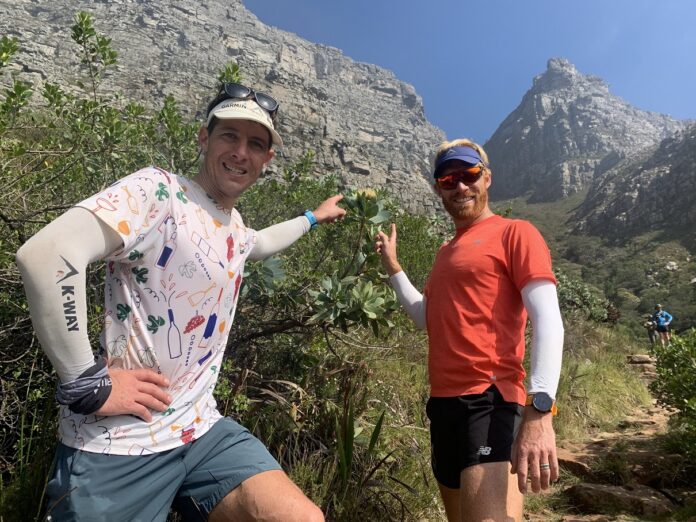 The K-Way team of AJ Calitz and Christiaan Greyling have made it into the Guinness Book of Records with a super-human feat of endurance and strength on Table Mountain on Monday (May 10).
The pair set a world record for a team setting the greatest vertical distance on foot in 24 hours (up and down). They bettered the previous mark of 18 086 metres in their final hour before midnight, achieving a total of 19 376 metres after a mind-and-body-breaking 14 ascents and descents of Platteklip Gorge on Table Mountain.
The previous record was held by an eleven-person Irish team, who completed twelve ascents and descents of the well-known Reek Challenge pilgrimage at Croagh Patrick in Murrisk, Ireland, in July 2011.
Calitz and Greyling have impressive records in ultra-distance mountain running, with Calitz boasting wins at home and abroad, including victories in the Fish River Canyon Ultra-Marathon 100km, the SA Ultra-trail marathon, and the Red Bull Lionheart Challenge on Lions Head. Greyling has countless podium finishes to his credit, including wins at Ultra-trail Cape Town 100km and the Otter African Trail Run.
"To become a record-holder requires determination, extraordinary skills and commitment," states the information page in the Guinness Book of Records. "Before applying for an existing record, check the current information and make sure you've got what it takes to break the record."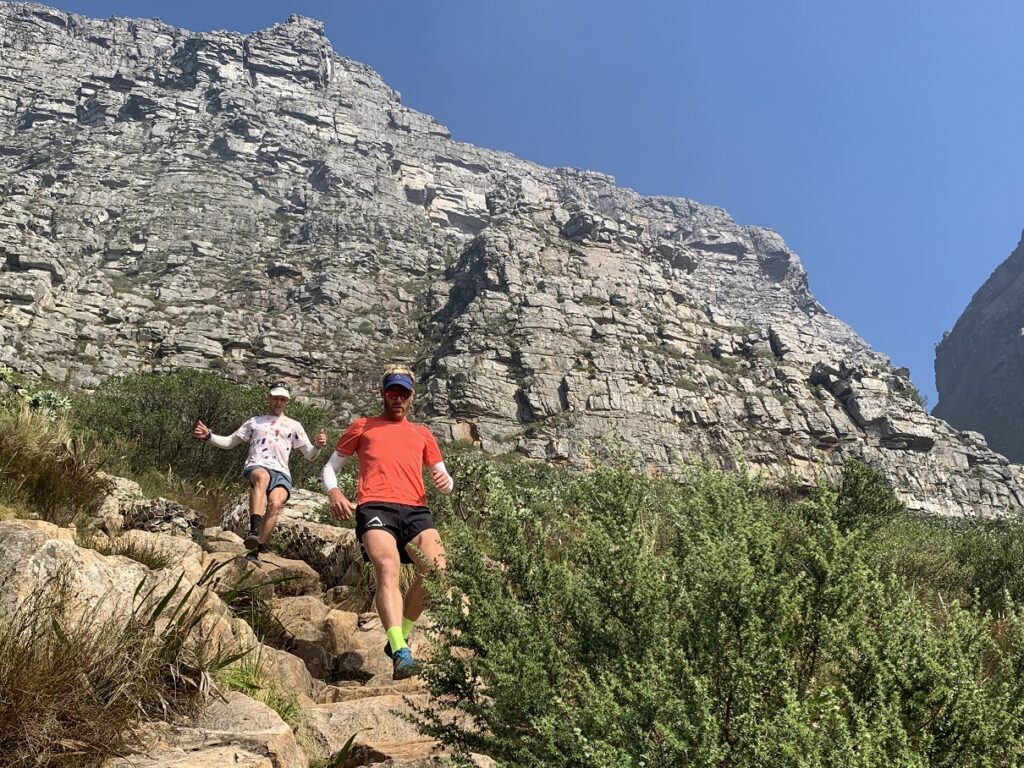 Undoubtedly Calitz and Greyling had what it takes, but they cut it fine. Although they reached the previous record with over an hour to spare, just 86 metres of height into their fourteenth ascent, they were determined to complete the final circuit. They reached the trail head at Tafelberg Road for the final time only minutes before midnight before racing to their Kloof Street hotel base before the curfew took effect.
"We are absolutely broken but so happy and grateful to everybody who helped. This is nothing short of a miracle and a team effort," said Calitz, who also holds the Guinness World record for The Most Vertical Height Gained in 12 hours (10,257m), set on the same mountain in 2014.
"I chose Christiaan to be my partner in this attempt as he is the only one crazy enough to take on an adventure such as this!"
Just over two weeks after placing second in the Ultra Trail Drakensberg 100km, Greyling was nonetheless up for the challenge. "We've been planning this and procrastinating for some time," admitted Greyling. "But with tomorrow the last day for the official application, we decided we had to do it today (Monday).
"And because of the curfew, we only had 20 hours to complete the challenge. It was exhausting – fatigue set in as it was a very hot day…but there was no way we could stop. AJ, was strong and motivated me to triumph in what was an achievement of two very dedicated teammates."
The pair got off to a flying start shortly after 4am, completing the first circuit in under an hour. "We knew it would get hot later," explained Calitz. "And we wanted to be able to bank some time by getting ahead of schedule in the cool pre-dawn hours."
Later they slowed to a consistent 1 hr 20 to 1hr 30min per circuit, to stay on course to achieve the record and they ended in triumph, grateful for the support of their team and to have raised awareness for Edunova, a Non-Profit Company focused on the effective use of technology in disadvantaged schools throughout South Africa.
"It's not so much the ascents which are challenging," reflected Calitz. "But it's the descents which really hurt the body."
Now that the world record for the fastest team ascent and descent is in the bag, would Calitz take on the attempt on the individual record for the most ascent and descent in 24 hours, currently held by English athlete, Ben Wernick, who achieved an incredible tally of 22 676 metres in 24 hours in September last year?
"Now's not the time to plan to take on anything else," laughed Calitz. "I'm exhausted.  All I want to do now is to rest and spend some time with my family."  
Story by Stephen Granger
©SPNAfrica News
www.spnafricanews.com