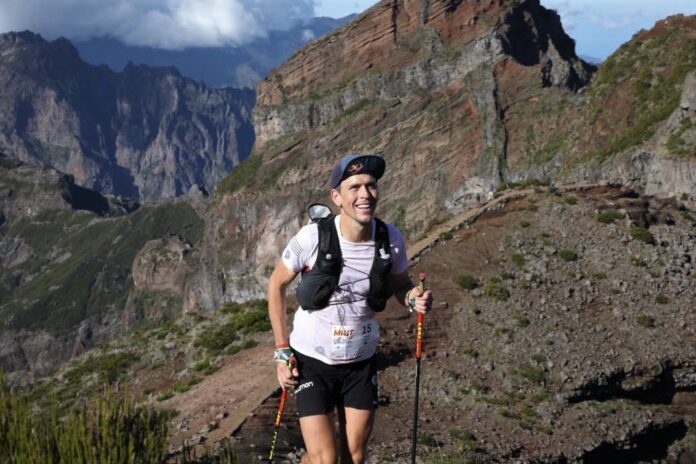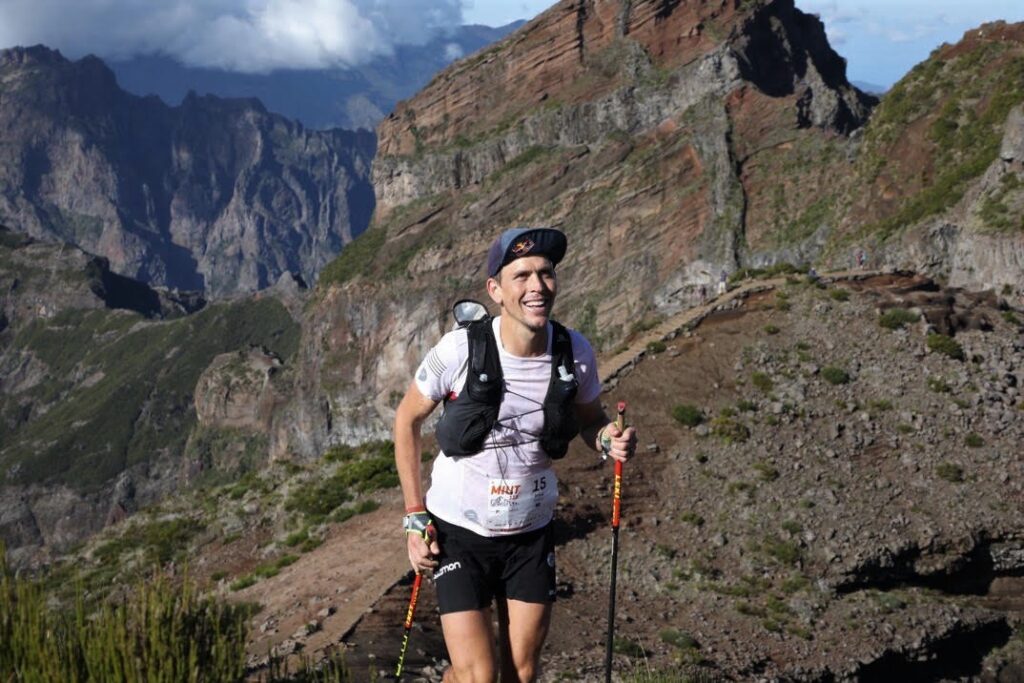 by Stephen Granger
African interest in ultra-trail running centred on the Southern Drakensberg Mountains in the NE Cape and on the Atlantic Ocean island of Madeira over the weekend, with Simon Tshabalala and Ryan Sandes achieving notable results.
Simon Tshabalala rounded off his successful season with an emphatic victory in the K-Way Skyrun 100km on Saturday 21 November, following his record-breaking victory in the neighbouring province, Free State's Four Peaks Challenge in September.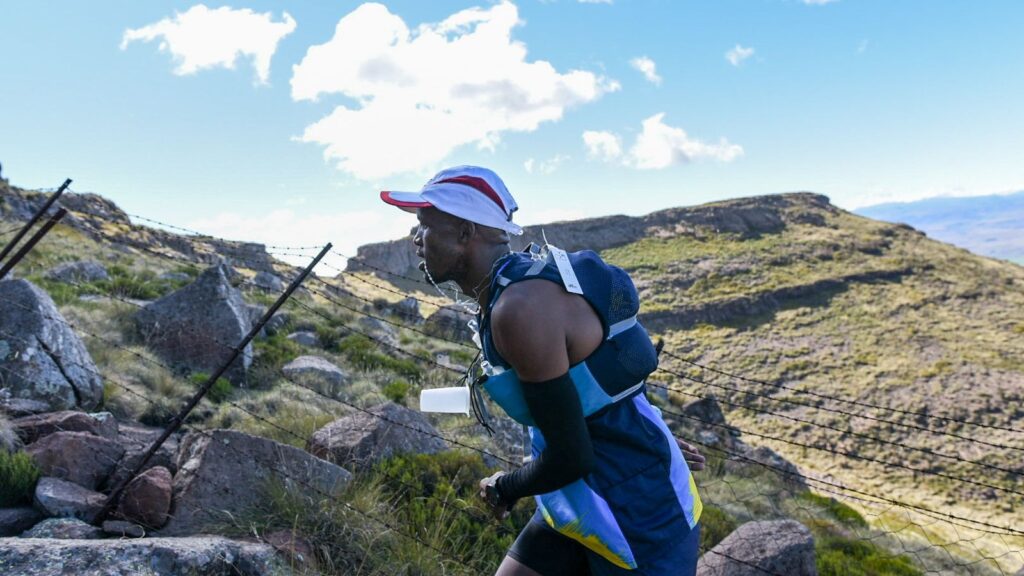 And following a 'DNF' at the Ultra-trail Mont Blanc 100 miler in August, Sandes bounced back with a solid run in the Madeira Ultra-trail 115km race, bagging eighth position against a strong international field.
Tshabalala won last year's Skyrun 65km race, also in record time, and opted to upgrade to the 100km this year. In two year's since winning the MaxiRace Winelands 100km in Stellenbosch, Tshabalala has gone from strength to strength to establish himself as one of the country's leading ultra-distance trail athletes and is eager to test himself in next year's Ultra-trail Cape Town 100km.
Tshabalala missed the long-standing Skyrun course record by just seconds in a superb 12 hrs 09 min 38 sec to win by almost 50 minutes ahead of strong-running Stellenbosch duo Grobler Basson and Christiaan Greyling, who dead-heated for second in 12:58:44 – the first time three athletes have beaten the 13 hour barrier.
Pretoria 'TrailPhysio', Tarrin van Niekerk, scooped her first 100km title when she overtook Jess Barrow in the last quarter to finish 8th overall and win the women's contest in 16:30:56 – way inside her stated pre-race goal of running faster than 20 hours. Jade Pickard completed the podium.
But spare a thought for South Africa's leading ultra-trail athlete, Nicolette Griffioen, who was forced out of the race at 60km, suffering dehydration. The Gauteng athlete had taken the lead from the start, running in 5th position overall and forty minutes ahead of Barrow in second after 50km.
Mjongile Masilo improved Tshabalala's record, set last year, in the 65km race, winning with and impressive 8:09:33 ahead of Erhard Sauer and former winner AJ Calitz, with Landie Greyling celebrating a return to the top of the podium, with an impressive 9:41:51 victory in the women's race, with 2021 Hout Bay Trail Challenge winner, Kristen Heath, and Natalie van Reenen also dipping below 10 hours in a close contest.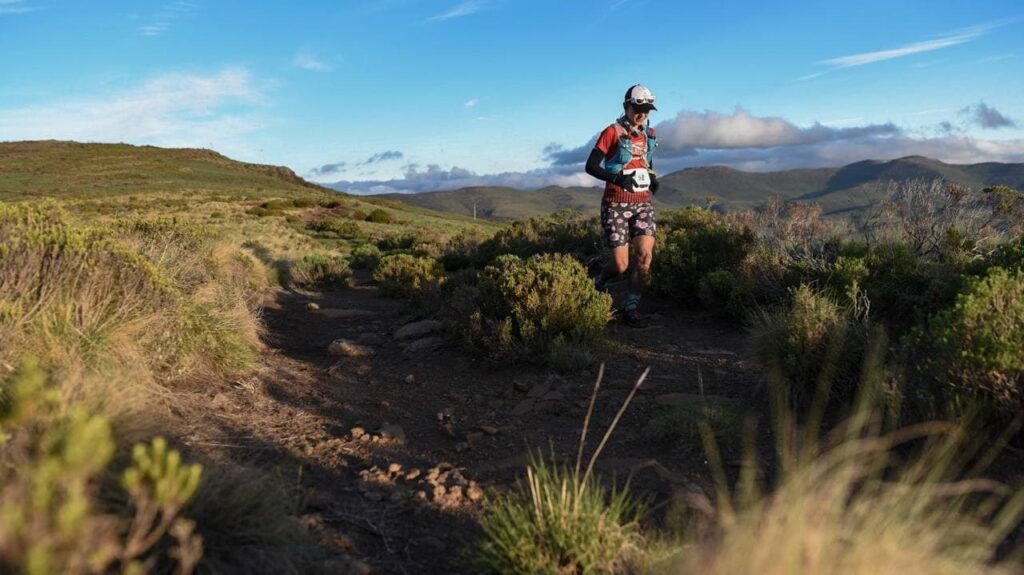 Delphinus Sauer and Carla Beyers were the respective winners of the 38km event.
On Madeira, Sandes was below his best on the challenging mountainous route across the length of the island, but nevertheless was able to fight through to an excellent top ten finish, moving from 11th position to 8th in the final quarter of the event.
The charismatic Cape Town runner was using the race as preparation for a final attempt on a strong Ultra-trail Mont Blanc 100 miler next year, in particular, to hone his skills with the use of ski-poles, and pronounced himself satisfied with his race, which was won by German Hannes Namberger in emphatic style in 14:00:36 – over forty minutes clear of Russian athlete Dmitry Mityaev.
" I was hoping to be more competitive but I am glad the poles felt good, so that is a positive," Sandes reflected. "My climbing was up there with the best of the runners but they were a lot quicker than me on the downhills, especially at night … the downs were very technical. But this is at least a step in the right direction for UTMB."
Results
K-way Skyrun 100 km
Men: 1 Simon Tshabalala 12:09:38; 2 Grobler Basson 12:58:44; 3 Christiaan Greyling 12:58:44; 4 Bruce Arnett 16:19:12; 5 Piers Cruikshank 16:19:12
Women: 1 Tarrin van Niekerk 16:30:56; 2 Jessica Barrow 17:13:26; 3 Jade Pickard 18:58:40; 4 Sandra le Roux 19:37:07; 5 Janneke Leask 19:37:07
K-way Skyrun 65 km
Men: 1 Mjongile Masilo 8:09:33; 2 Erhard Sauer 8:18:16; 3 AJ Calitz 8:38:23; 4 Nick Stubbs 9:28:31; 5 Wim Steenkamp 9:59:20
Women: 1 Landie Greyling 9:41:51; 2 Kristen Heath 9:53:04; 3 Natalie van Reenen 9:57:46; 4 Jessica Stubbs 10:32:05; 5 Michelle Fourie 11:28:45
K-way Skyrun 38 km
Men: 1 Delphinus Sauer 5:04:01; 2 Mawethu Chale 5:15:45; 3 Werner du Preez 5:43:27
Women: 1 Carla Beyers 6:30:25; 2 Jolene Wium 6:43:05; 3 Elke Harms 6:49:53
Madeira Ultra 115km
1 Hannes Namberger (Germany) 14:00:36; 2 Dmitry Mityaev (Russia) 14:41:49; 3 Jean-Philppe Tschumi (Switz) 14:49:28; 4 Aleksei Tolstenko (Russia) 14:59:14; 5 Robert Hajnal (Romania) 15:10:16; 6 Sam McCutcheon (NZ) 15:15:38; 7 Benat Marmissolle (France) 15:23:47; 8 Ryan Sandes (RSA) 15:37:38; 9 Maxime Grenot (Fr) 15:37:30; 10 Greg Vollet (Fr) 15:45:12
©SPNAfrica News
www.spnafricanews.com