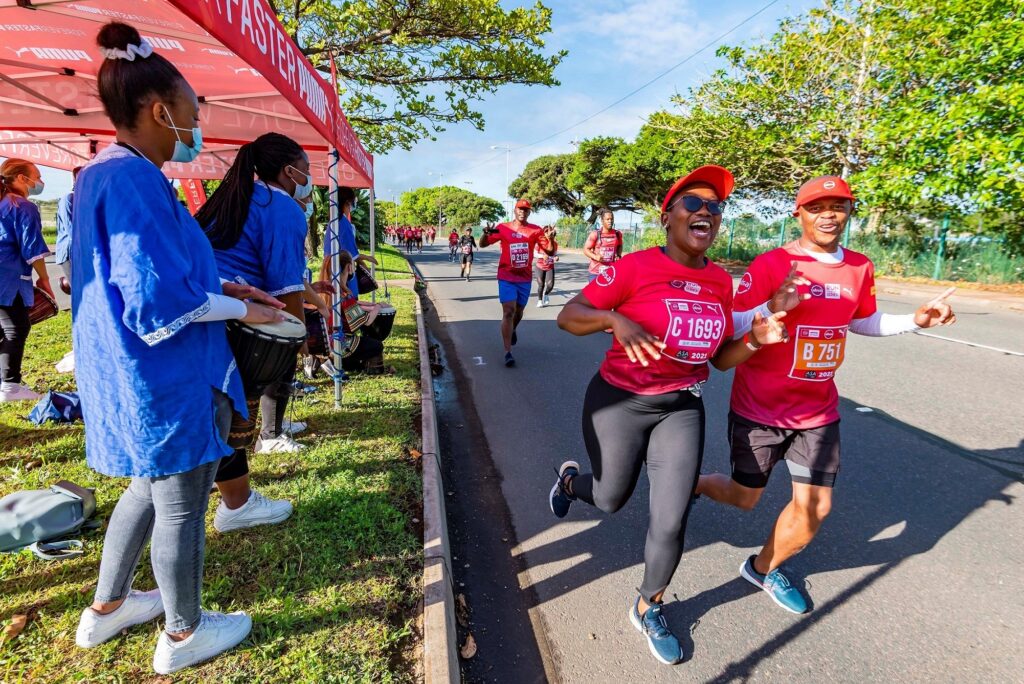 By Stephen Granger
The colours have changed to red to reflect the new sponsor and the race name has been tweaked, but the excitement, 'gees' and sporting excellence which characterised the popular 'Onerun' in recent years and brought a world best time to the 'Mother City' is back this Sunday (November 21) in the form of the Absa CAPE TOWN 12km CITYRUN.
Modelled on the explosive short distance road races, the "Bay to Breakers" in San Francisco and "City to Surf" in Sydney, the CITYRUN series in Johannesburg, Durban and Cape Town over 10km and 12km has proved a winning formula both in terms of party vibe and pace, with any number of local, national and world records having been set in recent years, notably the world 12km best time of 33 min 27 sec set by Kenyan Morris Munene Gachaga in Cape Town in 2017.
COVID caused a shift in date for the Cape Town race from the traditional May to November this year after last year's cancellation, and four thousand runners will celebrate its return on Sunday along the traditional route from Milnerton to the Cape Town CBD along the coastal road and through the harbour precinct.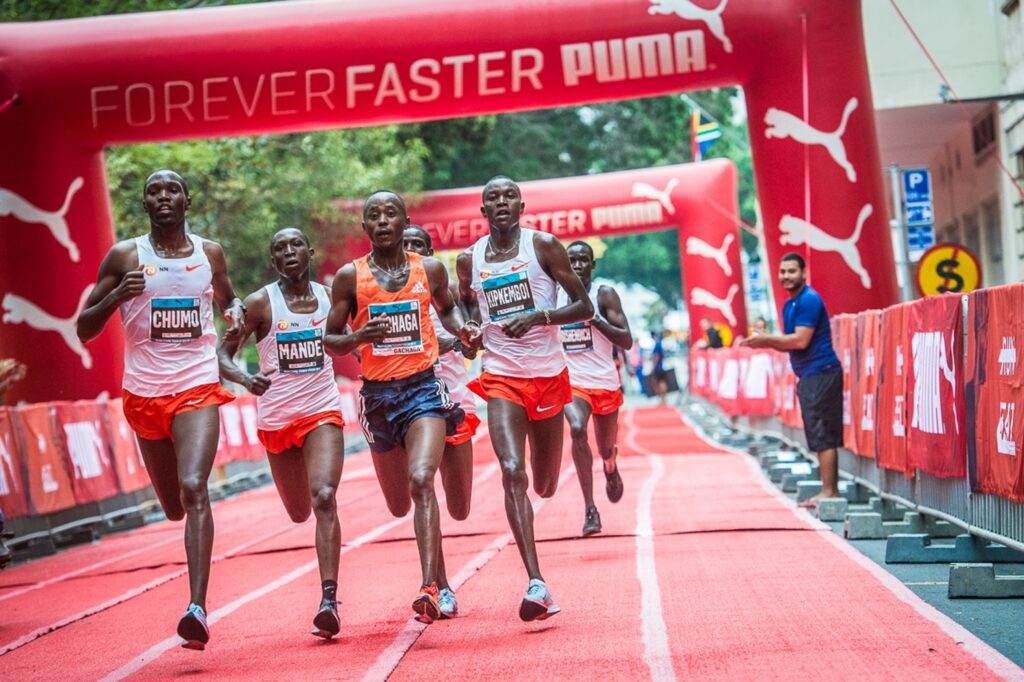 And there will be plenty of party, promises Stillwater Sports' Managing Director Michael Meyer, whose vision brought the successful series to the continent.
"We can promise more entertainment along the route than any race in South Africa," Meyer said.
From start to finish, entrants can look forward to experiencing live performances by Cape Town's leading performing arts groups, as well as spectacular sponsor activations including a vibrant Absa encouragement point, the fast-paced PUMA Beat Bolt Sprint and the 'DHL Mile To Go'.
"The upcoming Absa Cape Town 12K CITYRUN aims to inspire the country to get active, for runners to reach their performance goals and connect with old and new friends on the road. We look forward to seeing participants at the finish line," said Absa Managing Executive: Relationship Banking Western Cape and Eastern Cape, John Tshabalala.
While the race encourages fast times over 12km, runners will have every incentive to run even faster over a short 100 metre stretch during the race as they flash through the 'Puma Beat Bolt Sprint'.
"We can't wait to get the heart rates pumping in Cape Town," said Brett Bellinger, Marketing Director of PUMA South Africa. "This activation requires speed, so be prepared to prove that you have what it takes to go #ForeverFaster."
There is serious motivation to run this 100m dash like the legendary Usain Bolt, with the fastest male and female runners through the sprint pocketing R10 000 PUMA Retail Shopping Experience vouchers. And there are plenty of additional prizes on offer for runners who complete the sprint in under 15 seconds (30% discount off a purchase at a PUMA store), under 20 seconds (20% discount) and under 25 seconds (15% discount).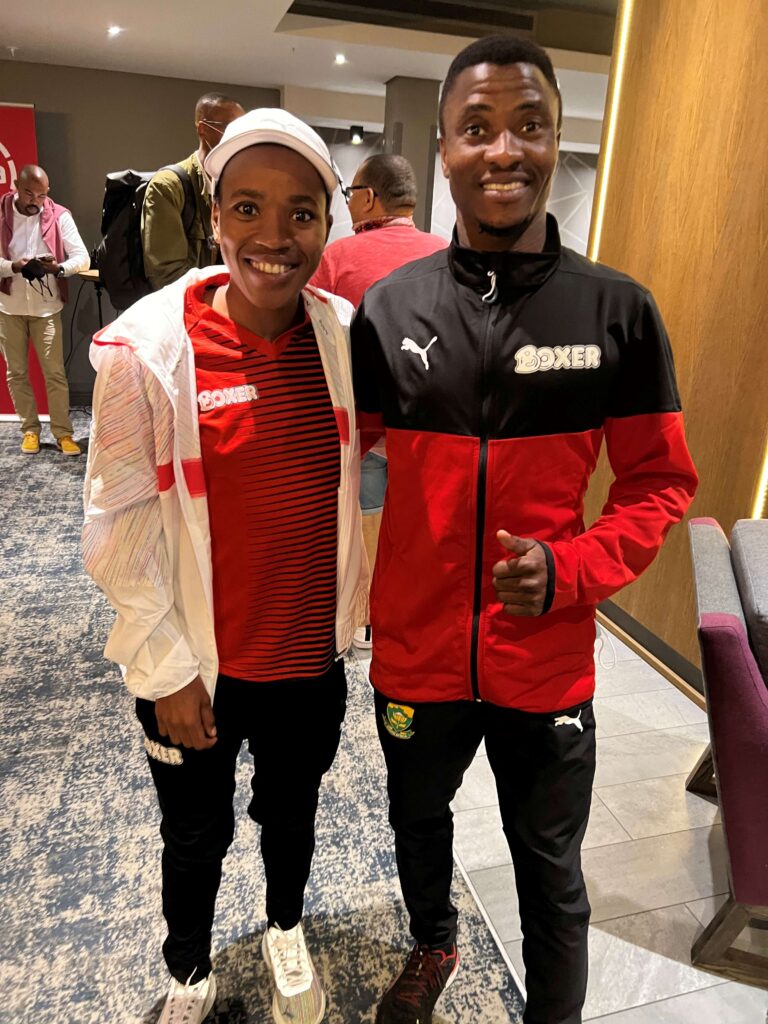 One mile or 1.6km from the finish, runners will receive a major boost to flagging muscles.
"Our team absolutely love cheering for runners especially as they pass through the 'DHL Mile To Go' – a lively celebration of yellow," said Megan Collinicos, VP Marketing DHL Express Sub-Saharan Africa. "The goal is to lift spirits through bringing the 'gees'."
Runners will be treated to live performances by a number of Cape Town's leading performing arts groups including the Marimba Cape Whalers outreach group, comprising children and young adults from communities in Macassar and Firgrove, AfroBeat Drumming, Macassar Color Guard and Youth Drumming Ensemble Troupe and The Field Band Foundation Brass Band.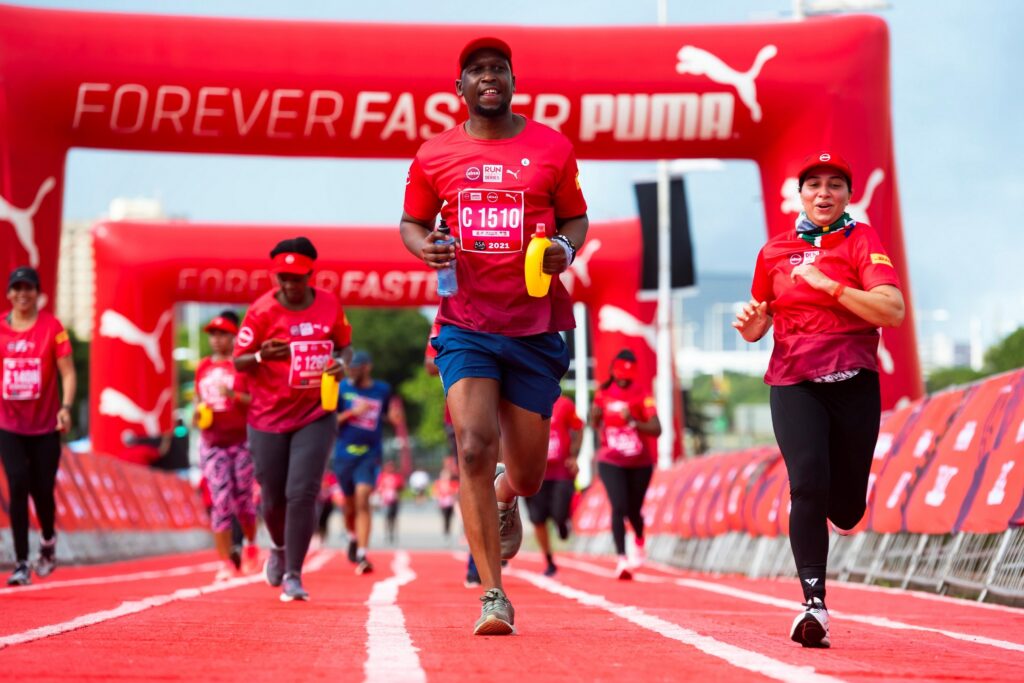 While party will be front and centre for most of the runners, there will be no shortage of pace up front with some of the world's fastest in action. Two of Kenya's best will take on South Africa's finest duo in what should prove an electrifying race. Each of the last five Cape Town 12km races has yielded fierce competition, with one near dead-heat and three ending with just one second separating the top two. More of the same can be expected in Sunday's race
Morris Munene Gachaga won the last three Cape Town races, in the process recording a world best 12km road time of 33 min 27 sec in his first attempt in 2017. He is back to make it four out of four in a city which he now regards as 'his second home'. "The best race of my life was in 2017 when I ran a world best time," said 26-year-old Gachaga at the event media presser on Friday 19 November. "I feel completely recovered from the Paris Marathon where I ran my marathon PB (Gachaga clocked 2:05:09 for 6th place five weeks ago, just 46 seconds behind his compatriot, Elisha Rotich, who won the race).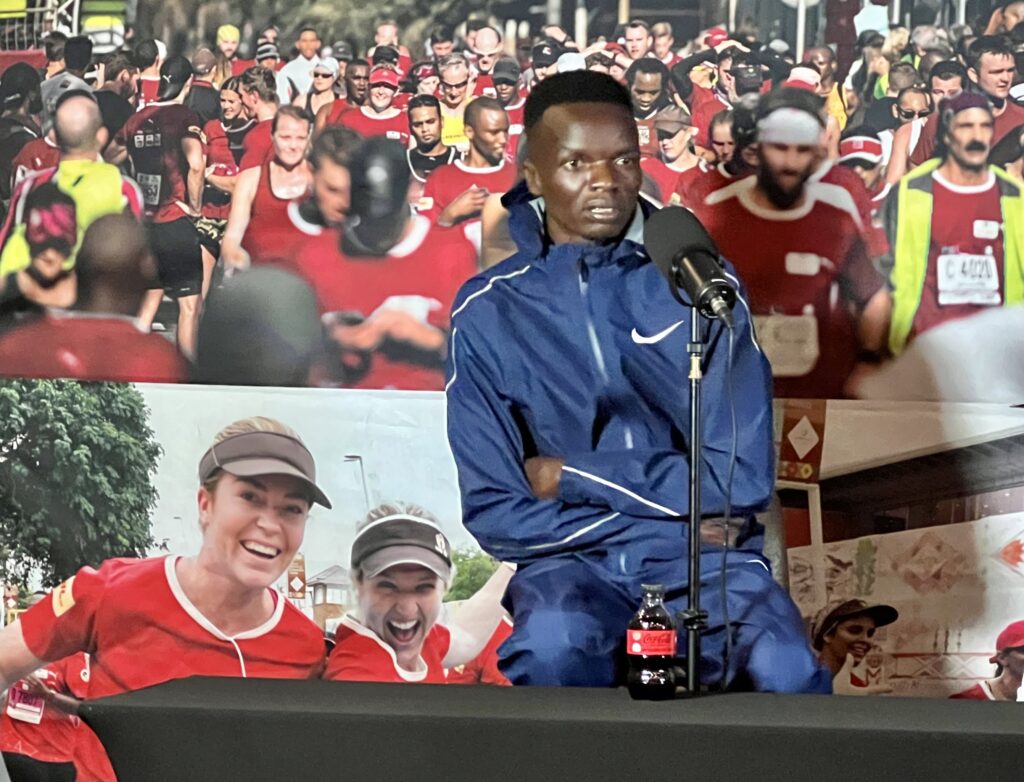 But it is his Kenyan compatriot, Daniel Simiyu Ebenyo, who has been more vocal in his plans for Sunday. "I'm going to beat the world best time in Cape Town," Ebenyo stated boldly. And with a 27:12 10km best time to his name, few would doubt his ability to do so if the weather plays along.
But South Africa's leading distance athletes, Stephen Mokoka and Precious Mashele, have no intention of handing the glory and prize money to their East African rivals on a plate. Both are world-class athletes who have raced with and beaten some of the best in the world. And Mokoka's victory in the 2016 Cape Town race is an indication of what might be possible.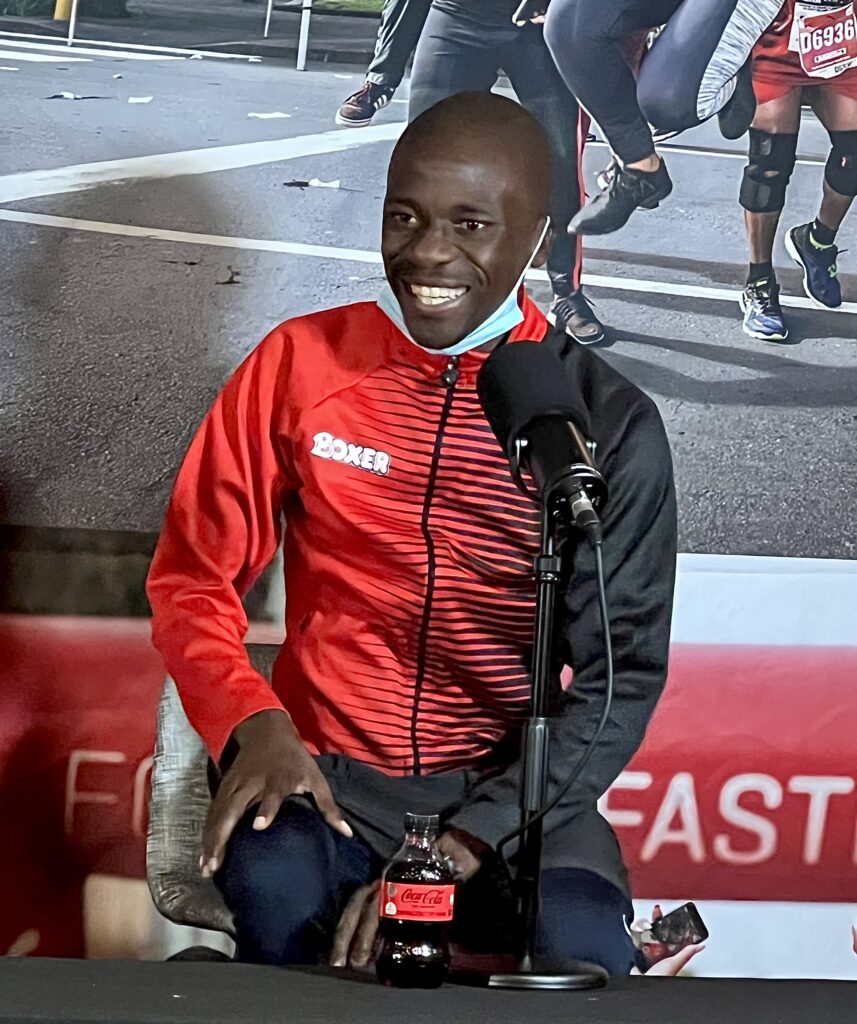 Teaming up with a number of fellow South Africans, including Elroy Galant and Gladwin Mzazi, Mokoka beat the Kenyans at their own game and with Mashele as his 'wingman' this year, anything is possible. While Mokoka's racing acumen is unrivalled in South Africa, however, it could be the younger Mashele who comes to the fore, having beaten Mokoka in the national half marathon and 10km championships this year.
"Precious is in great shape," his coach Hendrick Ramaala confided. "He will fight for a win on Sunday – he is used to racing Kenyans."
"I'm delighted that Absa and the team have brought us back to road action," Mokoka said at the media launch. "It's great to hear the race sold out so quickly. Normally you only hear about races in Europe being a sell-out, so this shows you how much people are eager to get back to road competition. And it's great for me, because usually I have to tell my family that I beat only 100 runners. Now I can say I beat 4000!
"I'm not sure about predicting the time," Mokoka added. "In Cape Town, the weather is always a factor. But on Sunday it will all be about the win!"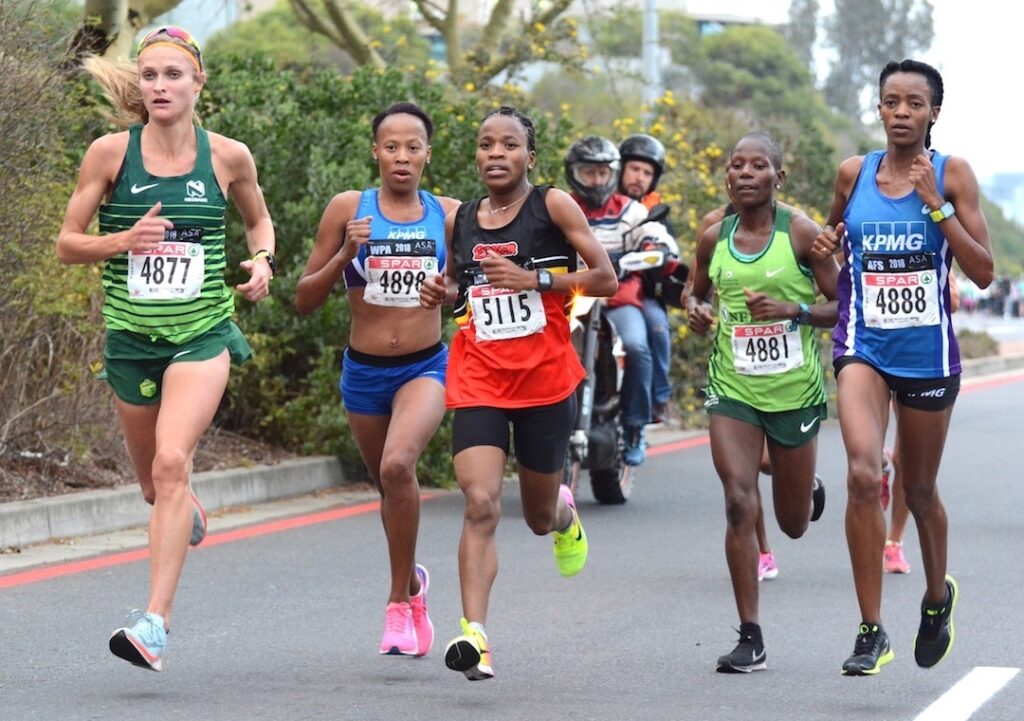 The women's contest sees Lesotho's Neheng Khatala renew her rivalry with a resurgent Kesa Molotsane and stalwart, Glenrose Xaba. Unlike many elites, social anthropologist Molotsane works full time at the University of the Free State and cannot focus 100% on her athletics, but she appears to have regained the form which has taken her to national titles on road and in cross country. Molotsane took third place in a personal best of 32:51 in a dash to the finish in the Absa DURBAN 10km CITYRUN three weeks ago.
Pretoria-based Glenrose Xaba struggled in Durban with a knee ligament issue, but still managed to finish 4 th overall with her second fastest time of the year. A fit Xaba is dangerous and with a 10km best of 32:45 and a new coach in Caster Semenya, she will not be far off the pace at the business end of the race.
Stillwater's Meyer plans to make the Absa RUN YOUR CITY series the greatest road series in the world and a major announcement on next year's plans can be expected in the near future. But for now, all eyes will be on Cape Town and the expected fireworks from athletes and entertainers alike.
The race will be broadcast live on Supersport (Channel 208) from 06h45 on Sunday with the women's elite starting at 07h00 and the elite men off 10 minutes later.
©SPNAfricaNews
www.spnafricanews.com