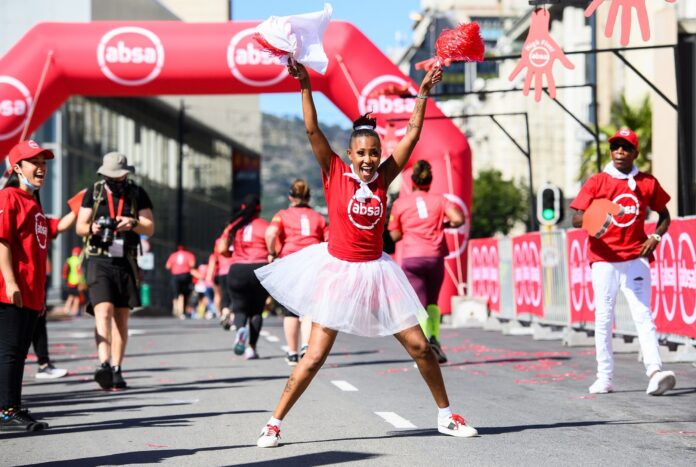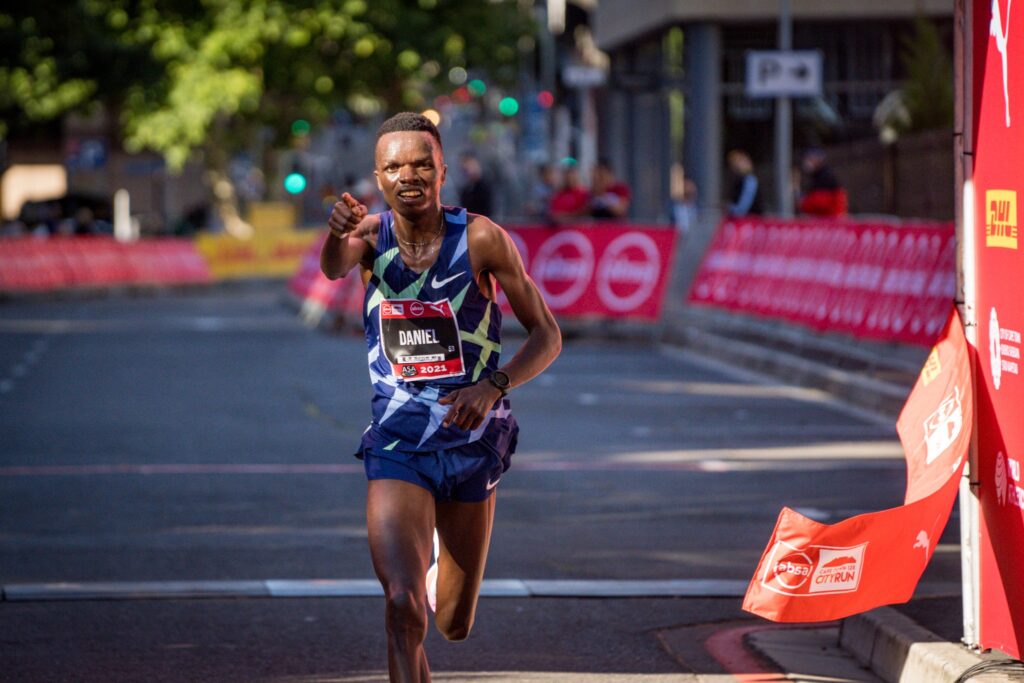 By Stephen Granger
Cape Town's Central Business District came alive at the Absa CAPE TOWN 12km CITYRUN this morning (Sunday 22 November) with world-class Kenyan athletes Daniel Ebenyo and Jesca Chelangat scooping the big prizes.
From the Heerengracht, up Adderley, through the Company Gardens and back down Long, the streets pulsated to the music and rhythms of local music bands and were ablaze with red branding of race sponsors Absa and Puma, as over 4000 runners made merry in a back-from-COVID return to mass-event road running.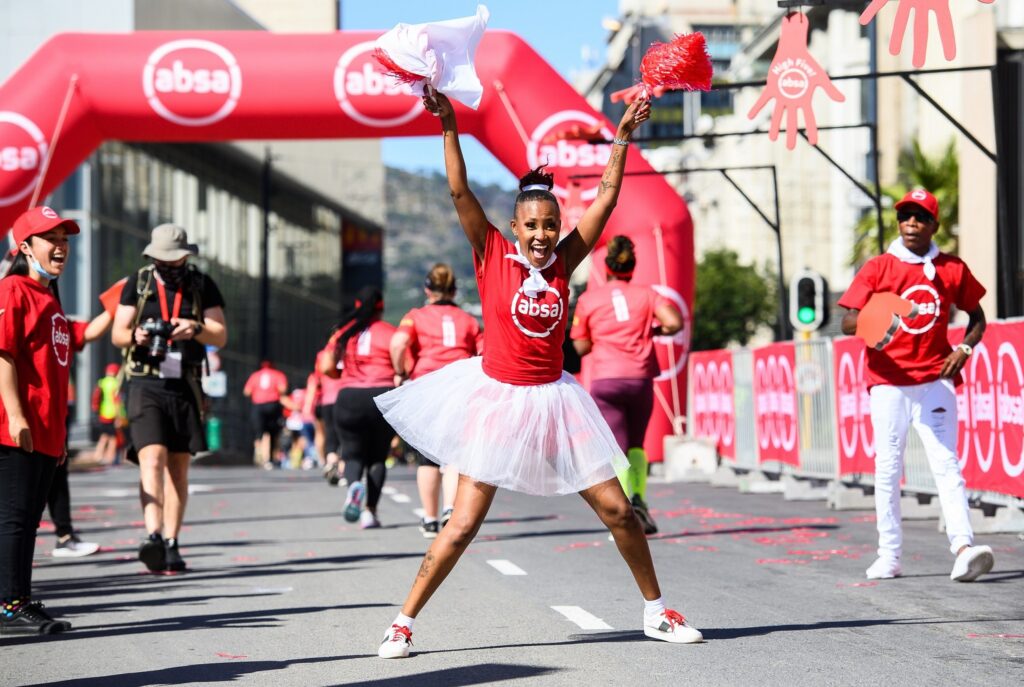 The predicted gale-force winds miraculously dropped almost enough to provide opportunities for record times.  But almost was never going to be enough for world-best performances and while conditions in the city centre were breathless, that was not the case at the start at Woodbridge Island in Milnerton. Runners faced a headwind for the first half of the race, putting paid to any chance of a record.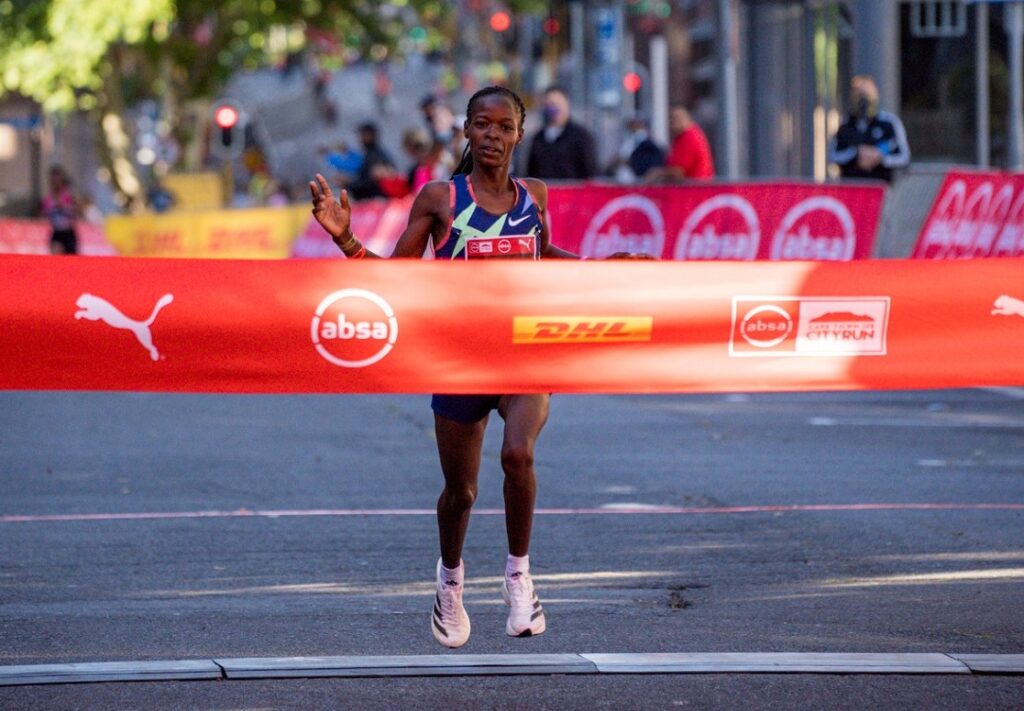 The wind suggested the race would be about tactics rather than time, but 26-year-old Kenyan Ebenyo decided otherwise, racing clear from the start in a remarkable run to post 34 min 01 sec – just 34 seconds off his compatriot Morris Gachaga's world best 12km time set at the Cape Town event in 2017.
"I don't want anyone to be near me in a race," the confident Kenyan explained. "I said I would go for the world best and I wanted to give it a go. There was a lot of wind up to 7km which ruled this out, but I'm happy with my run.  I've had a good 2021 (which included getting to the finals of the 5000m at the Tokyo Olympics) which has now ended with a good result in Cape Town. Next year with the Commonwealth Games I'm planning more victories.
"If I'm invited back to the 2022 race in May, for sure I will come. Africa is our home and I will always support important races on our continent."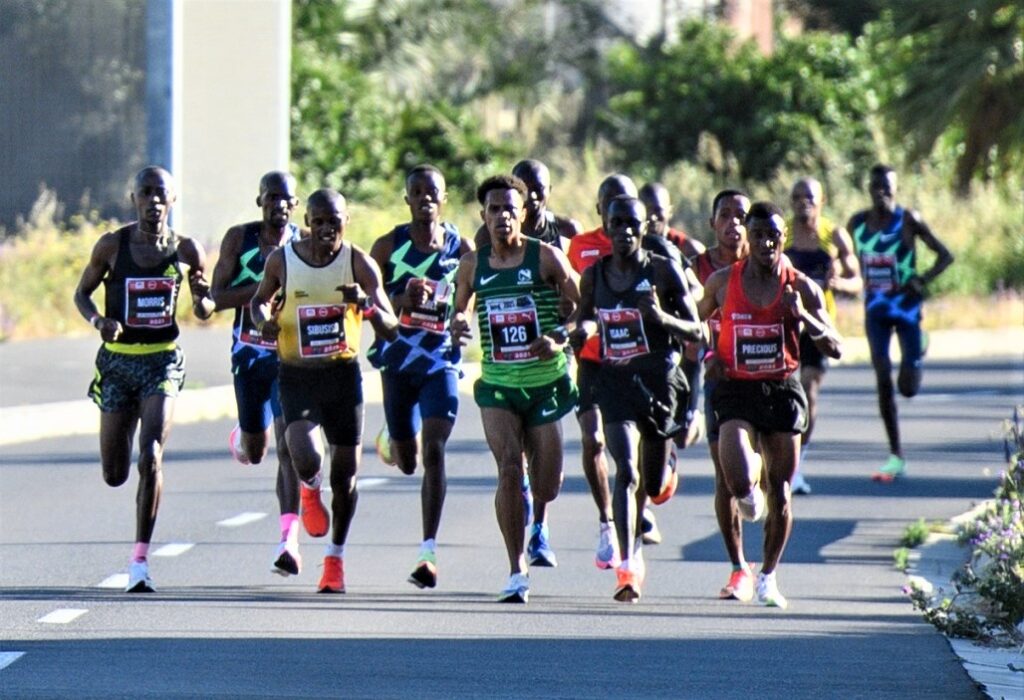 Unlike Ebenyo, Chelangat was more cautious, allowing South African Irvette van Zyl to set the pace early on, then running in a "six-pack" with her compatriot Diana Chesang, Lesotho's Neheng Khatala and South Africans Glenrose Xaba, Kesa Molotsane and Van Zyl.
The Kenyans increased the pace as the wind dropped after halfway and the South African trio dropped back, leaving Khatala and Chelangat to do battle over the last 2km. Chelangat surged ahead as the athletes turned into Long Street 800m from the finish to win by 14 seconds in 40:01.
"I feel good for my win because it was my first time in South Africa," said Chelangat. "My training went well but it was a surprise to be in Cape Town as I only heard from my manager a week ago that I would be running! I was not sure I would win as Neheng was running well. I tried to push it and just got in front."
Khatala, who had qualified for the Olympic Marathon at a Cape Town marathon in May, triumphed in the shorter format with an excellent second place in 40:15, ten seconds ahead of Chesang with first South African, Xaba, fourth.
10 000m Olympian, Precious Mashele, had beaten fellow-South African Stephen Mokoka in the first of the RUN YOUR CITY series – the Absa DURBAN 10km CITYRUN – three weeks ago, but when it comes to high-speed duals with the world's best, Mokoka has no equal in South Africa.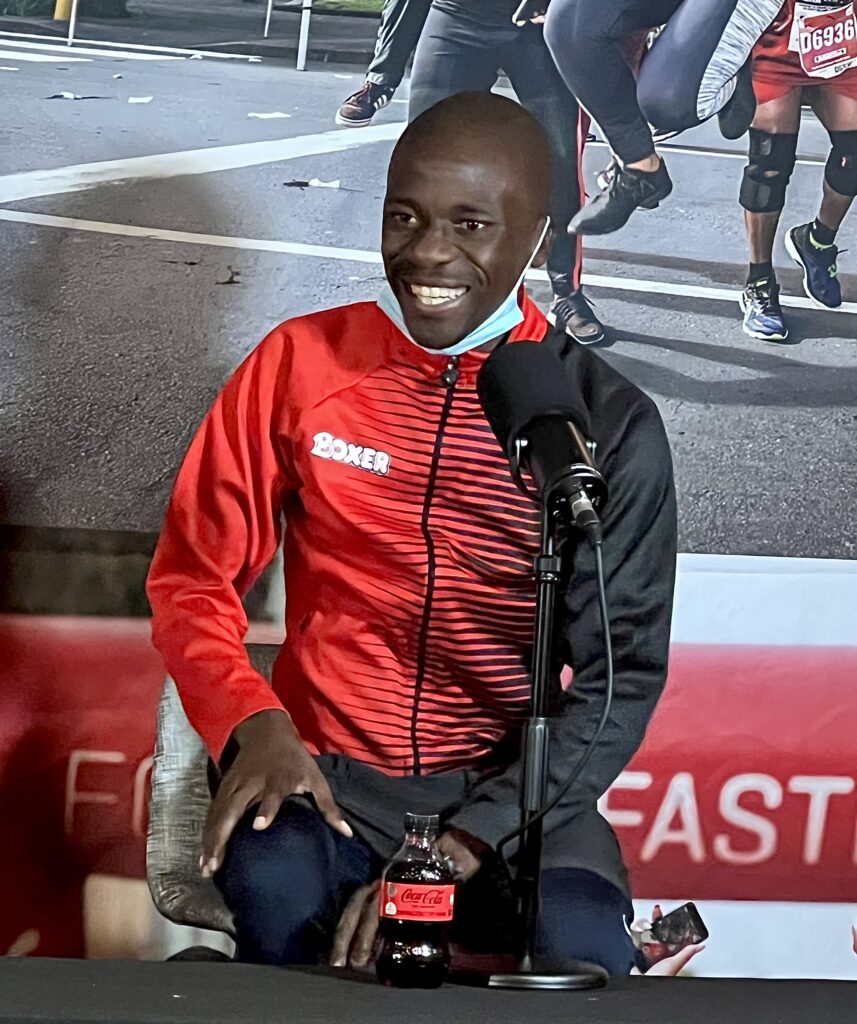 The 36-year-old was clearly the 'elder statesman' in the eight-strong chasing pack, which passed 5km in 14:40 – 21 sec behind Ebenyo. Mokoka covered every attempt by Kenyans Isaac Kipkemboi and Meshack Lelgut to break clear and put in some surges of his own, as surprisingly Gachaga and then Mashele fell behind.
Just two – Mokoka and Kipkemboi – were left chasing the runaway Ebenyo as the athletes headed up through the Company Gardens, with the Kenyan outsprinting Mokoka by just three seconds in the final dash for the finish line, clocking 34:43 for second place.
"The race was tough into the headwind for the first 5km," Mokoka reflected. "Considering the conditions, I'm happy with my 34:46 time. Daniel used the wind to go on his own and open a gap early on which was just too big to close.
"I'm not sure what next year's season holds, but I will certainly return in May if my schedule permits. Ideally, I would need 8 to 10 weeks to prepare properly for this race and to be competitive against the Kenyans, but I still believe I can post faster times in this race.
"The course is fast and conditions in May are perfect. With the right pace-making and the strong support we enjoy from the sponsors and Stillwater Sports, I believe we can really make the world sit up and take notice."
©SPNAfrica News
www.spnafricanews.com