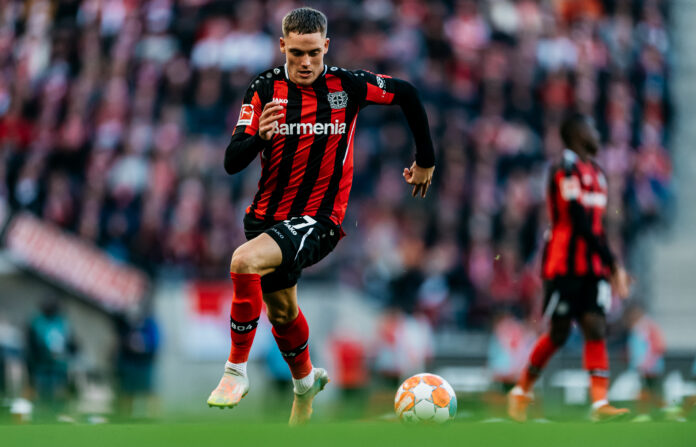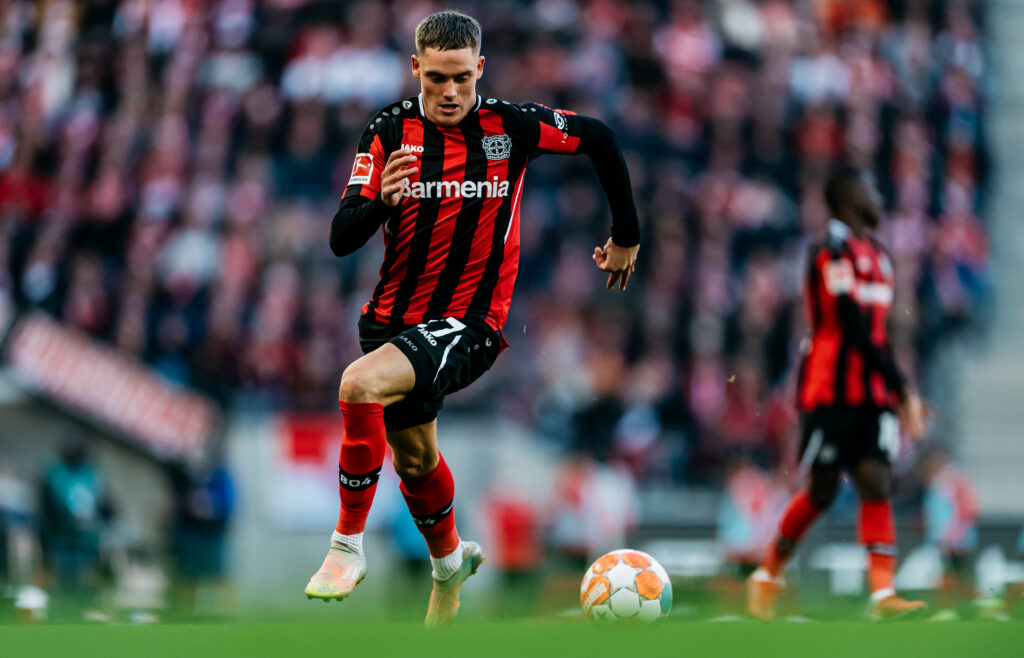 A goal-filled Sunday rounded out Matchday 23 as FC Bayern München, Borussia Dortmund and RB Leipzig cruised to big wins. Once again, the Bundesliga matchday was the highest scoring of all top European leagues, providing excitement, action and surprises throughout the weekend.
This week, we profile one of the Bundesliga's – and Germany's – most exciting talents: 18-year-old Florian Wirtz. The Bayer 04 Leverkusen star has been integral to Die Werkself's success both domestically and in Europe. Our interview transcript is from the man himself: on his move to Leverkusen, his success with Germany U21s and his ambitions for the future. He also talks about his first goal for the club, which we have included as a perfect accompaniment to the interview.
Interview with Florian Wirtz – Bayer 04 Leverkusen
Florian Wirtz has been a stand-out player in the league for the last two years. The 18-year-old has already scored seven goals and provided ten assists this season, but there is nothing like scoring your first. Wirtz reflects on that in the interview below:
You moved from 1. FC Köln to Leverkusen. In the region and especially in Cologne, this change was observed somewhat critically. How did you feel about that?
"My switch to Leverkusen and the Under-17 team was solely my decision because I saw a better perspective for myself at Leverkusen, something that came to be. I had a good coach and great teammates that challenged me and made me a better player. Something they still do and that is why I am happy to have made this step. In hindsight, it was an uncomfortable decision, understandably. I now feel very, very comfortable here at Leverkusen. There are many reasons for this and because our team is simply great. That is why I am very happy here."
Your father said that right after the first training session, you told him that you were able to compete in Leverkusen. What did you mean by this statement?
"After telling my father that I was able to keep up after the initial training, I cannot really remember but I thought that I was able to assert myself in training due to my footballing quality. I was able to connect and wasn't falling away from the group even though I was significantly younger. That pleased me because I had never trained with a Bundesliga team before. That is why I proudly told my father. They are happy as well. They could not believe it at first because they were not accustomed to how things are playing for a Bundesliga team. As soon as they were able to watch, they started believing it, I think."
What memories do you have of your first goal in the Bundesliga? "
I think it was a moment that has gone down in history as I was the youngest scorer in the Bundesliga. These are moments such as your debut or your first goal that will always have a special place in your mind. These are things you will always be especially proud of."
You became European Champion with the German Under-21 team. How proud are you of that?
"The Under-21 European Championship was another special experience in my career so far. It was not too long ago. I am very proud of that and having won my first international gold medal. To win it for Germany is another level altogether. I am very happy about it and proud to have been part of the team because we had such a great tournament. We played with such passion and heart. That is why it was such a big feat, not being the favourites and still winning that gold medal."
You wear the number 27 on your back. What relationship do you have with this number?
"The 27 was not my first choice. I initially wanted something else, but it did not work out. In the end, I decided to take the number 27 and now, in hindsight, I am very happy I did because I think it is a beautiful number and I think it looks good on my back. I see people walking around with the number 27 so it will always be a special number for me because I have already achieved and experienced things with it. I hope it will remain on my back!"
What targets have you set yourself?
"Of course, winning a Bundesliga title would be a goal I would like to tick off but there are also other targets for me. I would say that there are two other titles that I would like to win as well, but it would definitely be nice to lift the Bundesliga trophy up in the air."
What can you still achieve with Leverkusen this season?
"2022 is going really well for us. We are playing really well as a team. We will see what comes of it. We are aiming to get into the Champions League. That should be our target – to continue this way until the last match-day and achieve qualification."
Could you win titles with this team?
"Yes, because we have a team with so much quality. We have a lot of young players in the team, which is a strength because we have a lot of energy on the pitch and a lot of pace. That is why we are allowed to dream about winning trophies with this team. We don't know what will come in the future, but we do know that the potential is definitely there."
How much do you enjoy playing for the Germany national team?
"I enjoy playing for the Germany national team a lot. I am very proud to wear the Germany jersey. Something I have been dreaming of since I was a little boy – to run onto the pitch for my country with the eagle on my breast."