31-year-old Scottish athlete Robbie Simpson raced to an emphatic victory at the RMB Ultra-trail Cape Town Peninsula Traverse 55 km (PT55) in windy conditions this morning (Friday 24 November), while Stellenbosch athlete Landie Greyling won the women's race following a dramatic final ten minutes to set the ball rolling for three days of top-quality competition in Africa's biggest trail race event.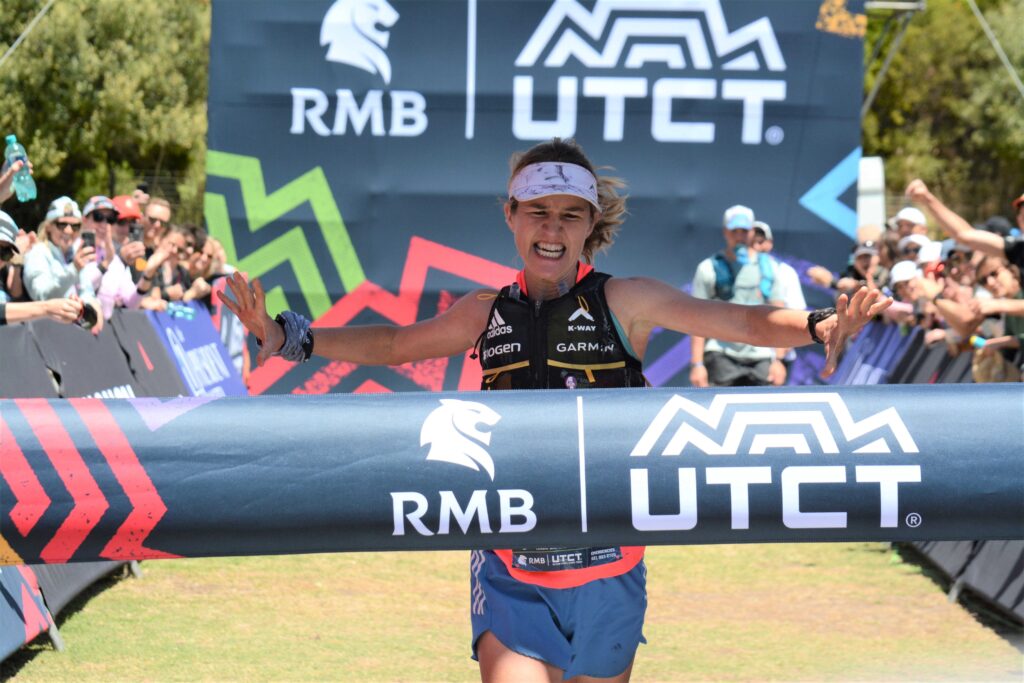 Simpson, a Commonwealth Games bronze medallist in the marathon, showed just why he is rated so highly on world circuits, but for sheer excitement, nothing could beat the showdown between Greyling, her fellow South African Sume van Heerden and German athlete Kimi Schreiber.
With a 17-minute deficit on Schreiber at the UCT aid station just 10km from home, it looked certain she would be racing for second, but crippling leg cramps brought Schreiber to a halt shortly after the sharp climb to Kings Block House.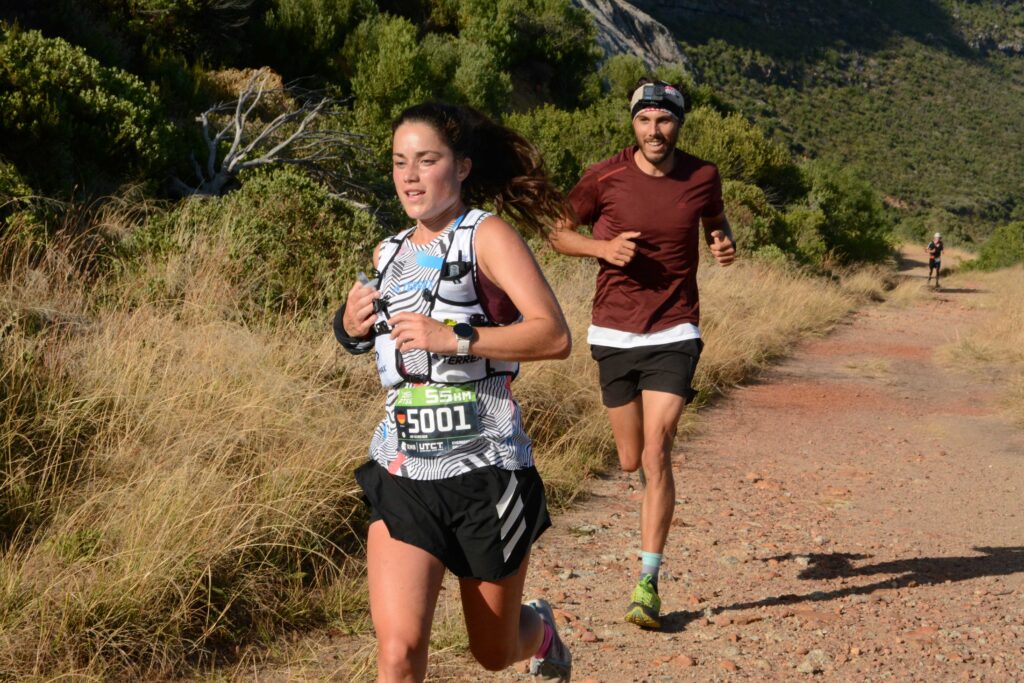 "It was impossible – I just sat down for almost 20 minutes," said Schreiber. "I simply couldn't move. I tried to stretch out the cramps but that didn't seem to work and only when I took a salt tablet did the cramps ease and I could run again."
But by that time, both Greyling and Van Heerden had overtaken Schreiber and it looked race over for the German. But Schreiber was far from finished and she began to close the gap on her South African rivals. As she turned for the final fast descent at Dead Man's Tree, 3km from the finish she was just 6 seconds back of Van Heerden with Greyling a further 1:50 ahead.
Muscles restored, Schreiber descended at pace, sweeping past Van Heerden and drawing level with Greyling as they approached the boardwalk just a kilometre from the finish.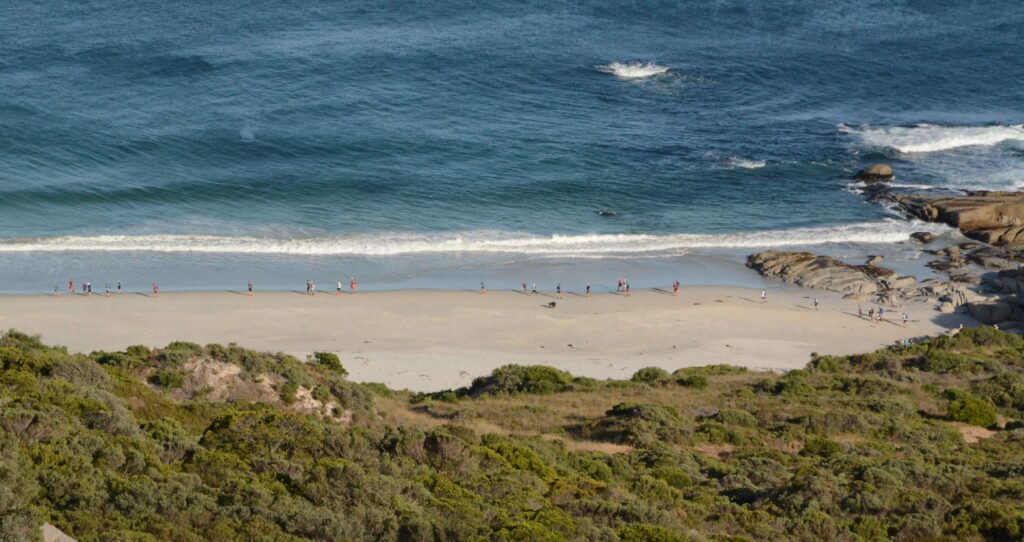 "I could have kicked myself," Greyling admitted. "I didn't think she would come back after I passed her and I was running within my comfort zone. I should have pushed hard and opened a bigger gap. I got such a shock when I saw her that I leaped forward and sped downhill. I was not going to give up the title so close to the finish!"
Greyling's natural speed stood her in good stead as she flew along the final 500m of tarmac to the finish at the Gardens Tech Rugby Club to the title in 6hrs 23min 31sec – just five seconds ahead of Schreiber.  Van Heerden, wife of Otter African Trail Champion, Johardt, ran the race of her life, to finish third just 1:50 back of Schreiber in her ultra-marathon debut, with American Tessa Chesser less than five minutes behind in 4th.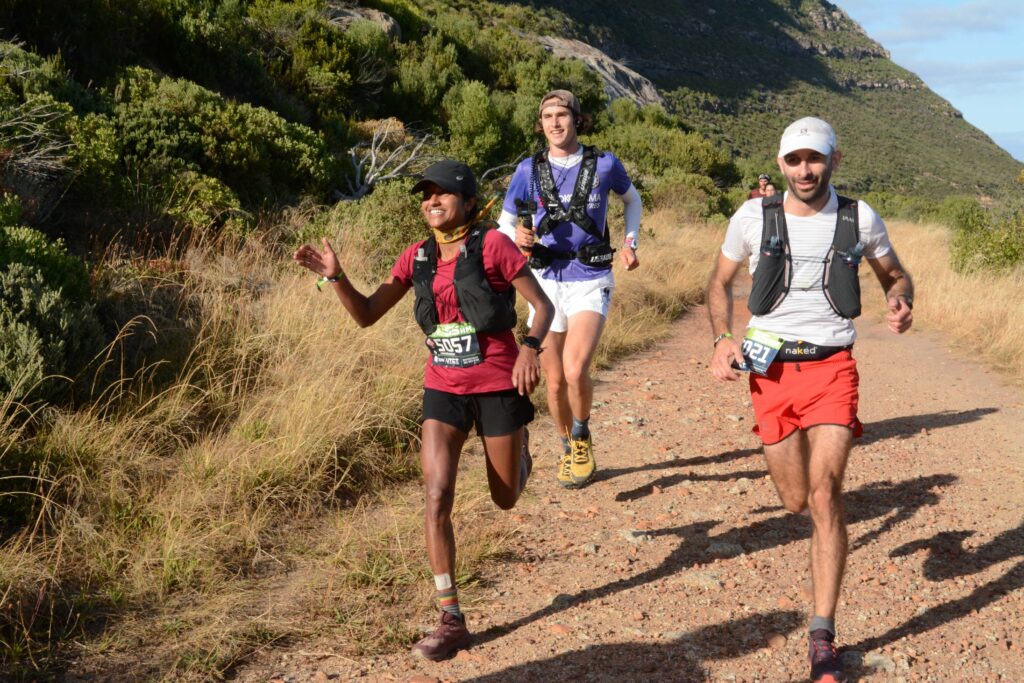 Earlier, former Cape Town-based Norwegian athlete, Shanga Balendran had led from the start at Llandudno, flying over the coastal rocks past Sandy Bay with dexterity and speed, before Schreiber took over at the Rocket Road aid station. She opened a clear gap on the climb to Suther Peak to pull clear of her rivals before the final denouement.
In comparison, the men's race proved predictable and straightforward, but Simpson's performance was outstanding, his winning time just 28 seconds over the five-hour mark half an hour inside the anticipated time for the first across the line.
And in an adidas TERREX team triumph, American Jeshurun Small took second place, 13:25 behind his teammate to take second with German Marcel Höche making it three out of four for the black-and-white-striped 'OneTeam' with a solid fourth behind Danish athlete Mads Louring.
Simpson was full of praise for the race and his time in Cape Town, where he has been part of the adidas TERREX training camp for several weeks, and he felt the race had gone as well as it could have. "I held back a bit in the earlier technical section and then was able to pick up the pace on the more runnable sections," Simpson said.
"But I was never comfortable, as I was unsure how far behind Jeshurun was and I know his ability! The only part of the race I felt strained was the section approaching the UCT station, where I felt it quite warm out of the wind. I was a bit wobbly at the station, but the sight of my teammates welcoming me into the station and the chance to dunk my head in water made all the difference."
Ironically, the one thing Simpson had feared prior to the race, snakes, came into play as the Scot led the field through Constantia Glen wine estate. "We'd come off the mountain where I was looking out for them, then running through the vineyards I saw a cobra but fortunately managed to keep out of its way!"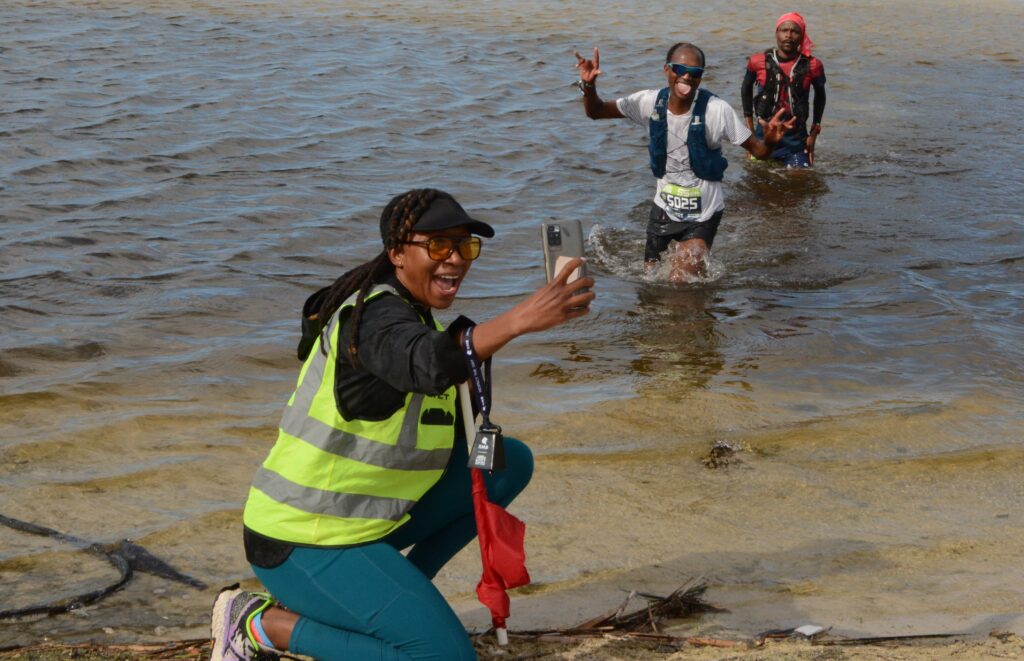 One of South Africa's hardest-working and committed trail athletes, Eastern Cape's Mvuyisi Gcogco, inexplicably still unsponsored, rounded out the top five with a strong 5:51:42 run. Incredibly, Gcogco achieved his success on very little sleep in the 48 hours prior to the race. "I've taken up long-distance truck driving to help pay off my debts, and I had to drive a night sector from Johannesburg to Port Elizabeth two nights before race day and only arrived in Cape Town late on the eve of the race."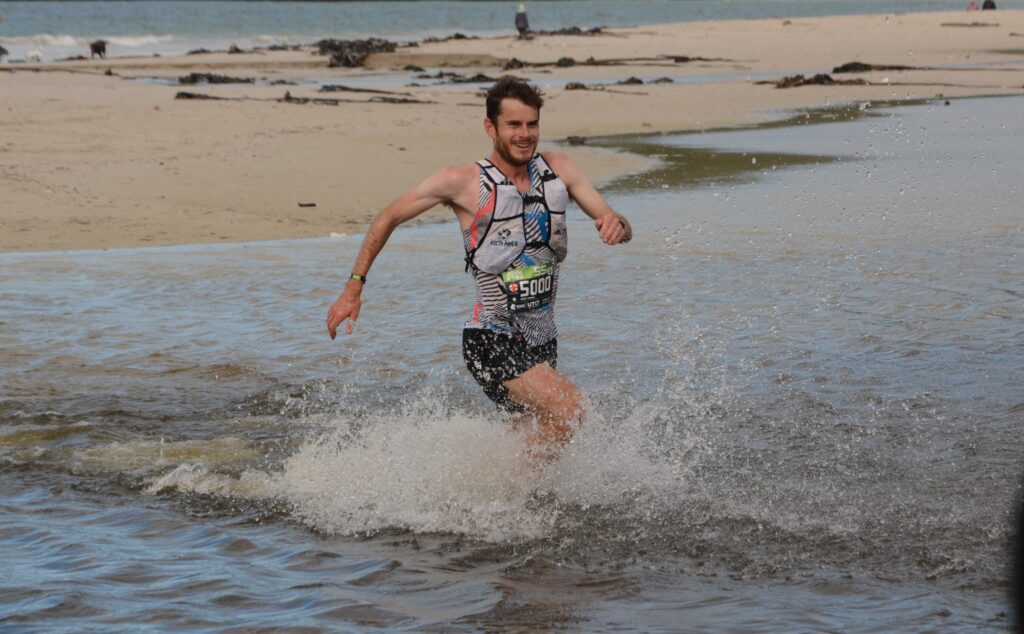 Simpson and Small had led the field through the first 8km before Simpson opened a gap on the testing climb up Suther Peak. He crossed the chest-deep river on Hout Bay Beach a minute clear of Small, with just over a quarter of the race run. Louring and Höche ran with Cape Town athlete Joshua Chigome in joint third six minutes in arrears.
Simpson had increased his lead to 3:37 through Constantia Glen just past half-way which he held through the Alphen aid station, 32km into the race, but Simpson's strength on the ascent saw him stretch his lead to comfortable proportions through Nursery Ravine and his strong finish clinched first prize of R20 000.
Results
Men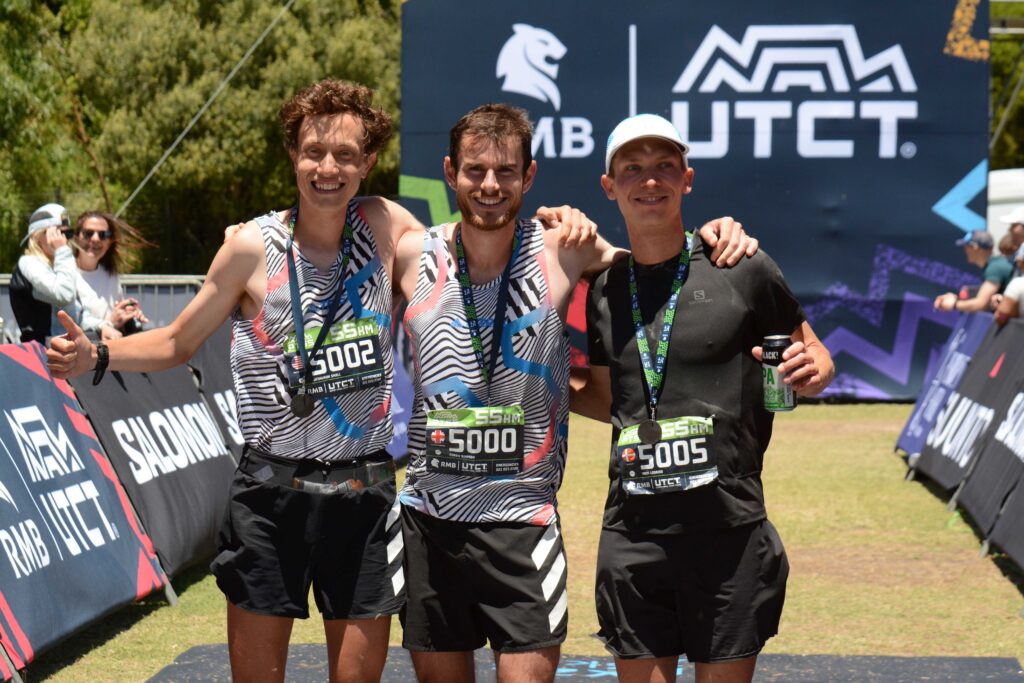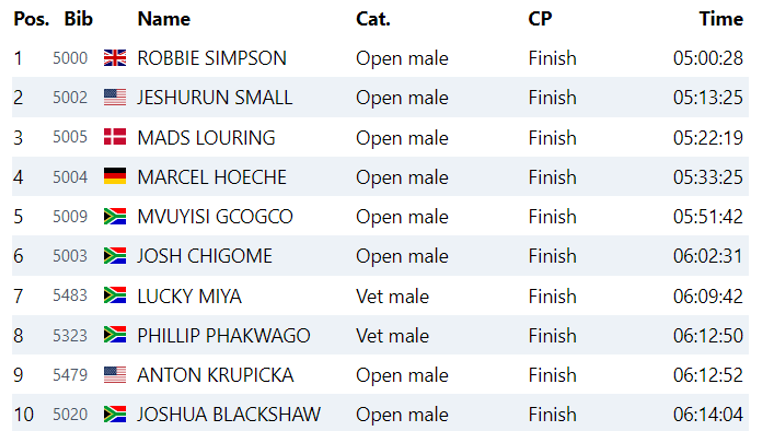 Women