Twenty-six year old Kenyan, Victor Kipruto, and his compatriot, Veronica Loleo, one year his junior, ran like the wind to win this weekend's Absa RUN YOUR CITY CAPE TOWN 10km (Sunday 14 May) in life-time bests for the distance.
A gale-force wind, which blew through the Mother City during the night threatened to blow the race to shreds, and set back planned activations along the route till next year. But the gale dropped in intensity shortly before the start, leaving a moderate zephyr in its place.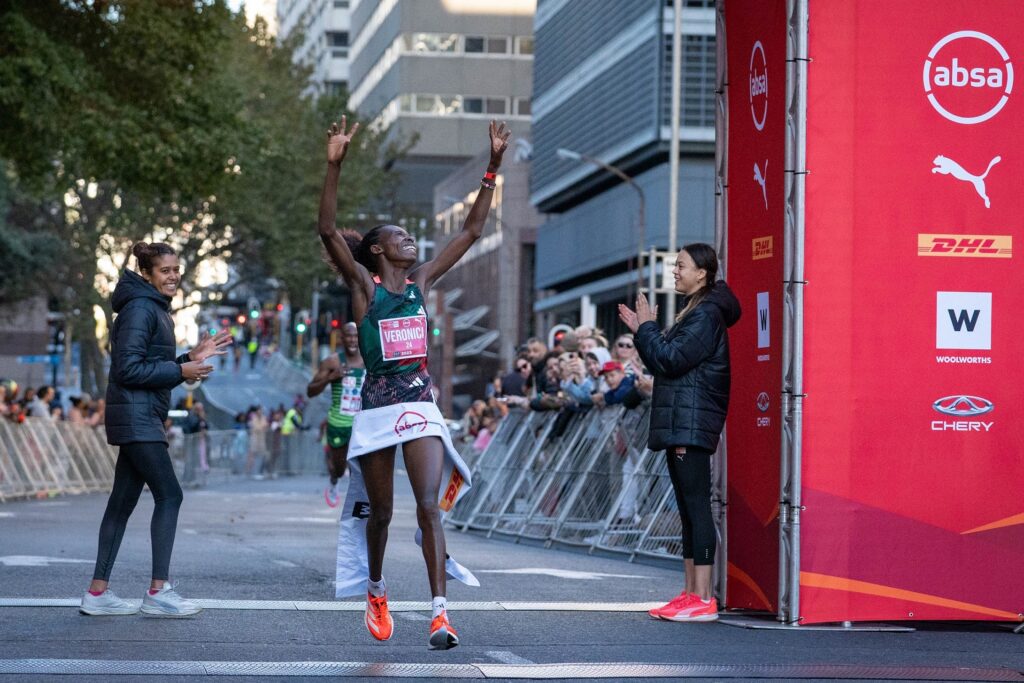 Veronica Loleo wins the Absa RUN YOUR CITY Cape Town 10km race. Photo – Mark Sampson
And while the initial head-wind which prevailed ensured the exceptional speed of last year's race would not be repeated, the respective winning times and personal records of 28 min 28 sec and 31 min 38 sec respectively were anything but sluggish.
Twenty-seven athletes finished in under 31 minutes with talented junior, Jaydee Rosslee, just four seconds off in 28th. Last year thirty-five runners achieved this in perfect, calm conditions, pointing to the success of this year's race.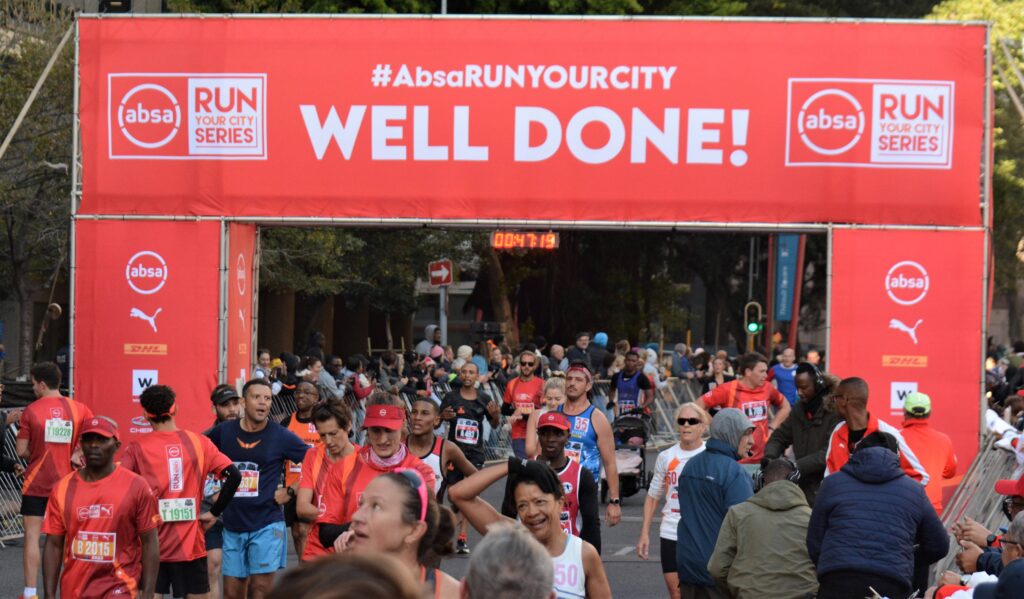 'Well done' is the message to 12 000 runners who finished the the Absa RUN YOUR CITY CAPE TOWN 10km. Photo – Stephen Granger
"RYC Cape Town has become one of our major events which is important because it's an accessible race. It's a relatively short distance and anyone can run it," said chairperson of the City of Cape Town safety and security and events portfolio, Cllr Mzwake Nqavashe.
"The race also advances job creation through the planning, preparation and implementation phases and importantly it builds social cohesion and promotes health and wellbeing through fitness. In particular, the hospitality industry benefits and families can all take part together."
Victor Kipruto drops to his knees in gratitude after taking the tape to win the Absa RUN YOUR CITY CT 10km as Precious Mashele races into second place. Photo – Stephen Granger
Interestingly, neither of the winning Kenyans had boasted intimidating athletics CVs. Their best times over a range of distances, including 10km, were no more than modest. But that changed dramatically over the last two months, with both Kipruto and Loleo running world-class half marathons, the former clocking four seconds over the hour in Madrid three weeks back and Loleo using her strong cross-country background to race to a 68:03 time in Ghent in Belgium a month earlier.
Johannesburg athlete, Precious Mashele, was the first South African home, finishing just 8 seconds back in second place and he and Eastern Cape athlete, Thabang Mosiako, repeated their runners-up positions they achieved in the first RYC race in Gqeberha last month.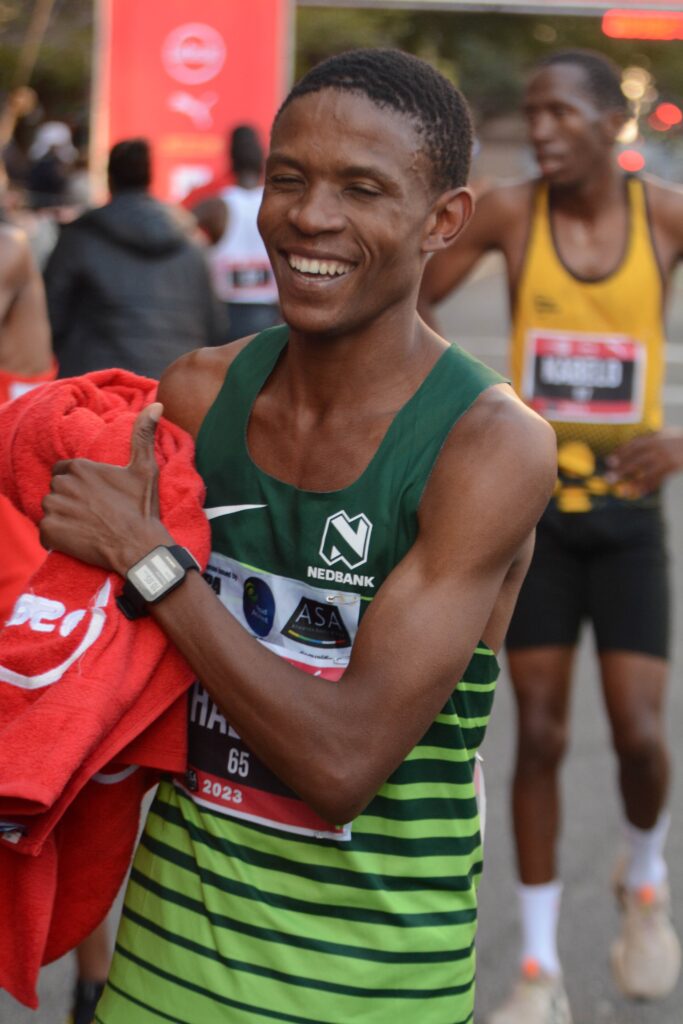 Thabang Mosiako – finished 3rd in successive Absa RUN YOUR CITY races. Photo – Stephen Granger
Anthony Timoteus, Reghen Magwai and Thabang Mosiako (5th, 8th and 9th last year) were the only athletes to regain top ten positions in the men's competition, while Neheng Khatala and Glenrose Xaba (7th and 10th last year) the only two amongst the women.
"My plan was to win the race – I came here to win," said Kipruto, who pocketed R30 000 for first prize. "We were a big bunch in the beginning because of the wind – it's easier to run in a bunch when the wind blows – but once we had some shelter, I knew it was time to go."
And with Kipruto and Mosiako injecting pace into the race as the athletes descended the off-ramp from the N1 into the city centre, it was indeed 'time to go', with the lead pack of twelve torn to shreds as the pair opened a gap running onto the Heerengracht.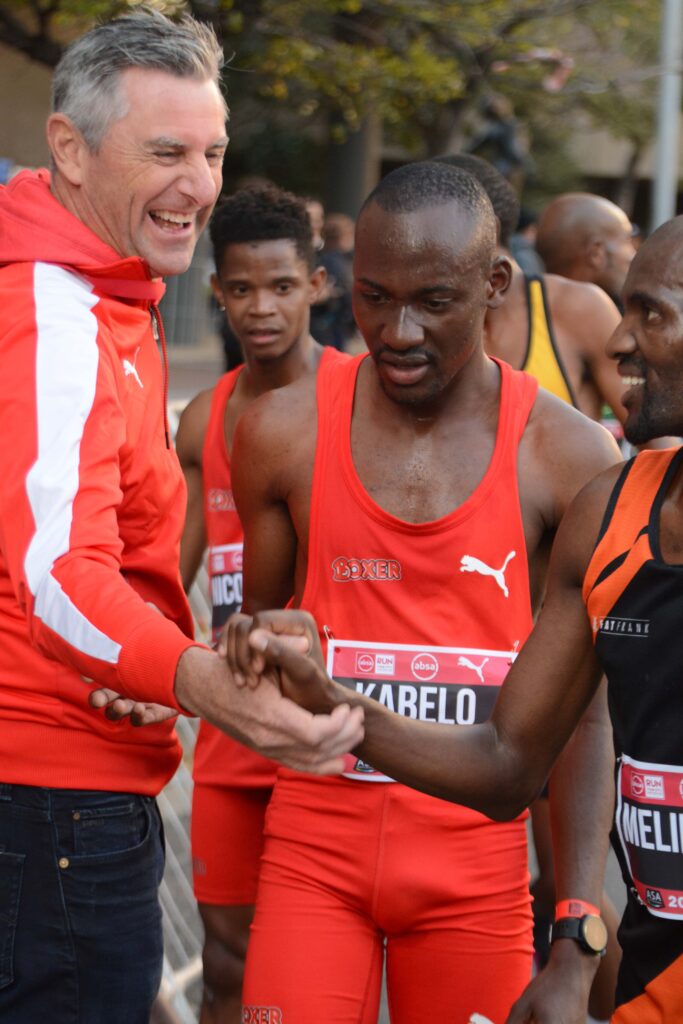 Race founder, Michael Meyer, greets Melikhaya Frans while Kabelo Seboko and Nicholas Seoposengwe look on. Photo – Stephen Granger
But not for nothing is Mashele the fastest-ever South African over 10km, having broken the South African 10km Record at the Absa RUN YOUR CITY GQEBERHA 10km last month, and he fought back to join the leaders around the fountain and up Adderley Street to set up an exciting finish.
"I felt a bit cold towards the end and that stopped me from being able to sprint in the final kilometre," said Mashele, who was unable to match the long-legged Kipruto's final dash down Long Street to the finish opposite the Absa Bank building.
Earlier, a large lead pack of around twenty-five athletes passed halfway in a cautious 14:43, which projected a finish time of 29:30. Mashele, SA 5000m Record Holder, Elroy Gelant, Mosiako, Melikhaya Frans, Nicholas Seopsengwe, local athletes Timoteus and Brucelynn Damons and Mbuleli Mathanga amongst others.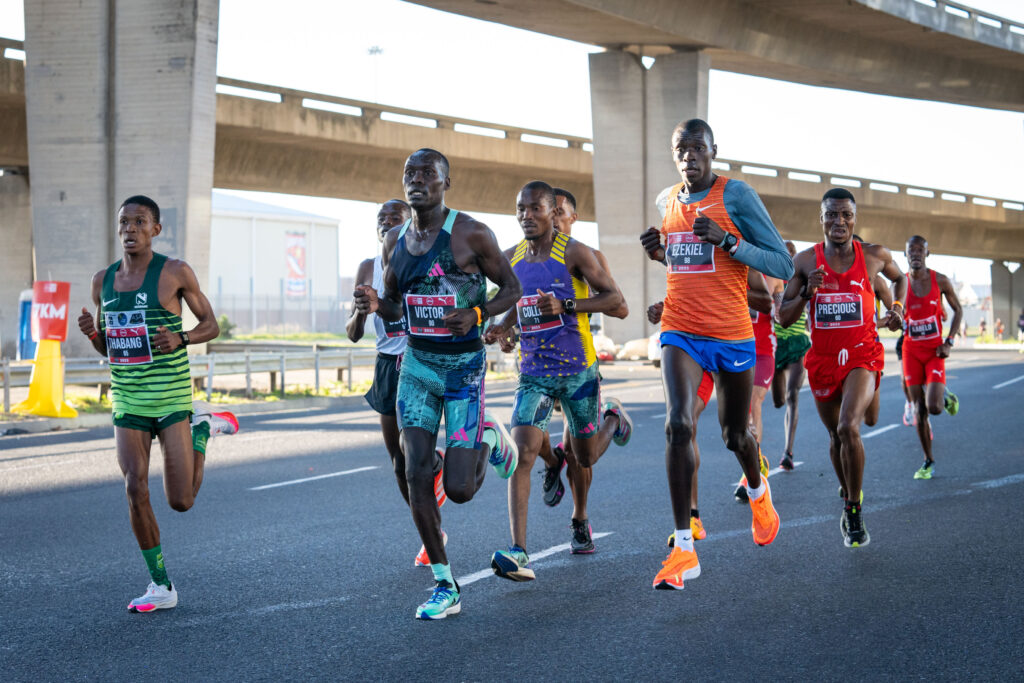 Victor Kipruto and Thabang Mosiako lead the charge in the final 3km at the Absa RUN YOUR CITY CAPE TOWN 10km. Photo – Mark Sampson
As the athletes raced into the lower Cape Town City area, there was a marked increase in the pace that saw the lead pack drop to just 12, before Kipruto and Mosiako's acceleration split the pack and decided the outcome of the race.
Ugandan athlete Prisca Chesang had started favourite and she took an early lead with Loleo running close behind. The wind appeared to affect Chesang more than her rival and the Kenyan, running close behind her pacer, Gladwin Mzazi, had soon opened a gap on the field, racing through halfway in 15:57, 20 seconds clear of Chesang with another Ugandan, Docus Ajok just two seconds back in third.
Veronica Loleo strides into the city behind her pacer, Gladwin Mzazi on her way to winning the Absa RUN YOUR CITY CAPE TOWN 10km. Photo – Jaco Wolmarans
Lesotho's Neheng Khatala, who had set a national 10km best time in last year's race, trailed in fourth position but made up ground in the second half, moving into second place as the runners raced through the city centre.
But there was no catching Loleo, who ran virtually even splits as she went through 5km in 15:52 and closed the second half in 15:44. Khatala was caught by Ajok in the final kilometre, the Ugandan just edging Khatala by four seconds in 32:09.
"I'm happy that I ran a PB today," said Loleo. "I stuck to the pacesetter as he was doing exactly what we asked him to do. I'm really happy with my run in the wind."
William Kaptein enjoyed a return to racing form with the Tymebank Langa Athletics Club athlete grabbing a top ten position. Photo – Stephen Granger
RESULTS
TOP 10 MEN
1 Victor Kipruto (Kenya) 28:28, 2 Precious Mashele (South Africa) 28:36, 3 Thabang Mosiako (South Africa) 28:38, 4 Elroy Gelant (South Africa) 28:51, 5 Ezekiel Mutai (Uganda) 28:52, 6 Denis Kipgnetich (Kenya) 28:54, 7 Anthony Timoteus (South Africa) 28:55, 8 Reghen Magwai (South Africa) 28:57, 9 Kabelo Seboko (South Africa) 28:59, 10 William Kaptein (South Africa) 29:05
TOP 10 WOMEN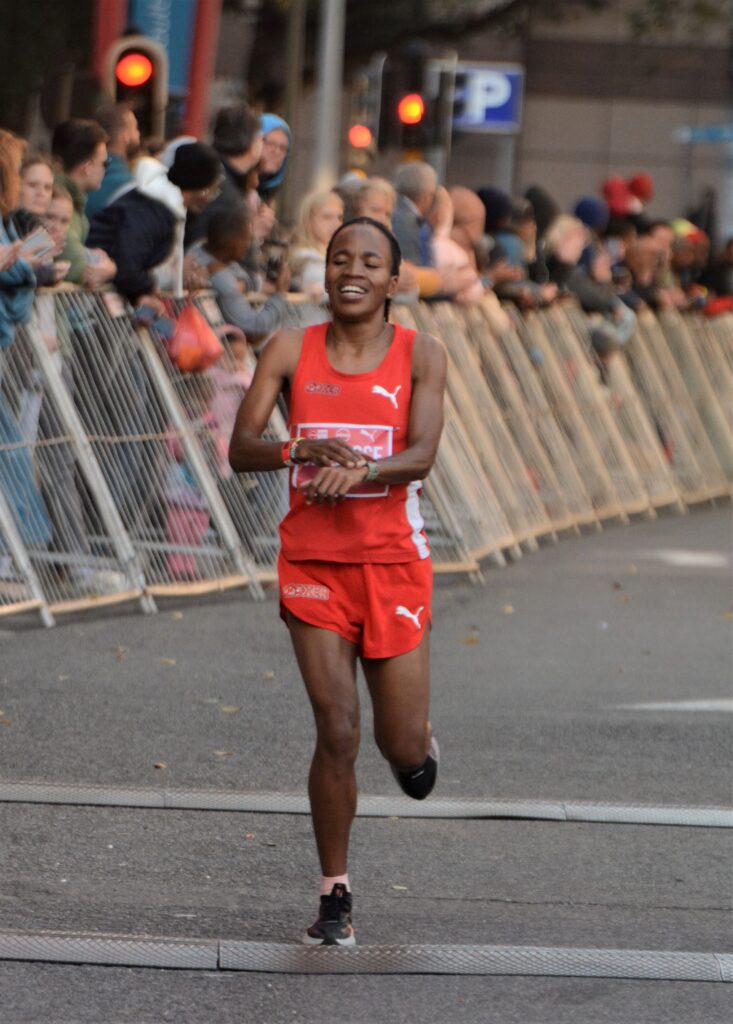 Glenrose Xaba crosses the line in 10th place. Photo – Stephen Granger
1 Veronica Loleo (Kenya) 31:38, 2 Docus Ajok (Uganda) 32:09, 3 Neheng Khatala (Lesotho) 32:13, 4 Prisca Chesang (Uganda) 32:45, 5 Genet Abdurkadir Habela (Ethiopia) 33:08, 6 Glenrose Xaba (South Africa) 33:35, 7 Cacisile Sosibo (South Africa) 33:46, 8 Kesa Molotsane (South Africa) 34:14, 9 Rutendo Nyahora (Zimbabwe) 35:13, 10 Lebogang Phalula (South Africa) 35:33