Kyle Bucklow flourished as several of his potential rivals defaulted, leaving the Fish Hoek road and trail athlete to romp to victory in the Muizenberg Trail 20km this morning (Saturday 13 May) while Lisa Geffen (nee Pringle) upgraded her third position last year to the top of the podium in the women's competition.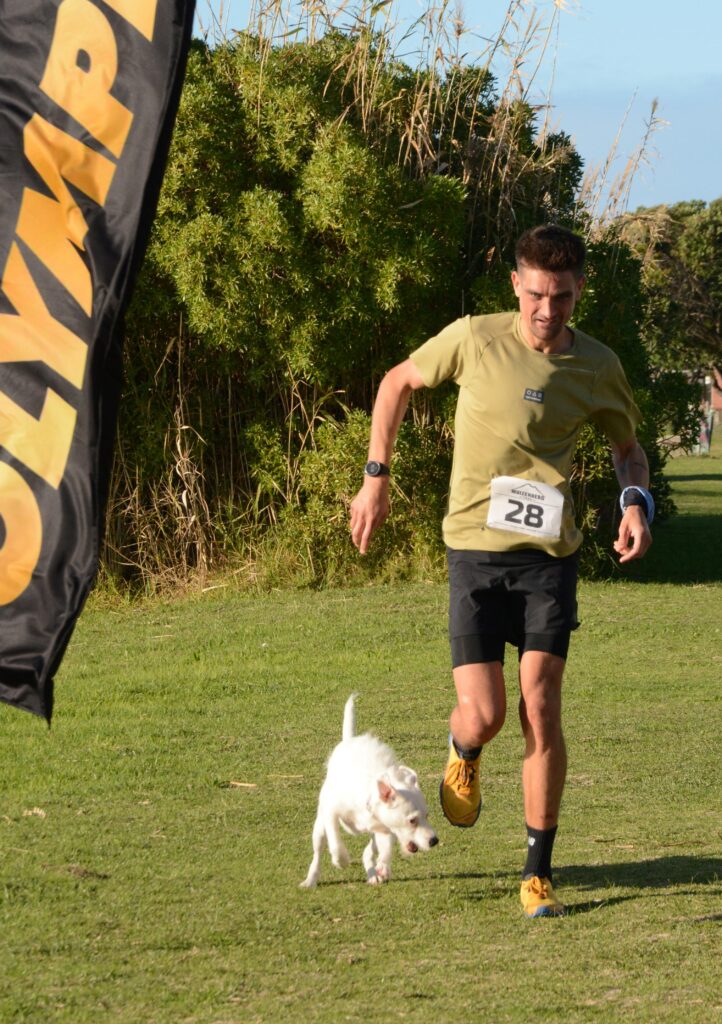 Kyle Bucklow races to victory at the Zandvlei Sea Scouts base with Aggy in close support. Photo – Stephen Granger
The Triple Crown opener was run in sunny but windy conditions, with a cold south-easter adding to the morning challenge of 1210m of technically challenging elevation gain, including ascents of Muizenberg and St James' Peaks, a traverse through the Amphitheatre before the return up and over Muizenberg Ridge and the descent back to the start at the Zandvlei Sea Scouts base.
The late withdrawal through injury of last year's Hout Bay Trail Challenge champion, Jarryd Dunn, the non-appearance of last year's champion, Robbie Rorich, and top runner Siviwe Nkombi's ongoing navigational challenges turned this year's adventure in the Muizenberg and Kalk Bay mountains into a one-horse race as Bucklow raced home fully 15 minutes clear of his namesake, Kyle Nortje. Justin Broadley was a further three minutes back in third.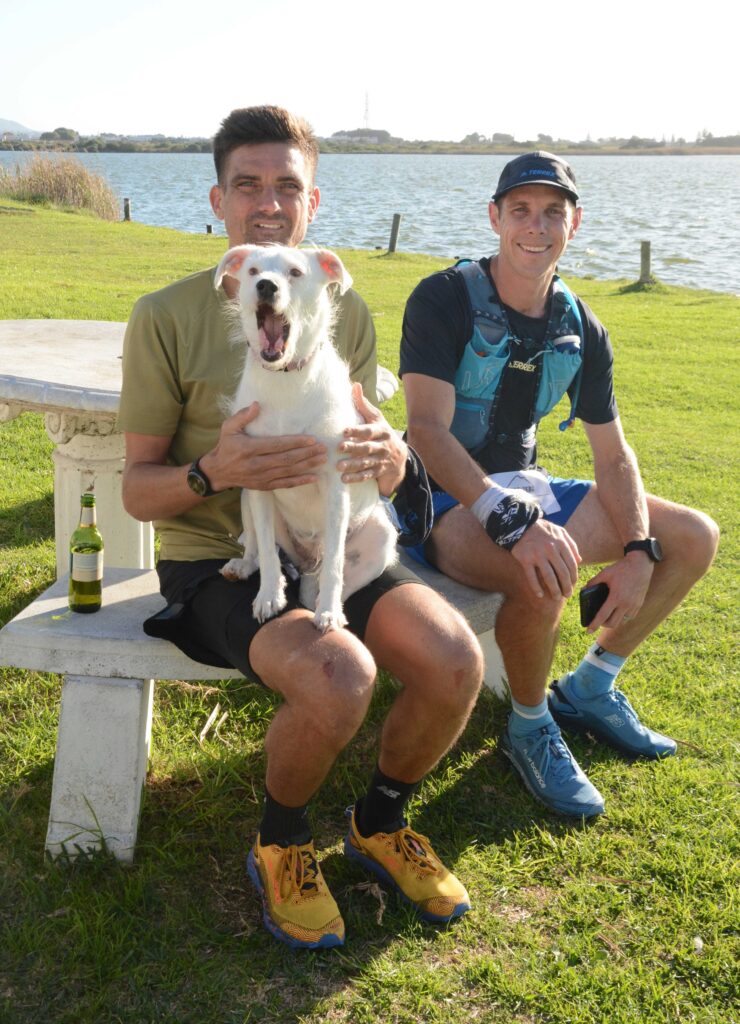 The Kyles have it – winner Kyle Bucklow (left) with runner-up Kyle Nortje. Photo – Stephen Granger
"I felt good out there today," said Bucklow, "but I was disappointed that Jarryd could not make it today – I'd been looking forward to a close contest like last year."
Rorich's downhill speed took him to a close-fought victory over Bucklow last year, but this time only Bucklow's dog Aggy was anywhere close as he approached the finish line.
Nkombi continued to find ways to negate his undoubted talent, starting 30 seconds late before missing a turn somewhere between the waterfall at 15km, when he was running strongly in second place, and the finish, where he trailed in outside the top ten.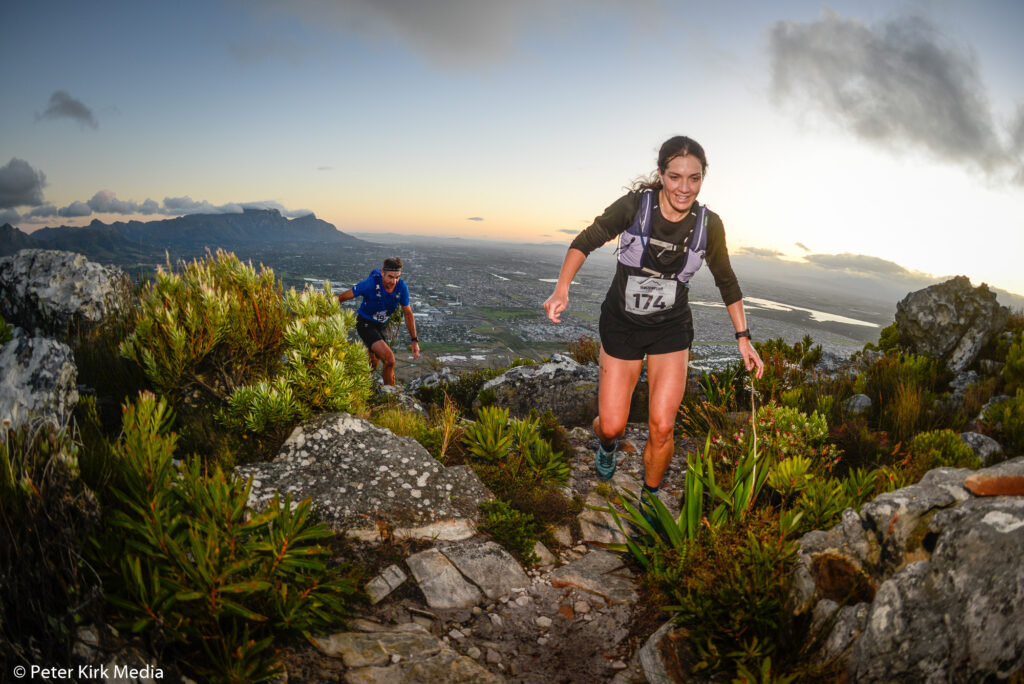 Lisa Geffen crests Muizenberg Ridge in second place before racing clear in the second half to win. Photo – Pete Kirk
Geffen's seven-minute margin of victory over Lauren Granger failed to reflect the nature of the competitive first half. "Lauren was so strong on the climbs," said Geffen. "I couldn't stay with her on the initial ascent to Muizenberg Peak and only caught up with her on the downhills."
"I felt like a granny on the descents," said Granger, back racing after a long rehabilitation lay-off following a stress fracture. "I was no match for Lisa in the second half – she was far too strong."
Last year's champion, Nadine van Driel completed the podium, three minutes behind Granger.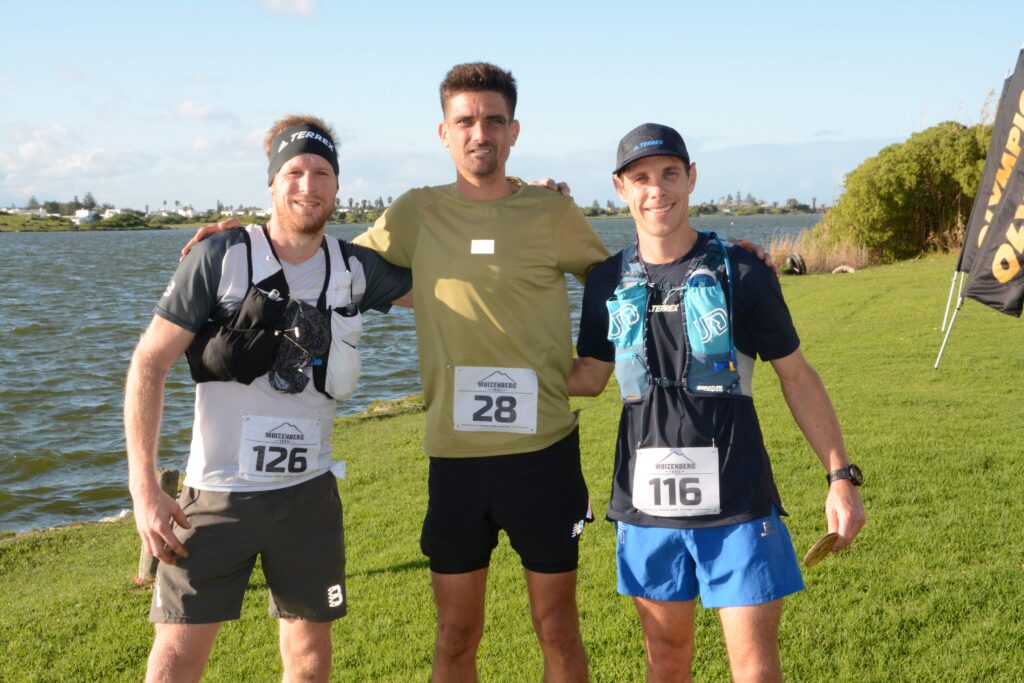 Top three finishers in the Muizenberg Trail 20km – winner Kyle Bucklow (centre) with second-placed Kyle Nortje (right) and Justin Broadley, third. Photo – Stephen Granger
Results
Men: 1 Kyle Bucklow 2:03:46; 2 Kyle Nortje 2:18:15; 3 Justin Broadley 2:21:14; 4 Chase Peers 2:22:21; 5 Nelius Swart 2:30:20; 6 Quintin van Heerden 2:31:30; 7 Dylan Norris 2:32:20; 8 Daniel Pretorius 2:36:33; 9 Travis Green 2:36:35; 10 James Eve 2:41:55
Women: 1 Lisa Geffen2:46:31; 2 Laruen Granger 2:53:23; 3 Nadine van Driel 2:56:54; 4 Suzaan Hobson 3:18:14; 5 Julia Penn 3:31:08; 6 Lauren Ogg 2:31:25; 7 Carla Pietersen 3:48:27; 8 Mpoki Gumede 3:59:41; 9 Emma Finlay 4:01:00; 10 Frieda Levycky 4:18:53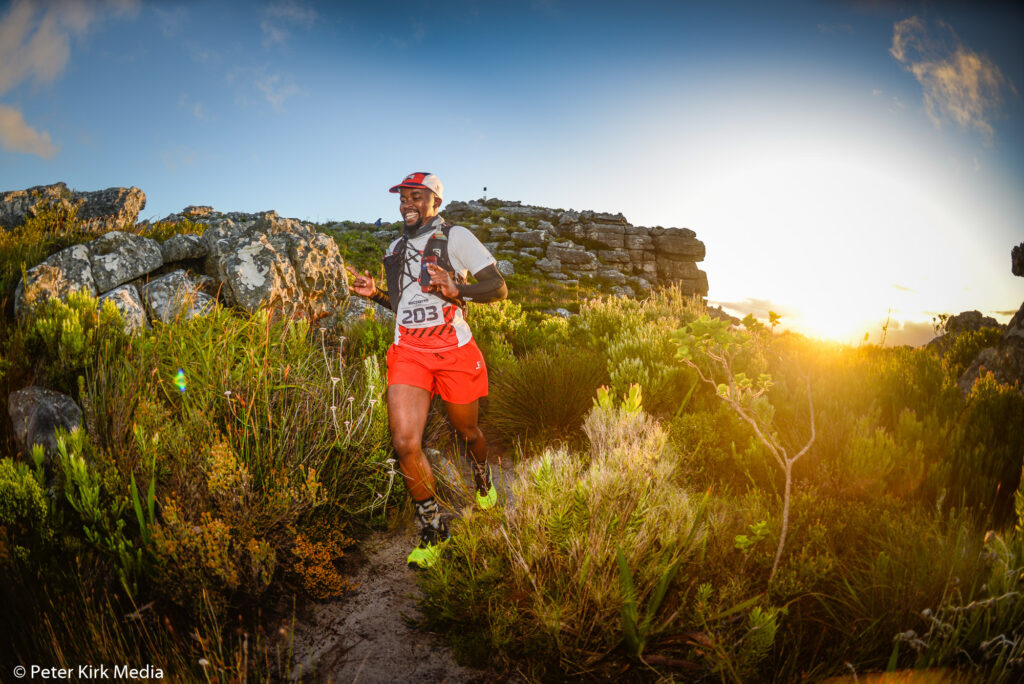 Athenkosi Nkonki enjoying life on some of the world's best mountain trails. Photo – Pete Kirk