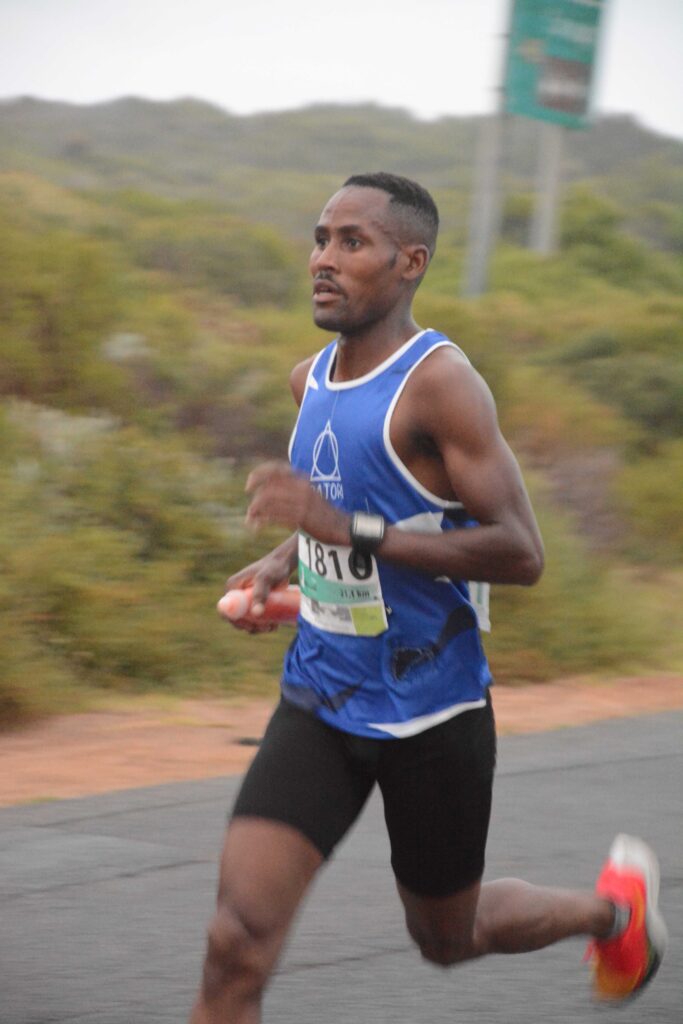 Masiphumelelo athlete, Malusi Judase, raced to his second road title this year at the annual Milkwood Half Marathon at Kommetjie this weekend (Sunday 12 February), while Pretoria athletes Mila Geldenhuys and Mitsie van der Westhuizen ruled the roost in a tight finish in the women's race.
Runners who woke early to make the 6am start from Soetwater Camp near the Slangkop Lighthouse, in the 'Deep South' of the Peninsula, were rewarded with cool, misty conditions, a welcome relief from the previous day's excessive heat, for their scenic out and back route to Scarborough along the Atlantic sea-shore.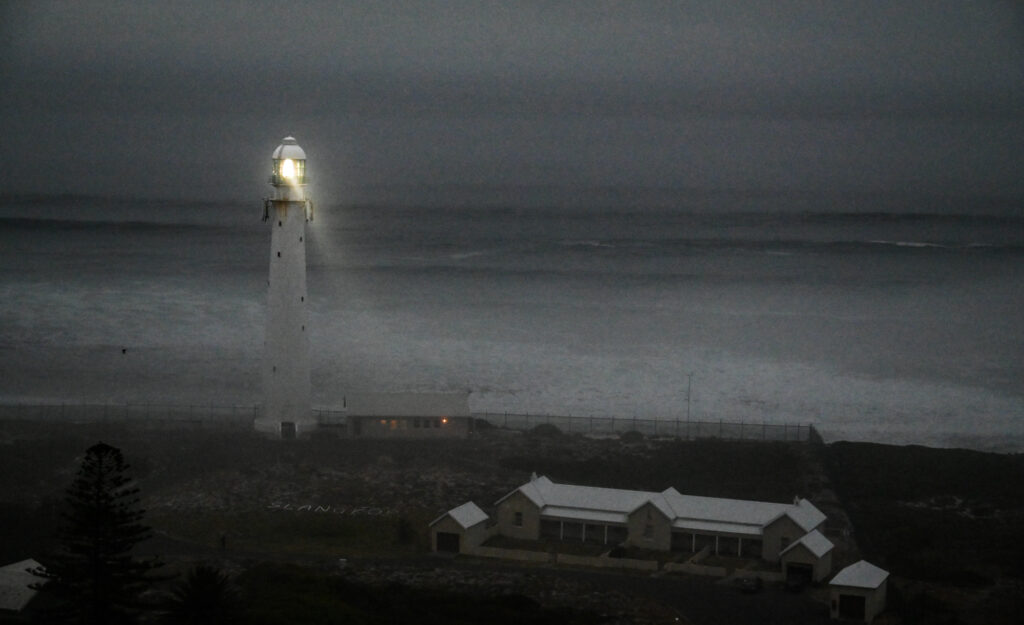 The historic lighthouse flashed its warning as the race got underway, with Judase leading from the start, opening a gap on his pursuers up the steep climb out of Kommetjie. He held a minute lead at the Soetwater junction over the chasing Kuils River pair, Morne Kammies and Tumelo Mokolatsi, with his Satori teammate, Asisipho Matomane, running with Hout Bay's Reuben Mhashu in fourth.
Brackenfell veteran, Elme Middelmost led the women's field through 4km, closely followed by Van der Westhuizen with Geldenhuys opting for a conservative start back in fifth.
Jaduse was on his own up front, making the turn at Scarborough more than a minute ahead of the Kuils River runners, and he increased his lead on the homeward stretch, crossing the finish line in 1 hour 07 min 58 sec to win by over two minutes ahead of Kammies.
The women's race provided the excitement as Geldenhuys, who moved to the Western Cape this year to study videography and her dive-master qualification after graduating from Pretoria University with an honours in zoology, moved through the field in the second half, overtaking Van der Westhuizen to take the lead just a kilometre from the finish.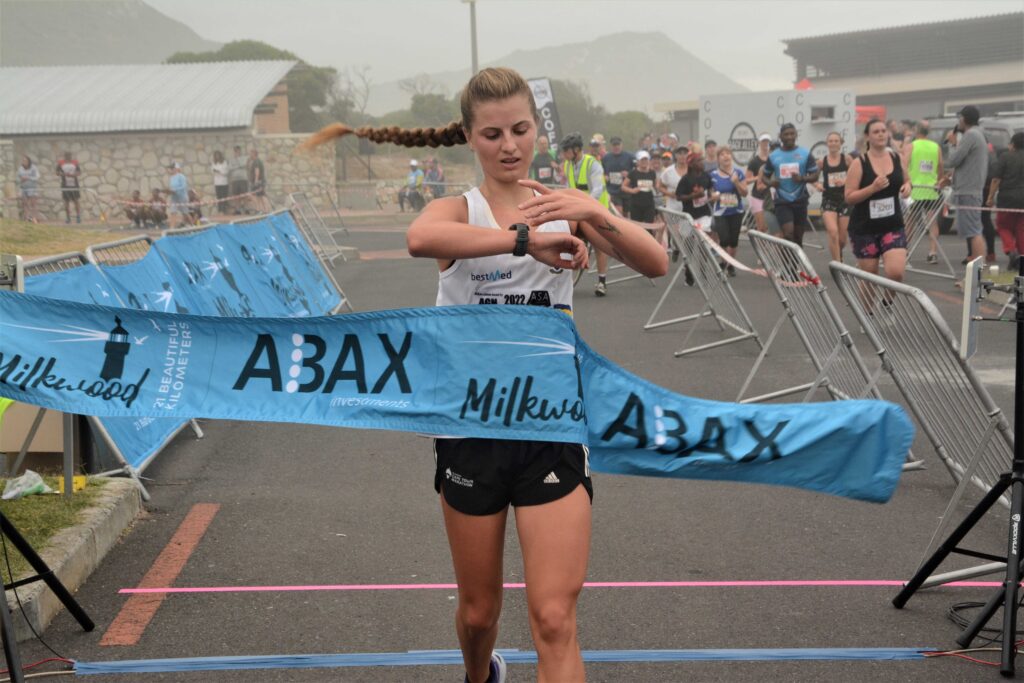 "This is my first race in Cape Town this year, although I ran my marathon debut at Cape Town Marathon last year," Geldenhuys explained. "I'm usually more of a trail runner, but I enjoy coming out on the roads from time to time." Geldenhuys won in 1:29:00 – just 28 seconds ahead of Van der Westhuizen.
Judase's coach, George Gundry, was on hand to congratulate his charge as he raced home to victory. "I moved to the Cape five years ago from Johannesburg, where I studied coaching under Owen Van Niekerk," Gundry explained. "Malusi is now coming back to the form he was in before COVID and could go on to set new personal bests over various distances this year."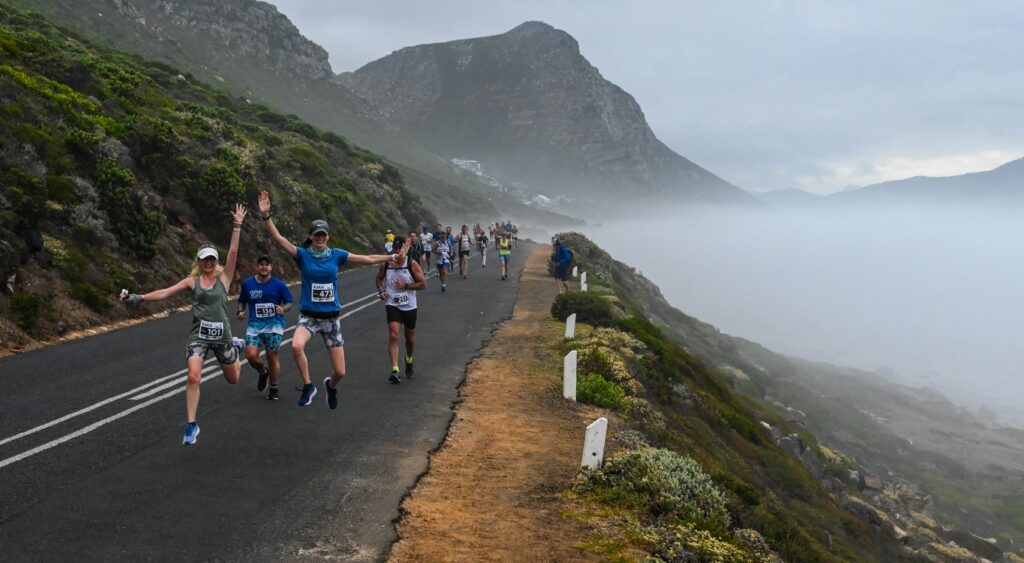 Results
Men
1 Malusi Judase (Satori) 1:07:58; 2 Morne Kammies (Kuils River) 1:10:21; 3 Tumelo Mokolatsi (Kuils Riv) 1:10:42; 4 Reuben Mhashu (Hout Bay) 1:13:30; 5 Kyle Bucklow (F Hoek) and Bernard Rukadza (RCS Gugs) both 1:16:16
Masters 40yrs+
1 Rukadza; 2 Neil Broers (AAC) 1:21:05; 3 Gimo Matusso (Satori) 1:24:15
Masters 50yrs+
1 John September (Itheko) 1:27:18; 2 Greg Hendricks (Spartans) 1:27:42; 3 John Ross (temp lic) 1:32:23
Masters 60yrs+
1 Stephen Matoa (Itheko) 1:32:23; 2 Paul Cieverts (Pine) 1:32:31; 3 Shafiek Cassiem (Itheko) 1:42:15
Masters 70yrs+
1 Tony Abrahamson (For) 1:56:02; 2 Klaus Kassel (W Coast) 1:58:16
Women
1 Mila Geldenhuys (Tuks) 1:29:00; 2 Mitsie van der Westhuizen (Born to Run) 1:29:28; 3 Elme Middelmost (B'fell) 1:29:52
Masters 40yrs+
1 Vd Westhuizen; 2 Middelmost; 3 Michelle Minnaar (tmp lic) 1:32:29
Masters 50yrs+
1 Obertina Kanyongo (Nedbank) 1:35:50; 2 Tracy Forbes (VOB) 1:41:22; 3 Johanna Thomas (VOB) 1:44:18
Masters 60yrs+
1 Maxine Reilly (tmp lic) 1:50:30; 2 Bertha Denichaund (Edge) 1:51:42; 3 Maneualla Pattersen (Cent City) 2:02:42
Masters 70yrs+
1 Nancy Will (Pine) 1:57:49; 2 Pixie Sparg (Celtic) 2:29:01