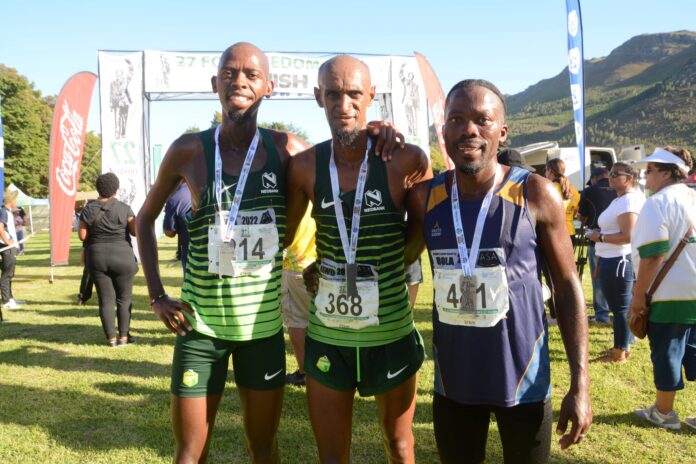 A week short of his 35th birthday, seasoned Southern Cape athlete, Lloyd Bosman, raced to victory in the annual 27 for Freedom in heat-wave conditions at Drakenstein, near Paarl, this weekend but it was the improved form of runner-up Philani Sengce from Stellenbosch which proved most notable.
Bosman's Nedbank Running Club teammate, Madele du Plessis, took the honours in the women's competition ahead of magnificent master athlete, Obertina Kanyongo, 56, with former South African Olympian, Tanith Maxwell, making a welcome return to the podium following an Achilles operation last September.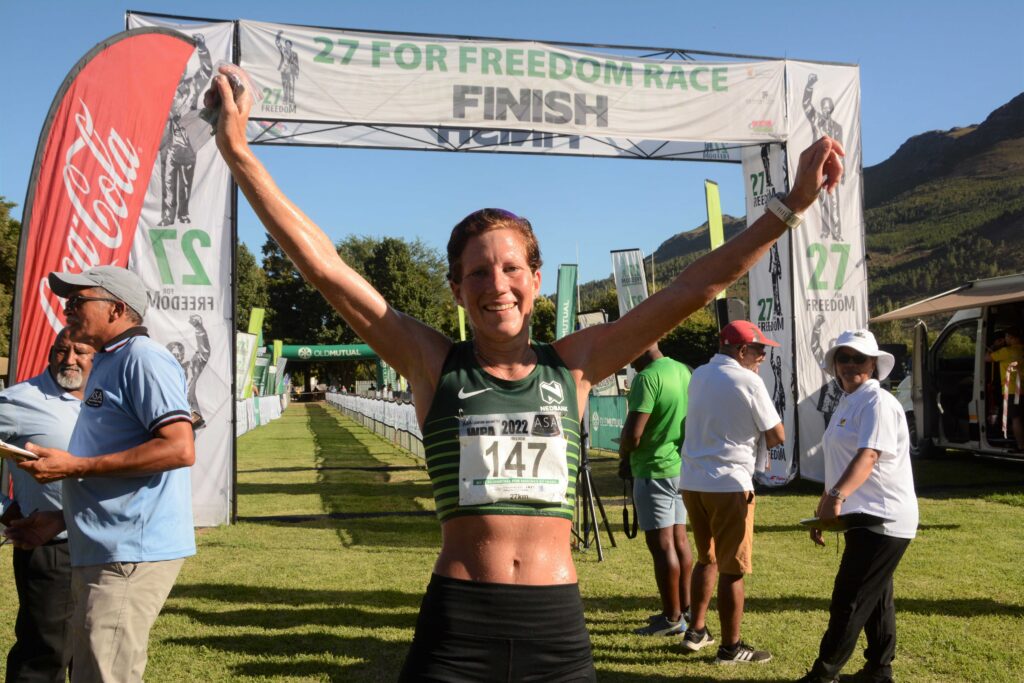 Runners followed a testing course from the Drakenstein Correctional Services facility, formerly known as Victor Verster Prison, where Nelson Mandela spent his final 14 months in detention, the 27 kilometres symbolic of the 27 years Mandela spent in prison. Instead of the usual kilometre boards, successive kilometres were marked by the number of years Madiba spent in prison.
The undulating course, part on tarmac and part off-road, proved a stern test for the runners, with the heat, which had risen to the mid-30's as the back-markers finished, an added challenge.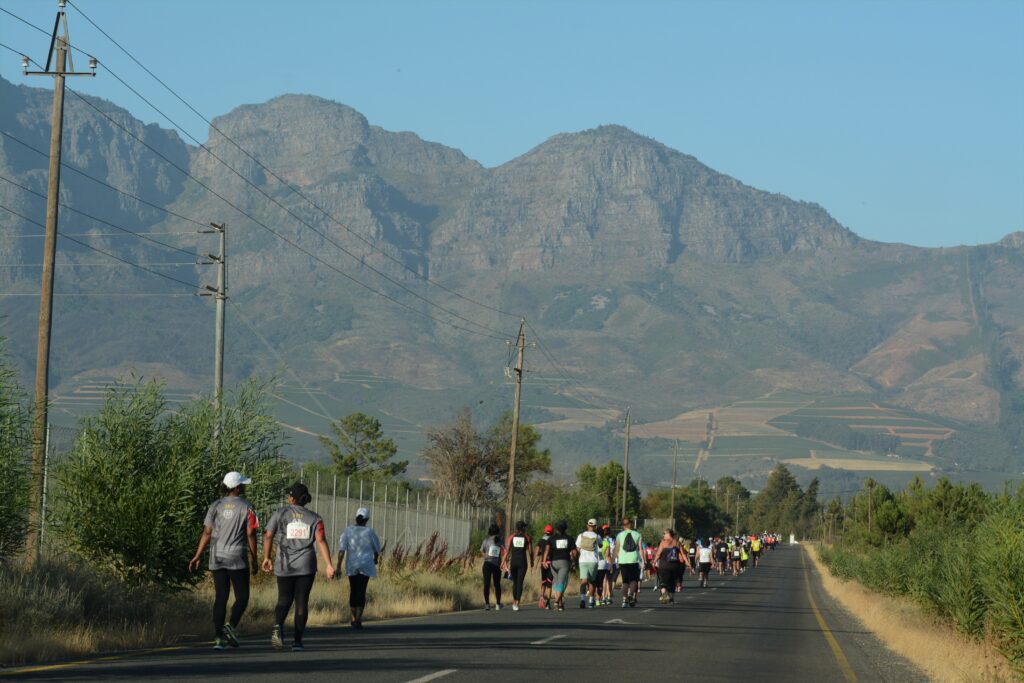 Despite starting and finishing within the Correctional Services centre, Bosman was taking no prisoners, racing clear from the start and running solo to take the tape in 1 hr 25 min 50 sec – two minutes 24 seconds ahead of Sengce. Last week's Red Hill Marathon winner, Sibusiso Madikizela, was third.
"I'm pleased with my run which was to test my fitness ahead of the attempt on the 50km world record in Gqeberha in two weeks time," said Bosman. "I'll be one of the pace-setters for the first 30km. I enjoy running in the Western Cape and I'd love to return to the Safari Half Marathon in Wellington on 1st May to add to my previous wins."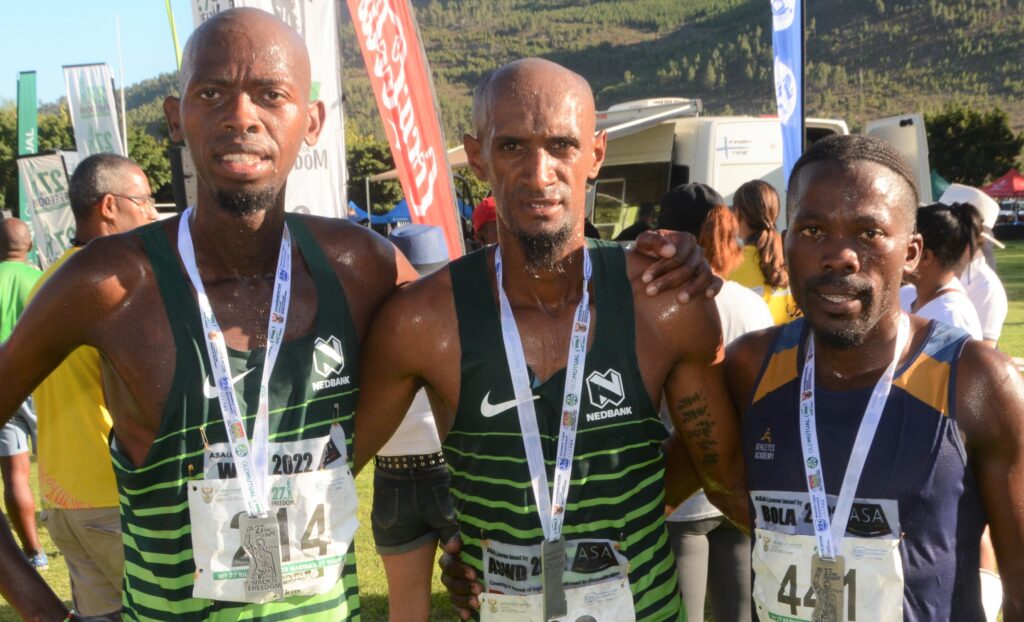 Sengce was caught out at the start. "I didn't recognise him," admitted Sengce of the visitor from Oudtshoorn.
"I was surprised with that guy. He went off from the start and I thought he wouldn't be able to keep up the pace. I was running with Sibosiso (Madikizela – who finished third) and Gilbert (Mutandiro – fourth), holding back a bit for the first 5km.
"Then I saw he was not coming back and set after him, but the gap was already huge. I tried but couldn't close. I just saw him in distance."
The women's contest proved a closer affair, although remarkably the winning margin was the same as that of their male counterparts. Du Plessis ran with Maxwell and Kanyango for the first 18km before racing clear in the final third to win in 41 seconds over two hours, 2 min 24sec ahead of Kanyango.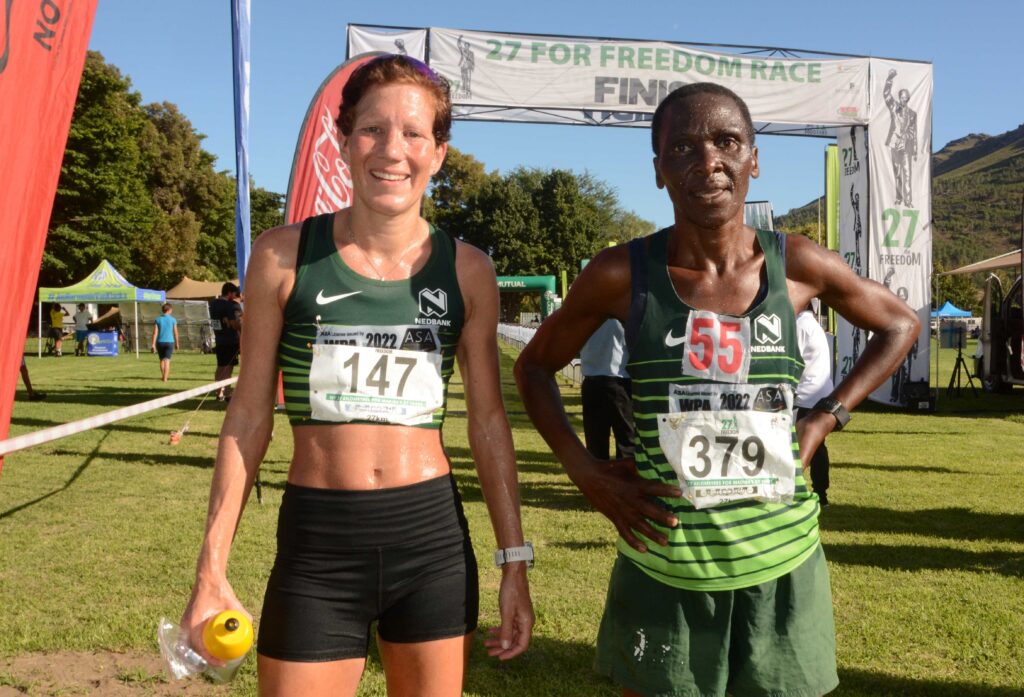 Olympic marathoner and Comrades and Two Oceans Marathon gold medallist, Maxwell, is running injury-free for the first time in several years following her September operation and can't wait to return to the competitive coalface, optimistically looking to race this year's Comrades Marathon in June.
"I've been lucky to have received an entry to run London Marathon once again in April," the 2 hrs 32 min marathoner explained. "It's been one of my favourites, and although it will be too soon to be competitive, I'm looking forward to enjoying the race as part of my preparation for the Comrades in June."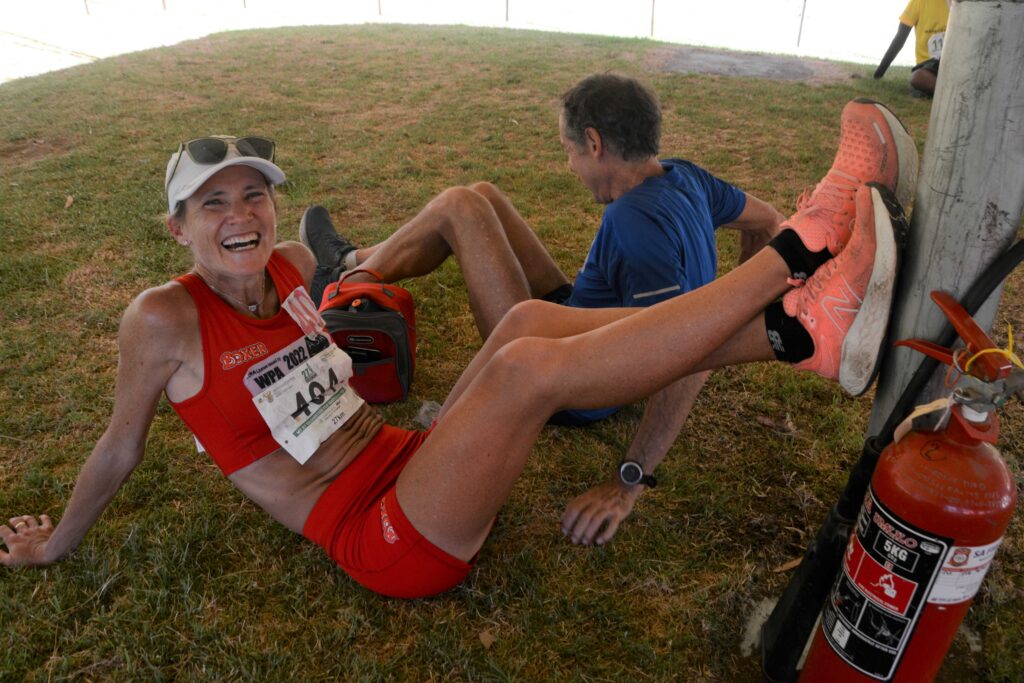 Angelo Booysen proved a popular winner in the 10km, the Correctional Services athlete coming home ahead of Lorenzo Pieters in 31:11 with Khayelitsha athlete, Pamela Moyika, making a welcome return to competitive success, winning the women's race ahead of veteran Busiswe Matiwane in 44:27.
For Sengce, the race was solid preparation for his plans to debut in the Two Oceans Ultra-marathon, although he admitted he was put under pressure from Bosman. "I felt it on my chest – I've never felt like that before, perhaps it was because I was chasing him whole way or maybe the heat.
"I'm keen to try out Two Oceans this year – possibly just to test the course this year and give it a full go in future."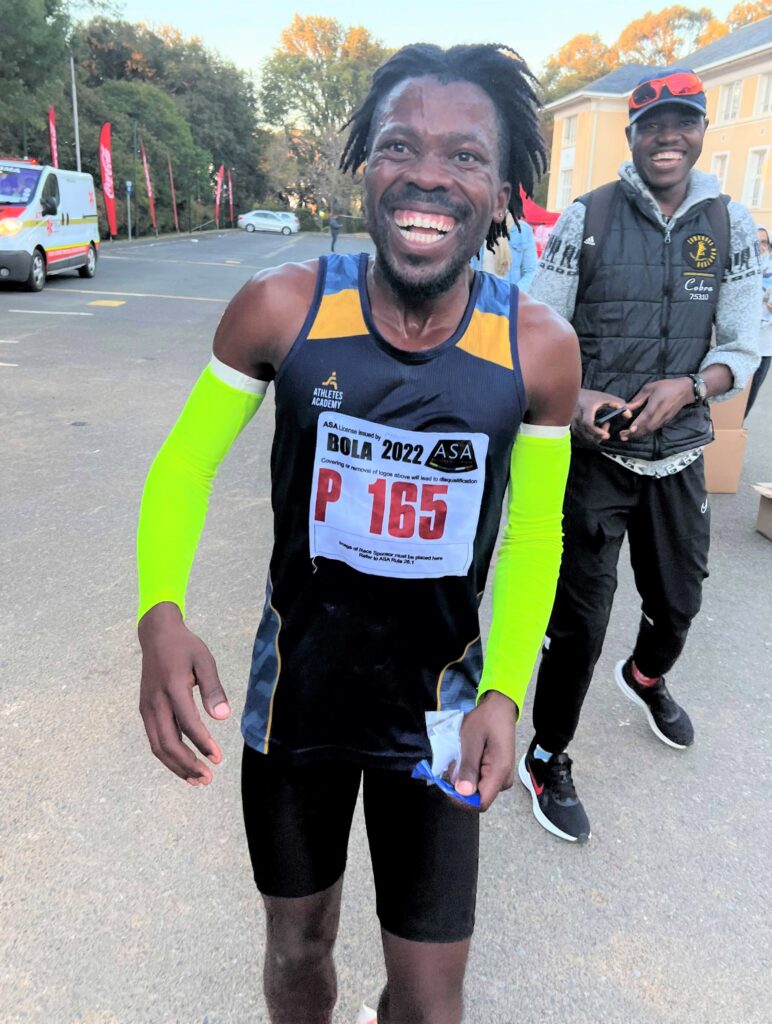 Sengce acknowledged the benefits of joining running coach Jacques van Rensburg and his training squad. "I had previously done most of my training on my own, but it's been great to be part of a squad and that's helped my running."
Former Protea track and cross-country athlete, Van Rensburg, is enthusiastic about Sengce's potential. "PK (Sengce) joined our group recently and has done well. He's a very committed person, talented and I'm really pleased with his run at Drakenstein.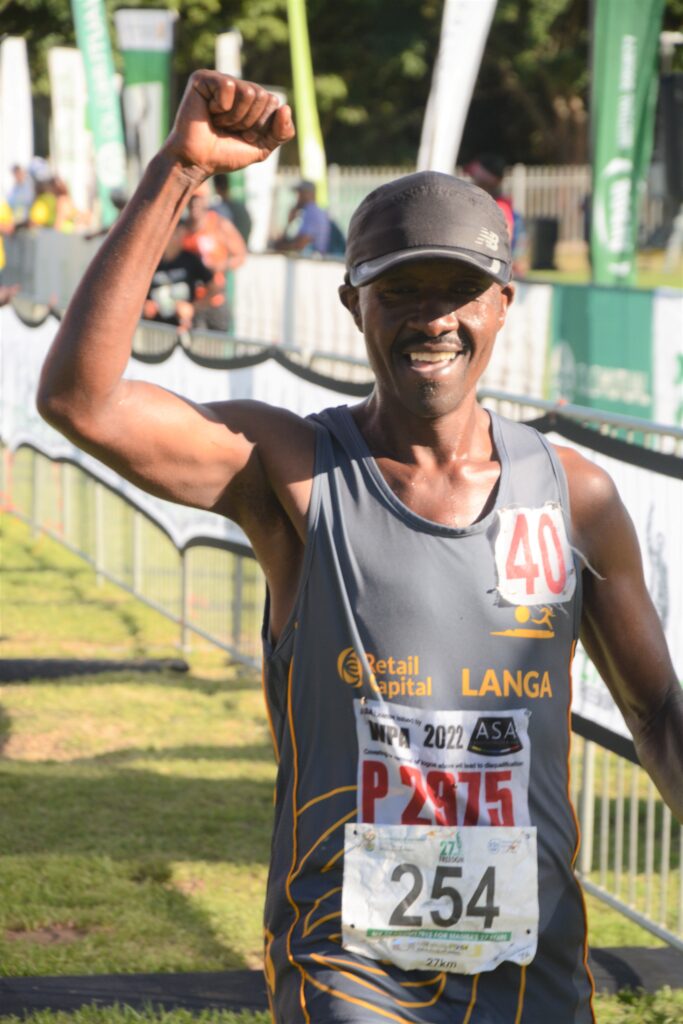 "I think his strength could lie in the marathon or even ultra-marathons, as he has great endurance but lacks the outright speed to compete at the highest level over the half marathon."
Sengce is a product of the Endurocad Running Academy and is currently assisting with a women's empowerment programme, coordinated by the academy. "My role is to search for talented young women at nearby schools in Kayamandi – girls active in sport, in running or netball or hockey. We test them over 400m and 800m and I also take them for training.
"Many girls want to be part of the programme, some of them to overcome some big life challenges, many of which stem from poverty. I deliver them back to their homes which helps me understand their situation.
"Some quit because the challenges are just too hard. I come from a similar background so I'm able to share my own experiences. They can see I've come through many of the issues they are battling with and that can inspire them to transform their own lives."
RESULTS 27 for Freedom 27km
Men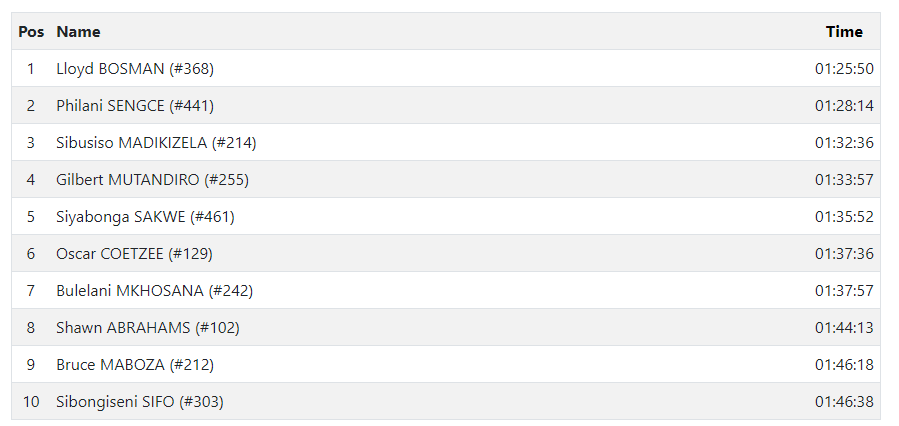 Women