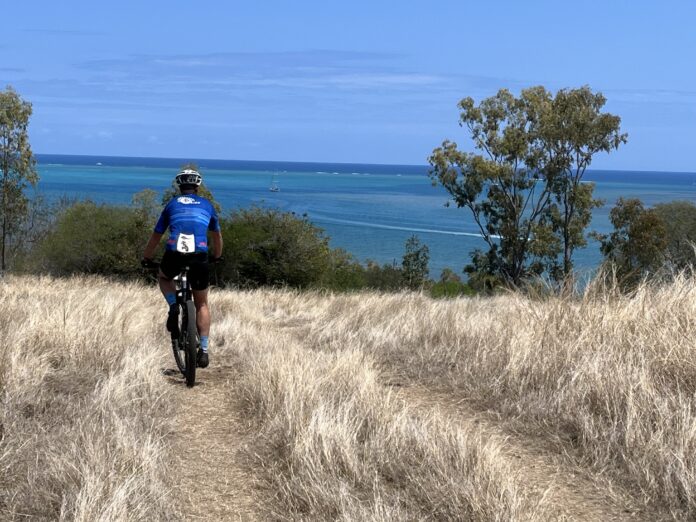 Despite many challenges, my mountain bike and I encountered a land where there is still a sense of social cohesion, a place where, with better stewardship, heritage, history and nature can join forces to create a society that benefits all who live in it. Whether you are a pro mountain bike rider, a social rider or something in between, the four-day Colin Meyer Tour is a gateway to an experience you should not forget.
Mark Heywood
In the 1950s, as the winds of change started to blow colonial rule from across Africa, the British governor of Mauritius, Sir Hilary Rudolph Robert Blood called the Indian Ocean island "his pocket handkerchief paradise." Blood and his ilk would be gone from Mauritius when it gained independence in 1968. But 55 years later, the country remains a rare 'handkerchief paradise'.
Many people seem only dimly aware of the beautiful island and its Tempest-like history (this is an island that was uninhabited until the sixteenth century), even though it's only a comfortable four-hour flight from Johannesburg and is served by airlines from several other European countries. I confess to being in that category.
Thankfully no longer.
My fortune flowed from my pen. Earlier this year, an elegy I had written about the new six-day Go2Berg mountain bike race in South Africa caught the attention of sports writer and entrepreneur Paul Ingpen.
If you are part of the mountain bike tribe, you will probably have heard of Ingpen. For those who aren't, he's another of those remarkable forged-in-South-Africa pioneers who have blended passion for sport with an imaginative social vision.
In a recent editorial in Mountain Bike, Ingen writes of how "my source of joy and optimism as a Saffa [South African] is simply the cool places my bike takes me and the smiling faces riding alongside me… Mountain bikes open up our world in ways our feet and 4x4s can't. You see, feel and smell so much."
I concur.
Out of the blue, Ingpen invited me to ride and write about a four-day off-road MTB race in Mauritius, going by the name of the Colin Meyer Tour (CMT). Thus, via an intense and all-consuming experience on my bike, I began the process of coloring in my knowledge of the island, feeling its geography, and wrestling with its topography.
Blood, sweat, tears and the triumph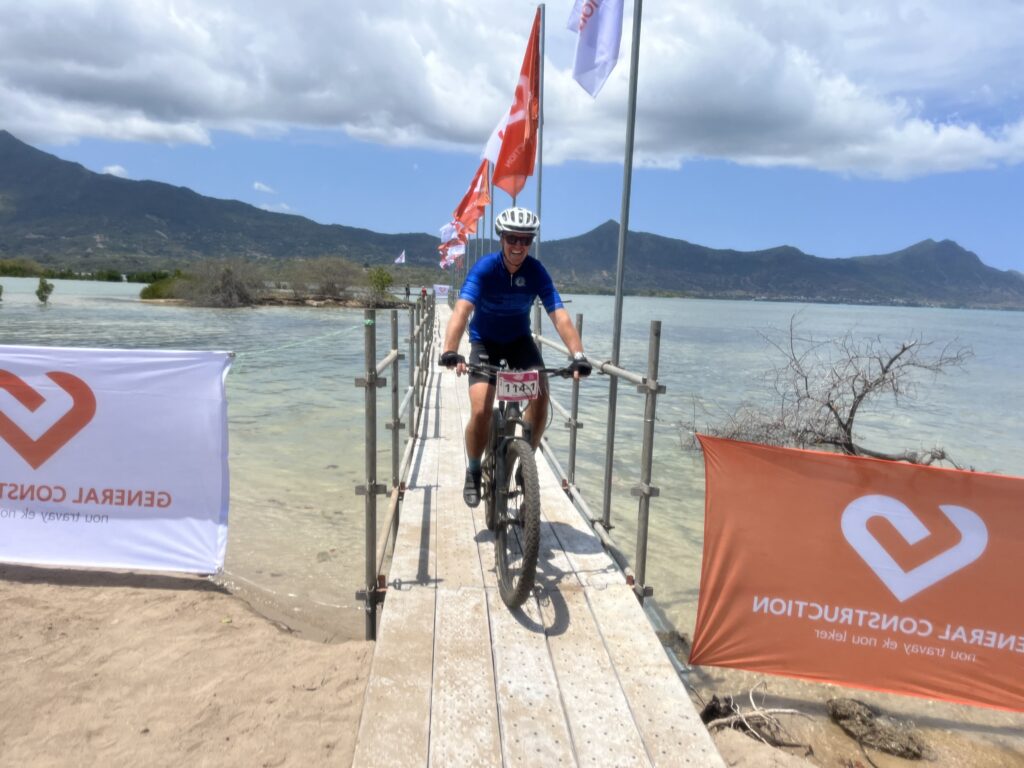 2023 was the eighth edition of the CMT. The race is named after a local riding hero, a one-time champion of the Indian Ocean area, who was killed in a freak accident with another rider whilst training at the Junior World Championships in Moscow in 2009.
Each of its four days starts and finishes in a specially constructed race village, in a basin of natural history, close to the Southern town of Flic en Flac. On one side of the race village lies the Indian Ocean, collared with a coral reef. On the other loom some of Mauritius' highest mountains, including the Piton de la Petite Rivière Noire and the mythical (keep reading and I'll explain why) Le Morne mountain, which juts out into the sea.
The race itself though is not about observing nature at a distance, it's about the intimacy of the long-distance rider with the land and its gradient; it's the views of the sea that suddenly reappear as you summit mountain climbs; it's about how small and insignificant you realise humans are against nature; it's the thirst you build; the exhaustion and exhilaration; the equilibrium you need to establish between a doubting brain and willing to try body.
But I'm getting ahead of myself.
In 2023 nearly 300 riders from eight countries participated, including 28 South Africans and 70 from the nearby island of Reunion. Our ages spanned a 50-year difference: from people in their early 20s like South Africa's Pro Riders, Tristan Nortje and Franko van Zyl, who won the race, to several people in their 70s.
As we assembled on the start line each day, I wondered if I had finally overestimated my capabilities. Whereas I brought mainly resolve and mind-muscle, these men and women were sinewed, technically competent and riding serious bikes.
I was right to worry. If you are politely described as a "social rider" it is a tough race.
Over four days ('stages' in MTB parlance) of riding you will cover 180 km on paths that ascend close to 1,000 meters a day; you will traverse indigenous forests, cane fields (85% of the arable land is covered in sugar cane fields), volcanic mountainsides, go through rivers and over soft beaches.
The route is marked, but the ground you ride over is hard and unforgiving. However, your blood, sweat and tears (I shed a little of each), will be rewarded with views to die for and a sense of accomplishment as you cross the finish line each day.
The race is very well organised. The race village has everything a rider needs, from massages to mechanics, ice baths for weary legs to bike washes for battered bikes; food, beer and humour. Each day starts in the shadow of the Piton de la Petite Rivière Noire like boxers squaring up to each other. Water points are manned by local school children and their joy and enthusiasm is as much a boost as a shot of sugar. When you ride across the finish line, your exhaustion will be tempered by the prospect of an afternoon on the beautiful beaches at Flic en Flac, Tamarin and further afield.
For social riders (rather than racers) the CMT is also a natural history tour: Mauritius' flora is as much a reflection of the fact that this island has been a stop-over place for other species of flora and fauna, as a site of conflict between colonizing nations. En route, you might see the bright Boucle d'Oreille (Mauritius's national flower), clusters of banyan trees, Mangrove forests, and an occasional Mauritian ebony tree.
How does one absorb this beauty?
For me it was about constant contrast: between the hard black volcanic rock (in one place a sheer rock face rising hundreds of meters above the path) and the biodiversity of the flora; the hard push of the bike up steep hills and the view of a turquoise sea that greets you at the top; unexpected encounters with mountain hamlets and roadside Hindu shrines.
Except for the Prologue, a mere 12 km, each day's race is about 60 kilometres. The relatively short distance is misleading, because the terrain, although not too technical, is demanding. It will test you. For the first time in my life I came last (bar about 20 'Did Not Finishes'). But for me, that's a victory. When you have a sore arse and a doubting mind, when your mind and/or body is in revolt against your steel horse, it's the beauty and biodiversity that keeps you pedalling.
I have learned that you never feel more alive than when you are close to the boundaries of what your body can do, and what your mind gives it permission for.
Contested Island: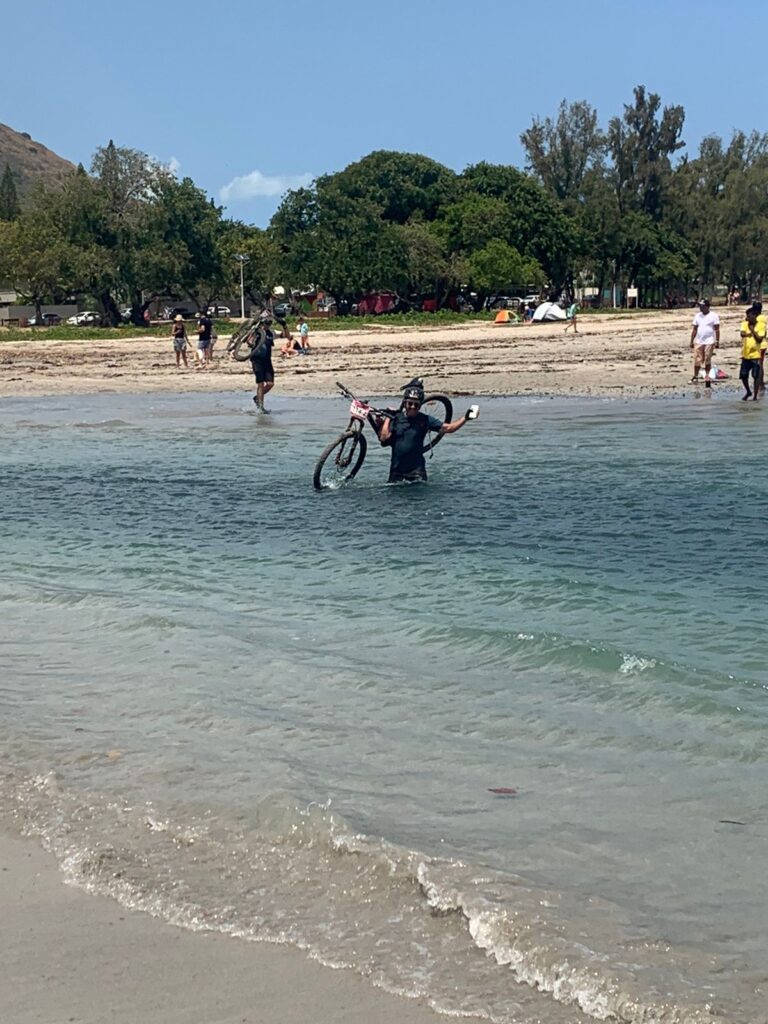 The Colin Meyer Tour is mainly an encounter with the elements, but it is also a race that locates its vision in the identity and imagination of the humans of the island. This means that in the era of sports and ecotourism, I feel tourists also owe a duty of care to the humans who inhabit the places of beauty we visit.
So, finally, some words on the society of Mauritius.
A week before travelling to Mauritius I had bought The Last Colony, A Tale of Exile, Justice and Britain's Colonial Legacy, the latest book by celebrated British legal historian Philippe Sands. I didn't know what was the 'last colony' or what its subject would be. But I'm a fan of Sands' writing – a highly respected British human rights lawyer and teacher.
By pure serendipity (it does happen) The Last Colony turned out to be about … Mauritius, particularly a campaign by the Mauritian government and people to remedy Britain's dismembering of the Chagos Islands from Mauritius' territory just before independence.
From the book, and conversations with hotel staff and taxi drivers, I learned how Mauritius' history is as tortured as its biodiversity. For five centuries it was a magical mid-ocean island fought over between three colonial powers and populated with the slaves from India and Africa that they imported to extract its riches.
For a brief period, known as the Maroon Republic, slaves even appeared to rule the island.
When slavery was officially abolished by Britain in 1834, it continued for another 30 years in Mauritius, its tragedy best epitomized by the legend of the massacre of slaves who took refuge on the mountain of La Morne, today a UNESCO heritage site.
Sands says of Mauritius that "everyone who came here, came by force, circumstance or chance" and today you can still feel how it is marked by its history. It's an island of contradictions. Although from 1814 onwards it was an English colony, its main language is Creole, a derivative of French, in the same way that Afrikaans is a derivative of Dutch.
It's a multi-ethnic multi-faith country with a high level of religious diversity and tolerance. As you drive through the narrow streets of the island, temples, mosques and churches, jostle with each other cheek by jowl, colourful Hindu flags contrast with austere church facades cut from the black volcanic rock. The Hindu Temple at Grand Bassin, built on the edge of a sacred volcanic lake, is a global site of worship for Hindus. Once a year, during the Mahashivaratri festival, people embark on a pilgrimage and walk miles and miles to the Temple from all corners of the island.
Politically too it is something of an enigma. Mauritius has a relatively functioning welfare state (free public transport, education and health), but with epidemic corruption and few employment opportunities for the young, many young people migrate. People of Indian origin make up 67% of the population, but other than the small political elite, the wealth of the country is in the hands of expatriate South Africans, French and Chinese. Roadside foodstuffs reflect the Indian influence on the sea and vegetarian foods: my partner raved about the Dholl puri, pani puri, green mango with chilli and salt and chilli crab!
But despite social and political challenges and contradictions, in the week that I was privileged to be there my mountain bike and I, encountered a land where there is still a sense of social cohesion, a place where – with better stewardship – heritage, history and nature could still join forces to create a society that benefits all who live in it, as well as those that visit it.
So, whether you are a Pro rider, a social rider or something in between, the CMT is a gateway to a bike ride and an experience you should not forget.