Not even the highest seas in living memory could dampen the gun powder of one of the Cape's most popular and prestigious running events, as the traditional firing of a model canon signaled the end of the 29th edition of the OUTsurance Gun Run last weekend (16-17 September).
Ironically, after the stormy weather which prevailed on the first day of the weekend running festivities, Sunday dawned calm, sunny and cool – perfect conditions for the primary event of the weekend – the OUTsurance Gun Run Half Marathon.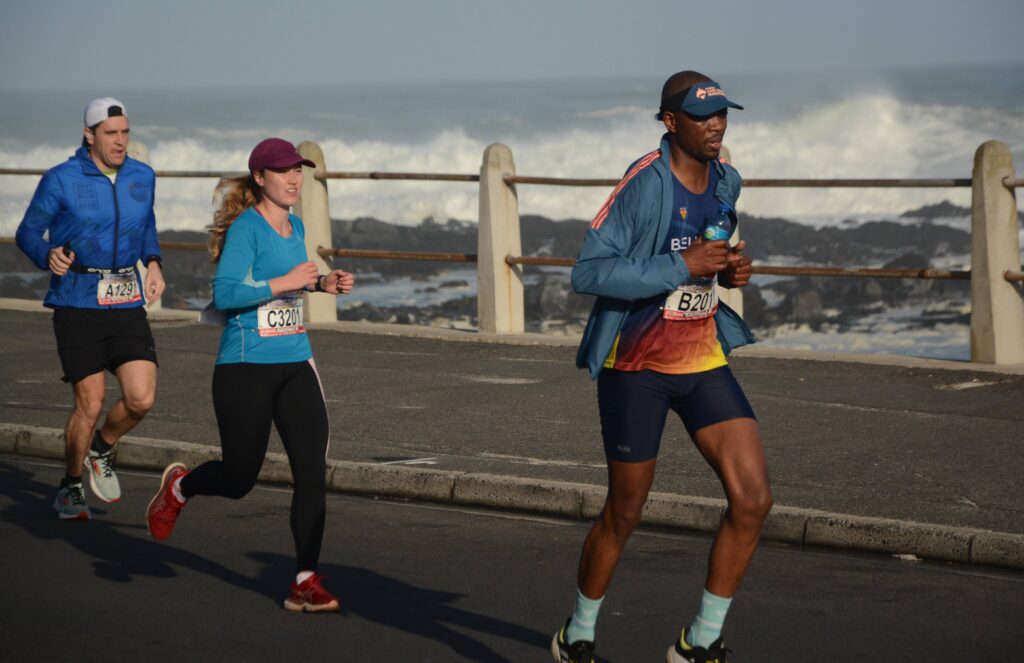 The forced cancellation of the 5km Fun Run and Pet Walk last Saturday, due to the promenade being ruled unsafe, cast a shadow, but there was much to celebrate as close co-operation between the organising club, Atlantic Athletics Club and their Top Events team, the City and South African Police Services facilitated a last-minute route change which allowed the 10km race to go ahead.
An inevitable delay at the start and a shorter course notwithstanding, the fact that there were podium celebrations and awarding of prizes for both the '10km' and a successful second OUTsurance Gun Run Trail Run on Day One was proof of the determination and effectiveness of Team Gun Run.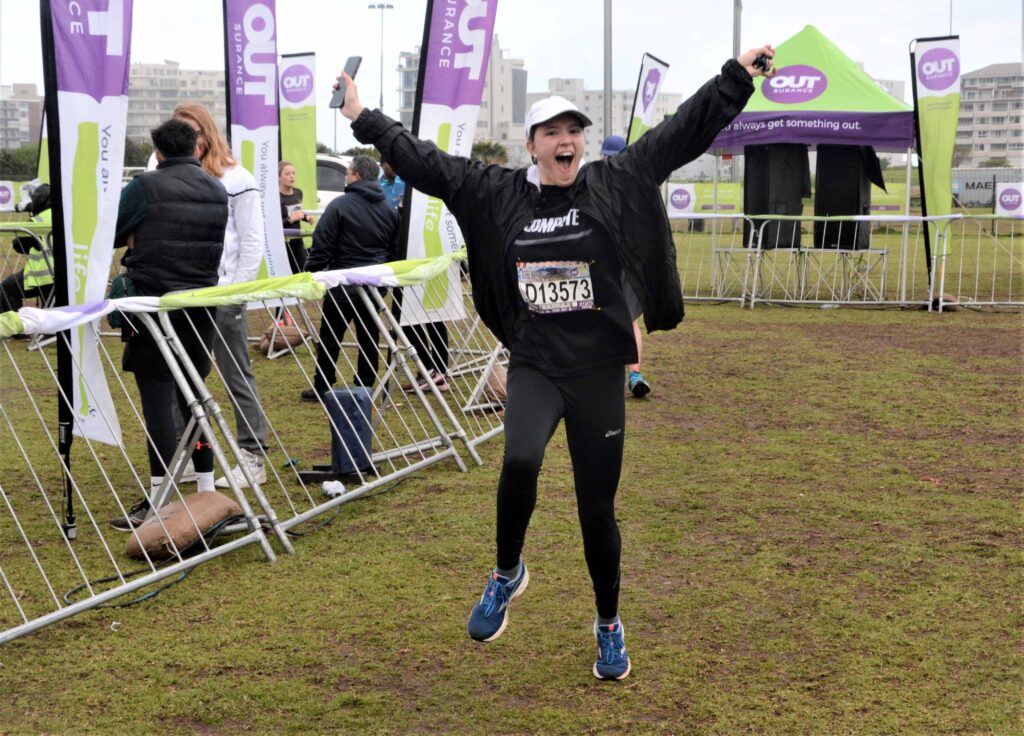 Two 2023 first time trail athletes featured prominently in the 17,8km trail race and look to have the potential to go on to achieve success at higher levels in the sport on the back of notable Gun Run performances.
The Athletes Academy's Philani Sengce has done well on the road and the Stellenbosch-based athlete was delighted to win the first trail race of his running career, while Vicky Welham, who started on trail earlier this year, added another podium position to her fast-growing collection, following an impressive second place to experienced trail-runner, Nadine van Driel.
A rare perfect September day followed the storm and greeted the OUTsurance Gun Run Half Marathon contenders last Sunday. But race organisers faced new challenges, including a burst water main on Kloof Road just past the halfway mark and the abnormal seas, which still threatened the promenade.
In the end, the race went off smoothly. Better than smooth – it sizzled with all that best in distance running in South Africa, both in the intensity of the battle up front and the enjoyment of the run amongst the middle and back markers. Many used the perfect conditions to good effect, recording personal best times for the half marathon.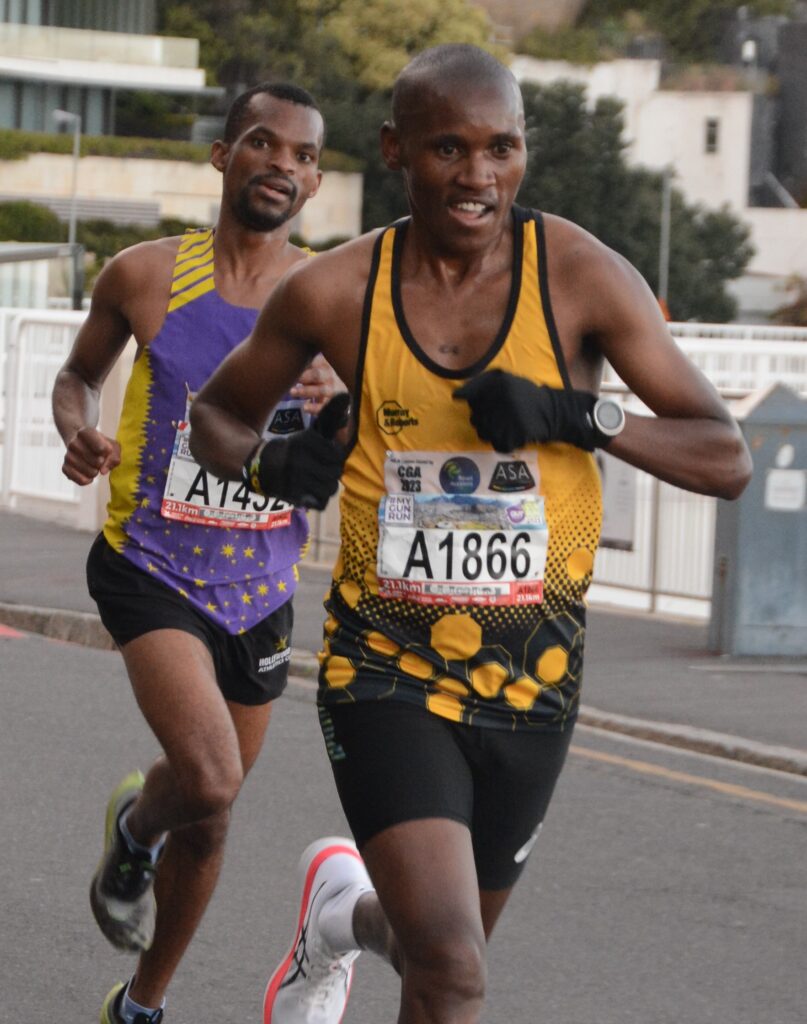 Sibusiso Nzima ran a career-defining race, his win in his fastest ever Gun Run time of 1:03:50 giving him the confidence to go all-out for an Olympic qualifier at Valencia in December, but equally significant was Anthony Timoteus' third-placed finish in what was all-but his half-marathon debut.
The UWC graduate, now coached by Zola Budd, ran a modest half marathon in a student championship in Italy in 2019, but last Sunday's Gun Run Half Marathon was his first competitive race over the distance against top-class competition.
Having raced to a 10km best of 28:29 in the Run Your City Cape Town 10km last May while in a rich vein of form on track and road, Timoteus has had a challenging 2023, but appeared back to something of his best when leading the field through the first half of the Gun Run Half Marathon. 
Timoteus had to conceded defeat to two experienced campaigners but did well to hold his pace to finish a close third, 20 seconds behind Reghen Magwai. and will take confidence into his distance running future.
While the 5km Pet Walk was cancelled, the OUTsurance Gun Run again proved a boon to the canine population of Cape Town, with the event's primary beneficiary, Animal Welfare Society (AWS) gratefully receiving a cheque for R126 676.00 at the final ceremony.
"This is massive for us," said AWS Head of Communications, Resource Development and Fundraising, Allan Perrins. "Last year's funds were used for an important sterilization project, and we are doing more of the same with this increased sum. We will be using these funds to drive a programme of sterilization, vaccination and chip implants in and around our own base in Philippi."
Another beneficiary of this year's Gun Run was South African National Parks, more specifically Table Mountain, whose paths received a significant boost through the partnership with Atlantic Athletics Club.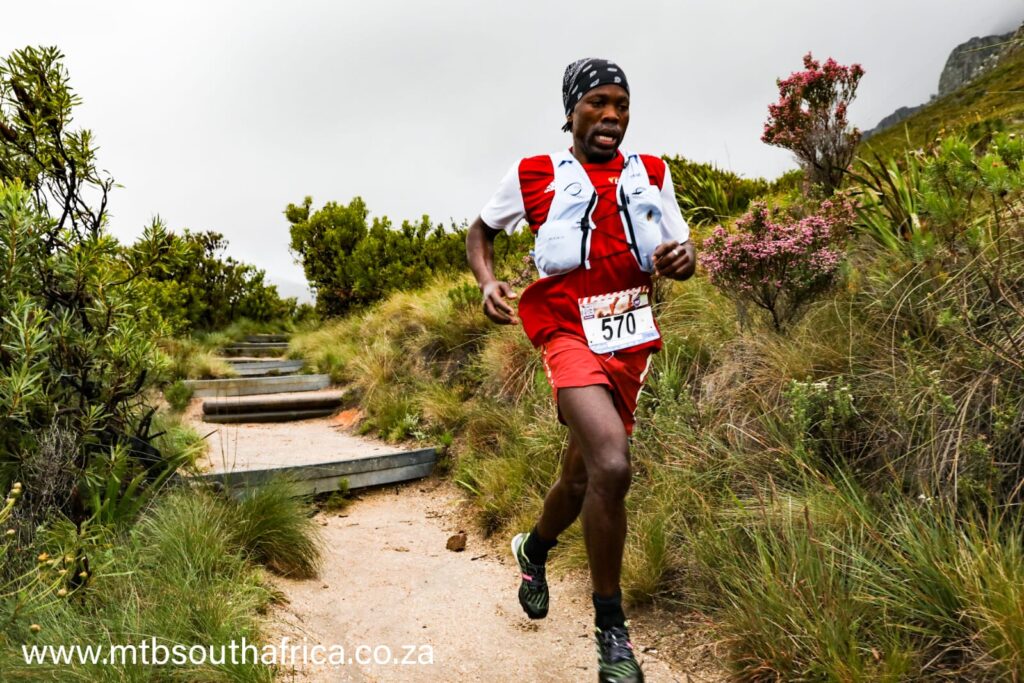 "A major thing for us at Atlantic Athletic Club (AAC) and the Outsurance Gun Run Trail is how this race can give back to our trail running community and the paths that they will be running on," explained Gun Run Trail Run director, Brandon Moulder. "This year saw the beginning of what I hope will be a long-standing relationship with Friends of Table Mountain.
"AAC funded the Friends to do the rebuilding and fixing up of the trail from Kloof Nek parking up towards Kloof Corner and we hope that every year we will be able to fund more of these projects through the money that comes in from both the Gun Run and Gun Run Trail.
"Our hope is that we can also start to build our race into one that is both eco-conscious and gives back to the mountains we run on."
The thirtieth anniversary of the OUTsurance Gun Run is scheduled to take place next September and the organising club, Atlantic Athletics Club, is already putting together a script which is likely to make for mouthwatering participation and entertainment.
There is as yet no official word, but what price a return of many former winners to celebrate a rich Gun Run legacy?
A line up of athletes of the calibre of Warren Petterson, Owen MacHelm, Gert Thys, Luketz Swartbooi, David Manja, Juliet Prowse, Elana van Zyl, Bulelwa Mtshagi, Nolene Conrad, Tanith Maxwell, Charne Bosman and this year's champions, Sibusiso Nzima and Carla Molinaro, at various levels of fitness and ages would be a fitting occasion to celebrate one of the South Africa's best-loved road races.