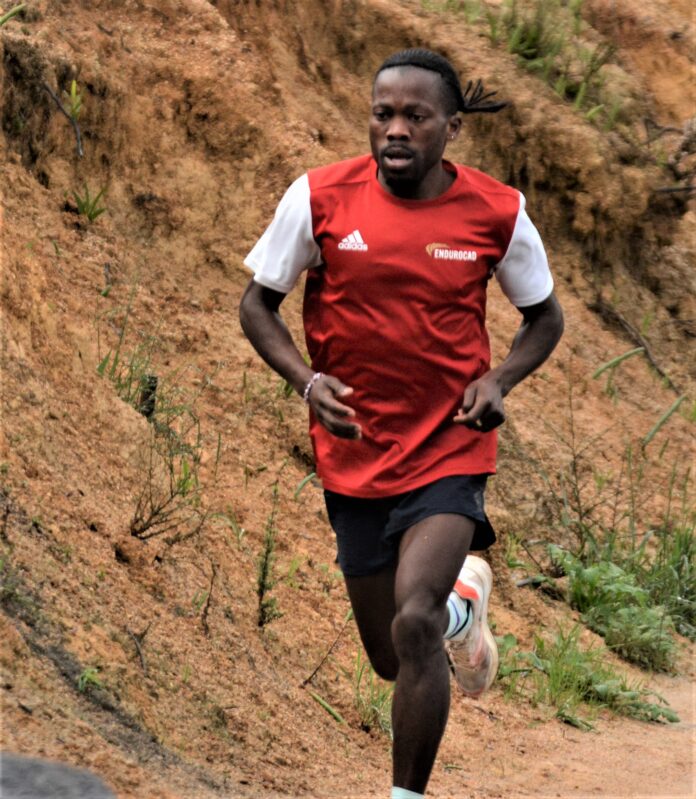 One of a twin and with five siblings, Philani Sengce was born and raised in the small Eastern Cape district of Ngqeleni. Now emerging as one of the leading distance runners in the Western Cape in South Africa, Sengce has made a significant move in his running career by signing up for Saturday's OUTsurance Gun Run Trail Run, his first major trail competition.
Following a number of podium positions in local road races in and around Cape Town, Sengce cannot wait to put his training on mountain trails near his base in Stellenbosch to the test in a new athletics discipline.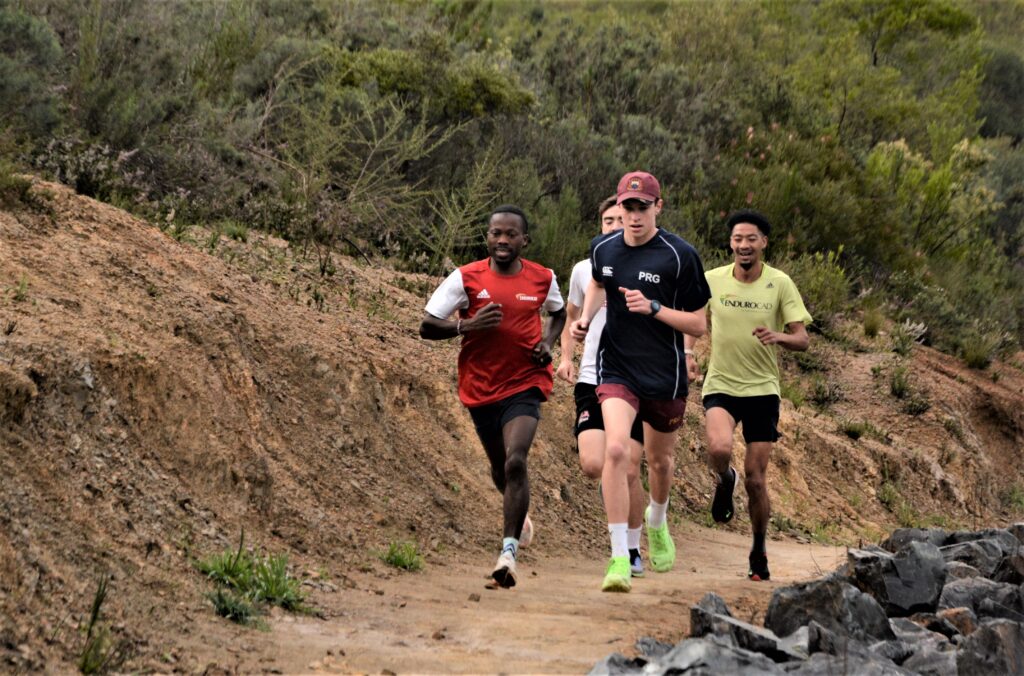 Philani Sengce (left) preparing for Saturday's OUTsurance Gun Run Trail Run with Jacques van Rensburg's squad. Photo – Stephen Granger
"It's a challenge I'm looking forward to take on," Sengce said. "I will do it because I know I have back-up – guys looking after me to prepare well in order to fulfil my long-term dream to wear green and gold and represent South Africa."
It has been a long a challenging road for Sengce. After graduating from Dimanda Senior Secondary School, near Port St Johns, Sengce opted to travel to the Western Cape to see better opportunities for work.
"After three months not getting a job, I decided to further my education and training and I enrolled at West Coast College for entrepreneurship and business management. I was running for Helderberg Harriers at the time when a friend introduced me to Jacques van Rensburg at the 2018 Cape Town 10 km Peace Run."
That was to prove a seminal meeting for Sengce's running career and life in general as he became part of the Jacques van Rensburg – Elana Van Zyl running circle.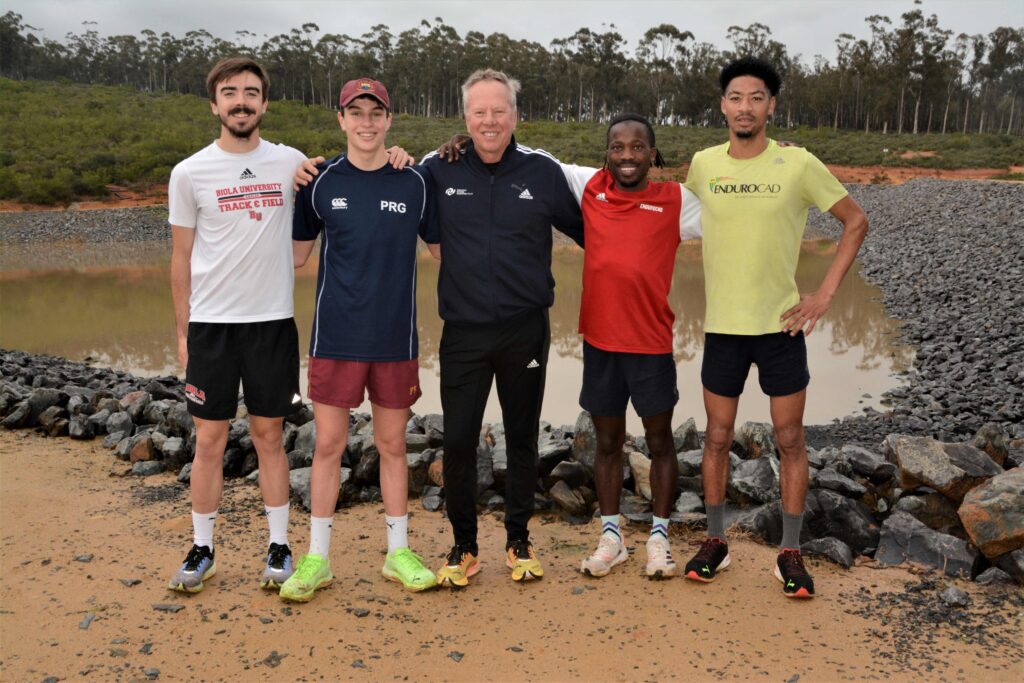 Philani Sengce (second from right) with 'Coach Jacques' and some of his training partners. Photo – Stephen Granger
"It was great to be a part of 'Coach Jacques' training group where I've learnt so much and found great training partners. Then after a long time training with Coach Jacques, I Joined (Elana van Zyl's) Endurocad Running Academy in 2021."
Van Rensburg believes that Sengce's best attributes as an athlete are his strength and endurance and that ultimately he will excel at longer distances – marathons and ultra-marathons. He also believes 'PK', as he is affectionately known by the group, will do well at trail.
"PK was capable of running a 2hr18min marathon last year and he gave it a go at Cape Town Marathon, running his half marathon PB in the process. This year we've decided to enter him in the Cape Town Trail Marathon. But we are going to test at the Gun Run Trail Run and see how he goes.
"PK is very efficient when he runs – he keep head in a line, not bobbing up and down like a track athlete. We've roped in (top trail athletes) Landie and Christiaan Greyling to help him with his trail technique and developed some testing training sessions to prepare him," Van Rensburg continued.
Philani Sengce (right) showing his climbing strength during a hill work-out session at Stellenbosch. Photo – Stephen Granger
"We're doing a session at Jonkershoek which has made a 'moer of a difference'. The guys run uphill for about 8km, then they turn and run a minute downhill before turning again and sprinting up for 30 seconds, repeating till the hill is done. That's a beast!
"Trail provides something different – learning to run with an hydration pack and to pay attention to nutrition during the race. Elana says it opens additional opportunities for distance athletes to race for South Africa at a world championships.
One of Sengce's training mates, Deon-Lee Hendricks, is a strong contender for a podium position in Sunday's Half Marathon and sends out a warning to top trail contenders on Saturday. ""I think the trail runners are in for a surprise at the Gun Run. I run pretty fast, but PK is faster than me on the hills. There's no one stronger than him on the hills."
Sengce's presence in the field for Saturday's OUTsurance Gun Run Trail Run over 17,8km will undoubtedly create interest and his contest against seasoned campaigner, Siboniso Soldaka, could prove a highlight of the weekend's running festival.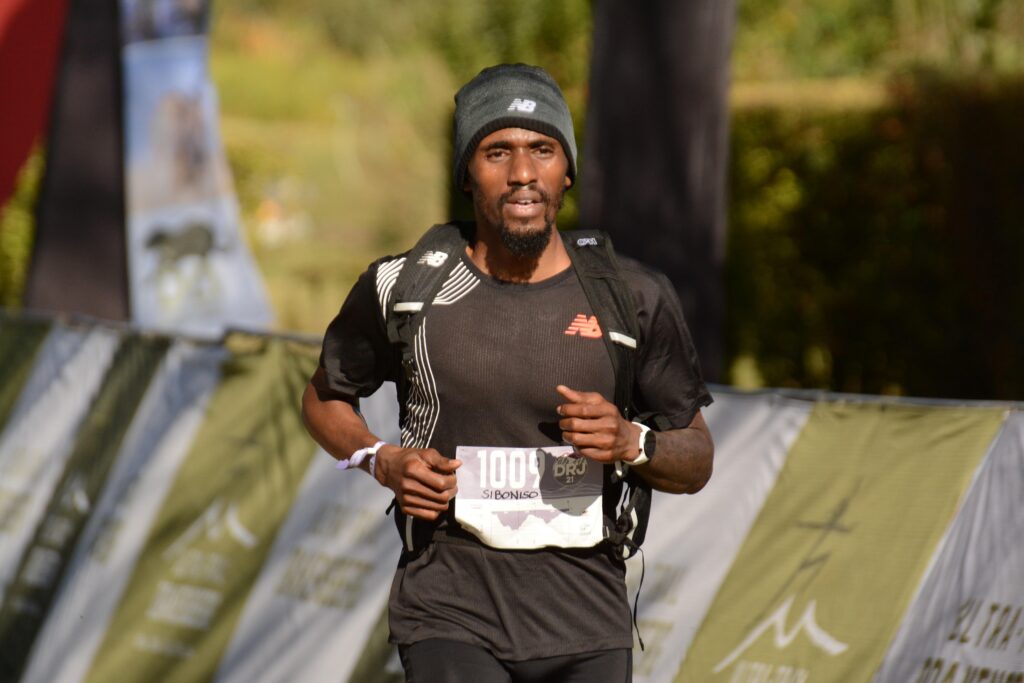 Siboniso Soldaka – favourite to win the OUTsurance Gun Run Trail Run on Saturday. Photo – Stephen Granger
Soldaka is a leading steeplechase track and trail athlete who represented South Africa at the recent World Mountain and Trail Running Championships in Austria and will start favourite to take the title on Saturday. But Sengce will test him and compete strongly for a podium position in his trail debut.