It's showtime for the 2023 OUTsurance Gun Run with 15 000 runners, walkers and dogs making their final preparations for the 29th edition of Cape Town's popular weekend running festival.
Starting out in 1993, the event has flourished and expanded over the years. Now anchored on the spacious Green Point Common, the event includes a half marathon (21,1km), a 17,8km trail run, a 10km run, a 5km fun run and a 5km Pet Walk.
The OUTsurance Gun Run Half Marathon remains the 'blue riband' event and takes place on Sunday morning, with the other four races featuring in tomorrow's line-up.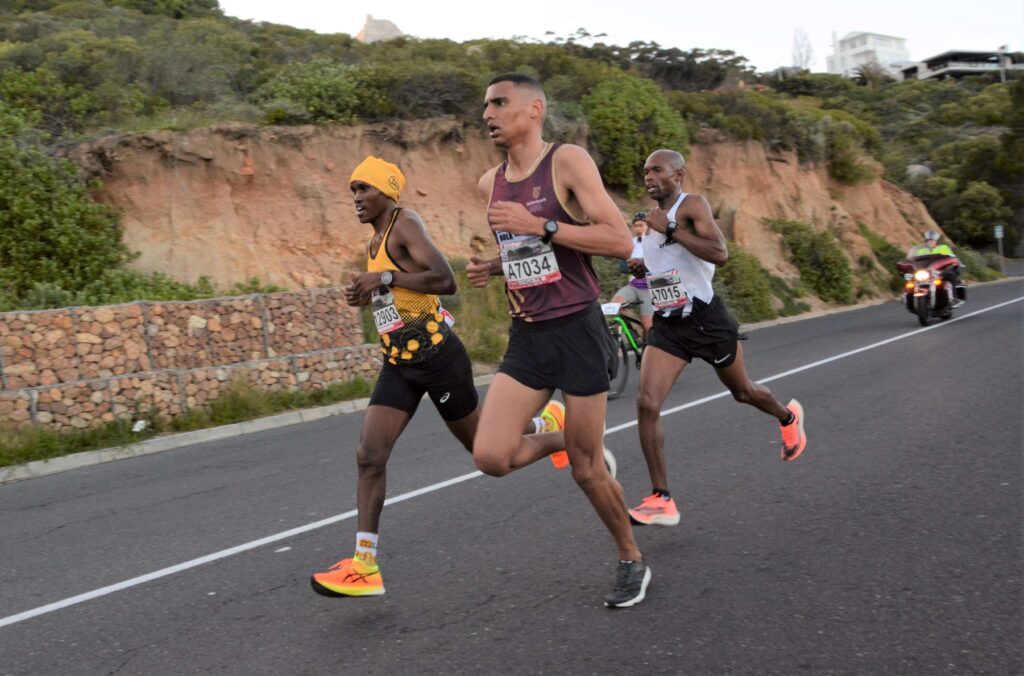 Pretoria athlete, Sibusiso Nzima, leads Ashley Smith and Desmond Mokgobu in last year's race. Nzima will again be a strong competitor this weekend. Photo – Stephen Granger
Prestige and prize money have traditionally attracted South Africa's leading athletes to the Cape's spring 21km 'shoot-out' and this year is no exception, with three top athletes from Gauteng up against one of the Western Cape's most promising young athletes.
Sibosiso Nzima's talent has never been in doubt, although the Pretoria-based athlete, who has represented South Africa in major championships around the world, has at times failed to deliver on his potential.
Now back to his best following illness earlier this year Nzima, 36, is determined to add to his three Gun Run podiums. Runner-up to David Manya and Desmond Mokgopu in 2016 and 2019 respectively, Nzima placed a close third last year behind Stellenbosch-based winner, Ashley Smith, and Mokgopu.
Husband and wife Sibusiso Nzima and Rutendo Nyahora both achieved top positions in last year's Gun Run. Nzima aims to deliver for both of them this weekend as Nyahora prepares for a marathon in Europe. Photo – Stephen Granger
Nzima raced to within one second of his personal best in clocking 28:30 in last weekend's Holywood Bets 10km in Durban and would like nothing better than to stand atop the Gun Run podium on Sunday.
"I had a tough start to the year," Nzima admitted. "I suffered a long illness which I couldn't shake off and was in and out of hospital. But I'm feeling well now and have had two good training months behind me.
"I went into last weekend's race in Durban just aiming for a low 29 minute time, but my legs were fresh after my long lay-off and I just followed the guys upfront. I was surprised and pleased at running close to my PB and am confident for Sunday's run."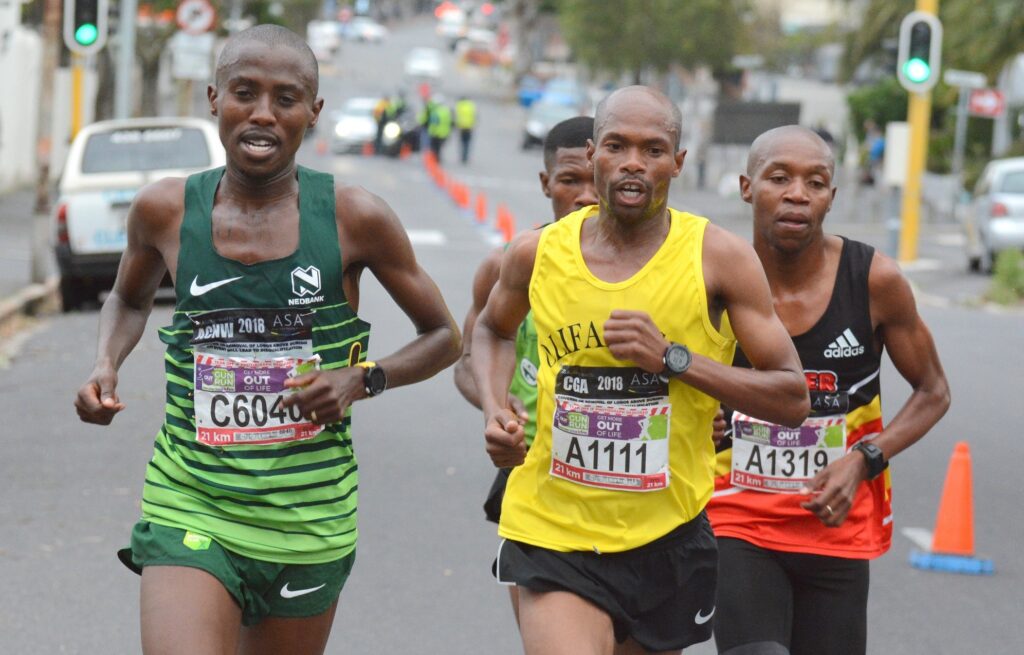 Gladwin Mzazi (right) in the lead group in the 2019 OUTsurance Gun Run Half Marathon. Mzazi aims to bounce back to form on Sunday and contend for line honours. Photo – Stephen Granger
While Smith and Mokgopu will not be racing this year, Nzima will not have matters his own way, with fellow-Pretoria athletes Reghan Magwai and Gladwin Mzazi in the field. Magwai finished a close third behind leading performers, Precious Mashele and Melikhaya Frans, in last year's Gun Run 10km, and beat Nzima in last week's 10km in Durban, recording his best time for the distance of 28:26.
Magwai edged out Nzima by a similar margin in last year's national half-marathon championships in Gqeberha in his personal best of 1:01:24, laying the foundation of what could prove a classic duel on Sunday.
Mzazi is a former national 5000m champion with faster times over 21km and 10km than either Nzima or Magwai, but his times date from the best part of a decade ago.
The former Southern Cape athlete, Mzazi, remains competitive at 35 years, and boast an impressive record Gun Run 10km, winning in 2016, runner-up the following year and fourth in 2018. He will be looking to improve his fourth in last year's half marathon race to a podium position.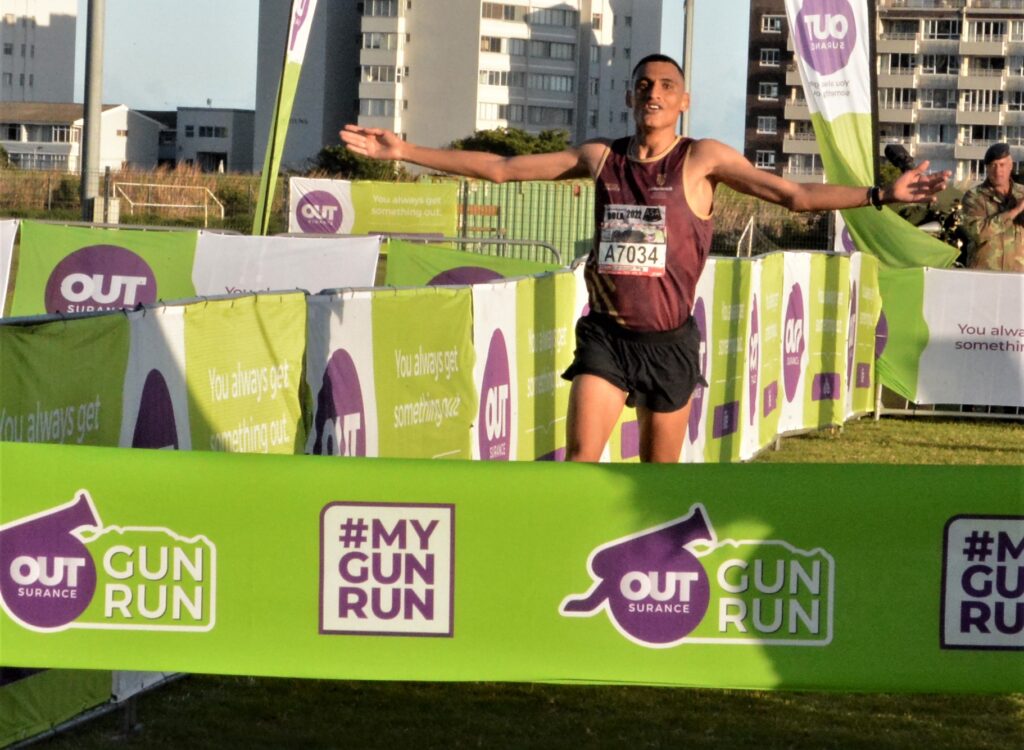 Ashley Smith – upset favoured visiting athletes in last year's OUTsurance Gun Run Half Marathon. Photo – Stephen Granger
Smith upset the more favoured visitors last year and a fellow-Stellenbosch athlete, Deon-Lee Hendricks, will be looking to replicate Smith's win by stealing the honours from the favoured Pretoria trio.
Coached by Jacques van Rensburg and the star of the award-winning documentary film, 'Langafstand', on how running helped to turn around his life, Hendricks believes Cape athletes can take the game to their inland rivals, who train at altitude. "Blokkies (Smith) showed us the way last year," Hendricks explained, "and I'm aiming to follow in his footsteps!"
Deon-Lee Hendricks (right) in preparation for Sunday's OUTsurance Gun Run Half Marathon. Photo – Stephen Granger
While all eyes will be on the outcome of Sunday's race, there is competition and entertainment aplenty in tomorrow's line-up, with the OUTsurance 5km Pet Walk, linked to the event's primary charity beneficiary, Animal Welfare Society, proving one of the most popular events.
"Last year was a great experience, but this time we're going all out," said Animal Welfare Society Head of Communications, Resource Development and Fundraising, Allan Perrins.
"At a management meeting yesterday, we decided to close up shop and virtually everyone is coming through for the event. We've got brand new tops for the occasion and everyone will look like a million dollars in what is a a huge opportunity to showcase our work.
AWS – putting their best foot forward in last year's race. The OUTsurance Gun Run beneficiary have promised to go all out this year. Photo – Stephen Granger
"We're putting our best foot forward. Everyone's excited and looking forward to getting out there tomorrow. We are very grateful to OUTsurance and Atlantic Athletics Club to be chosen again as the race beneficiary."
The AWS team will focus on getting their message across to the 600 plus participants who have signed up for the event. "I said to the race organiser last year that this event could become the biggest organised dog walk in Cape Town and with more than 600 registered, the OUTsurance Pet Walk has already achieved that," said Perrins.
Happy faces finishing the 2022 OUTsurance Gun Run 5km Fun Run. Photo – Stephen Granger
The City have asked that we make provision for any vetinary incidences on the walk, so we will have a full compliment of vetinerary nurses on the route and will cheer people on from our gazebo at the half way water point.
"I will be walking with our vet, Dr Zheneta Stoynova, who will carry a haversack with all her treatment materials, and one of our nurses, Nicky Foord, who has entered the walk with her husband and their dog.
"And our ambassadorial team will be at the start and finish to reach out to the public and promote our work."
AWS is making an important difference in areas of poverty in Cape Town. Last year's contribution from Gun Run participants and sponsors was over R100 000, with the funds channeled into an important sterilisation project.
"The benefit was massive," said Perrins. "We managed to sterilise, deworm, vacinate and micro-chip several hundred pets, which went a long way to preventing unwanted litters and puppies.
"This year we're going to embark on a large pet sterilisation and education campaign in Philippi, at Jim se Bos, Nkula Bend and Pampies."
Ponzo, the AWS mascot, receiving a reward from former Gun Run winner, Juliet Prowse at last year's launch with AWS officials Shannon-Lee Beukes and Lawrence Nkotha in attendance
Look out for AWS mascot, Ponzo the dog, who will again be part of AWS' team under the guidenace of his 'mother', Animal Welfare Society's Inspectorate Controller, Shannon-Lee Beukes.
All races will end at the Green Point Common, opposite the Green Point Cricket Club, where there is plenty of space for all participants and supporters to soak up the atmosphere and enjoy the entertainment on offer after their race.
The road races will start at on Fritz Sonnenberg Road, Green Point, with the trail race getting underway at Van Riebeeck Park, Oranjezicht.
Saturday 16 September
OUTsurance Gun Run 10km Race: Start 07h00; Cut-off 09h00
OUTsurance Gun Run 17,8km Trail Run: Start 07h30; Cut-off 11h00
OUTsurance Gun Run 5km Fun Run: Start 08h00
OUTsurance Gun Run 5km Pet Walk: Start 08h30
Sunday 17 September
OUTsurance Gun Run Half Marathon: Start 06h30; Cut-off 10h30