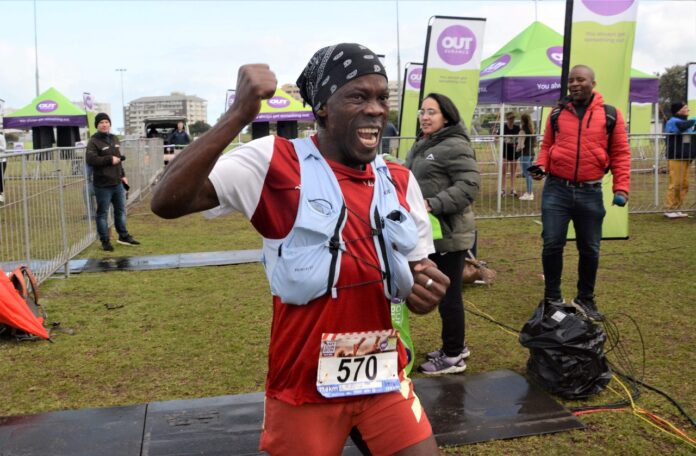 Philani 'PK' Sengce raced to victory in his first competitive trail race in the 17,8km OUTsurance Gun Run Trail Run between Van Riebeeck Park in Oranjezicht and Green Point this morning (Saturday 16 September) while seasoned trail athlete, Nadine van Driel, took honours in the women's competition.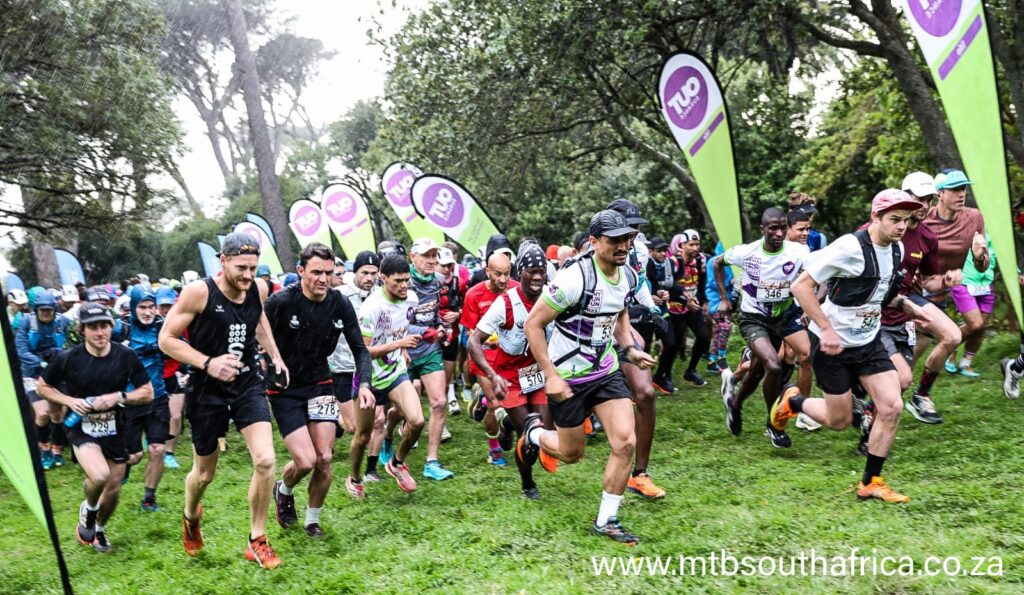 Five hundred runners get underway at the start of the OUTsurance Gun Run Trail Run. Photo – Shawn Benjamin
Sengce has featured prominently in local road races in the past two years but his coach, Jacques van Rensburg, suspected his strength and endurance and ability on off-road terrain could best be suited to trail running and suggested he enter one or two events in the second half of the year.
Tempestuous weather combined with heavy sea swells rendered the Sea Point Promenade impassible, leading to the cancellation of the OUTsurance Gun Run 5km Fun Run and Pet Walk, but the conditions were no problem for the 500 'trailers' who enjoyed testing their skills on Table Mountain in the cold and wet.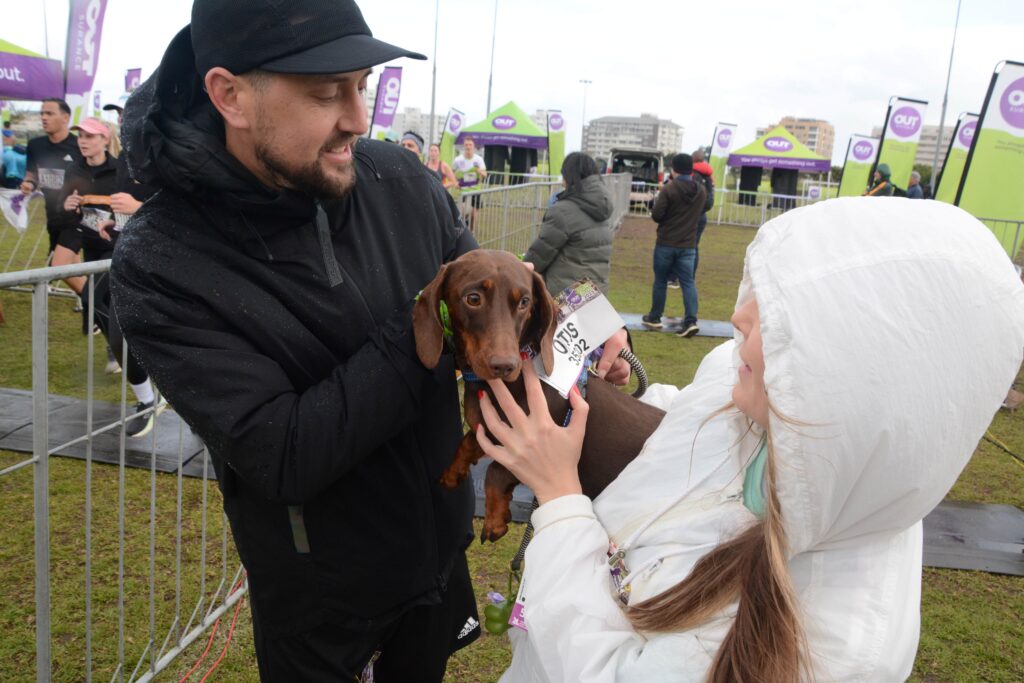 Otis the daschund was undeterred by the cancellation of the 5km Pet Walk. He simply took his parents along on the 9km run instead, receiving a finishing medal. Photo – Stephen Granger
Quick thinking on the part of the organising team and close co-operation with City and South African Police Service officials saved the OUTsurance Gun Run 10km, and the route, which had included the Sea Point Promenade, was redesigned and marked and although there was a delay before the start of the race, three thousand runners were pleased to be able to race.
Top athletes Bruce-Lynn Damons (Nedbank) and Yandiswa Shange (Athletes Academy) raced home at Green Point Common ahead of their rivals on the last-minute re-routed course, which measured 9km.
Damons was a cut above the rest, romping home in 27 min 06 sec to win by over a minute ahead of Athletes Academy athlete, Lorenzo Zimry, with top junior, Waylon Jooste third. The women's contest was much closer, with Shange holding off veteran Christiane Adriaanse to win by 18 seconds in 34:25.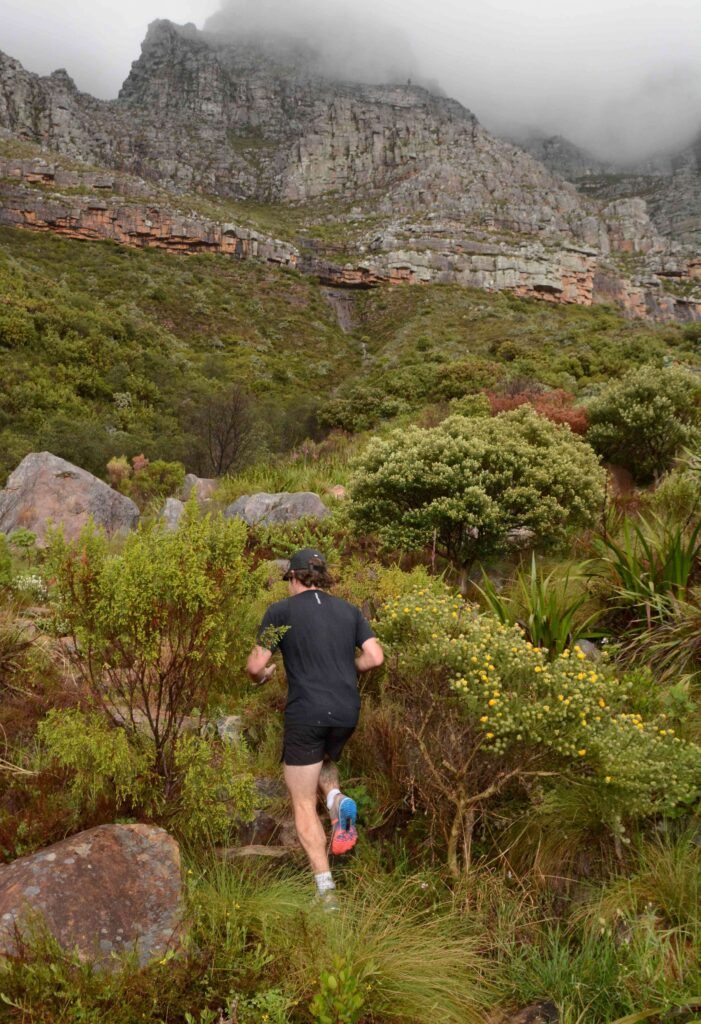 Brode Gleeson on a climb towards the Table Mountain contour path 6km into the race. Photo – Stephen Granger
The trail race got underway in rainy conditions, with the 500 participants running a long ascent through Deer Park on the lower slopes of Table Mountain, reaching Tafelberg Road at the well-known trail marker, Dead Man's Tree shortly before the 6km mark. Sengce held a narrow lead over Eastern Cape Nedbank athlete, Songezo Mdedelwa.
Sengce took to his new trail challenge with ease, leading Mdedlwa up the single track towards the Table Mountain contour path.
The pair held a 90 second lead over last year's winner, Tashwell Damons, with Jonathan Benjamin and Star Shayamano close behind in fourth and fifth. Brode Gleeson and Damien Will were a further two minutes back in 6th and 7th positions, with Willie Grove, Jason Neels and Paul Thompson rounding out the top ten.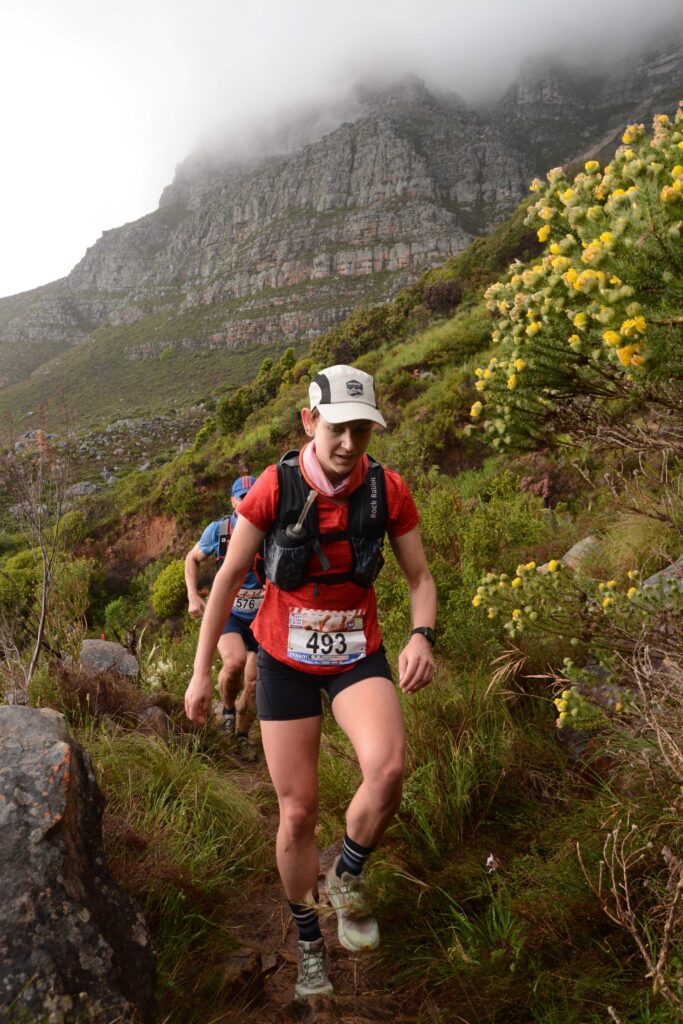 Nadine van Driel leads the women's race through 6km on the climb to the contour path
Nadine van Driel, last year's Muizenberg Trail winner and part of the winning team in this year's Hout Bay Trail Challenge, led the women's race at 6km, with trail newcomer, Vicky Welham, a minute behind in second.
Misadventures in navigation are part and parcel of trail running, and the storm likely played a part in this year's Gun Run trail mischief. Sengce opened a gap on Mdedelwa on the climb to the contour path, with the latter missing a marker and finding himself back at 6km, 10 minutes and several positions after he had been there before.
That left Sengce out on his own down Kloof Corner and Kloof Nek and the race appeared to be over as he raced clear on the single track around Signal Hill. But confusion on the descent resulted in Sengce taking an incorrect turn with Damons following some way back in second.
By the time they realized their mistake and regained the correct path they were no longer the front runners.  Sengce's determination and speed enabled him to regain the lead on the descent to Green Point and he raced home in 1:20:46 – 37 seconds clear of Benjamin, who held off Gleeson by 16 seconds.  Damons finished 21 seconds later in fourth.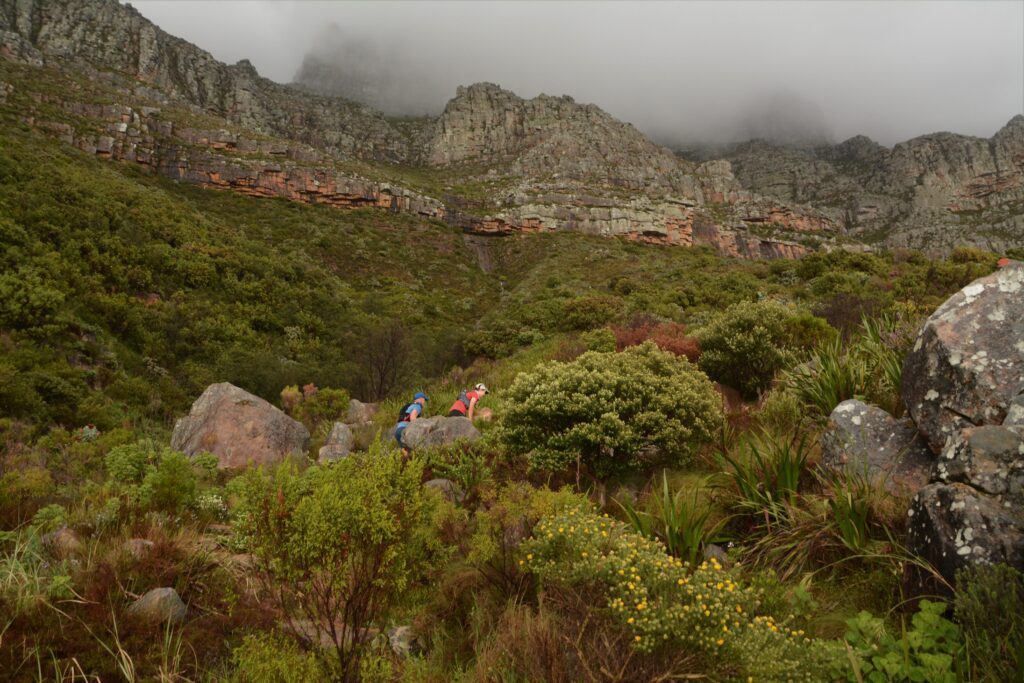 Two athletes dwarfed by Table Mountain on a climb during the 17,8km OUTsurance Gun Run Trail Race. Photo – Stephen Granger
Van Driel raced home to victory in 1:38:36 with Welham impressing with a close second, 87 seconds behind.  In her first year of trail running, Welham has already secured several podium finishes, including winning the Bastille Day 25km in Franchhoek in July (when she beat Van Driel into second) and looks certain to make an impression in the sport in the future.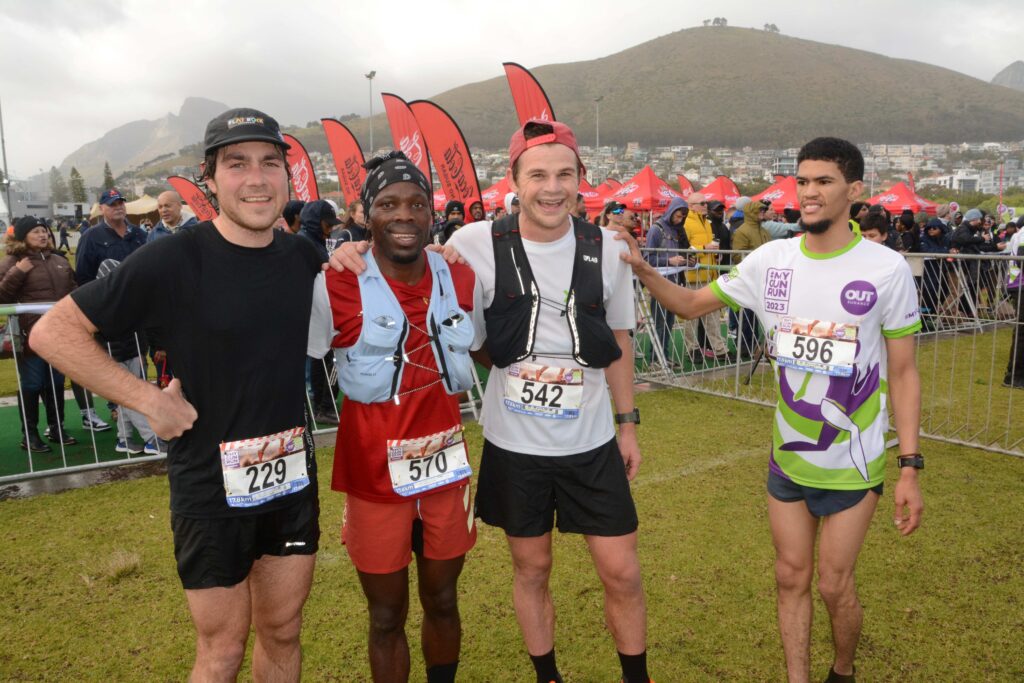 Top four (from left to right) – Brody Gleeson (3rd), PK Sengce, Jonathan Benjamin (2nd) and Tashwell Damons (4th). Photo – Stephen Granger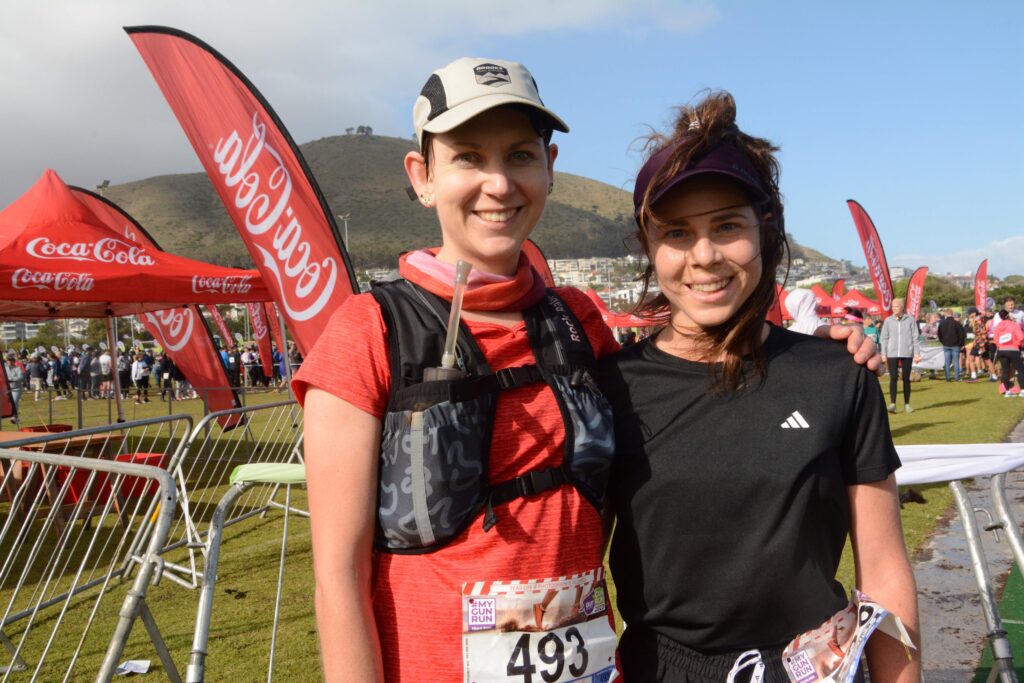 Top Two – Winner of the OUTsurance Gun Run Trail Run, Nadine van Driel, with runner-up Vicky Welham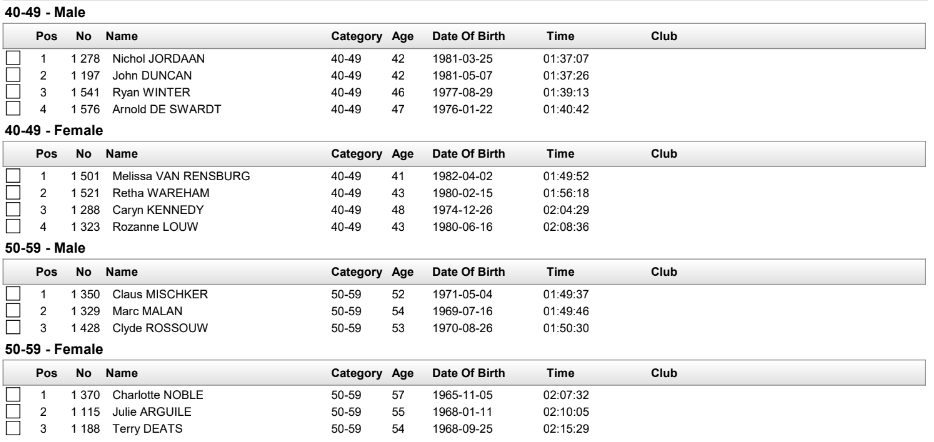 Top five in the OUTsurance Gun Run 9km. Winner Bruce-Lynn Damons (centre) is with UWC's Waylon Jooste (3rd) and Athletes Academy's Lorenzo ZImry (2nd) on the left and William Dommisse (Univ of Stellenbosch – 4th) and Benjamin Daniel (UCT – 5th). Photo – Stephen Granger