Sibusiso Nzima finally made it to the top of the Gun Run podium with a career-defining victory at the OUTsurance Gun Run Half Marathon at Green Point this morning (17 September), while leading ultra-marathoner, Carla Molinaro, showed her talent in the shorter distance, winning the women's race.
Nzima raced clear of his friend and close rival, Reghen Magwai, in the final two kilometres to win a thrilling race in 1:03:50, 28 seconds clear of Magwai, with Cape Town athlete, Anthony Timoteus, a further 20 seconds back in third.
Phantane Athletics Club's Molinaro was unchallenged, leading from the start to win in 1:17:40, two minutes clear of local athlete Zintle Xiniwe (Nedbank Running Club), who narrowly held off fast-finishing Mia Steytler (Tymebank Langa).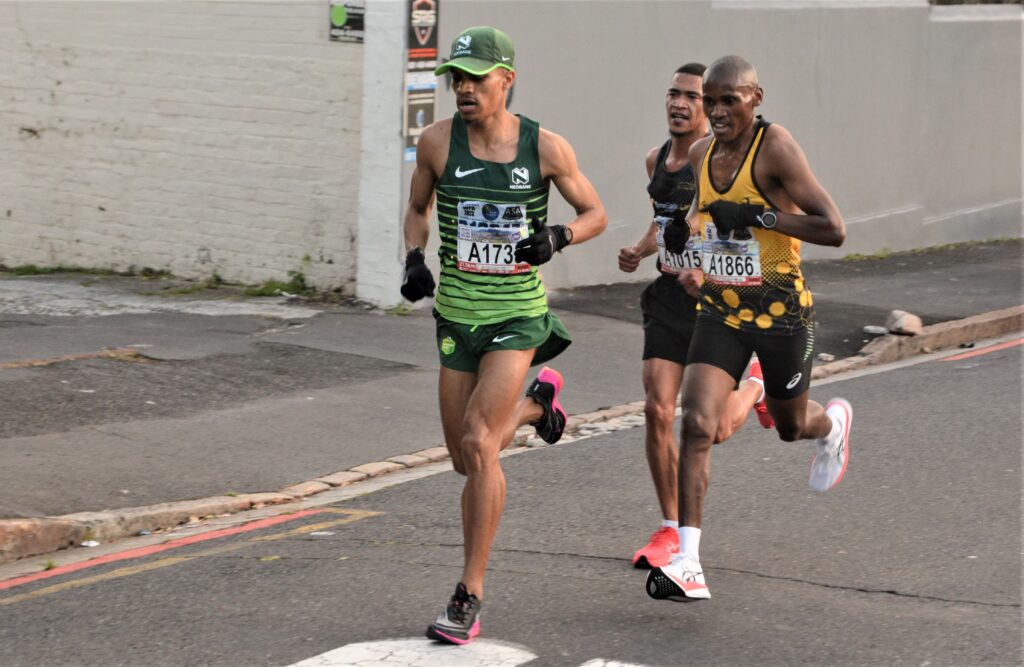 Leaders through half way – Anthony Timoteus leads Sibusiso Nzima (right) and Reghen Magwai. Photo – Stephen Granger
The cold wind and rain, which had swept away the scheduled 5km Fun Run and Pet Walk the day before, vanished overnight, transforming bleak and windswept into glorious calm sunshine with the cool temperature providing perfect conditions for personal best times.
36-year-old Pretoria-based athlete, Nzima, boasts a half marathon best of 1 hour 1 min 38 sec and a 2:11:43 marathon and has been given several opportunities to represent South Africa at Olympic and World Championship level. But he has at times struggled to put his best foot forward on the biggest stages.
After recovering from a troublesome illness during the first half of the year, the Murray & Roberts athlete appears back to his best and is eager to take his distance running talent to new heights.
"Something happened today, it was different," Nzima reflected. "The key moment came 3km from the finish. Recently Reghan has had the better of me in the critical moment, but not this time!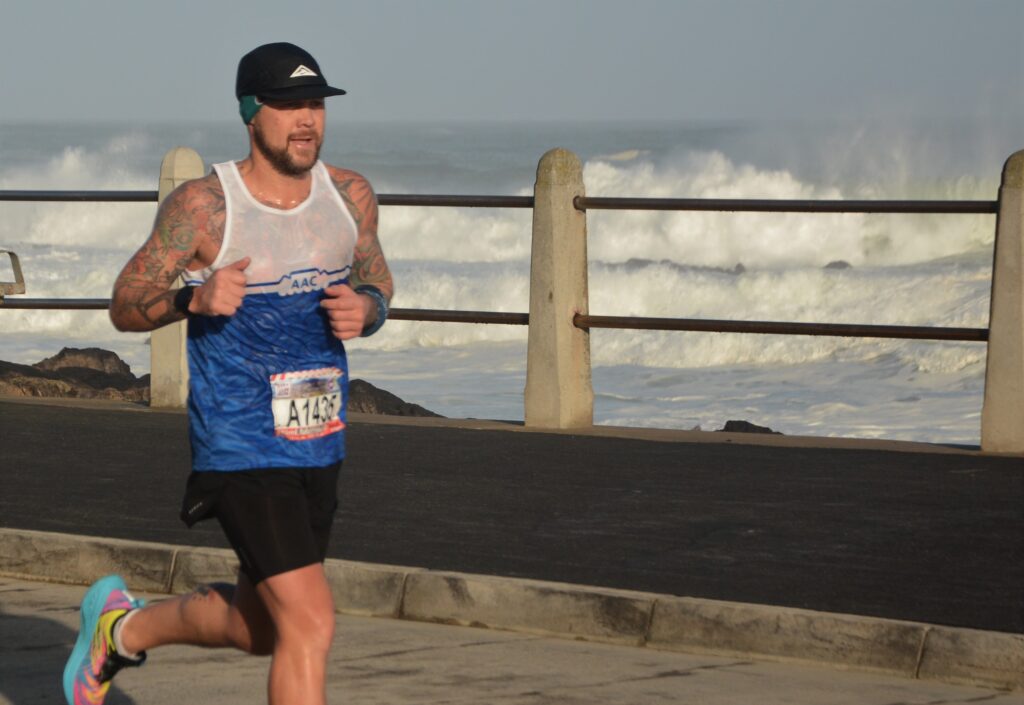 Making waves. The large sea swell and Atlantic Ocean breakers provide the backdrop as Graham Matthews of the organising club, Atlantic Athletics Club, races through 6km from the finish. Photo – Stephen Granger
"We had a lead pack of five who ran together in the first half of the race. Timoteus was setting the pace with William Kaptein (Tymebank Langa), Deon-Lee Hendricks (Athletes Academy), Reghan (Holywood Athletics) and me in the mix.
"Last year I made a mistake by allowing Ashley Smith to break early and then we could never catch him. I told myself I would not allow that to happen again, so I made sure I was always in a position to cover any move.
"I knew the long hill (Kloof Road between Sea Point and Camps Bay) would be decisive," Nzima continued. "Timoteus surged on the hill and I responded. Then I pushed hard about 100m from the summit and found I had opened a gap and continued to go hard on the descent.
"But Reghen is a strong downhill runner and caught me again just before Camps Bay (where the athletes turned for home). He started pushing the pace and we agreed to work together to keep ahead of the others."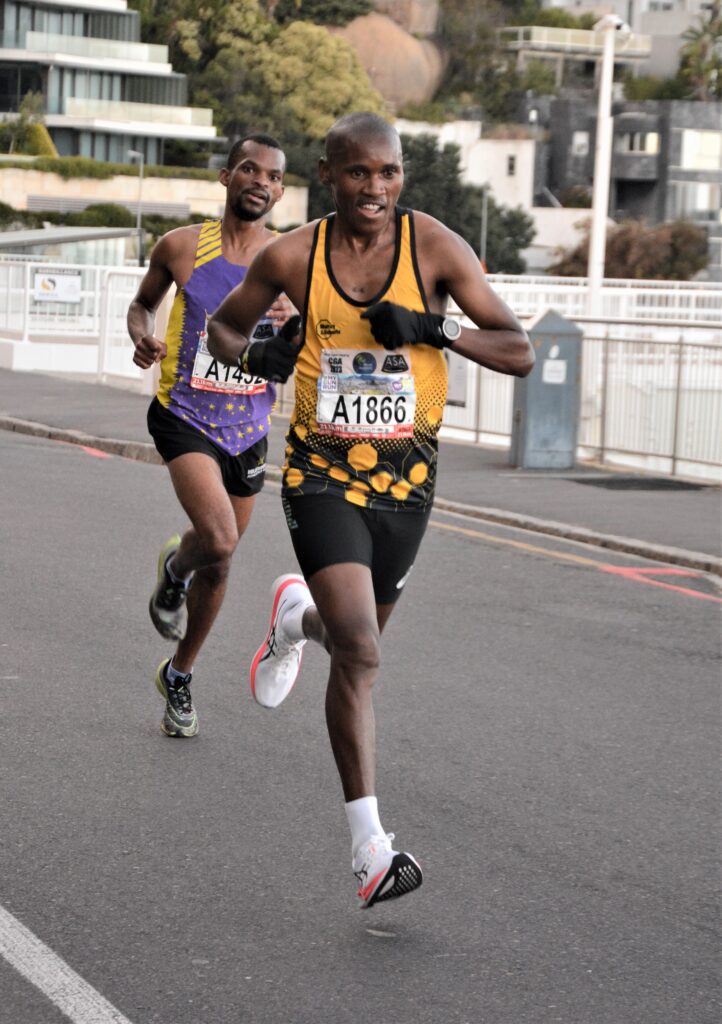 The battle of the titans as Sibusiso Nzima and Reghen Magwai battle for supremacy 6km from the finish. Photo – Stephen Granger
But the race came down to an intense battle between the two leaders in the final kilometres along the promenade, one which was as much mental as physical, with Magwai giving it all in a final bid for supremacy.
"I knew that if anyone in the race could beat me, it was Sibusiso," admitted Magwai. "Whenever I tried anything, he responded, so I knew he would be hard to beat today. Even last week, when I beat him in a close 10km race in Durban, I told my friends that this guy is back and will be hard to beat at the Gun Run.
"I put in a big surge at 18km. I gave it my best shot but it was not enough today. He was just too strong."
Nzima admitted he almost surrendered at 18km. "I thought to myself 'I'm in trouble now but if I let him go, it will be his day'. But I was hungry for this race – I needed to win this one."
Two kilometres from home, Nzima again upped the ante, and this time Magwai was unable to stay the pace. "I didn't want to leave it for a sprint finish – the aim was to increase the tempo 2km out," Nzima explained. "I managed to open a 50m gap and held on for a win."
Today's OUTsurance Gun Run Half Marathon was an important marker on Nzima's comeback trail, charting a path he hopes will lead to Paris at next year's Olympics.
"I'm very happy with the win today after being so sick early in the year," Nzima said. "It's my fourth and fastest Gun Run (Nzima was twice runner-up and third last year) – and this is one of my biggest highlights.
"This was an important target race for me in my preparation for a marathon in Europe in December. I'm working well in a slow build-up with Coach Lindsay (Parry). We're not in a rush. Just doing things according to the plan for the long term.
"The aim is to qualify for the Olympics, then after that I'll move up to ultra-marathon distances."
Leading woman, Carla Molinaro, keeps pace with first master athlete, Shawn Abrahams, on her way to victory. Photo – Stephen Granger
British athlete, Molinaro, who holds a world record of just 30 minutes over 12 days for running the length of Britain, has now made South Africa her permanent domicile. But she has been chosen to represent Great Britain at the World 50km Championships in Hyderabad, India, in November on the back of her superb performances at this year's Two Oceans and Comrades Marathon, where she placed third on both occasions.
She showed good speed over the shorter distance today, racing clear from the start to record an impressive victory and encouragement for her challenge in India at the end of the year.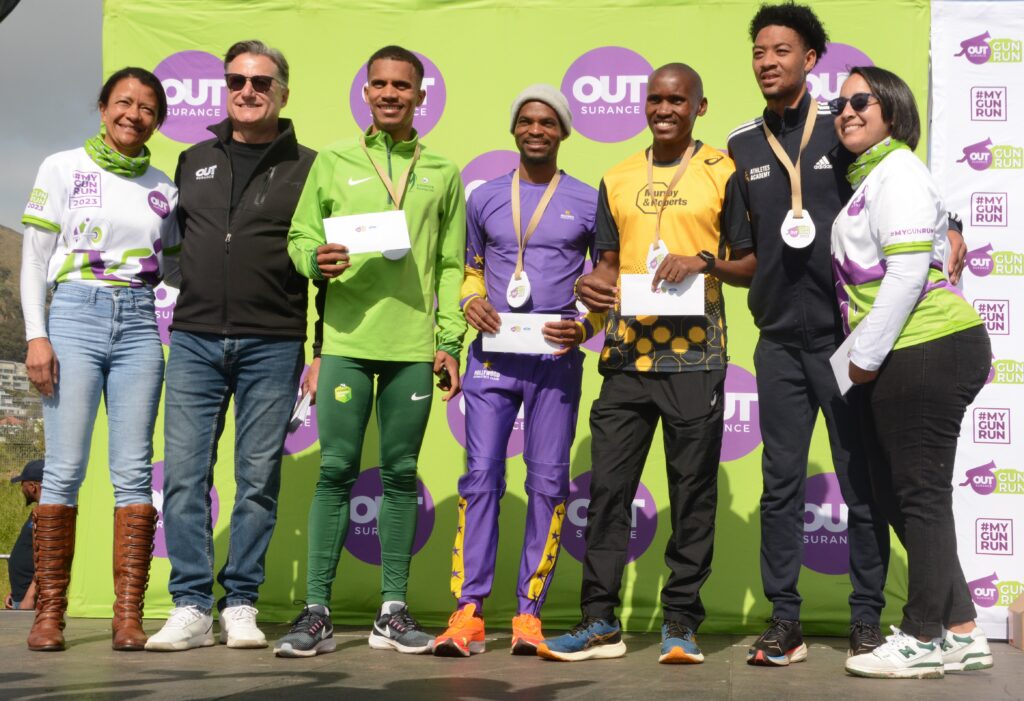 Atlantic Athletic Club's Lynn Davis, OUTsurance's Chief Marketing Officer Carl Louw and Top Event's Nuha de Roos share the stage with the Gun Run's Top Guns – from left Anthony Timoteus (3rd), Reghen Magwai (2nd), Sibusiso Nzima (1st) and Deon-Lee Hendricks (5th). Photo – Stephen Granger