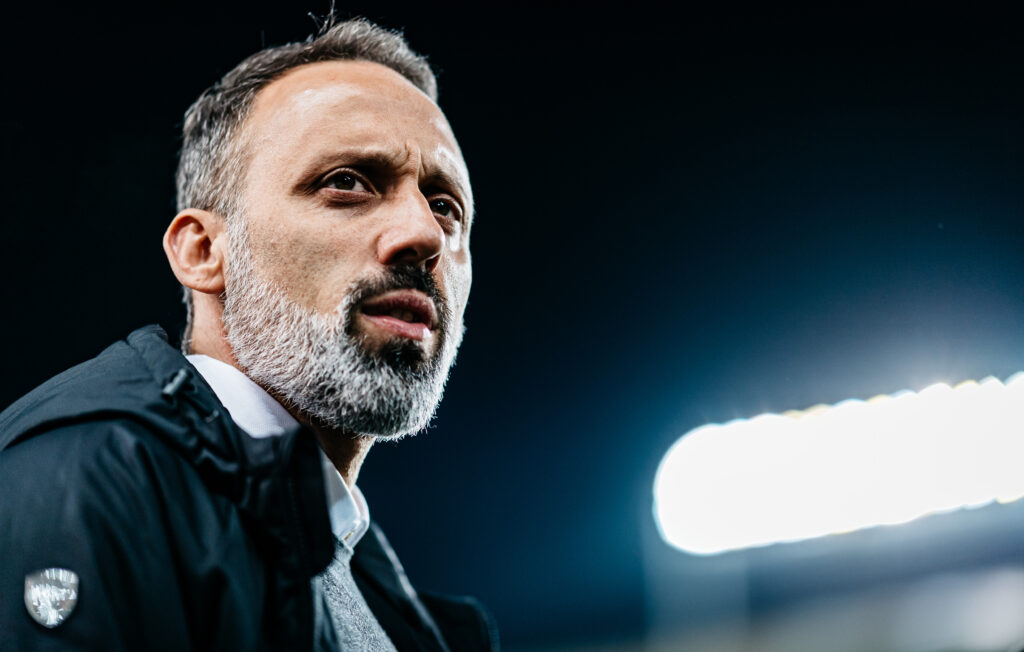 Q: How do you feel about being a head coach in the Bundesliga?
"It's a fantastic feeling to have such a big responsibility at a club like
Stuttgart. It is a club with so much history and culture and such a big
fanbase. I am very excited for the opportunity and for the chance to work
with the guys on the team. I think we have a very good team on board
and a good spirit in the team, as well as good people at management
level. I have a good feeling about everyone on board and look forward to
the season."
Q: Stuttgart is 5th in the all-time Bundesliga table and the city is
home to many high-tech and world-renowned companies. How big
is the sense of expectation at Stuttgart, even as newly-promoted
team in the Bundesliga?
"Of course, we sense the pressure from our surroundings, but I think it is
important to filter that pressure before it reaches the players. The players
need to be free and have a clear head, an open mind, and have a good
feeling about being on the pitch. I understand the responsibility, but it is
important to filter that pressure before it gets to the players."
Q: What aims and expectations do you have for this season?
"I think we have a very young and inexperienced roster and we have only
just got back into the first division, so it is realistic to have the goal to
stay in the league for the coming season. Anything above that will be a
positive surprise."
Q: Your parents were Italian immigrants and you grew up in New
Jersey. How did your passion for football develop?
"That is a question that goes far back into my past. My parents are Italian
immigrants who came to the United States to find work and they carried
the passion for the game with them. I think my dad was the first one to
instill that passion in me. Growing up with my brothers and cousins, we
always had a soccer ball lying around when we were together and that
was a big part of it. It wasn't always easy growing up in New Jersey in the
States because soccer wasn't a very popular sport at that time. It grew
during my time and when I was in college, it had a certain acceptance. I
realised after college that I wanted to continue to stay in the game and
this is why I took the step to go overseas and come to Germany."
Q: You woke up in the early hours to watch European football on TV.
What are your childhood memories of football?
"We used to watch soccer games on my father's little TV in his bedroom
and we used to lay in his bed together when I was little and watch the
Serie A games very early in the morning. That was the beginning and we
used to watch Napoli battle against AC Milan at the time when AC Milan
was also very strong. Those were good times."
When did you first become aware of the Bundesliga?
"I did not watch the Bundesliga at that time. There was nothing being
broadcast overseas in the States and there was pretty much just Serie A
at that time when I was growing up. In the time before I came over to
Germany, I started to hear about teams like Bayern and Dortmund in the
Champions League and I followed the bigger clubs. But it was only when I
first came to Germany that I gained a big interest in the Bundesliga."
Q: How much did you know about American players, such as Wynalda
or Dooley, in the Bundesliga?
"To be honest, I didn't watch them much when they came over because it
was hard to watch the games when we were in the States. You heard
about them in the news a bit, but not as much as I would have liked to.
It was a long time ago and I do not think I am the right expert to give
them commentary on their styles of play. Of course, I know who they are
and I know a bit about how they play, but I am not an expert."
Q: What role do football and the Bundesliga play in the United
States?
"They have made a big step in the United States with developing talents,
and interest in the sport has grown a lot over the years. The coaches are
getting better and there are established academies, so you see a lot of US
talents coming overseas and doing well over here. The Bundesliga is a
great platform for young talents coming over from the States, or even for
those coming from England or France. A lot of people recognise that
young players are getting a chance to show themselves in the Bundesliga
and there are young coaches who are also courageous enough to give
them a chance. It's a good fit and I am excited to see how the young
American players do this season."
Q: How has football developed in the United States?
"Of course, it hasn't grown bigger than the NFL or basketball or baseball
because these are just big cultural sports that have deep roots, but the
interest has grown and there are a lot of young boys and girls playing
soccer. It's not the "girls' sport" anymore because at the time when I used
to play soccer in the States it was frowned upon. This is not the case
anymore."
Q: How was your time as a footballer in New York, in The Bronx, and
at Columbia University?
"The time in New York was fantastic and I grew a lot with that experience
and with playing soccer. We had to take a subway or one of the small
buses almost to The Bronx to get to our soccer field and everything was
closed in. It was a nice complex, but you didn't want to go too far away
from the complex because you didn't feel very safe. It was still possible to
get passionate about the game and to have the camaraderie on the team
with the guys. Playing soccer and being part of a team was also a big part
of my time at Columbia University."
Q: In New York, the German coach and former US national team
player Dieter Ficken was a great inspiration for you. His surname
has a double meaning in German. What are your memories of him?
"He did have a special name and I didn't realise how special his name was
until I got to Germany and started speaking the language. Dieter was a
German coach who had some German expressions which I didn't really
understand at the time, but now I do understand what everything meant.
He was there for all four years."
Q: You achieved top grades at school, you have a mathematics
degree, and you had a prestigious offer to become an investment
banker. Instead you went as an unknown footballer to the fourth
division in Germany. Why?
"Because I wasn't ready to go into the office. I always had that spirit of
adventure in me and I was very curious to know if I could play soccer at a
high level, so the step to Germany was as a footballer and not as a coach.
The step towards becoming a coach came about at the end of my soccer
career when I realised I had a feeling of unfulfillment. I always enjoyed
coaching at camps when I was younger, so I realised that it might be a
good way to stay in the game. When that fork in the road came about
whether or not I was going to be a coach or go back to the States and get
a real job, I decided to stay in the game."
Q: Are you able to use your academic background in football?
"I think football is not mathematics, but a lot of the decisions you need to
make are based on logic and systems. I think analysing situations and
going into detail on certain topics is one of my strengths, but running a
team is more about leading a group of human beings. This is not maths
and instead you need to know how to feel, talk, and communicate. It may
be an advantage to one part of the game, but it's not everything."
Q: How difficult was it to break into German football as an unknown
American student?
"It was certainly difficult. Not being from the country and having not
played 200 Bundesliga matches, you need to prove your worth through
content and quality. There were no gifts being given to my person and I
needed to earn every step of the way. In that case, if you make that
comparison, then yes, there is a disadvantage."
Q: Julian Nagelsmann was your rival in the Junior Bundesliga, your
roommate during your license training, and you were his assistant
at Hoffenheim. How much of an influence have you had on each
other?
"It was a conscious decision to share the same room. I knew Julian before
our soccer licences because we played against each other several times
with the U19 teams. We decided to share a room because we have always
had a mutual respect for one another. The time during the licences was
not as important as the time he pulled me up to his first team to be an
assistant coach where we worked together at a higher level. That one and
a half years was more important to fill in certain gaps and to confirm
certain ideas that I always had within me. Of course, we have similar
styles, but they are not the same styles and there are differences. It was
important to sense who I am and who I want to be and I wanted to see
what works and what I needed to change.
I don't think it was the football that I learned from him, but rather one or
two topics of gap-filling. His principles in the offensive third and the way
he structured them are very interesting. I learned a lot from the way he
trained them on the pitch and a lot was confirmation because I don't think
he would have pulled me up to the first team if we didn't have similar
ideas of how we wanted to play."
Q: What do you make of Giovanni Reyna and Mateo Klimowicz, as
well as their famous Bundesliga fathers?
"Reyna is doing a fantastic job. I like the way he moves on the field and I
like his vision and passing technique. He is very creative, good on the ball,
and very quick. Mateo Klimowicz is also a player with immeasurable
potential in the way he moves and his speed of thought. He sees the
space to make the run very quickly and when his finishing starts getting
stronger, he's going to have a fantastic career. I prefer not to make the
comparison to their fathers because I think those comparisons are made
too often. We need to get the players away from making that comparison
because they should see themselves for who they are. That is the way I
approach Mateo Klimowicz and his development is to make sure that he
knows that he is not his father and that he has his own strengths."
Q: What is your vision for VfB Stuttgart?
"I am sort of living it but, to be honest, it is not over yet. I prefer to focus
on where I am right now and my goal is to be as successful as I can be at
VfB Stuttgart. The rest will show itself when it is time."
Q: You are an American with Italian roots who lives in Germany. How
are you shaped by your various cultures?
"I don't know anymore! I prefer to think that I take the best of each
culture, but I am sure that there are some parts of me that also soak up
the negative aspects. I am just a mix and I am who I am and I appreciate
every culture. I appreciate the Italian culture and I have learned from the
German culture immensely in the last years that I have been here. Of
course, growing up in the States has also had its impact on who I am."