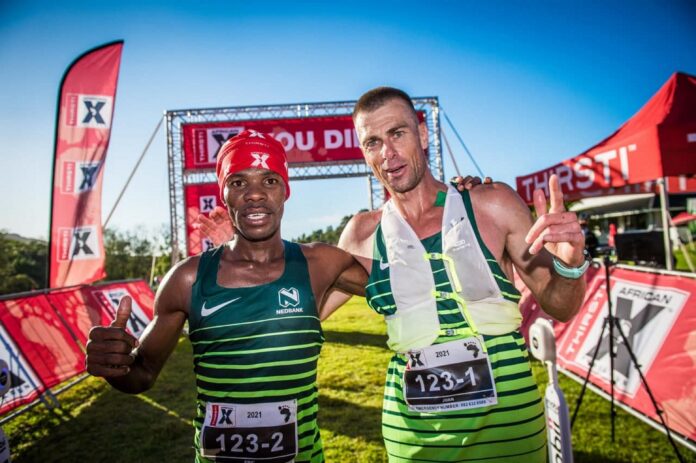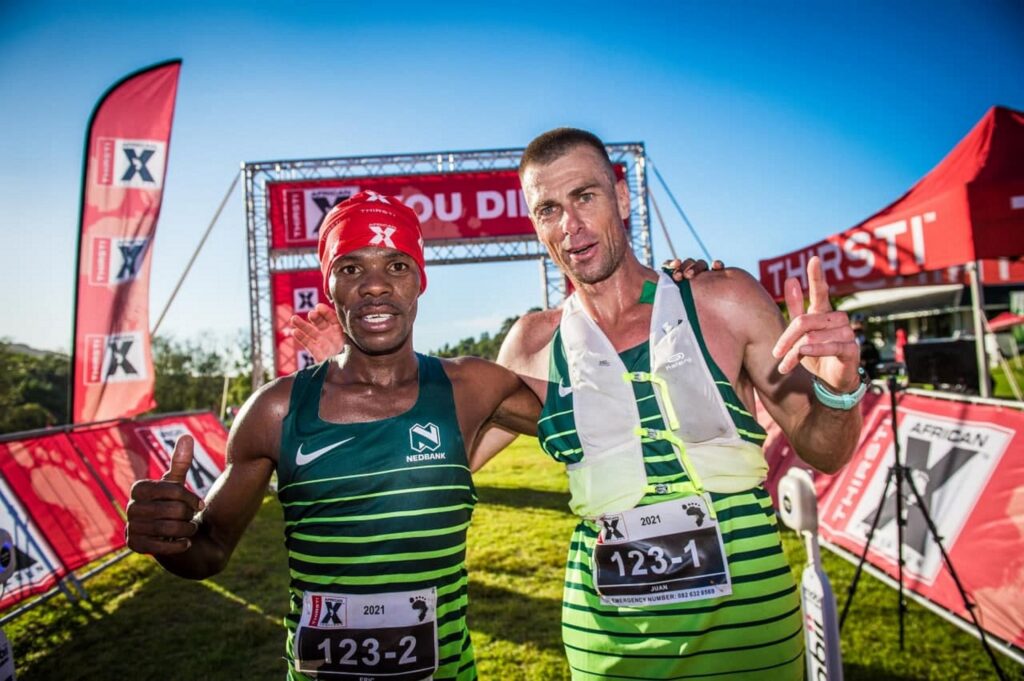 They may come from different provinces and backgrounds and their entry into trail running could not have been more different but at this year's THIRSTI AFRICANX Trailrun, Eric Ngubane and Juan van Deventer made the perfect team. The duo held on to take an impressive overall victory, which ended at Houw Hoek Inn on Sunday (March 28).
The third and final day of the 76km three day team trail race took place over a fast 20 km circuit through pine plantations and fynbos. Racing started and finished at Houw Hoek.
Big Box runners, Retsipile Khotle and Siviwe Nkombi, made amends for their disastrous day at the office on Day Two by being the first team home on Day Three in a speedy 1 hr 19 min 30 sec, holding off the fast-finishing Nedbank Southern Cape duo of Lloyd Bosman and Etienne Plaatjies by just nine seconds, after the latter closed 2 min 10 sec on the 'Boxers' in the final 4km.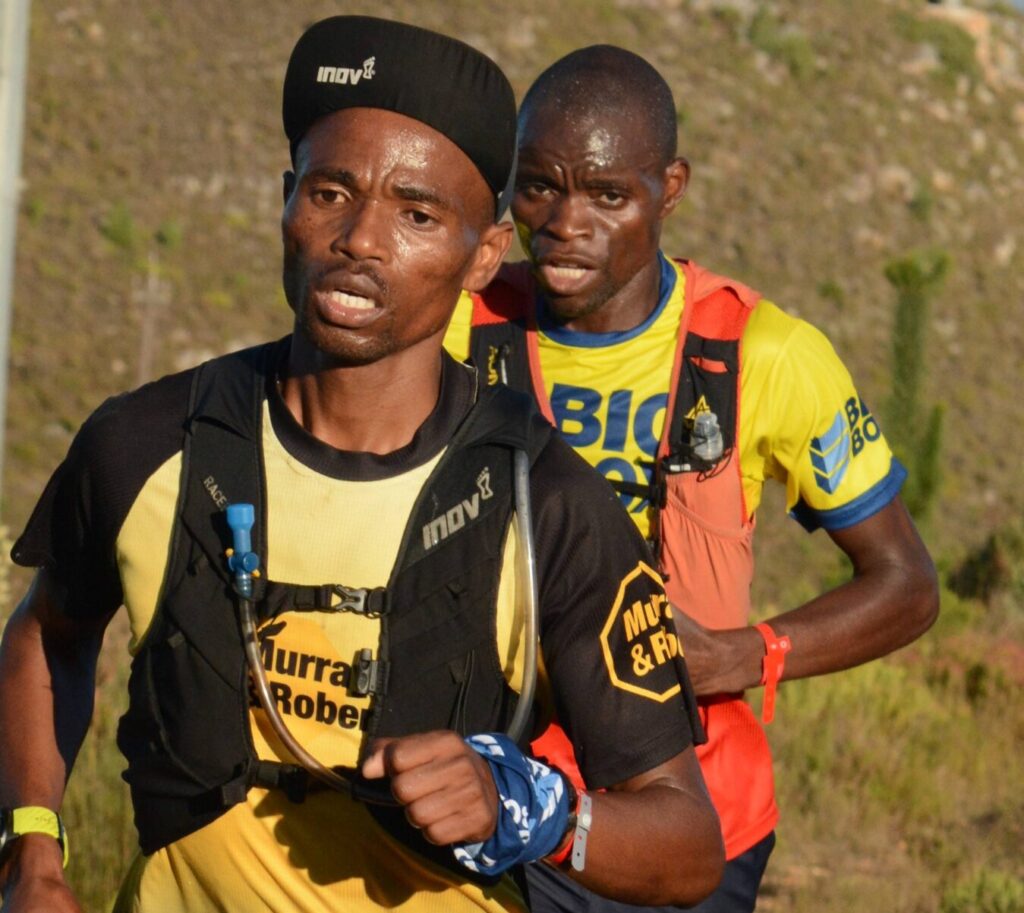 Trail legend Thabang Madiba and his Murray and Roberts partner, Renier Grobler, took third but it was all about the fourth-placed finishers on the day, Ngubane and Van Deventer, who did enough to ensure overall victory. The Nedbank pair clocked 5 hrs 8 min 36 sec for the three days, just 2 min 36 sec ahead of Bosman and Plaatjies in one of the closest ever finishes in the event's history.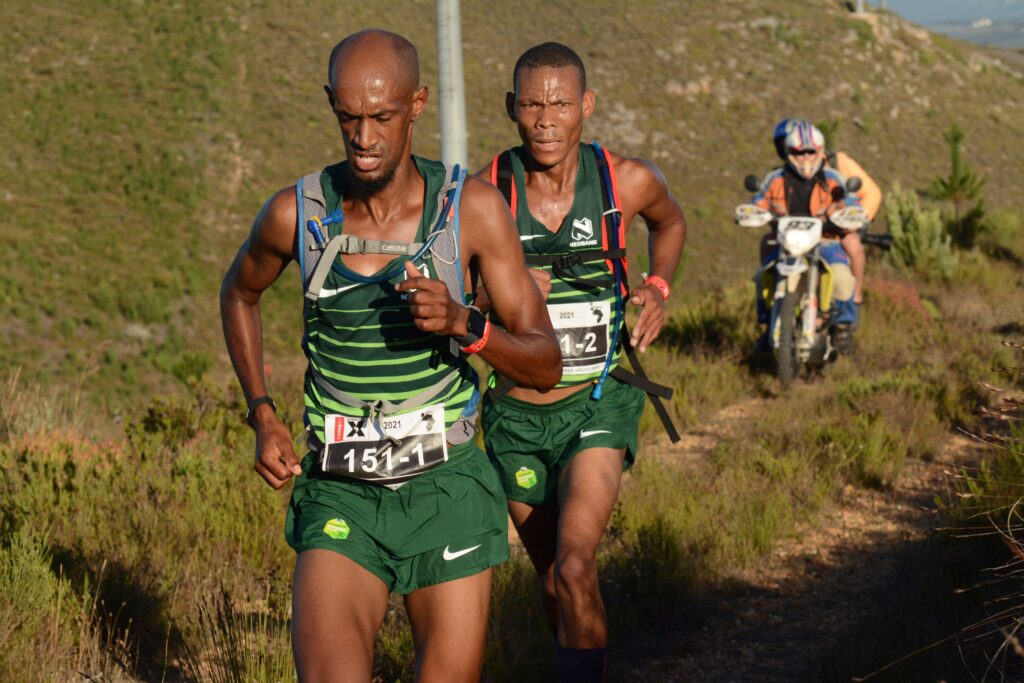 "Our tactics were to be conservative today – to do just enough to ensure our win, rather than to risk trying for a third stage win," Ngubane reflected. "In the end we were a good team. Juan was quicker than me on the flats where I battled to keep up and I was able to catch up on the climbs and technical sections."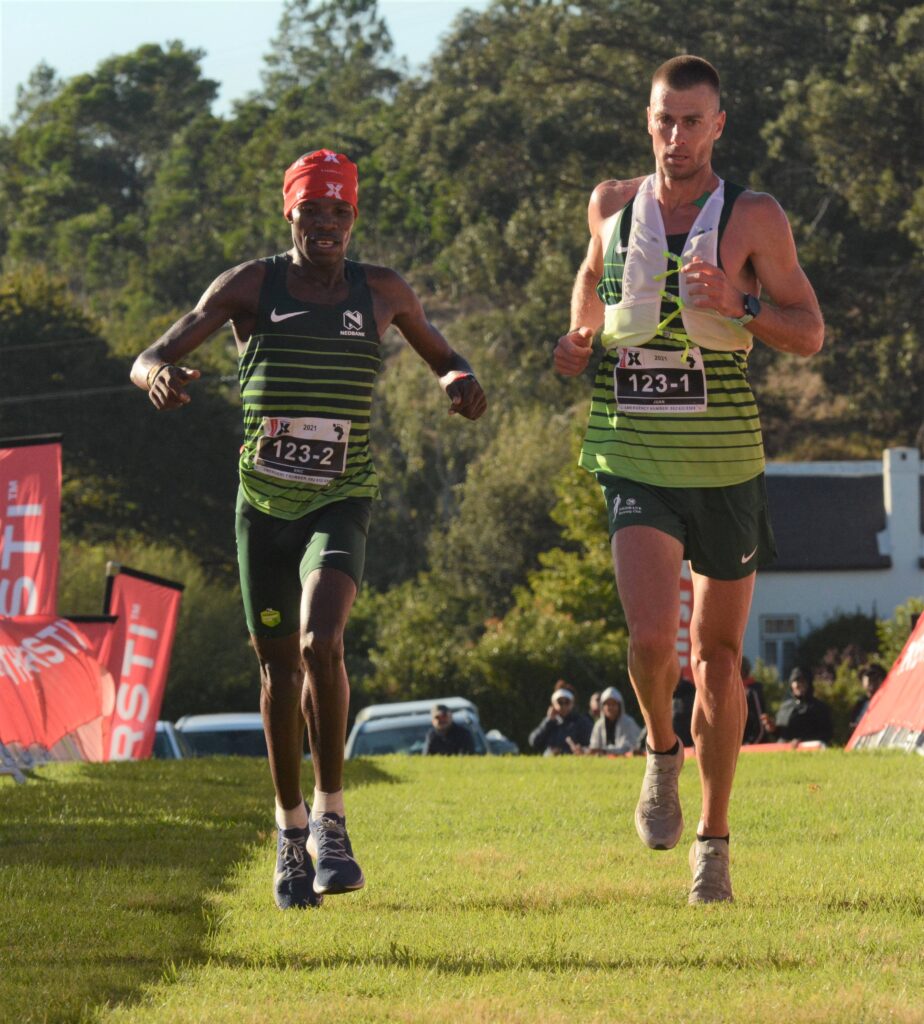 For Van Deventer, one of the country's most versatile athletes ever, running the THIRSTI AFRICANX was an opportunity to use his training for the cancelled Comrades Marathon in a competitive outing. At 38 years, Van Deventer is happy to experience new dimensions to running.
"It was my very first trail race," the lanky 1,84m athlete admitted. "And also my first stage race. Running consecutively for three days was certainly a challenge. My aim for the year had been to win Comrades, but that has been put on hold for a year. Hopefully I'll be able to do so next year."
From a sixth-place finish in the final of the men's 1500m at the 2008 Beijing Olympics to becoming an elite ultra-distance runner underlines the ability and versatility of the Johannesburg-based athlete. Johnny Halberstadt finished second to Bruce Fordyce in the Comrades with a 3:59 mile time to his credit, but Van Deventer's four-lap time of 3:51 is significantly quicker than that of Halberstadt.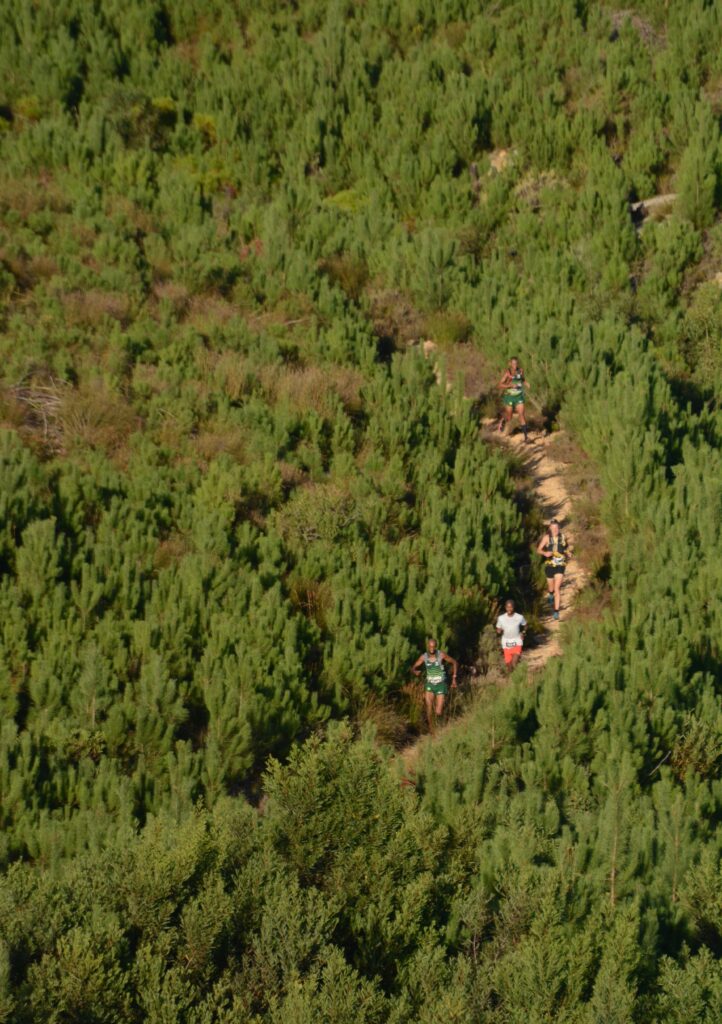 A Comrades win would be the cherry on the top of a remarkable athletics career, which now includes an AfricanX title, and in which Van Deventer would certainly have competed in more than one Olympics were it not for a crippling accident when his knee-cap was shattered when a car hit him while training in preparation for the London games.
While the depth of quality in racing came in the open men's competition, there was edge-aplenty in the women's and mixed categories, where just seconds separated the top teams in the final stage. Stellenbosch Triathlon Squad pair, friends from high school Danette Walley and Vicky van der Merwe, made it three out of three, racing home just 19 seconds clear of their closest rivals, Deanne Laubscher and Chrizell Roberts to win by five minutes overall in 6:36:20.
"Danette and I have been buddies since our school years at Bloemhof and I think we proved a good team," said Van der Merwe. "Phew – there was so much climbing today – we just seemed to climb forever. But I felt better in the second half which was faster! I'm first and foremost a triathlete. This is my first serious trail race and it's great to get the win."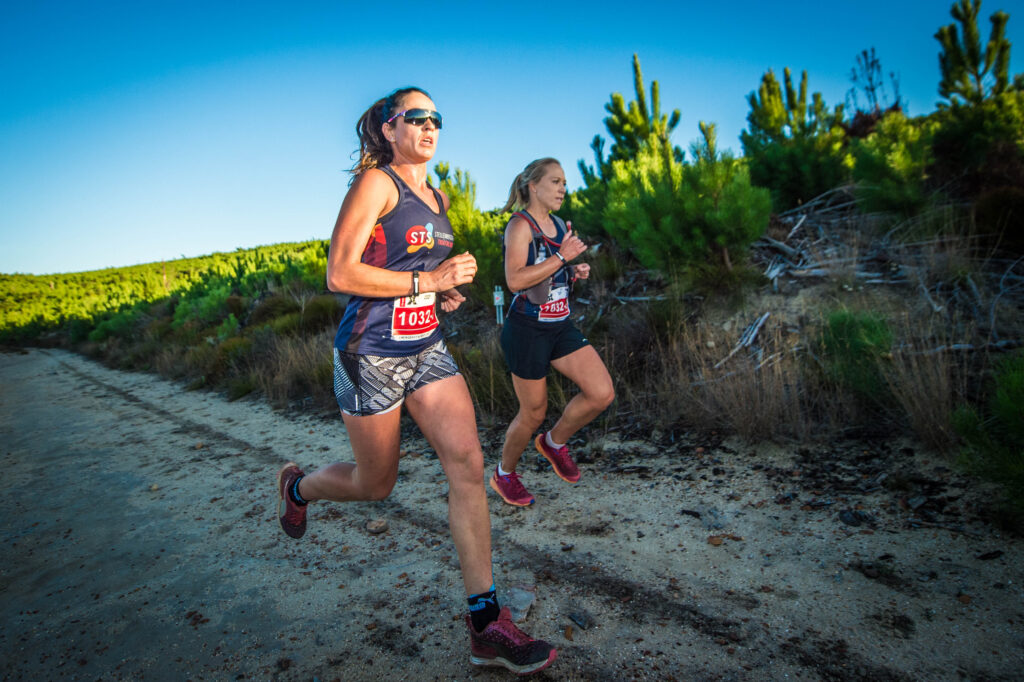 "I didn't realise how big an achievement this would be for me, until now," remarked Walley. "I'm actually really emotional about it. Choosing the correct partner to run with is very important, not just in ability but also in personality.
"Vicky is really easy going and gets on with everybody. Even when I can see that the route is getting too long for her, she doesn't complain. That's all that I want in a partner. Being able to support each other in the correct way is very important. The THIRSTI AFRICANX Trailrun was fantastic. I am going to be on a high for a long time!"
2016 Comrades champion, Charne Bosman, celebrated her entry into trail in style. Running as Team 40-strong with partner Kallie Burger, the duo held on for a hard-fought win in 6:09:11 over two husband and wife combos. Pretoria-based Team Sterkspan – Nico and Natalie Sterk – placed second under five minutes back with Johannesburg 'The Badgers' Ryan Eichstadt and Sam Bieske were just over three minutes back in third.
Story by Stephen Granger
©SPNAfrica News
www.spnafricanews.com