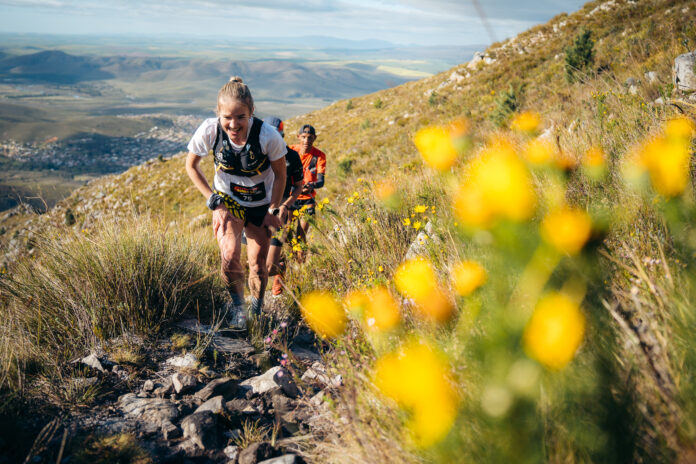 'Skyrunning' conjours images of peak performance and mountain freedom on top of the world. In recent years athletes around the world have been seeking new challenges associated with running at high altitude and on steep and technically challenging gradients associated with the SkyRunning and a new series in South Africa has been providing exhilarating racing on mountain trails in the Western Cape this year.
Athletes during the Cape Town leg of the Skyrunning SA series discover Table Mountain is not flat on top. Photo – Zac Zinn
Skyrunning Series SA reaches its climax at Mont Rochelle Nature Reserve next Saturday (16 September) over the traditional lung-bursting route over Perdekop and Du Toit's Peak before a headlong dash-descent to the finish in Franschhoek.
Significant bragging rights with their name engraved on an attractive trophy are up for grabs for the leading male and female athletes in the inaugural series after athletes have pitted their skills against the heights and depths of technically challenging routes over Maclear's Beacon on Table Mountain in Cape Town; Arangieskop at Robertson and the mountaintrails above Genaadendaal.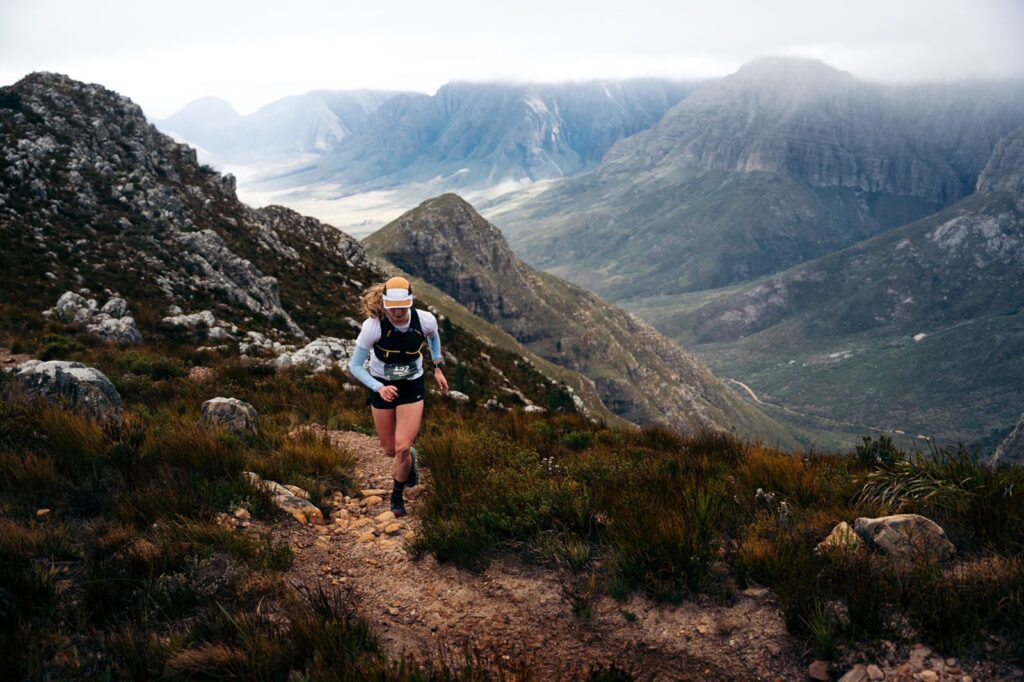 George athlete, Rebecca Kohne, leads in the 2022 Skyrunning event at Mont Rochelle. Photo – Zac Zinn
Ultra-trail Cape Town race director, Stuart McConnachie, and his team held two individual Skyrunning races last year, but 2023 is the inaugural year for the fully-fledged trail series.
A feature of the series has been the close contest between Stellenbosch-based athlete, Jacques du Plessis, who represented South Africa at the recent World Mountain and Trail Championships in Austria, and Cape Town's Robbie Rorich, one of South Africa's leading trail athletes of the past decade.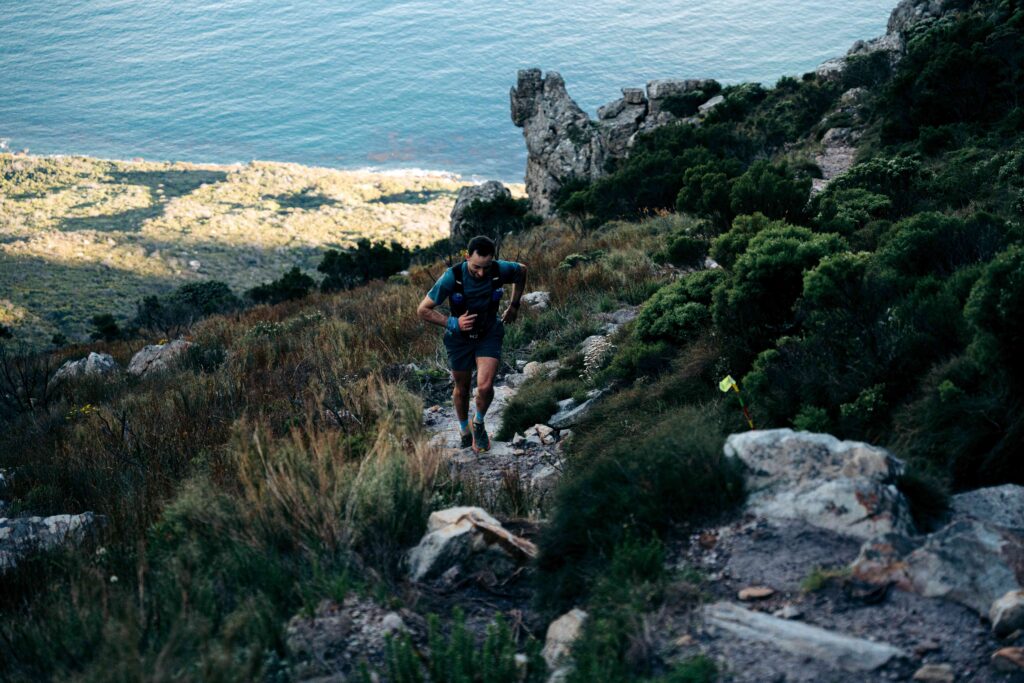 Jacques du Plessis leads the Cape Town leg of the Skyrunning SA Series, up Corridor Ravine. Photo – Zac Zinn
Du Plessis' ability on the climbs saw him lead all three races through the halfway mark, typically at the highest point of the race, but Rorich's exceptional skills on technical descents enabled him to snatch three wins out of three.
"It's tough leading most of the races and then get beaten the final stretch!" Du Plessis admitted. "That said, Robbie is a strong runner even on the climbs and on the descents it's just impossible to catch him. I've watched his technique and learnt from him and even in these few weeks he's pushed me to become a better downhill runner.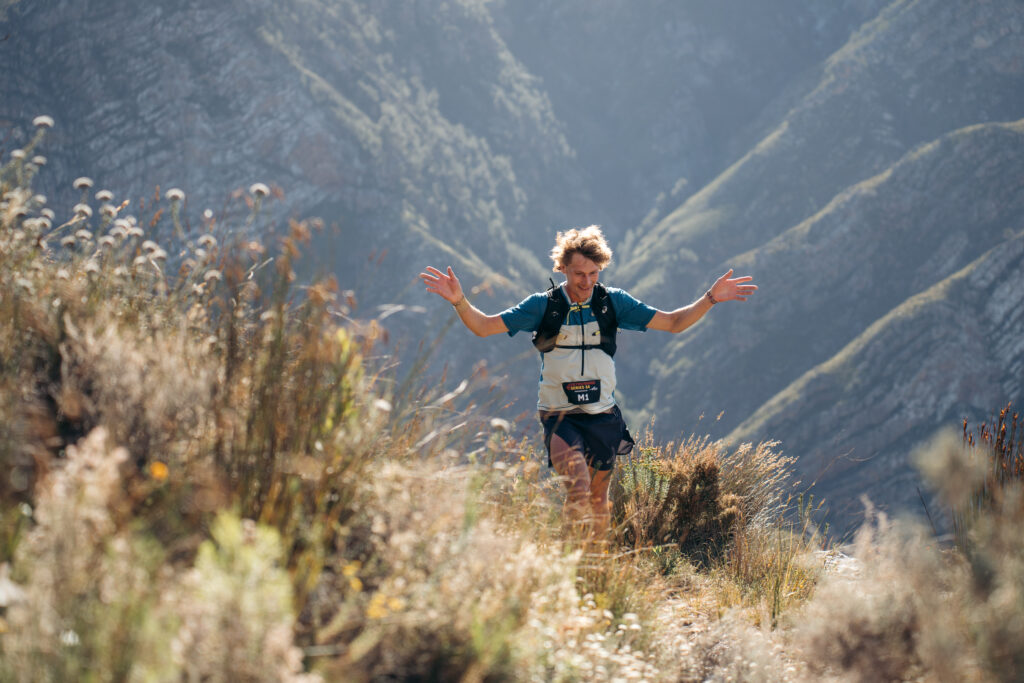 Robbie Rorich flying high at Genadendaal. Photo – Fahwaaz Cornelius
"I am aware that these technical races are not my strength and that I'm meeting him in his element. So I'm just taking this as a learning opportunity and working on my weaknesses and hopefully one day I'll meet him in a less technical race again!"
Rorich has been in his element, running high on mountain peaks. "I've enjoyed taking part in this series as it has enabled me to connect with my mountain passion. In particular I loved the Genadendaal race, which was new to me.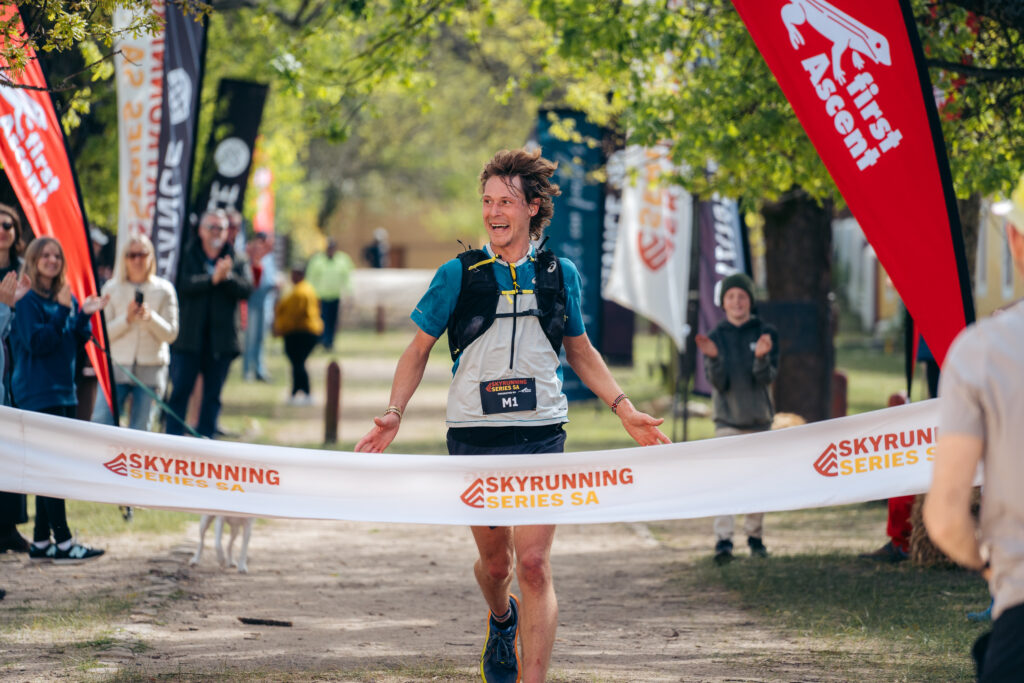 Robbie Rorich wins three out of three in Genadendaal. Photo – Farwaaz Cornelius
"I'm more strongly built than many of my rivals so I'm carrying an extra 5-10kg on the climb," Rorich reflected. "I recently enjoyed the experience of a five day fast and I definitely felt stronger from it, psychologically. It led me to a fuller realisation of how it's our choice to be alive and our choice to race. And from there really run hard."
But both athletes emphasized the benefits of the series. "It's a really cool series," said Du Plessis. "You get the chance to explore new trails and mountains. Stuart and team have put in a lot of effort getting the best trails to showcase the most beautiful places and everything is organized really well. Not only that but they reward the elite athletes appropriately for their efforts with great prizes.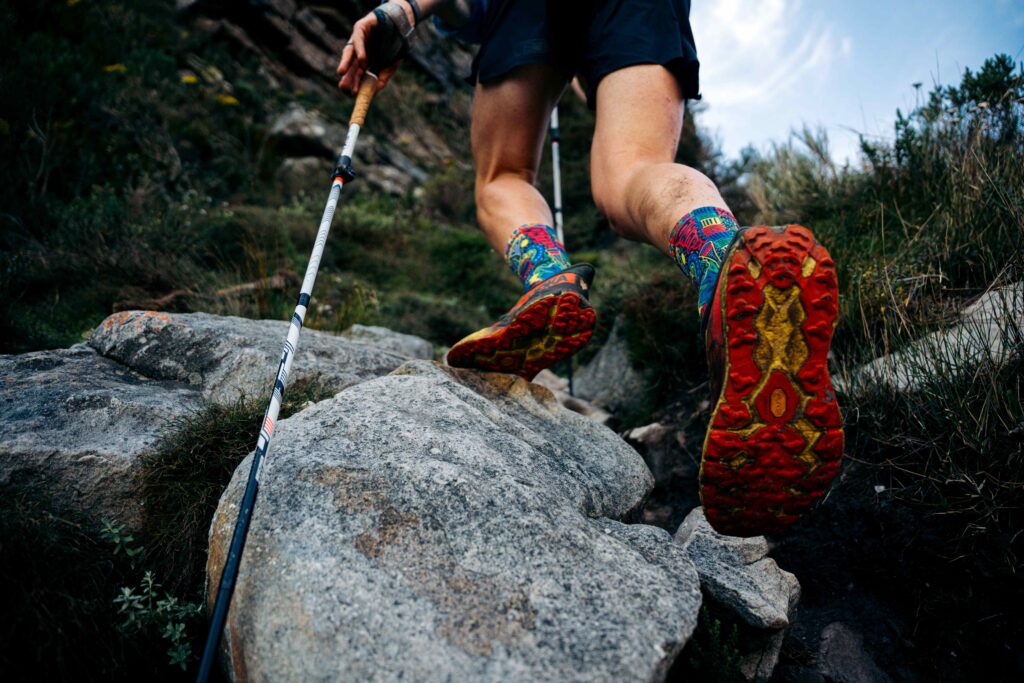 Strong calves, good traction and perfect balance are desirable commodities in the Skyrunning SA series. Photo – Zac Zinn.
While the sharp end of the men's competition has largely focused on these two athletes, the women's contest has enjoyed a wider spread of protagonists, with top athletes Rebecca Kohne, Tarryn King and Landie Greyling sharing the first three titles, each choosing to race just once in the series.
The consistency in the women's contests has come from former American and Belgian athlete, Emily Djock, who has clinched the runners-up berth on every occasion.
Emily Djock summits Corridor Ravine on her way to finishing second in the Cape Town leg of the series. Photo – Zac Zinn
"The SkyRunning series really represents everything I love about this sport," Djock said. "This includes getting to explore these wild mountainscapes, the perfect mix of challenge and reward, and this endlessly supportive community of runners.
"I've really felt tested—in the best ways—in the first three races, overcoming some fear when it comes to technical downhills, managing the start-to-finish intensity of these shorter distances, and lining up alongside a roster of amazingly-talented women!
"It's such an honour to be part of this strong female field," Djock continued. "And I really couldn't have imagined a better result so far with three 2nd place finishes.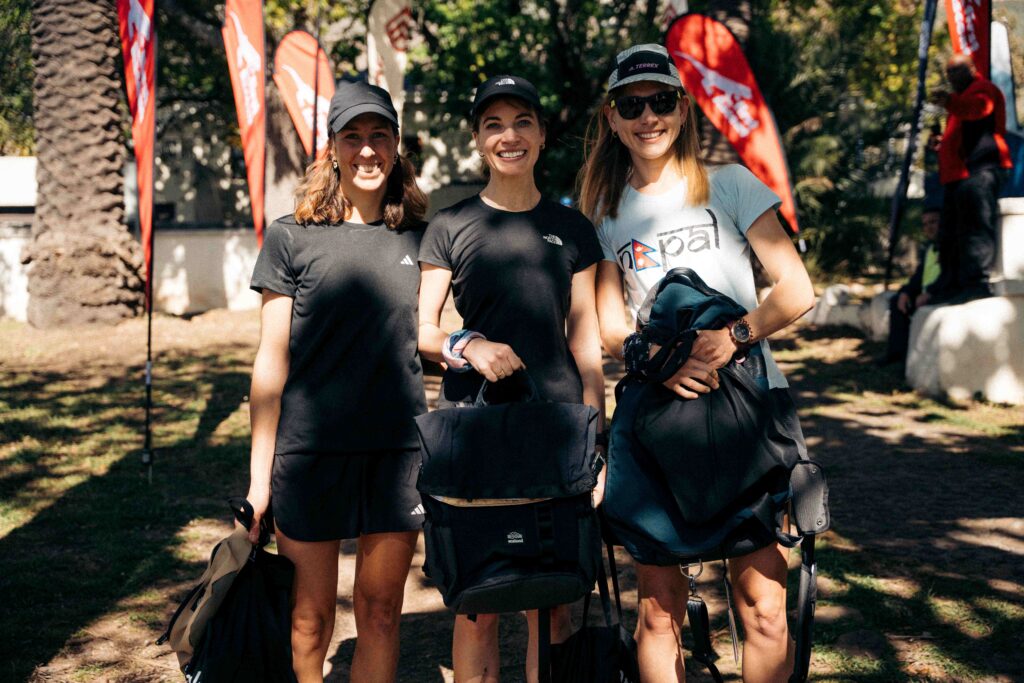 Top three in the Cape Town leg of the series – winner Taryn King is flanked by runner up Emily Djock (right) and Melissa Laing. Photo – Zac Zinn
"I'm immensely grateful to Stuart (McConnachie), his team, and everyone who's made this series what I'm sure will become a beloved and much-anticipated fixture of the trail calendar. How thrilling to be there "from the start"!
Djock will be lining up for the series finale at Mont Rochelle, Franchhoek, in ten days' time just a week after her quest to defend her title at the 65km 'PUFfer' Race between Cape Point and Green Point and expects it to prove her toughest SkyRunning challenge, both due to post-race PUFfer fatigue and anticipating a strong women's field.
Landie Greyling showing her class in winning the third in the Skyrunning SA series in Genaadendaal. Photo – Farwaaz Cornelius
One of South Africa's best over many years, Greyling enjoyed the third of the series, but is uncertain if she will contest Mont Rochelle. "I didn't take part in the first two as they clashed with the Whale of Trail (which she won) and a family weekend," Greyling remarked.
"But Genadendal was incredible – I loved the route! And I'm glad my fast legs pitched up."