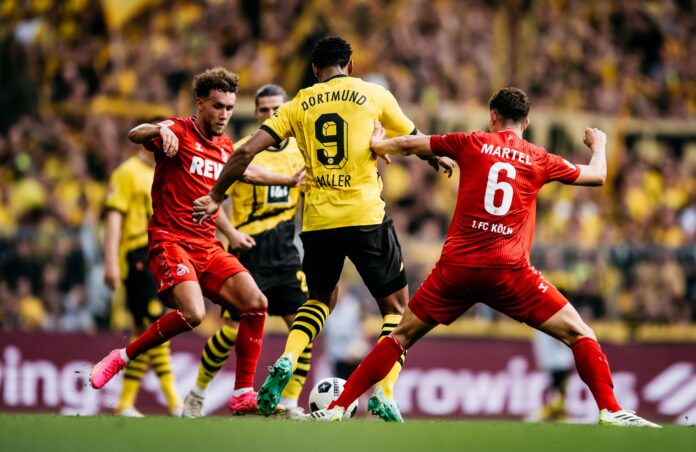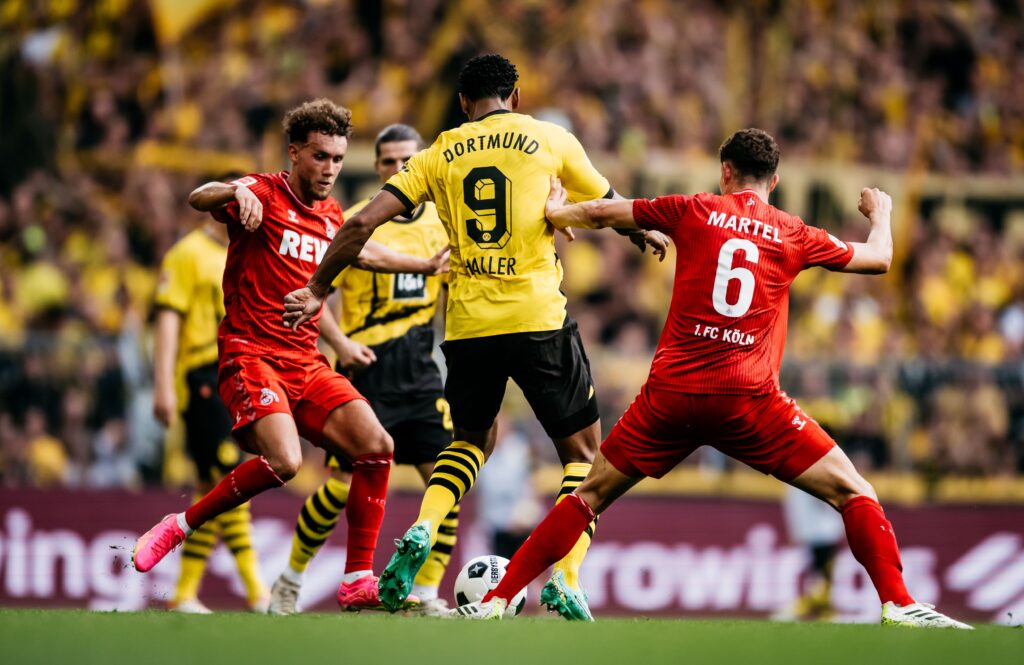 With a total of 33 Bundesliga goals to his credit so far, Sébastien Haller is known for his fighting spirit that helped him recover from cancer last year, quickly return to top form on the pitch, and even to the brink of the Bundesliga title. Football has been a constant in the French-Ivorian striker's life since childhood, on his mind day and night wherever he was, he recalls. Having been discovered by scouts at an early age, he was just swept along by one wave of success after another without fully realising what was happening to him. He didn't ask questions, just following and playing until he found himself signing his first professional contract with Auxerre. Today a father himself, he realises how difficult it must have been for his parents to let him go and pursue his career at a young age.
Born and raised in France, he is proud of the cultural mix he represents. His mothers' Ivorian culture was a strong influence in his upbringing and an enriching experience, he says.
His side's start into the new season may have left a few things to wish for, but the 29-year-old Ivory Coast international isn't worried about that too much and takes it one day at a time: "We need to fix the few things that need to be fixed, and then we'll see." His creed: to give his best so his teammates can count on him.
How did you find your way to football, as a small boy?
"I don't know if there is a moment that football started with me. You know, we all
grew up with the balls around and we played football like we were born with it,
you know. With one of my oldest friends at home and I, for example, were always
talking about football. It was every day, after school, at school, at home,
everywhere. So, for us, it was not even a question about what football means or
where or when it came from. It was just football is football, you know, you play
football all the time because this is what brings you joy."
Are you still in contact with people from back then?
"Yes, I have friends from since I was just five years old, like neighbours or even
guys who used to play in the academy, or some guys that I had been with at the
professional clubs along the way. I remain in contact with some of them, yes."
How was your path into football?
"I think because we love football, we were playing everywhere and of course the
coaches from our town came to us, saying: "Yes, you need to play football. You
need to come to the club." Then it comes like that. You just play, then you see
some adults say that yeah, you're quite good at football. So, you attend this
tournament, you win some games, you score goals and all of a sudden, there is
another club that comes to see your parents: "It would be good for him to come to
our club." You just follow, you come, you play games, tournaments, and then you
receive a call: "It would be nice if you would come and see our academy."
Actually, I didn't know it was a trial at Auxerre. So, I thought it was just going there
to see the level and play with the guys. So when I arrived, I saw 100 hundred kids
ready to fight for their chance. At that moment I was like "Okay, today is a big
opportunity." Out of nothing, you see the guy from the academy coming to your
parents saying: "It would be nice if your son joined the club." So, it came really
quickly and out of nothing. So, I didn't have a lot of questions in my mind. I just
followed the movement, I played. It came quite fast – I joined Auxerre when I was
13 and I was 17 when I signed my first contract. So, after four years of just playing
football every day, I was in a welcome family then at the academy, like a boarding
school, you know, it came really quickly. So not a lot of questions in my mind."
What does it mean to you to have a culture from two different nations?
"Everything but everything is half. Everything is both. You know, you try to – it's
like cooking, you know, you just put in some spices from France and some from
Ivory Coast. You know, it's a real mix and I'm really proud of it, you know, because I
know that when I was young, a lot of people were asking me, yeah, where do you
come from or why this, why that? And I was like yeah, I'm a bit different and not
white, I'm not black. I am neither, I'm just between everything. You know, it's not
always easy to find your place or just tick a box or get a group. So you're
wondering about that a lot and at the end you just realise that oh, it's just a mix of
cultures and sometimes you need time to understand this. So no, everything I do,
it's with the mix of culture, of course."
How would you rate the start for Borussia Dortmund in the Bundesliga in
2023-24?
"Not the best out, of course. Even though we won the first game, we knew that the
way we played was not the best and we could do so much better. Yeah, not the
best start. Last season was not the best start either but we still managed to be to
be challenging so yeah, I'm not worried about anything. It's just a daily walk. We
need to fix the few things that need to be fixed, and then we'll see but it's an
everyday walk and everyone is trying to be better, but we have some goals, and
we are Borussia Dortmund, so we need to fix everything quick."
How do you feel, personally?
"I feel good, I feel really good. I feel way better than the last season so for me, it's
also a small victory. So, I try to take this with me to, you know, to perform better
and help for my guys, for my teammates and just give the best to make them
proud and to make it so that they can count on me. That's it."
How are you handling the lost Championship?
"Let's say it's still on my mind and it will stay forever but like I said, we always need
to pull through and overcome every challenge. So, the best answer I could give to
myself and to all the people that support me, and the club is to just move forward
and get back to the job and score goals. That's it. There are no options."
How was it for your parents to let you go back then?
"It was hard for them, I think, now that I am a parent, a father myself. I realise
every day it was difficult to have your child go away from you, but know that he
needs to chase his dream and you can't handle the situation alone. So you need to
trust him. You need to try to be there to help when he needs something. But I was
not the child that said every day: "I need this. I need that." No, I was just playing.
Everything was fine and I was happy to play football. But, yeah, I can understand
that this is not easy."
Did you ever have the feeling you were missing out on something – not
having chosen the right path?
"No, no, this is the craziest thing. Sometimes I was wondering why, you know, I
was not feeling bad. I don't know. Maybe because I knew I was on the right path.
Maybe because I knew that it was a crazy opportunity and I was just following the
rules, you know, I wasn't doing anything bad. I always just played quite well, and I
knew that my parents were proud of me, even my brother and sister, my friends –
I knew that it was the place I had to be. So, for me it was no question, no doubt so
even if things are not that easy – because it's not always that easy – you know that
you just need to face this challenge and try to fix the problem."
How did your decision to play for the Ivory Coast come to be?
"I think I arrived at a moment of certainty in my life and career. I received a lot of
calls from the coach of the Ivory Coast, but since I was really young, sometimes it's
difficult to explain but you're just not ready to go. I was also playing with the
French national youth team, and I didn't feel it was the right moment for me to go.
Sometimes we forget that this is a football career that we are speaking about. It's
way more complex than this simple decision. It represents a lot of things for me.
I'm from both cultures. Even thought I grew up in France, I also grew up with the
Ivorian culture, of course, because my mum taught us a lot of things. France was
everywhere because we grew up in France, so we knew what it looked like but
Ivory Coast was through my mom, through my cousin, uncle, a lot of members of
my family. It's a rich heritage, a rich legacy that is from my parents because you
need to learn from both cultures, and you always take the best from it. So, it was
really nice and at a certain point I wanted to represent Ivory Coast on the pitch
because, you know, I tried to learn. I tried to contemplate what I really wanted to
do."