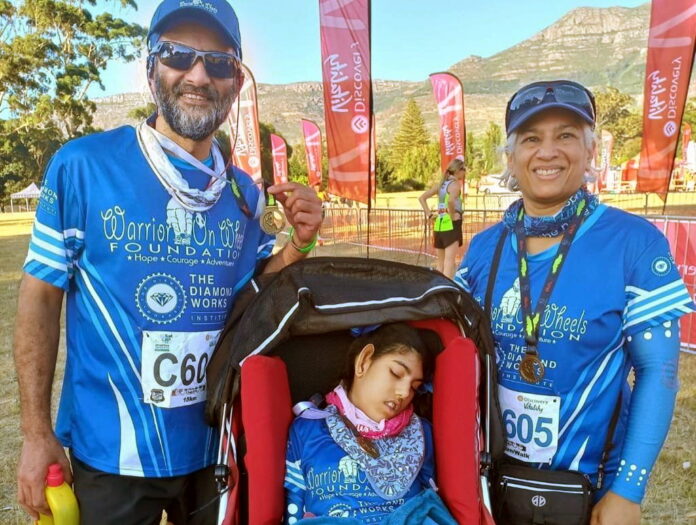 By Stephen Granger
Nura Mohamed, 17, could be the envy of her peers. The young woman has already travelled to twelve countries with her family and enjoyed many adventures at home and abroad including completing the 2018 Cape Town Cycle Tour, sailing to Seal Island, river rafting down the Breede River, zip-lining in Ceres, riding the Cape Town sightseeing bus, visiting Kirstenbosch, chocolate tasting at the Lindt Studio and much more.
And Nura and her parents, Ayub Mohamed and Razia Hisham, will be part of an extraordinary group of friends who will be playing an active part in the Cape Peninsula Marathon, to be run on Sunday between Green Point and Simon's Town.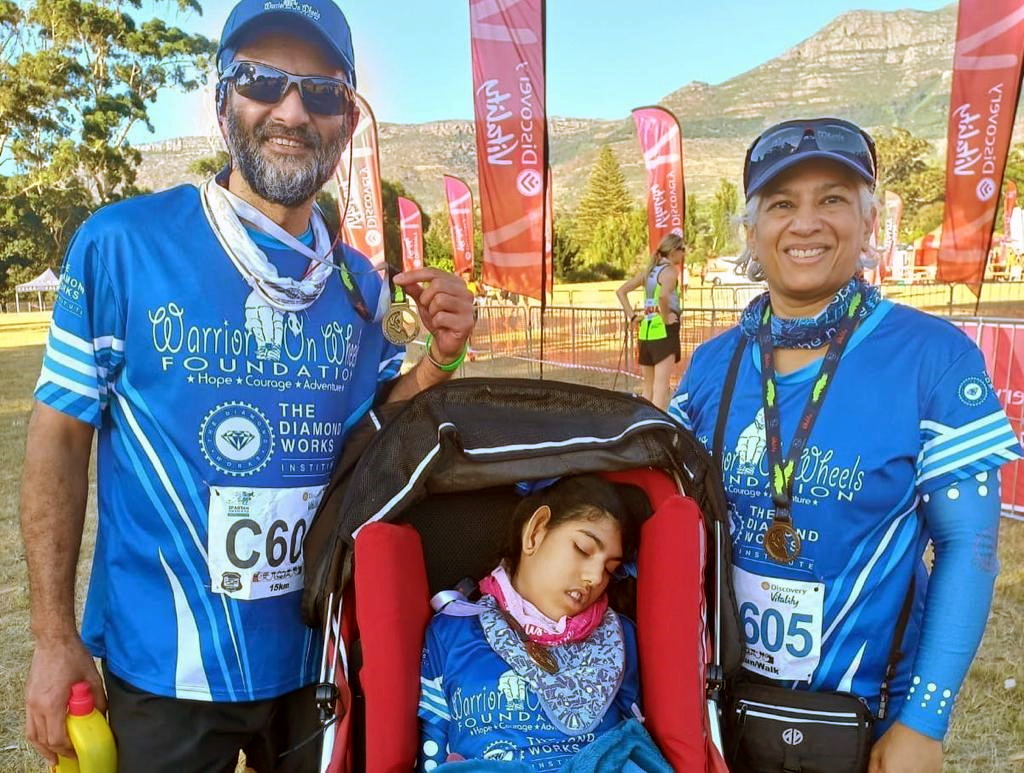 But Nura and her family have had to go to extraordinary measures to ensure she could access these adventures and opportunities. Hers has not been an easy life. Nura experienced an hypoxic aeschemic (lack of oxygen) event at birth and is significantly disabled.
The broad diagnosis for Nura is 'profoundly disabled Cerebral Palsy' and she has had to endure epilepsy, cortical visual impact, global developmental delay and several other physical hardships. But Nura was fortunate to have caring parents who were determined to give their daughter everything in their power.
"As a family we have tried to include Nura in everything we do," explained Razia. "We've travelled quite a bit with her since she was five years old. She's visited 12 countries so far and we are always looking for opportunities for her to access and enjoy as full a life as possible."
Nura's life of adventure took a turn for the better when her parents Ayub Mohamed and Razia heard about Warriors on Wheels (WOW), an organisation, founded by Deidre Gower and her 'differently-abled' son Damian in 2015 as a means to share their experiences and adventures with other like-minded families.
WOW aims to 'uplift and empower children with disabilities by providing special adventures tailored for special kids, thereby changing perceptions of ability and bridging gaps between able-bodied and differently-abled communities'. WOW supports disabled children, known as warriors, to take part in activities would otherwise not be able to access.
"In 2017 we saw a news story about WOW preparing for the 2017 Cape Town cycle tour," explained Razia. "We signed up as members on their website and got in touch. We discovered WOW doesn't only do sporting events but were also committed to getting the warriors out enjoying Cape Town and surrounds.
"We did our first cycle tour together in 2018. Nura was pulled in a special buggy and I completed my first cycle tour. WOW has participated in the tour since 2017 and have able-bodied super-human cyclists who pull our warriors 109 km around the peninsula!"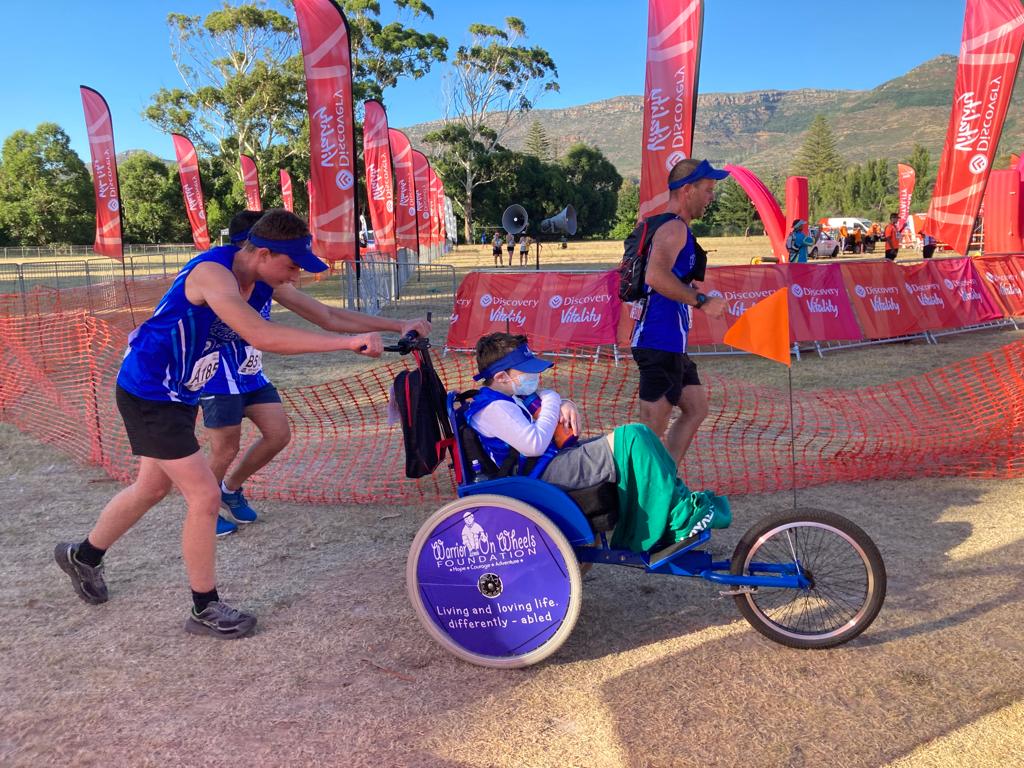 "Being isolated becomes the norm for families with disabled children," explained Razia. "It's easier to stay home than to spend hours researching accessibility and asking about accommodation for your child and family. And it becomes really expensive for a family to manage outings. Hence WOW was born."
Razia loved the WOW concept and jumped in boots and all, soon finding herself increasingly involved. "As parents we have seen the joy and benefit of doing adventures together," she admitted. "We have benefited as a family by finding our tribe – people who literally get it. Nura has made friends and we have gained the opportunity to meet amazing people.
"I currently assist in the day-to-day organising of events, coordinating between WOW and a range of tourism partners. We do our best at raising awareness for our children, getting the world to be more inclusive and accessible and accommodating."
Several WOW teams took part in the recent Firgrove Challenge 21km and 5km fun run and walk in Tokai and they are proud to have three teams who will participate in Sunday's Cape Peninsula Half Marathon.
The Mohamed family will be out in force with Razia and Nura helping along the way and awaiting the teams at the finish while Ayub will be running in support of "Team JJ", assisting 13-year-old warrior JJ Booysens by pushing his buggy together with Schalk Booysens and Marc Wyllie.
The other teams are "Team Caden', supporting 15 year-old Caden Steenveld, and Team Loris, in support of seven year-old Loris Fragoso de Almeida.
©SPNAfrica News
www.spnafricanews.com