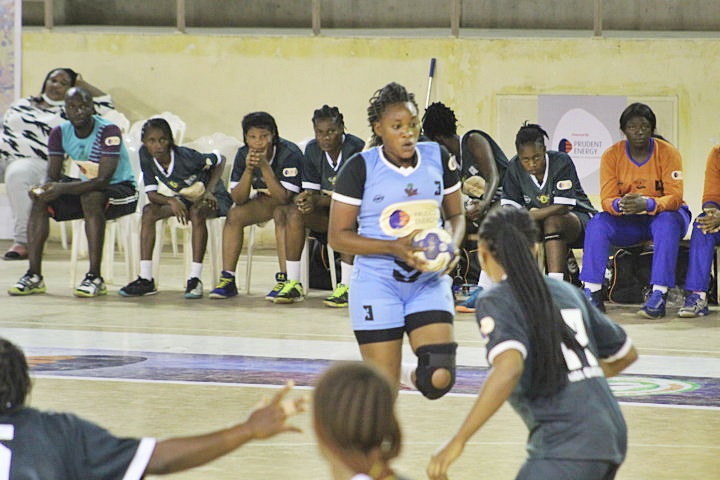 Adorable Angels produced an entertaining display of handball as they put a stop to the progression of defending champions, Safety Shooters at the Prudent Energy Handball Premier League 2020.
In a dramatic match decided at outdoor handball court at the MKO Abiola National Stadium, Abuja, Adorable Angels played out a 31 -31 draw with Safety Shooters.
In other matches of the women category, Defender Babes comfortably defeated Desert Queens 32-19 while Kada Queens were efficient as they recorded a shocking 27-18 victory over former Champions, Plateau Peacocks.
Edo Dynamos who are jointly topping the league standings with Safety Babes, had to dig deep to defeat Benue Queens 30-27.
Seasiders Babes who were topping the league standing as recent as matchday 5, are now sixth on the log after they were soundly defeated by Imo Grasshoppers 31-21.
In the men cadre, Lagos Seasiders defeated Delta Force 30-25 while second placed side, Safety Shooters outshoot COAS Shooters with a 34-22 victory.
Defending champions, Kano Pillars ruthlessly annihilated Kada Stars 36-22 while Borno Spiders had a slim victory against Plateau Vipers 23-22.
Rima Strikers, inspired by the presence of the Sokoto State Commissioner for Sports, Comrade Bashiru Usman Gorau ensured the continued winless streak of Niger United with a 24-21 victory while an enterprising Confluence Stars defeated De Defenders 21-18
Matchday 7 Results:
Female:
Desert Queens 19-32 Defender Babes
Plateau Peacocks 18-27 Kada Queens
Benue Queens 27-30 Edo Dynamos
Seasider Babes 21-31 Imo Grasshoppers
Safety Babes 31-31 Adorable Angels
Male:
Lagos Seasiders 30-25 Delta Force
Safety Shooters 34-22 COAS Shooters
Kano Pillars 36-22 Kada Stars
Plateau Vipers 22-23 Borno Spiders
Rima Strikers 24-21 Niger United
Confluence Stars 21-18 De Defenders